Durian. You either love it or hate it.
I have to admit that I belong to the camp that isn't too fond of the smell of durian. The stench is so overwhelmingly strong that, in Singapore, the fruit hilariously gets its own warning sign on buses and trains.
But for the people who can get past that initial stage of smell, the taste of durian is like no other. It has been said that the fruit "smells like hell, tastes like heaven". (Of course, there is also a group of durian devotees who argue that the reason why the fruit tastes so good is partly due to its smell.)
This is how durian mochi gives you the best of both worlds – less of the smell, more of the taste. Offered by Kia Hiang Restaurant, this delicacy would make you go "boomz".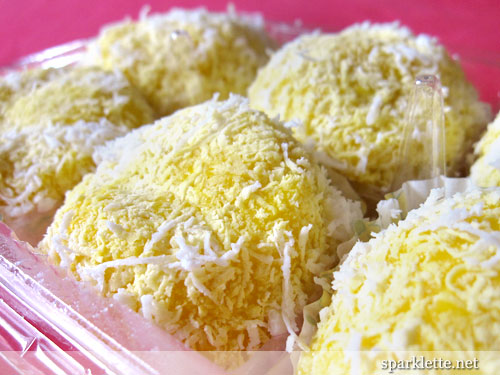 Jokes aside, the durian mochi here is really good! To those of you that say "yay" to durian, this one's for you.
The mention of mochi may conjure up images of the small chewy dessert like this. Quite on the contrary, the durian mochi here is humongous and filled with soft durian purée. Even so, you can't get enough of it.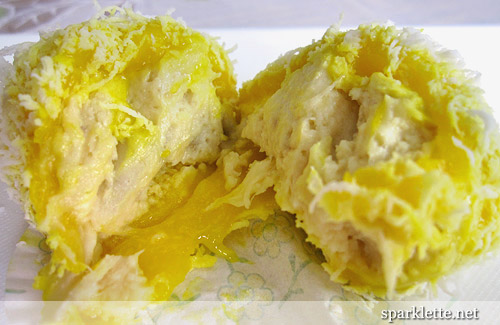 Durian Mochi
S$2 apiece
Rating:





The glutinous skin layer is melt-in-your-mouth thin, enveloping the huge amount of blended top quality D24 durian pulp. This wholesome treat is truly satisfying and tastes heavenly. Creamy, chilled and delicious, it's like eating ice cream! Durian lovers would totally LOVE it.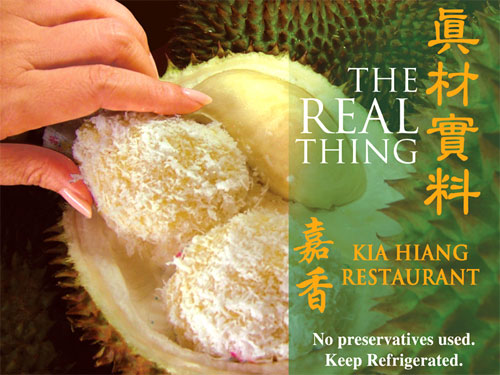 The ad says it all. It's all-natural, too, almost like the real thing, only better!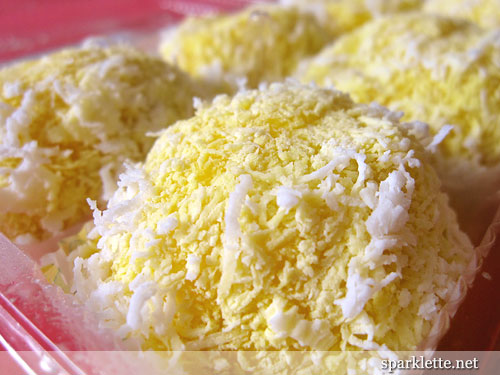 The mochi goes at $2 a pop, but if I were you, I would buy a dozen to share with the family. If durian isn't your thing, the restaurant also has a range of sweet and savoury mooncakes.
Kia Hiang Restaurant
201 Kim Tian Road #01-400
Singapore 160201
Tel: +65 6273 7352 / +65 6272 0087 |
Website
Bus services: 147, 167, 196, 197, 961
Nearest MRT: Tiong Bahru
Opening hours: 11am – 3pm, 6pm – 10pm daily