If you're craving for a multi-course Japanese meal that goes easy on the pockets, head over to tetsu, a chic Japanese restaurant located on the quieter side of town in Tanglin Mall.
On first impression, the sleek and stylish zen look of the interior exudes the feel of a fine-dining restaurant. Fortunately over here, you would not have to pay fine-dining prices for fine food.
This being a food-tasting session on the house, my dinner partner and I kept an open mind with regard to the food that our hosts recommended. Thanks to head chef ken, there is often a twist that makes each dish unique. Our meal started off with mekajiki (swordfish) and seaweed presented on a longish white platter.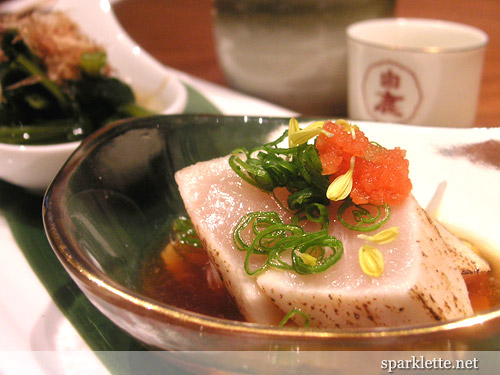 Swordfish Tataki
S$12 (for 3 pieces)++
Rating:





The swordfish is done tataki-style, a Japanese cooking method that sears the fish briefly over a hot flame. The surface of the fish is lightly charred, while the insides appear pinkish and raw. I worried that the unwelcome fishy stench would remain, but fortunately there was none.
Served in the citrus-based ponzu sauce with spicy radish on top, the generous slices of swordfish are very savoury and work wonders in opening up the appetite for what is to come.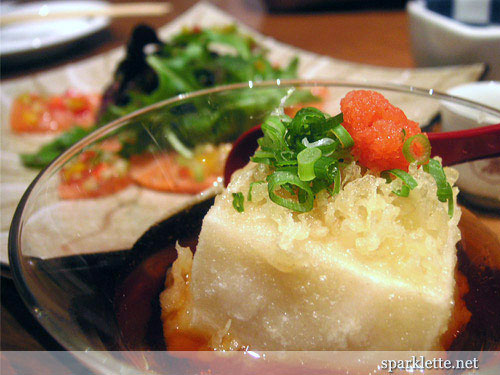 Age Dashi (Fried) tofu
S$8++
Rating:





One traditional Japanese dish that I love is the age dashi (fried) tofu that is served in a delicate flavoured broth. It is not too unhealthy compared to other deep-fried food as tofu itself does not absorb oil. Tetsu's rendition has a different creamy and milky smooth texture that is unlike others I have had. It does take some time to get used to, and I'm not sure if I like it as much.
Like the tataki, the cube of tofu also comes with spicy radish on top. This dash of creativity adds a new dimension to this dish.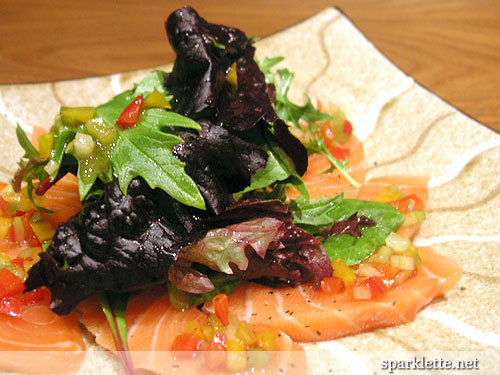 Salmon Carpaccio
S$18++
Rating:





The salmon carpaccio is a 3-in-1 fusion dish. To many food critics, fusion food may be a dirty word. But for me personally, I don't care about the authenticity as long as the food tastes good. Why do I say it's 3-in-1? Because it's really the Japanese salmon sashimi, prepared in the Italian carpaccio style, and served with French dressing. There you go!
As a big fan of salmon sashimi, I like the vastly different take on it in the carpaccio. The flavour combo of the vinaigrette, black pepper and garlic brings out the rich and fresh taste of the salmon perfectly. The dazzling display of colours doesn't hurt too!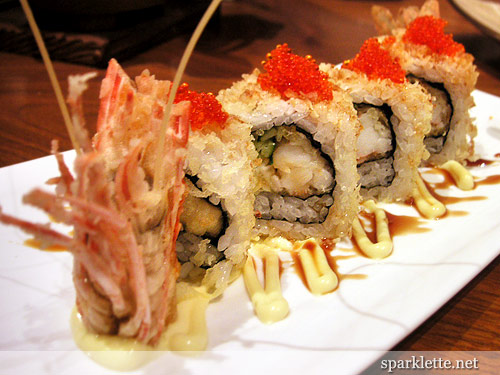 Dragon roll
S$18 (for 6 pieces)++
Rating:





maki time! We loved, loved, LOVED the dragon roll! Besides the fact that it looks cute (the head resembles a dragon, but the body reminds me of a furry caterpillar), it is also yummy! The succulent prawn flesh is juicy and very sweet-tasting too. Paired with Japanese mayo, this is easily our most favourite dish of the night. (and we haven't even got to the main courses yet!)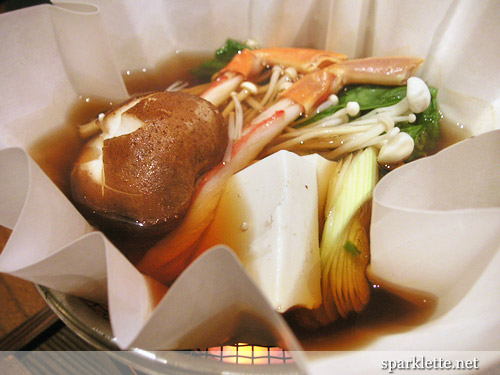 Kani-Suki (Crab Sukiyaki)
S$20++
Rating:





The crab sukiyaki (japanese steamboat) is served alongside straw mushrooms and various ingredients in a paper pot. After waiting 15 minutes for it to cook from a flame underneath, we savoured a flavoursome soup infused with the flavours of the snow crab.
Our main gripe is that there is too little of the luxurious crab meat, which comes in the form of two crab legs. In that regard, 20 bucks seems a little much. So it's good that two of the multi-course kaiseki set meals ($45 and $55) include the crab sukiyaki.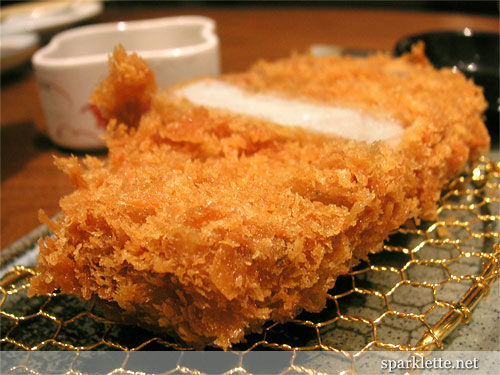 Rosu Katsu (Pork loin)
S$24.50 (for the set)++
Rating:





The best-selling item on the menu is the rosu katsu (pork loin) set that is served with salad, pickles, steamed rice, miso soup and a dessert. The generous cut of pork and panko breadcrumbs used in the batter are specially imported from Japan.
Although the pork loin is meant to be the more tender and juicier of the two types of tonkatsu offered, the other being the leaner hire katsu (pork fillet), rather disappointingly, we found the meat to be extremely tough; I had much trouble biting in. Seriously, this tonkatsu is strictly for people with strong, healthy teeth!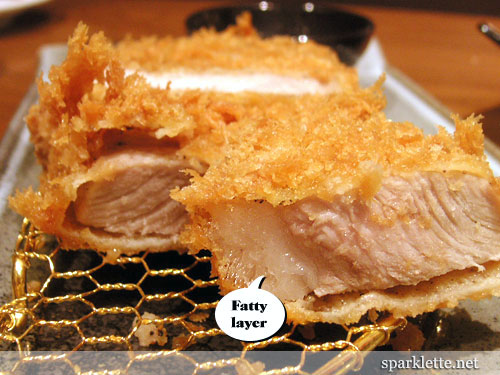 One thing that did help a lot in alleviating the toughness is the thick layer of fat. Sure, it's sinful and fattening obviously, it also felt good! But I was a little conscious and squeamish about the fatty layer though, and made a mental promise to myself that I would eat less for the rest of the meal (a promise I found I could not keep due to the many yummies that were to come!).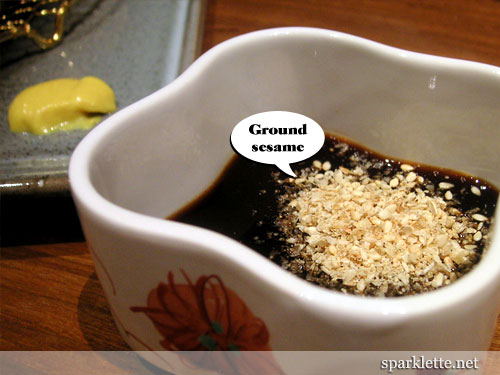 Oh, one more thing to add before I forget. The tonkatsu comes with karashi (japanese mustard), a thick black tonkatsu sauce (japanese worcestershire sauce) and a separate bowl of roasted sesame seeds. Our waitress offered to grind the sesame seeds for us with a pestle before mixing it into the tonkatsu sauce. I hear this is the authentic way of eating tonkatsu in Japan. Yet another unique twist comes in the form of a curry salt dip to lend some spice to the pork.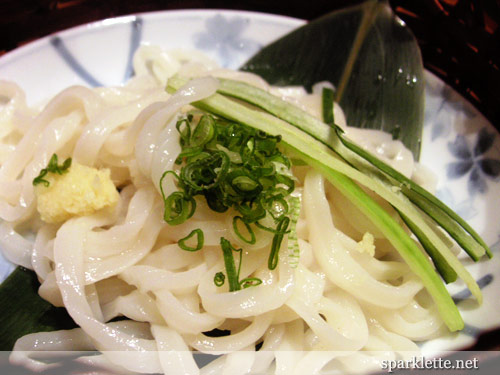 Cold udon
S$6.80++
Rating:





You can eat the tonkatsu with rice. But who wants plain rice when you can have slurp-icious udon, right? After visiting Japan, I realised I haven't actually had a decent udon in Singapore. But that has changed now that I have had Tetsu's udon. It's as silky smooth and light as what I've had in Japan. And for good reason too – the udon is air-flown in from there!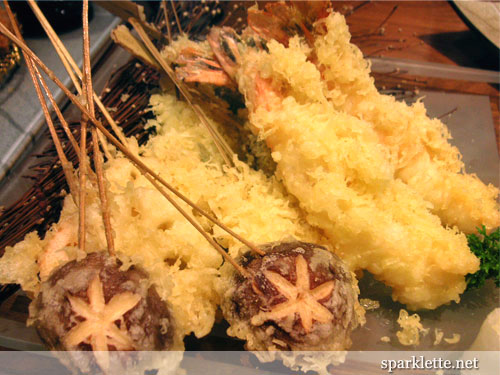 Kushi-Tempura (Tempura served on skewers)
Dependent on set
Rating:





With so many Japanese restaurants on the market, Tetsu differentiates itself by offering kushi-style tempura (tempura served on skewers). Interestingly, the tempura comes with three different dips – Japanese mayo, green tea salt (!) and chilli sauce (!!!). One thing you wouldn't find in Japan is chilli sauce (my friends that have moved to Japan sorely miss this), so this is no doubt to suit local palates.
My favourite tempura is the plump and crunchy tiger prawn, with a light and crusty batter that doesn't feel oily at all. Nice!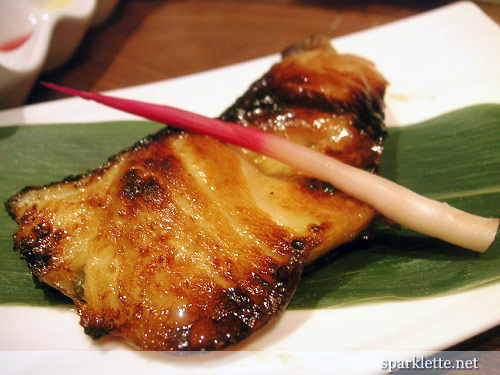 Grilled codfish
Not on menu
Rating:





Thanks to the generous hospitality of manager jason and chef ken, we got to sample a few extras that were not on the menu then. The codfish is very good, grilled in a delicious dark sauce that tastes sweet like teriyaki sauce.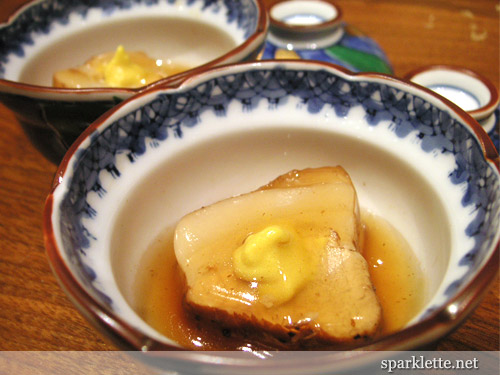 Pork balls
Not on menu
Rating:





It's nearing the end of the meal. On hearing that we're so stuffed from all the good food that we couldn't possibly eat anymore, ken looked a little… Shall I say disappointed? This is one guy that loves cooking and is really proud of his food! Determined to let us sample more of his cooking prowess, he brought us these pork balls in fancy porcelain containers. For the past two days he had left them to marinade in the thick sauce.
I'm glad we got to try these exclusive items. The sauce was sticky and surprisingly sweet. This time round, the pork was extremely tender and flavoursome. Because of the sweetness and softness, it was almost like enjoying a nice dessert to round off the meal.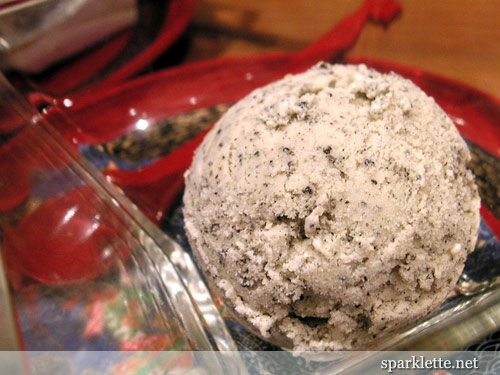 Goma (Black sesame) ice cream
Not on menu
Rating:





For desserts, jason recommended the goma (black sesame) ice cream. It comes in a shade of pale grey with little dark specks, and looks almost exactly like cookies and cream, except with a glorious black sesame taste. I have never seen this ice cream flavour in a shade other than dark grey, so this is surprising. I liked it so much, I requested for one more scoop! That put a perfect ending to this wonderful food-tasting session.
While one unique aspect of the restaurant is that you can sit at the bar counter to watch the chefs whip up your tempura, we preferred the more comfy and cushy seats by the windows.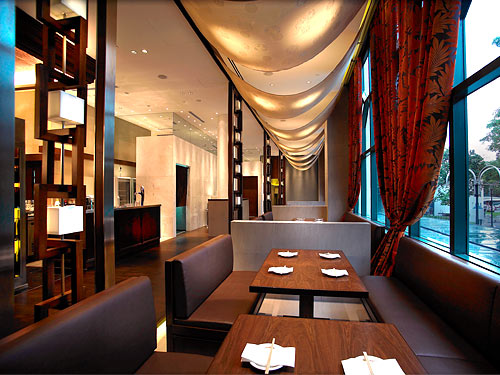 Photo by Tetsu
The restaurant's sleek interior can be attributed to the same Japanese architect that designed the stylish sun with moon Japanese dining & café. There is a very zen feel to it, with the dark wood, vanilla walls and spaciousness creating a cosy and relaxed dining environment.
On a Friday evening, the restaurant stands out as the only sign of life in the quiet mall. It is a great place for small groups to hang out comfortably and enjoy nice Japanese cuisine. Don't be surprised if ken decides to whip up a few surprises along the way. Chances are, they would be excellent.
Tetsu
Tanglin Mall
163 Tanglin Road #03-18
Singapore 247933
Tel: +65 6836 3112
www.tetsu.com.sg
Opening hours: 11:30am – 3pm (lunch), 6-10pm (dinner)