By this time tomorrow I would have arrived in Tokyo, where I would be gorging on gorgeous Japanese cuisine for the next 11 days! In the days leading up to this trip, I have been stuffing myself fat with several meals of yummy Indian, Muslim and various other local food. I'm gonna miss the food here so much!
Today, I had my last lunch in Singapore (there's still dinner and supper to go!) at the Fork & Spoon food court at Toa Payoh HDB Hub. To satisfy my daily fix of chicken, I had the ayam panggang (grilled chicken) at the corner Indonesian BBQ stall.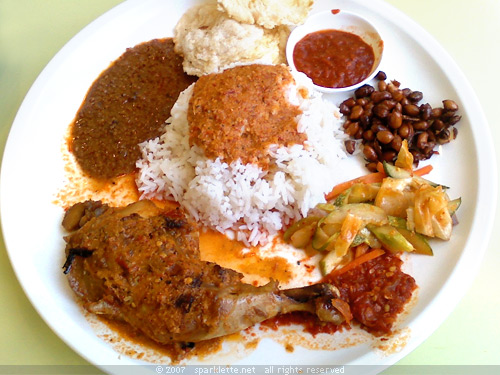 Ayam Panggang (Grilled Chicken)
S$4.20
Rating:





The portions were not particularly generous. In comparison with the popular stall at Plaza Singapura kopitiam, the size of the chicken here is definitely much smaller although the prices are almost the same.
Taste-wise, I did not like it very much. I still prefer the sweet black sauce at the Plaza Singapura stall. Also, the chicken flesh was dry and gave me the impression that it had been grilled and re-grilled a couple of times more after being left out for too long!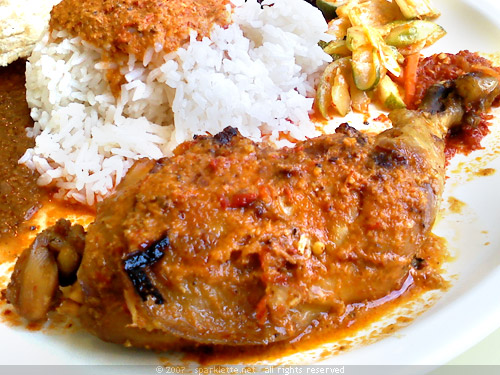 Still, I like the fact that the stall lady would obligingly serve it with all kinds of gravies that I request, such as the satay peanut gravy and sambal chilli sauce.
There you go! My last lunch in Singapore before the trip! So it wasn't the best grilled ayam of all time. But it tasted Singaporean all right (ironically the stall name is "indonesian BBQ"), and that's good enough for now.
Indonesian BBQ (

Halal certified)
Fork & Spoon
Toa Payoh HDB Hub
470 Toa Payoh Lorong 6, level 2
Singapore 310470