Ever since I've been back from Japan, I have been eating ayam penyet (smashed fried chicken) almost everyday! What's even more amazing is that I'm buying it from the same stall all the time. This particular ayam penyet stall is THAT awesome.
Ayam penyet is a popular rice dish found at most hawker centres. The chicken is deliberately smashed with a wooden mallet after deep-frying, apparently to loosen the meat from the bone.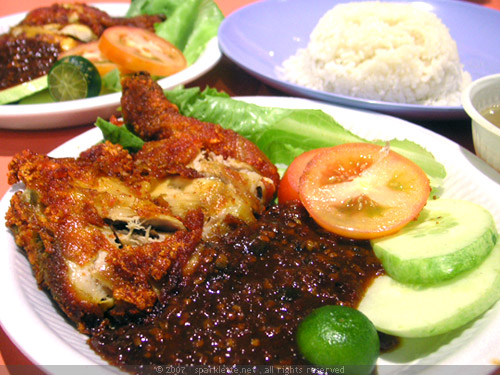 Ayam Penyet (Smashed Fried Chicken)
S$4
Rating:





After my disappointment at Ayam Penyet Ria (the Indonesian restaurant at Lucky Plaza that just about everyone is raving about), I have become rather wary about trying this dish; I am afraid the chicken would turn out to be too dry and hence inedible!
But this particular stall consistently churns out an awesome ayam penyet! Not only is the chicken tender and juicy, along with the sinfully crispy skin, it also comes with a generous amount of super tasty chilli sauce! Even as I'm perspiring from the spiciness, I would still ask for more chilli because it's just so shiok!
You know what's the best part?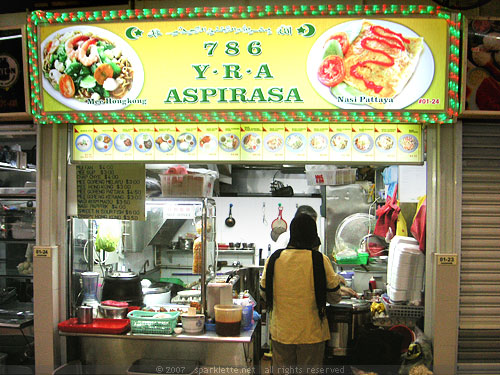 This stall is right at my doorstep! Haha! Bet you didn't see that coming! It's Y.R.A. Aspirasa located at ABC Market. Aside from ayam penyet they also sell numerous other ayam dishes. I've tried their ayam sambal, which was almost as good.
And if you go there on an evening, there's a good chance you would catch me there too. Lol!
Note that there are a few stalls at ABC Market selling ayam penyet. So please make sure you go to the correct stall!
Y.R.A. Aspirasa
(

Halal certified
)
ABC Brickworks Market & Food Centre
6 Jalan Bukit Merah #01-04
Singapore 150006
Bus services: 123, 14, 147, 153, 196, 197, 198, 855, 961
Nearest MRT: Redhill
Opening hours: 10am – 10pm daily