…not Lim Chee Guan, Bee Cheng Hiang, Fragrance or even Kim Hock Guan. Year after year, only one bak kwa (pork jerky) maker gets business from my family – Kim Hwa Guan (金华源). We swear by the Kim Hwa Guan bak kwa and find theirs to be the tastiest in town! Do you agree?
Each year, around this time, a phenomenon would occur in Singapore. Long queues would form at various bak kwa stalls in the Chinatown district. Never mind the swelteringly hot and wet weather or the fact that dried barbecued pork is available all year round. At Chinese New Year when this popular delicacy is at its priciest and demand is at its peak, people can queue for hours just to get a packet of bak kwa.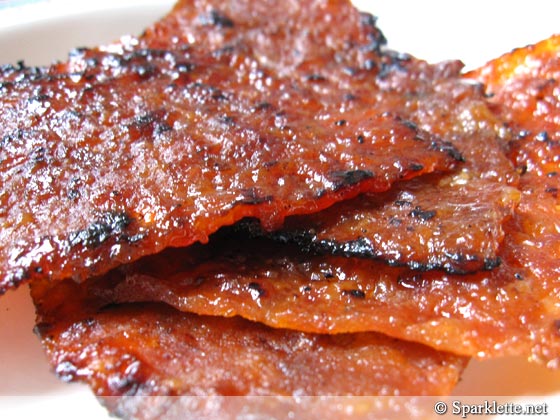 Bak Kwa
(pork jerky)
Seasonal pricing
Rating:





When it comes to good bak kwa, here's my list of demands:
Must be tender, man! Bak kwa in Singapore comes in two main forms – minced and sliced. The latter is prepared by slicing off solid blocks of meat and tends to be leaner and tougher. To devour it you really need to work those jaw muscles. I personally prefer the minced version which is distinctly more tender and easy on the mouth.
Slice it thinly, dude! One quality about Kim Hwa Guan bak kwa that I love is how thinly each square sheet is sliced, which contributes to the overall tenderness.
Must taste good, uncle! Every piece of the bak kwa here is well-marinated with succulent sweetness, juicy and perfectly grilled. It has all the makings of great-tasting bak kwa. Having tried all the aforementioned brands, Kim Hwa Guan has what I consider to be the best bak kwa in Singapore.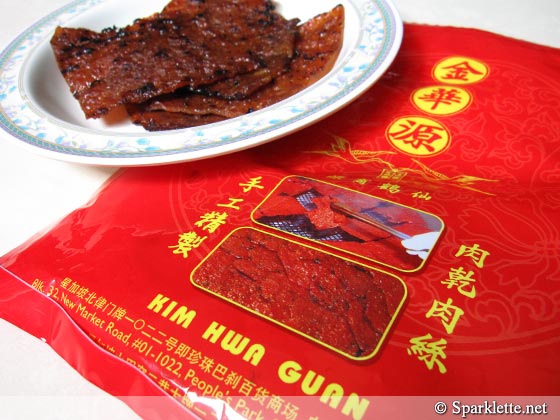 The plastic packaging has been improved over the years. After opening each packet of bak kwa, you can reseal it using the zipper/slider, ensuring maximum freshness to last you through the festivities.
Have Your Say!
In your opinion, where can you get the best bak kwa in Singapore? Share your thoughts with us in the comments!

Loading ...
Chinatown outlet
Kim Hwa Guan
People's Park Food Centre
32 New Market Road #01-1022
Singapore 050032
Tel: +65 9006 2026
Toa Payoh outlet
Kim Hwa Guan
Toa Payoh West Market And Food Centre
127 Lorong 1 Toa Payoh #02-40
Singapore 310127