One of my all-time favourite vacation spots is Thailand, a country with a rich culture, friendly people and colourful cuisine. Even while in Singapore, I let myself indulge in Thai cuisine once in a while just to relive the fond memories. Recently I had the chance to enjoy some great and affordable food at Lerk Thai.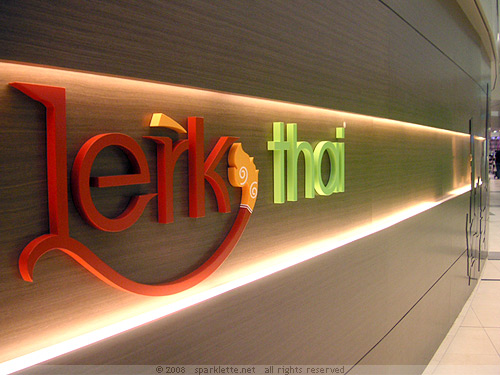 The Lerk Thai restaurant that I patronised was the branch at the new Changi Airport T3. Its smooth wooden facade sports a very zen look, meshing in well with the sleek and distinctive design of T3. White light glows warmly above and below the red, orange and green signage, creating a very nice ambience. And yes, T3 is the place where I spotted those beautiful glass panels.
Here are the dishes we ordered, including a couple of really awesome ones. Careful, it's really hot stuff!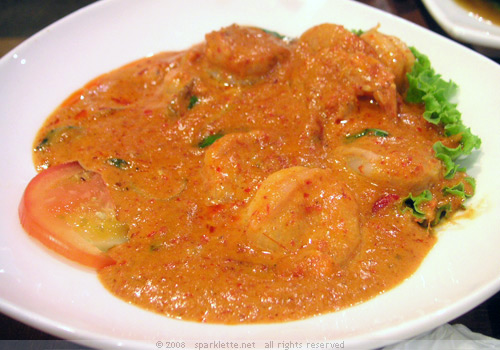 As indicated by the red round icon, the spicy fried prawn dish is part of the Singapore Health Promotion Board's Healthier Dining Program. This means that it is cooked in a healthier way with less oil, salt and sugar. Wouldn't that make it plain and yucky, the way healthful food tend to be?
Not at all! This is easily the best dish on the table, with that thick and delicious chilli gravy. It does get unbearably spicy, hence the double chilli rating. Yet I couldn't help slurping it all down by the spoonful because it's just so addictive! Get ready loads of tissue paper before digging in. Spice lovers would totally fall in love with this dish!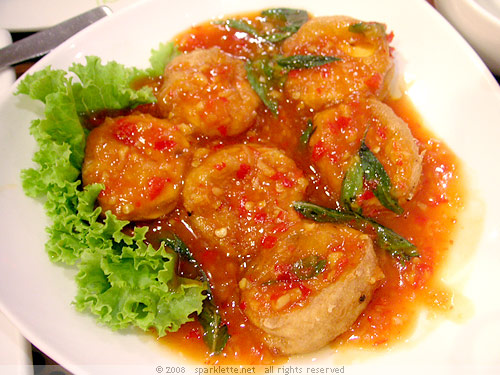 Deep fried beancurd with sweet & spicy sauce
S$6++
Rating:





The deep fried beancurd looks really hot at first sight, drenched in all that sweet and spicy Thai chilli sauce that most of us are familiar with. But it's actually not that spicy. The portion is rather ample and filling. So if you are thinking of sampling many dishes, you may want to leave this one out. watch free full best new movies online best new movies high quality HD UHD 4K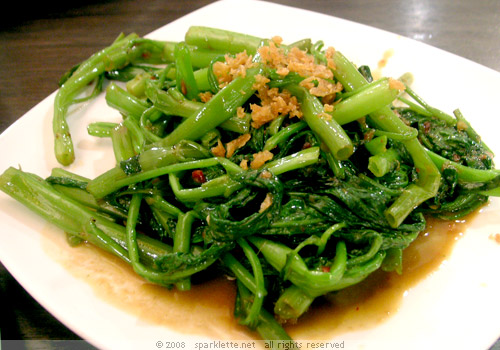 Fried Kang Kong with Belachan
S$6++
Rating:





For some greens, there's the ever-popular fried kang kong with belachan. It's pretty decent, and is one of the recommended items at the restaurant.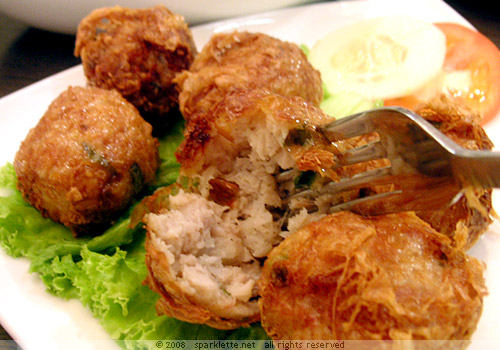 Deep fried crabmeat and minced chicken wrapped in beancurd skin
S$7.50++
Rating:





Deep fried crabmeat and minced chicken balls. On paper, this sounds really appetising and is what attracted me to order it in the first place. Unfortunately, that's where the good ends. Despite being another recommended item, the dish is just very bland. The sour chilli sauce that comes along doesn't do much for it. I can't exactly taste the crabmeat too.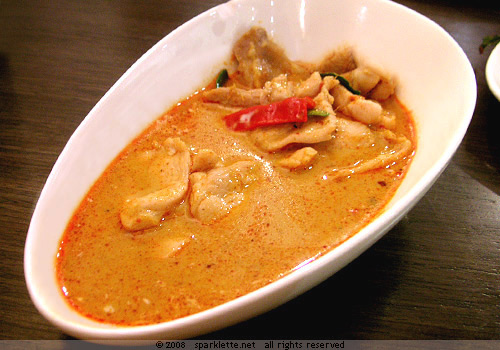 Gaeng Ped Whan Gai (red curry chicken)
S$9++
Rating:





Of course, a meal with me wouldn't be complete without chicken, would it? Like the chilli prawn, the red curry chicken is also a dish worth returning for. One thing to note is that this isn't anything like the conventional chicken curry that is popular among Singaporeans. For one, the chicken comes in the form of boneless slices, saving you the hassle of getting rid of the bones.
Also, the curry actually tastes sweet! This is probably the most unique curry I've ever had! Most people should find the spice level comfortable, and I would strongly recommend it for every table. Yup, that's how much I like this!
Lerk Thai
– Bedok Point, 799 New Upper Changi Road #02-12/14
– Bugis Village, 249 Victoria Street
– Centrepoint, 176 Orchard Road #01-59-62
– Changi Airport Terminal 3 Transit Lounge
– Marina Square, 6 Raffles Boulevard #02-202
– PoMo, 1 Selegie Road #01-06
– Singapore Expo, outside Hall 6
– Tanjong Pagar MRT #B1-27/27A
– The Verge, 2 Serangoon Road #01-21
– White Sands, 1 Pasir Ris Central Street 3 #03-14
– Woodlands Civic Centre, 900 South Woodlands Drive #01-07
Website