This Deepavali, you can go on a gastronomic tour of India at Grand Mercure Roxy Hotel's [email protected] Buffet Restaurant. The buffet brings you colourful delicacies from the rich Indian culture and heritage.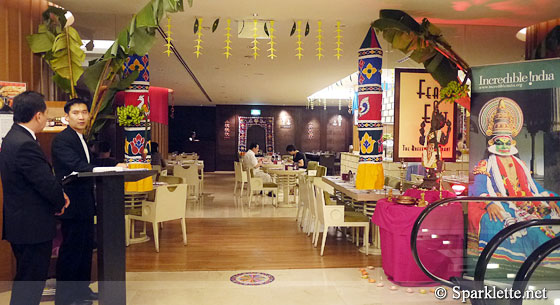 Heritage Feast of India buffet
(until October 28, 2011)
Lunch: S$40++/adult, S$20++/child, S$32nett senior citizen
Dinner: S$44++/adult, S$23++/child, S$35nett senior citizen
* Senior citizens aged 55 years and above
Rating:





Apart from the main selection of Indian staples, you can also enjoy the signature items from the usual buffet such as the laksa and durian pudding.
Kick-start your meal with something light at the salad station.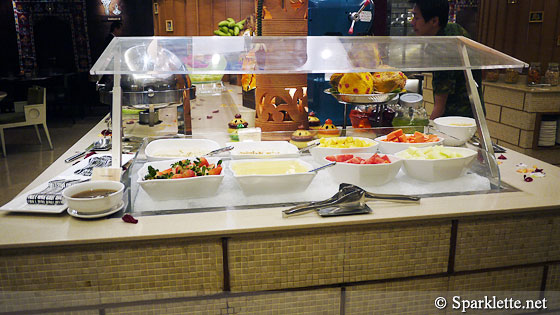 The yoghurt and salads will provide a cooling counterpoint to the tantalising spices in the Indian cuisine.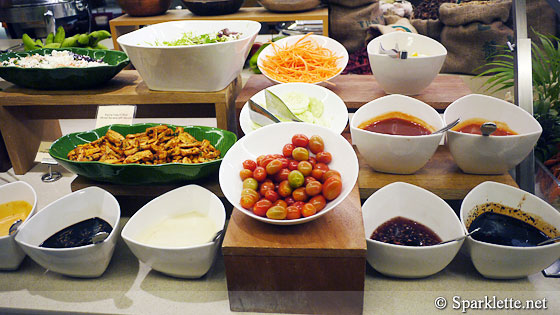 A range of dressings, condiments and toppings are available for you to design your very own salad.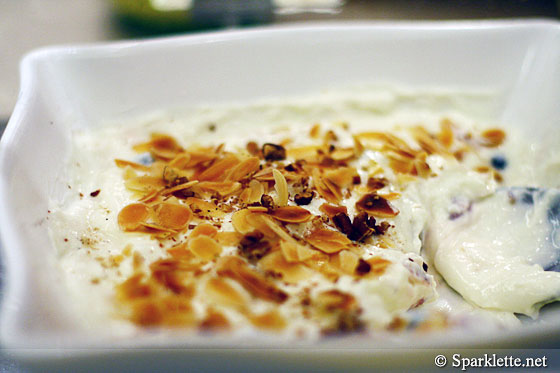 Shrikhand (yoghurt with sugar and dried nuts)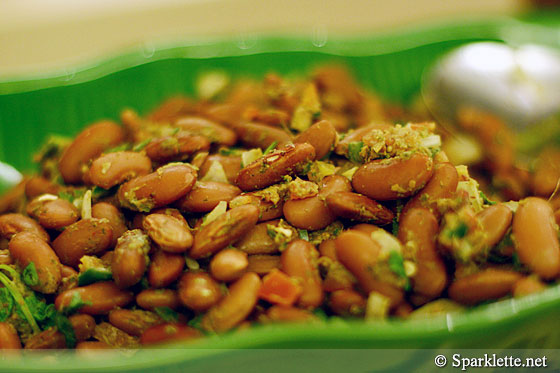 Rajma chaat (mixed beans)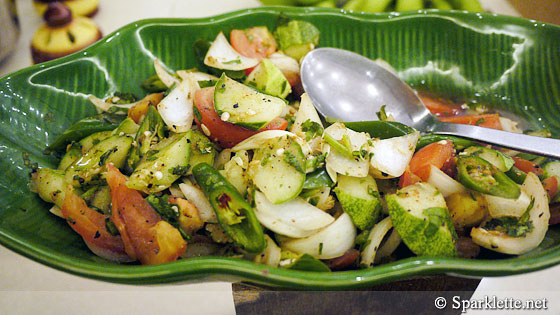 Kachumber salad (mixed salad)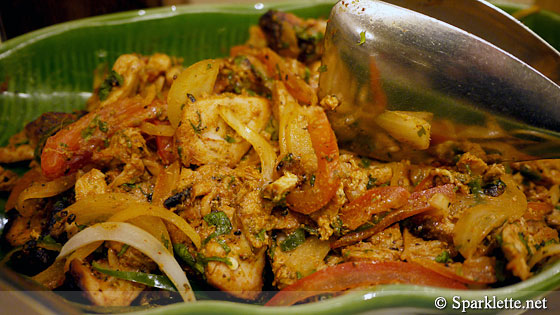 Chicken tikka chaat (shredded chicken)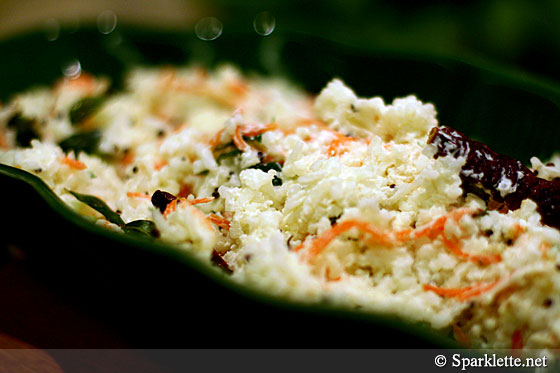 Carrot curd rice
(yoghurt and carrot rice)





The carrot curd rice is well infused with yoghurt, lending a rich flavour without being mushy and heavy on the stomach.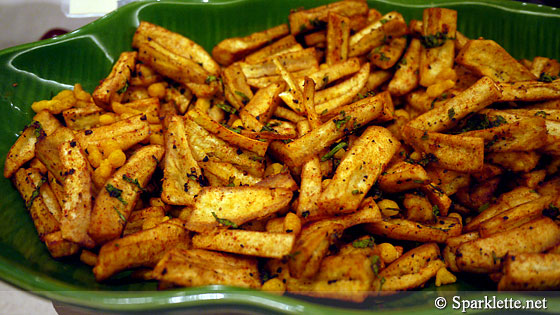 Kache kele ki bhel
(mixed banana with sauce)





The mixed banana with sauce lacks taste and texture. From its façade, you would be expecting a crispy texture, and be disappointed when you sink your teeth into a limp morsel.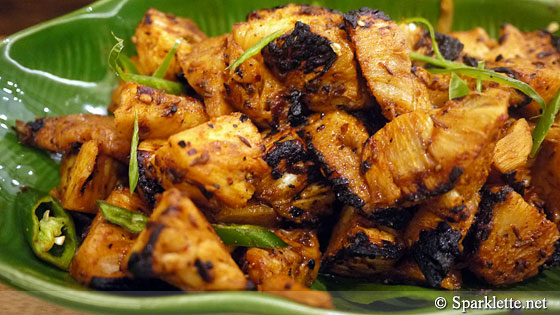 Tandoori anaanas ki chaat (spicy marinated pineapple)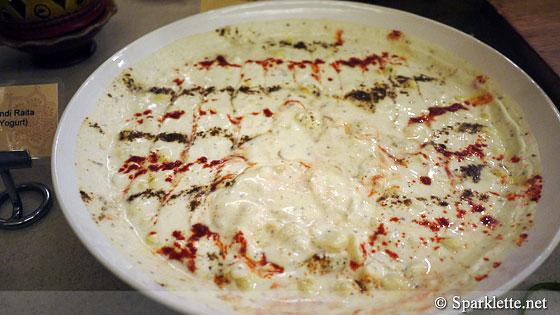 Aloo boondi raita
(mixed yoghurt)





For a healthy dip to go with the crackers, opt for the appetising mixed yoghurt. You will find traces of potato in the yoghurt that may seem outlandish to those who are new to Indian cuisine, but soon you will find yourself wanting more.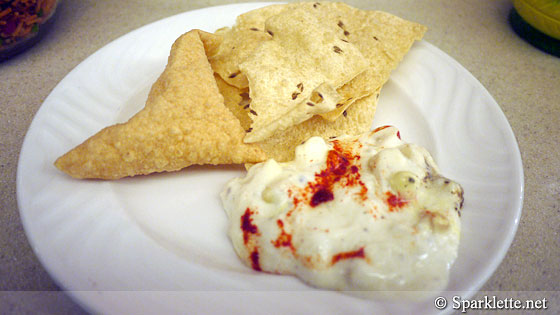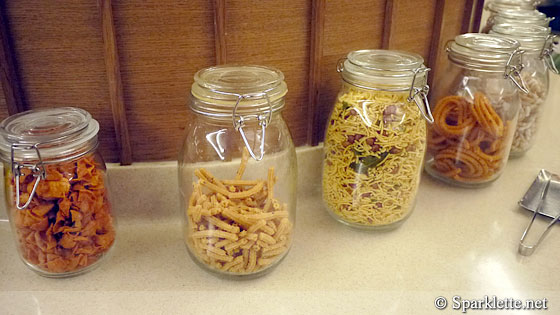 An assortment of Indian titbits and murukku are available.
To warm your tummies, pop by the soup station for traditional Indian soup and a soup of the day. Soy sauce, parsley and lemon are available for seasoning.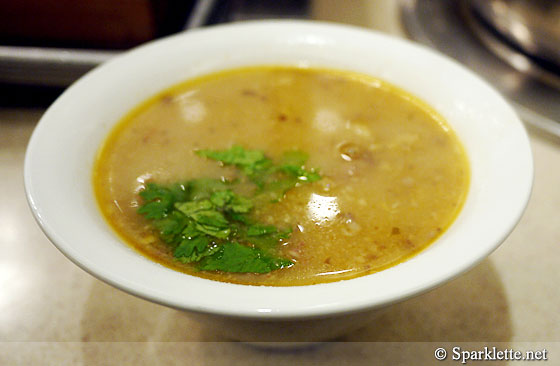 Mutton soup





The mutton soup is slightly clear and light, yet flavourful and hearty, with only a hint of the mutton smell.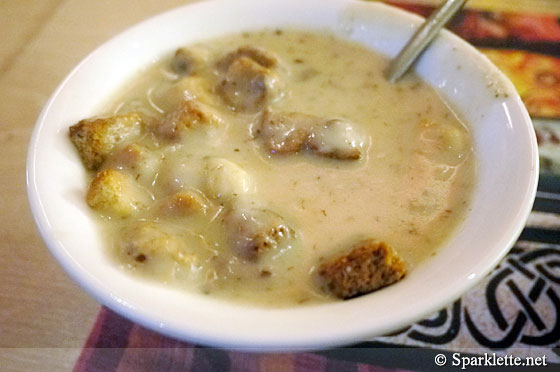 Mushroom soup





For the gastronomic conservatives, you can have the mushroom soup. It is thick, tasty and well seasoned, with a creaminess and smooth consistency that make it an extremely comforting soup to dig into. I cannot help but get a second serving.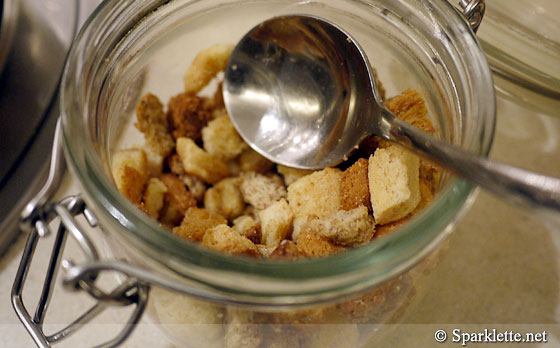 Croutons are available if you'd like to add texture to your soup.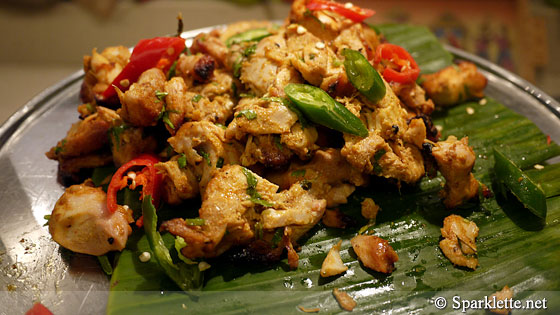 Murgh tikka





The chicken morsels in the murgh tikka are tender and flavoursome.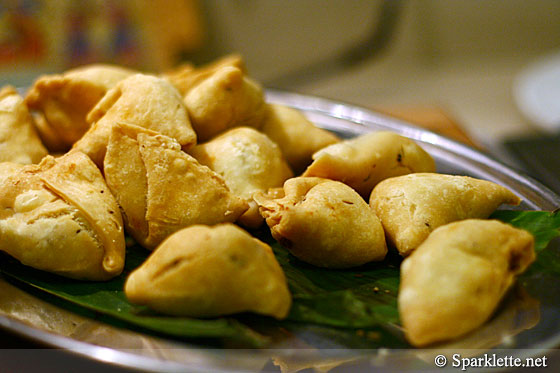 Aloo mutter samosa
(potatoes and peas)





The aloo mutter samosa has a slightly doughy and thick exterior, and isn't greasy at all. You can pair it with your preferred chutney.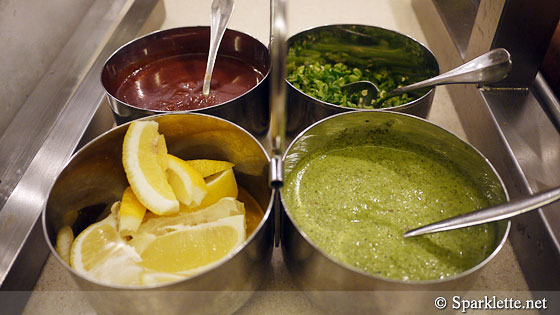 Mint and imli aur adrak ki chutneys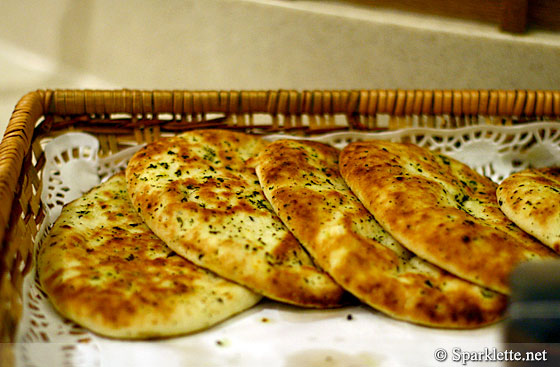 Garlic naan





Buns and breads as well as plain rice are available to soak up the delicious curries.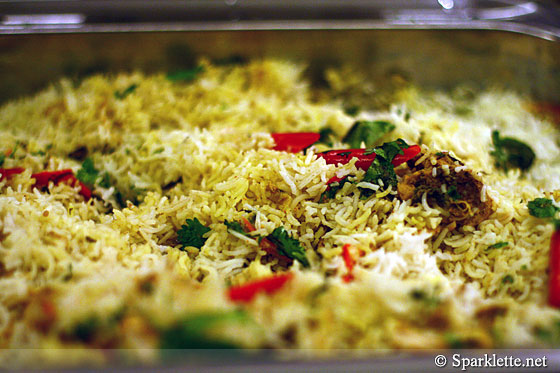 Murgh dum briyani (aromatic rice with chicken)
But who wants plain rice when you can have the aromatic briyani rice?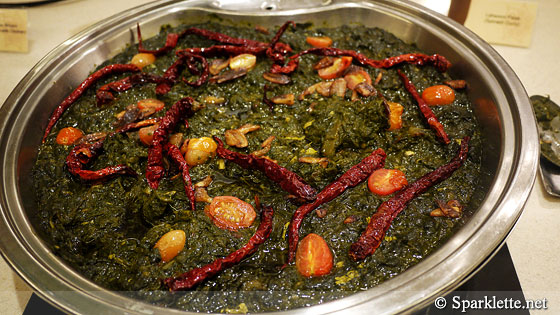 Lahsooni palak
(spinach curry)





A noteworthy dish is the spinach curry. Its dark green colour may be off-putting to some, but the unappealing appearance does no justice to its taste. This dish absolutely enters the realm of comfort food that is good for both the soul and the health. Even the most hardened veggie haters will find themselves indulging in spoonful after spoonful that slides down the throat easily.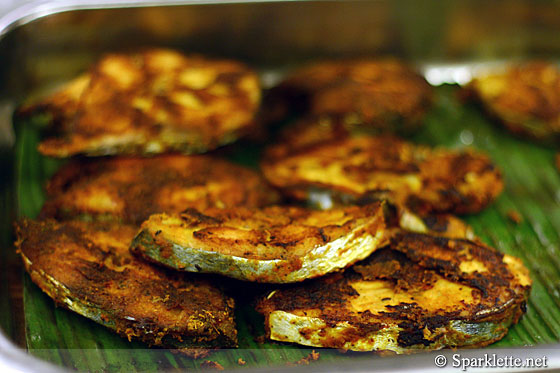 Tawa surmai (marinated king fish darne)





The marinated king fish darne may look dry and slightly burnt, but the tenderness of the flesh will surprise you. It does beg for a sauce or gravy to add more flavour.
Spices and curries are the essence of Indian cuisine. A selection of curries is available for curry fans.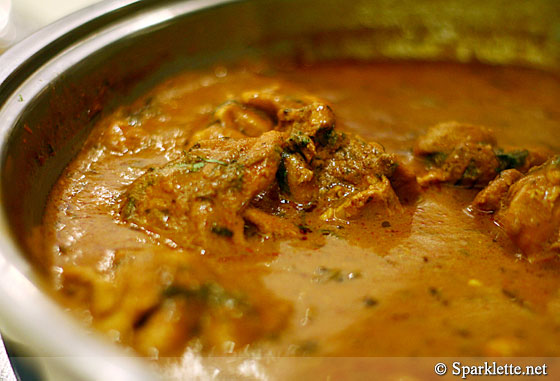 Butter chicken





Among the meaty options, the butter chicken is one popular choice. The thick fragrant gravy goes very nicely with bread. The balanced spicing is more zingy than fiery and will be comfortable for most.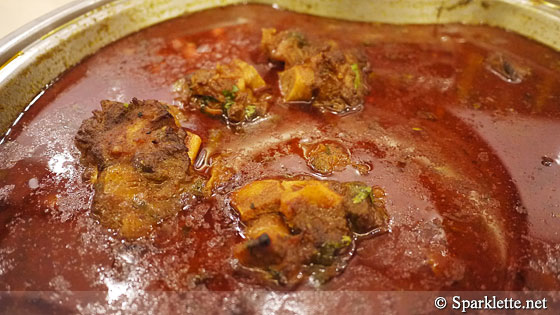 Nail ni nazakat
(lamb shanks)





For the discerning diner who yearns for something a little more sumptuous, the fork tender lamb shank submerged in a pool of curry will certainly satisfy. The meat falls off the bone easily and practically melts in the mouth – it's the epitome of tenderness! The lusciously rich curry is sufficiently thick, spiked with a good balance of spices and aromas; it is gently spiced, just enough to tantalise your taste buds.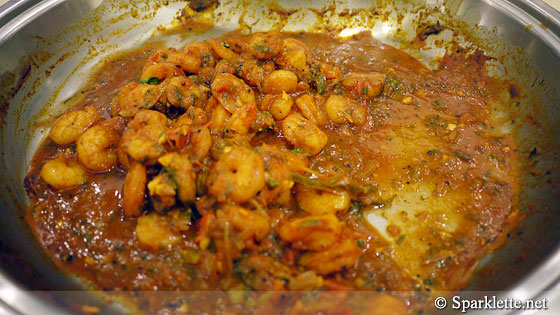 Jinga masala (prawn with bell peppers)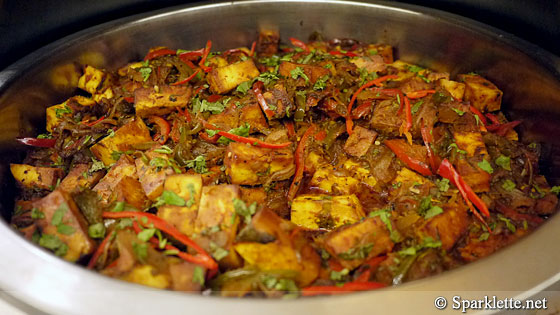 Paneer khurchan
(shredded cottage cheese)





As tempting as the paneer khurchan (shredded cottage cheese) looks, I wouldn't recommend it; it is dry, tough and lacking in flavour.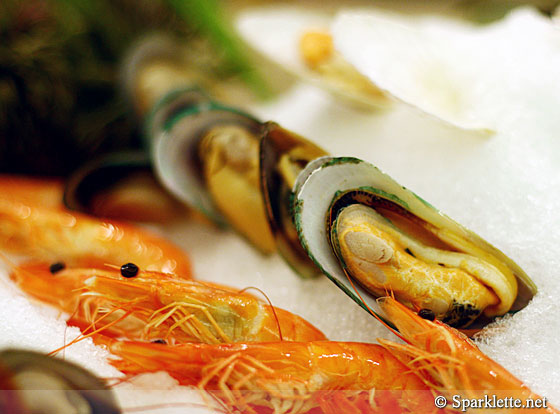 From the seafood counter, you can get prawns, mussels and oysters.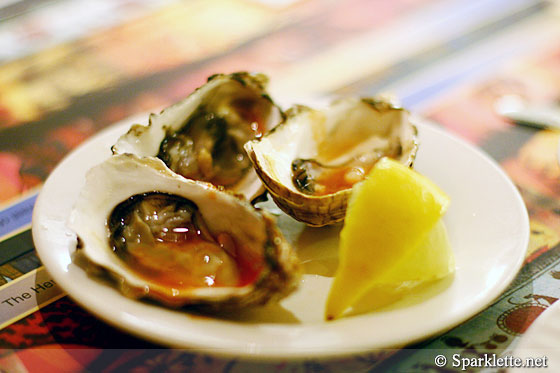 The freshly shucked oysters disappear from the station almost immediately upon being replenished. Stand by the station if you want apiece.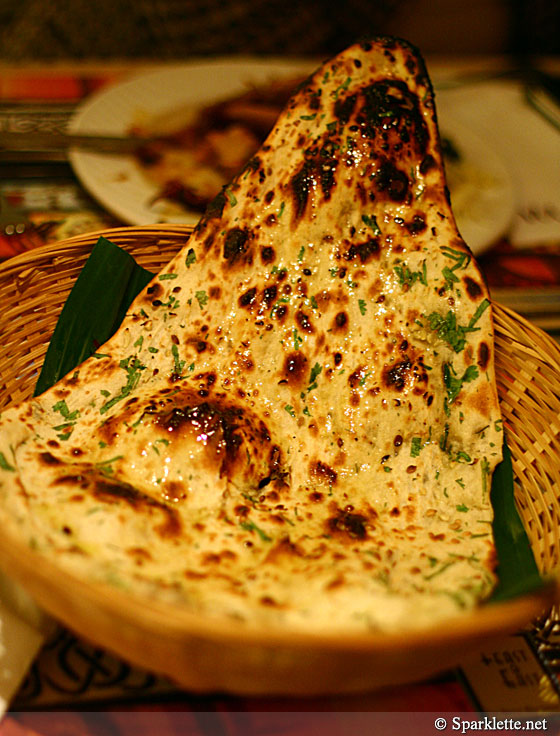 Butter naan





Here comes the crowd pleaser, the butter naan. Best enjoyed as a communal dish, simply break off a portion for yourself and pass the bread around the table. Curry is an indispensable accompaniment to complete a naan experience; the aforementioned butter chicken dish is highly recommended.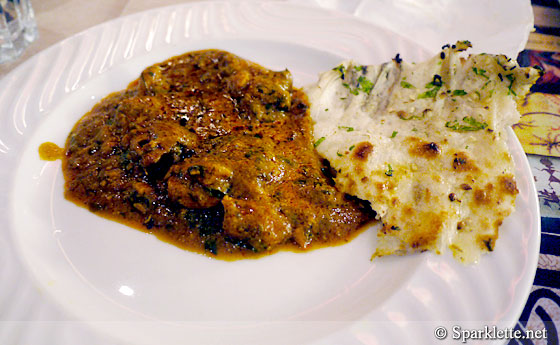 You can order a freshly made naan at the live cooking station. As it turns out, the buffet spread slants more towards North Indian cuisine. I am slightly disappointed with the unavailability of roti prata, which is from the South.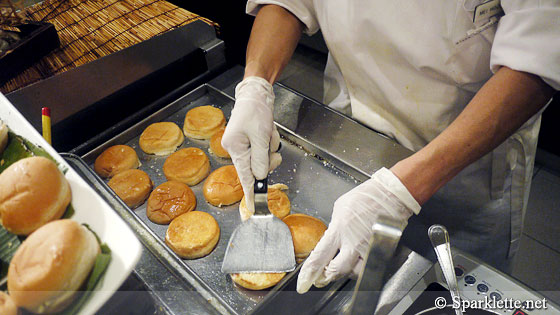 At another live cooking station, you will find the chef ready to prepare a set of pav bhaji (potato curry and bun) upon order.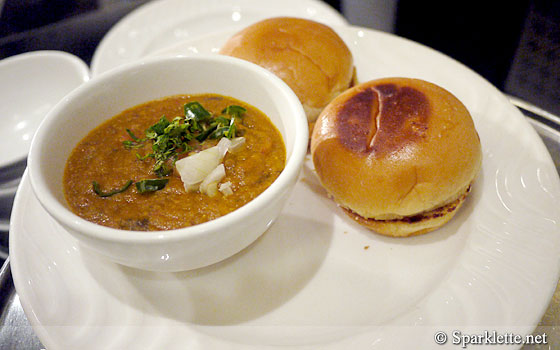 Pav bhaji
(potato curry and bun)





The buns are lightly coated with butter, then placed on a flat grill, producing a slightly sweet crust surrounding a light, airy interior. You can even customise your own toppings with choices of diced tomatoes, onions and chillies. The fragrant crusty buns couple well with the potato curry. A must-try!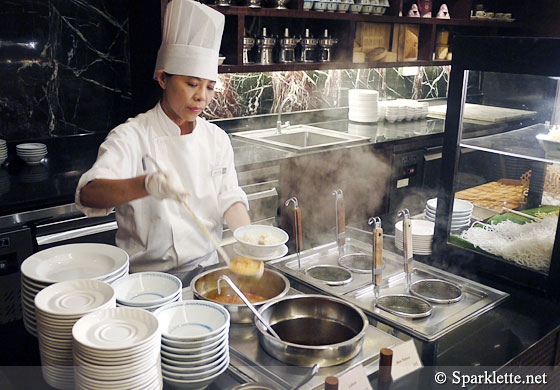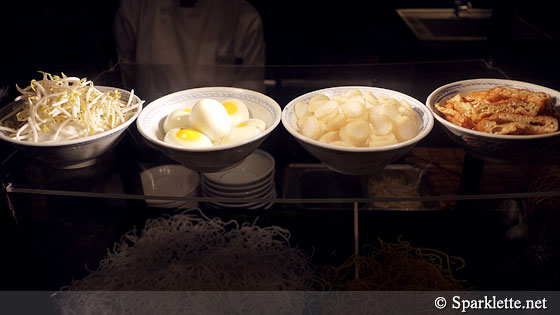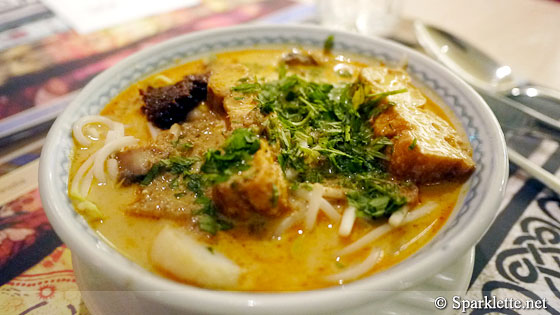 Laksa





Order a piping bowl of laksa. The thick and mouthwatering laksa gravy has a coy hint of spiciness, but if you'd like more oomph, go ahead and scoop on more chilli.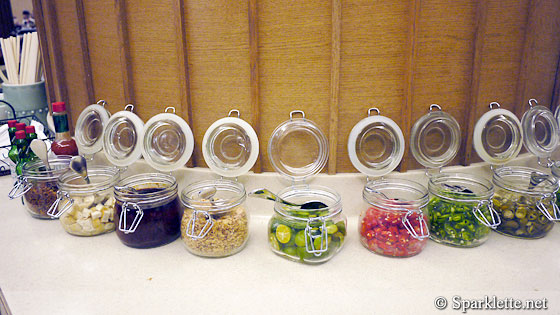 Don't miss out on the various toppings, chillies, condiments and dipping sauces; you can play around with different combinations to discover new tastes!
Desserts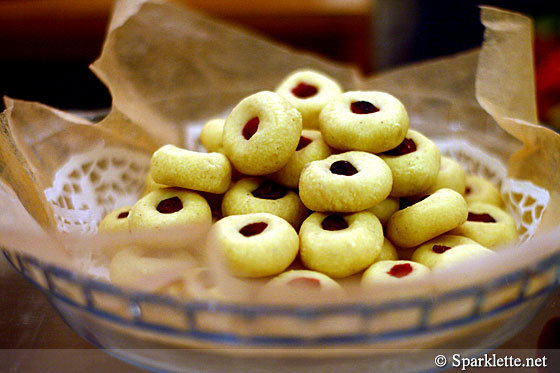 You can't end your meal here without having a sweet bite from the colourful array of handcrafted Indian desserts.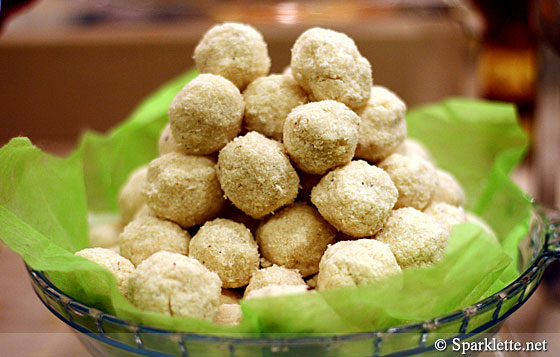 Coconut burfi (condensed milk cooked with sugar)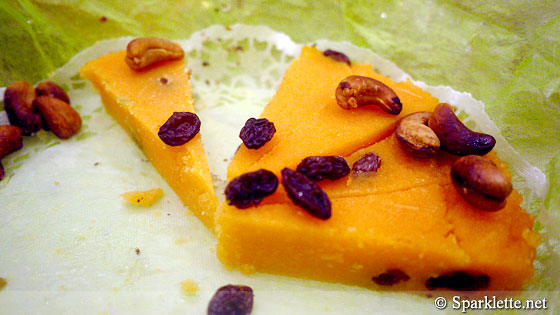 White pumpkin kesari
(grated pumpkin cooked with milk)





The white pumpkin kesari (grated pumpkin cooked with milk) is a simple dessert with a thick pudding-like texture that is not overtly sweet.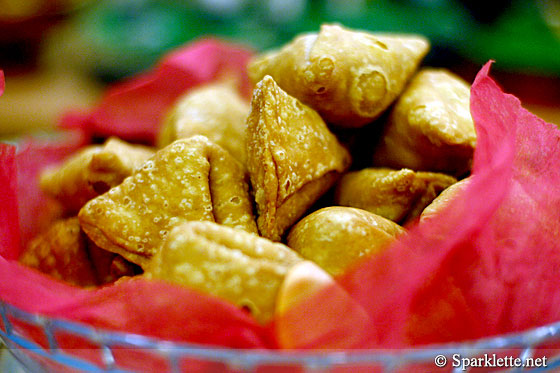 Sweet samosa





Deviating from the conventional savoury samosas with curry filling, this sweet version consists of mixed nuts within a crispy exterior. The filling is dry, a contrast to the savoury version.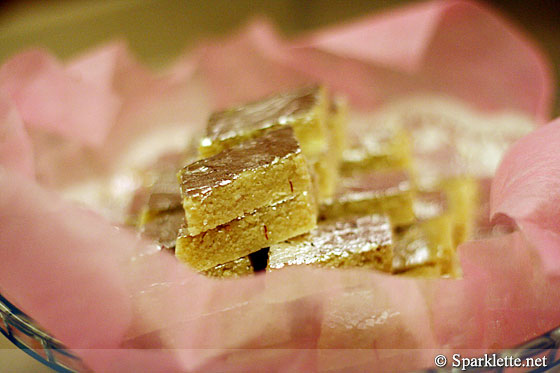 Kaju kaili
(ground cashew nuts with sugar)





The edible silver foil adds visual appeal to the kaju kaili, a traditional Indian sweet confection. This rhombus-shaped snack is a popular choice amongst the Chinese as it has a texture similar to certain Chinese New Year cookies.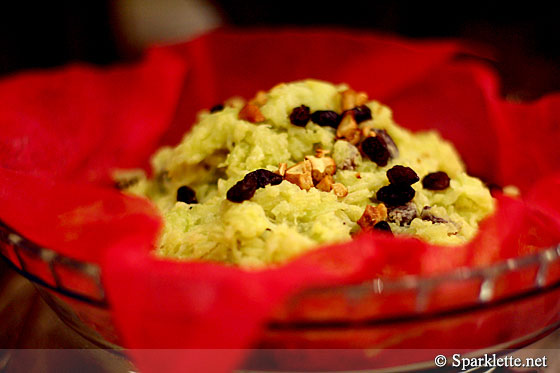 White pumpkin halwar

Kaja katali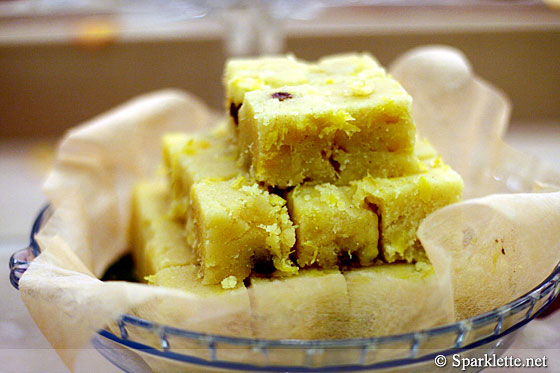 Pineapple halwa
(grated pineapple cooked with milk and sugar)





Another authentic Indian dessert is the pineapple halwa that consists of grated pineapple cooked with milk and sugar. While many have raved about it, it doesn't appeal to me; the dense, thick pudding-like and slightly gritty texture is a little too bizarre for my liking.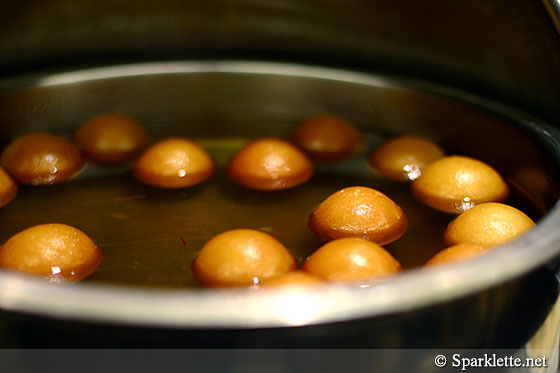 Gulab jamun (flour mixed with milk)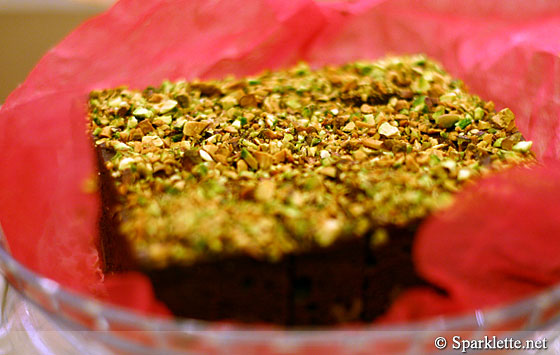 Chocolate cake with roasted pistachio





If exotic Indian desserts aren't your cup of tea, the pistachio cakes may yet delight your taste buds.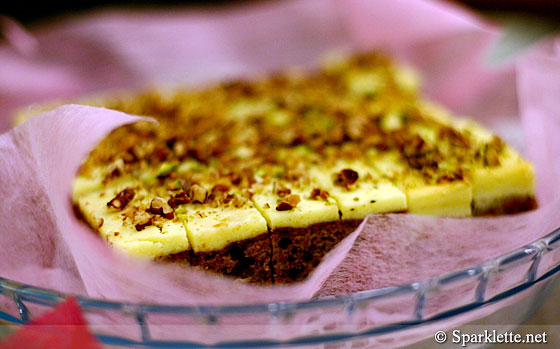 Carrot cake with roasted pistachio





The carrot cake fares better than the chocolate rendition; the soft custardy layer on top exhibits the right amount of creaminess, and the cake doesn't feel dry.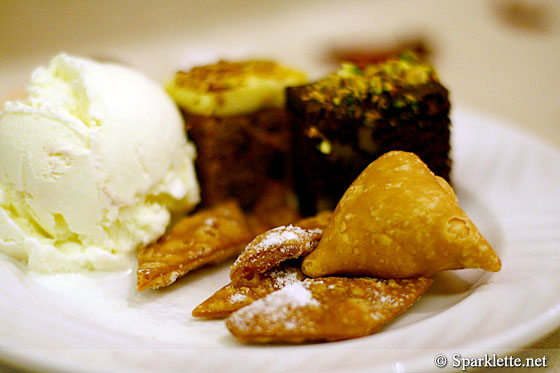 Pair your desserts with ice cream. The coffee flavour is a popular choice.
Bring back nostalgic memories with these childhood sweets. The preserved dried ginger is almost in extinction. Makes you wonder where the restaurant gets its supply!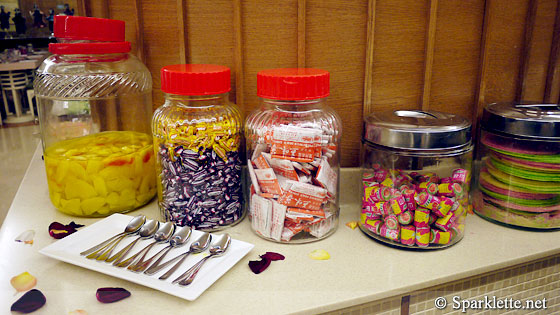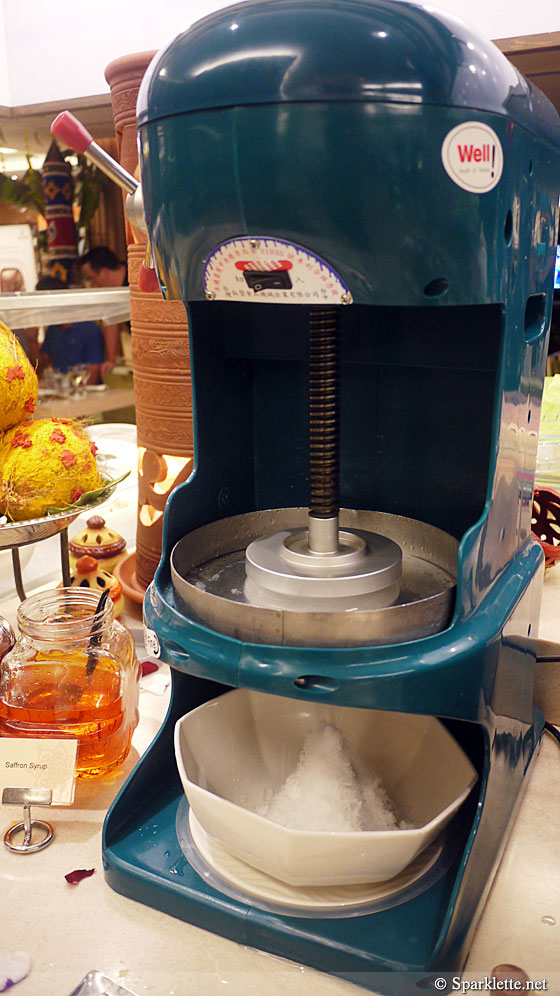 Try your hand at the ice kacang station with the multi-coloured syrups and toppings.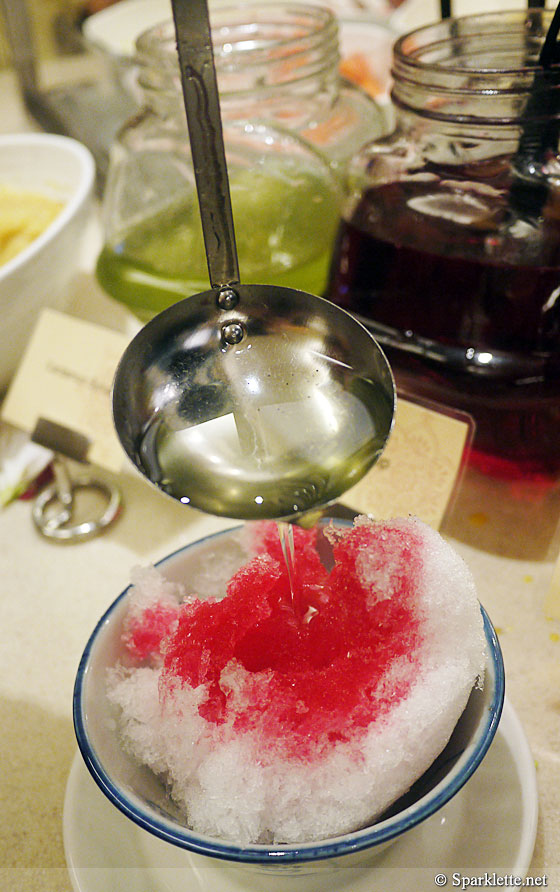 Despite having a mixture of cuisines in the buffet, most of the spread remains true to the Indian culture, and successfully avoids the label of "fusion food". If you'd like a good taste of Indian cuisine, [email protected] is an ideal dining spot for an affordable meal.
Have Your Say!
Where can you find the best Indian buffet in Singapore? Share with us in the comments!
[email protected] Buffet Restaurant
Grand Mercure Roxy Hotel, Level 3
50 East Coast Road
Singapore 428769
Tel: +65 6340 5665 |
Website
Service:





---