This Mid-Autumn Festival, you can have mooncakes sent to friends by local bakery Metrocakes, which provides a delivery service. We have always enjoyed the bakery's festive creations, especially the arty Christmas log cakes and cutesy Chinese New Year cupcakes.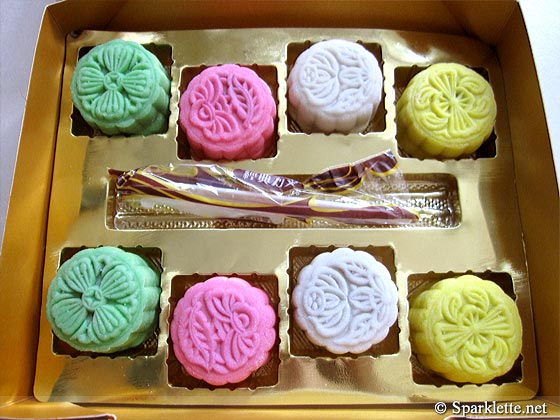 Mini snowskin mooncakes
S$58.80-62.80 for a box of 8 (single flavour only)





Metrocakes' maiden launch of mooncakes is available in 4 flavours:
– Green tea paste with pumpkin seeds (green)
– White lotus paste with almond flakes (pink)
– Osmanthus paste (white)
– White lotus paste with whisky truffle (yellow)
Every flavour is represented by a different colour, and stencilled with different designs. While these are mini mooncakes, I discover that each one is much taller (or thicker) than the usual.
My favourites of the quartet are the safe but oh-so-fragrant green tea as well as the luscious white lotus paste with whisky truffle. My only gripe is that instead of being baby soft, the snowskin of each mooncake is thick, a little tough and quite chewy.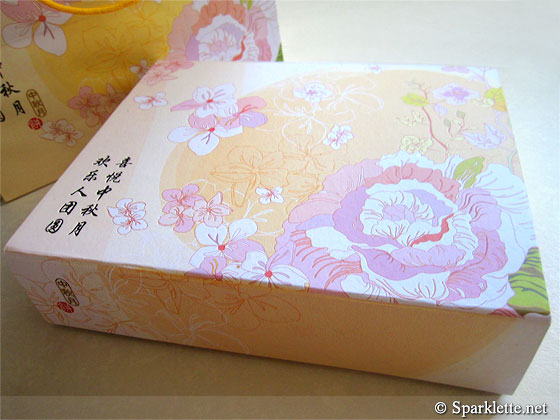 I have always been a fan of Metrocakes' cake packaging, which comes included with disposable cutlery for your cake eating convenience. The hardy mooncake box is decorated in pretty pastel colours and printed with beautiful floral designs.
Have Your Say!

Loading ...
What mooncakes are you buying this year? Share with us in the comments!
Metrocakes
774 North Bridge Road
Singapore 198742
Tel: +65 6294 9929 |
Website
Opening hours:
Mon – Fri: 10:30am – 7pm
Sat: 10:30am – 3pm
Closed on Sundays & Public Holidays