Right now, I am munching on a couple of the Nature Valley Granola bars. I like how convenient these are. When you get the munchies and can't be bothered to cook or buy in, you can just grab a snack bar. Packed with wholegrain oats, rice crisps, real fruits and nuts, these are probably the healthiest snacks around!
You can check out the Nature Valley website to see the drool-worthy Lost actor Josh Holloway large variety of bars and snacks they carry. In Singapore, the bars are available in crunchy flavours such as Oats & Honey, Roasted Almond, Maple Brown Sugar and Apple Crisp.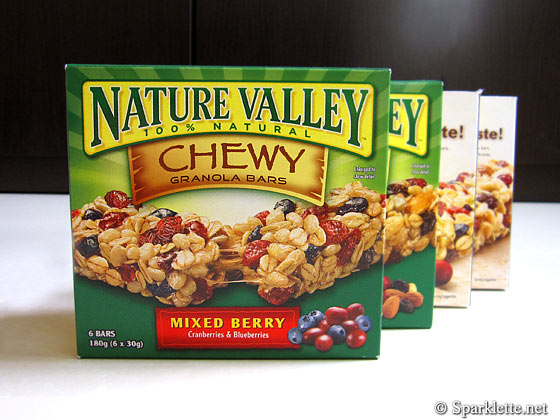 Nature Valley recently launched two new chewy bars – Mixed Berry and Fruit & Nut – in Singapore supermarkets. They are made with all-natural ingredients such as almonds, peanuts, cranberries and blueberries and wholegrain oats.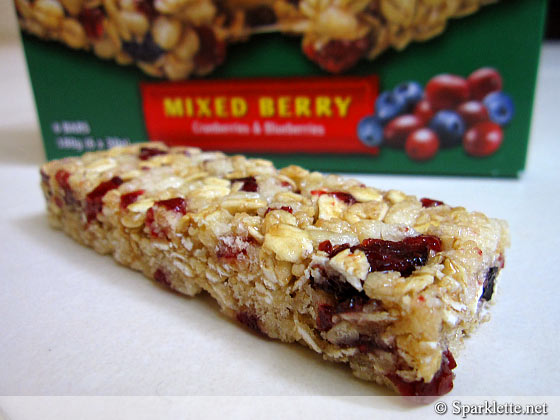 Nature Valley Mixed Berry Granola bars
S$6.30 for a box of 6 bars
Rating:





The Mixed Berry Granola bars are a colourful mix of cranberries and blueberries. If you happen to get your hands on one of these bars, be sure to smell them! I know this sounds weird, but trust me, you won't regret it. Each whiff of these snack bars is like the sweet smell of summer! They are ideal for fruit lovers.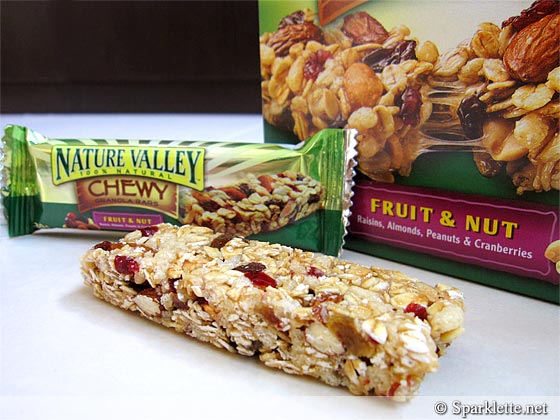 Nature Valley Fruit & Nut Granola bars
S$6.30 for a box of 6 bars
Rating:





If you prefer a bit more crunch, I recommend the Fruit & Nut Granola bars. These bars of wholegrain goodness are also sweet-tasting, and include raisins, cranberries, peanuts and almonds.
Even though Granola is commonly known as breakfast food, these chewy bars are so wholesome and filling that I don't mind having it for lunch or even dinner. Sometimes things just get so busy at work and when there's no time for a proper meal, a bar or two would suffice. In fact, I think I'll put a box of these in my car. They should come in handy.
Sparklette Giveaway!
We're giving away dozens of these Nature Valley Granola bars. Find out how to get a couple of these delicious bars delivered right to your doorstep!
Have Your Say!
What is your favourite Nature Valley Granola bar flavour? Have you tried similar snack bars from other brands? Share with us in the comments!