Just when I thought it would be a long time before I find another restaurant that's worth raving about (like graze), along comes one that rekindles my hope.
Aerin's, a modern European restaurant, is one of the bigger eating establishments at the Raffles City marketplace. With its dining area spread out prettily around a fountain, it would be hard for shoppers to miss a place like this. In case you're wondering, Aerin's is named after the owner's daughter.
I had walked past Aerin's on numerous occasions but hadn't got around to actually dining there until last week. At night, the restaurant is softly lit with candles on each table, creating a cozy and chic ambience for diners. It was a full house on Friday evening, but we managed to get a table rather quickly.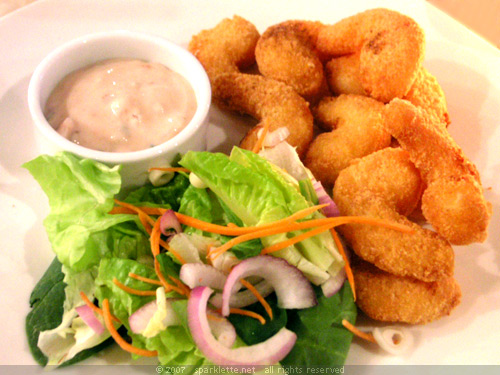 Prawn Poppers
S$10++
Rating:





For starters, we had the very cutely named Prawn Poppers. It was one of their newest items and appeared on the menu only last month! Covered with a light, tasty batter, the juicy prawns came with a homemade tartar dip that was worth every fattening calorie.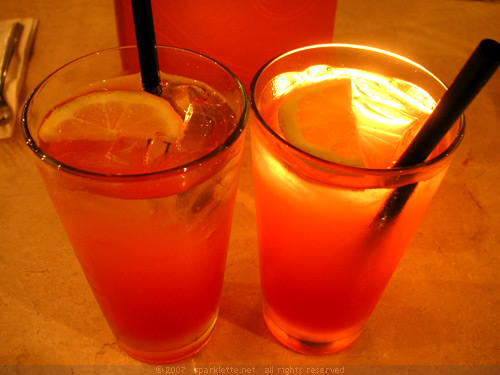 Santarina
S$8++
Rating:





After watching us deliberate a long time over what drinks to order, our waitress recommended the Santarina. As its name suggests, this was actually a drink they made specially for Christmas! But with a yummy combination of passion fruit, cranberry, lemon, apple sparkling juice and soda water, I could have this all year long! It was the most refreshing drink ever!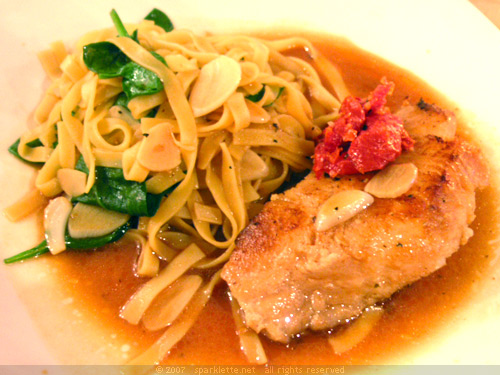 Yakiniku Cod
S$23++
Rating:





My Yakiniku cod was baked and served with baby spinach and a huge mound of tagliatelle pasta. I didn't really care for the pasta because the generous slab of cod fillet alone was more than enough to fill my stomach. Drenched in a very delightful and sweet Yakiniku sauce, the cod tasted heavenly!
If not for the few five-centimeter-long fish bones that I found, this would have been a five-star dish. It is possible for the chef to remove all fish bones like the Japanese do, no?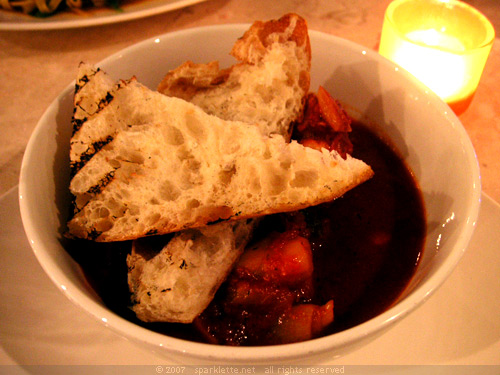 Chicken Cacciatore
S$19++
Rating:





Unlike the cod, the chicken Cacciatore was served boneless, thankfully. The chunky pieces had been cooked in a thick tomato gravy (a stark contrast from the soupy tomato base at The Mussel Guys!) and came with triangular slices of bread. The tomato gravy was herb-flavoured which on paper wouldn't appeal to me much. But surprisingly I loved it!
Frankly, I had walked into Aerin's expecting regular good food for the decent prices. But what I had was more than just regular good – it was outstanding! Throughout the course of the meal, I was oohing and ahhing over the excellent food. This was certainly the most satisfying meal I've had in 2007!
I rarely check out the same restaurant twice unless it's really good, and Aerin's certainly fits the bill. For that, Aerin's gets a gold star and a smiley face from me :)
Aerin's
Raffles City Shopping Centre
252 North Bridge Road #B1-11/12
Singapore 179103
Tel: +65 6337 2231 |
Website
Service: