Wanna feast on finger lickin' good fried chicken? Well, you probably can't get it at KFC these days. But I'll tell you where you can. Popeyes!
No, not the spinach-eating cartoon character. Not exactly. I'm referring to Popeyes, the world's second largest fast food chain specialising in chicken!
But hey, if we're talking about food quality, Popeyes trumps its biggest competitor any day. Not only are the chicken and fries tastier and crispier, they are less oily, too.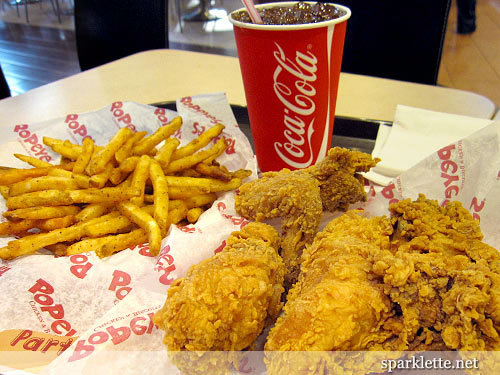 3-piece chicken combo
S$9.80
Rating:





For the chicken flavours, you have the choice of New Orleans Spicy or Louisiana Mild. I haven't had the chance to savour the buttermilk biscuits and mashed potatoes (they ran out), but I hear they are amazing!
Each time I eat the KFC fried or popcorn chicken, the breaded crispy skin is very thick and, frankly, not very crispy or appetising. After a while, I just feel like I am chewing on cardboard. Does anyone else feel the same way?
Popeyes' chicken is different; the skin is light, crispy and simply a joy to eat. What's more, it retains that amazing crispiness even long after I've taken a hundred photos of it!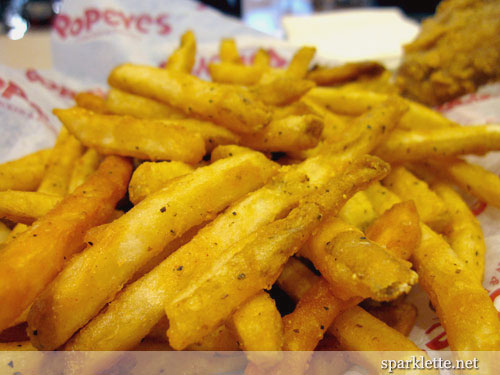 Just as satisfying are the French fries. They remain surprisingly crunchy even towards the end of the meal, golden brown with the wonderful flavours of Cajun spices.
Seriously, nothing turns me off more than munching on soggy fries. There's really no excuse when they're already soggy when you've only *just* ordered them off the counter. That's McDonald's and KFC I'm talking about.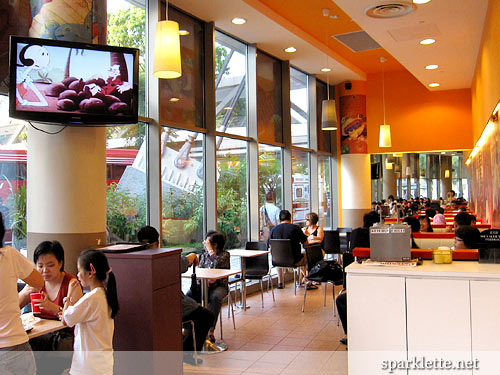 While the restaurant was originally named after the fictional detective Jimmy "Popeye" Doyle in the movie, the French connection, Popeye the sailor eventually became the main character fronting the marketing efforts.
That's also why you get to watch old Popeye's cartoons while digging in! Very classic :) after Disney Naturally closed down, this is one other cartoon-themed eatery where parents can bring their kids.
Interesting titbit: the late founder Al Copeland amusingly claimed that he named the restaurant "Popeyes" because he was "too poor" to afford an apostrophe. Haha :)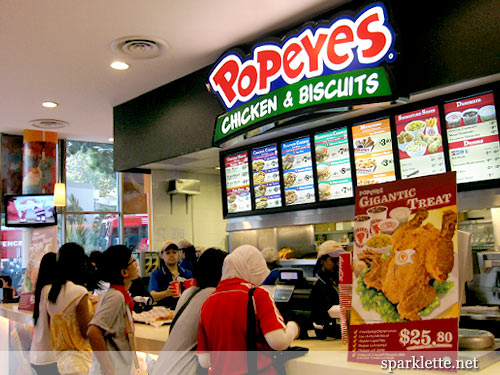 I wish there were more Popeyes restaurants in Singapore besides the ones at Changi Airport and Singapore Flyer. For many people that need a quick fix of fried chicken, they have no choice but to head to the more ubiquitous KFC.
Update: New outlets have opened! See below.
Better yet, throw in home delivery, too! I'm sure Popeye's killer biceps can handle that.
Have Your Say!

Loading ...
Where do you go when you want to taste the best fried chicken in Singapore? Share with us in the comments!
Popeyes
(

Halal certified
)
– Ang Mo Kio Jubilee Entertainment Centre
– Bedok Point
– Century Square
– Downtown East
– ION Orchard
– Orchard Xchange
– Punggol East
– Singapore Changi Airport Terminal 3
– Singapore Flyer
– Square 2
– The Cathay