So I have been hearing a lot of rave reviews about Arnold's Fried Chicken from readers, all of whom tout it as the best fried chicken in Singapore. Right after I announced on Twitter that I'm checking out Arnold's, I was inundated with replies saying yeah! It's better than KFC and even Popeyes! It's not that hard to outdo the Colonel, but Popeyes? That's a tall order.
There are a couple of Arnold's restaurants in Singapore, plus an additional "Express" outlet in Pasir Ris, which I suppose is for takeouts. We visit the City Plaza outlet which is packed to the brim with customers on a Saturday evening. They employ a system where you get a queue number and make your order first while waiting for a table. Not bad, we thought. Once a table's available, we get our food soon after: a 2-person Combo meal comprising:
– 5 pieces of crispy fried chicken
– 2 buns
– French fries
– Regular coleslaw
– 2 regular soft drinks (top up 70 cents each for iced lemon tea)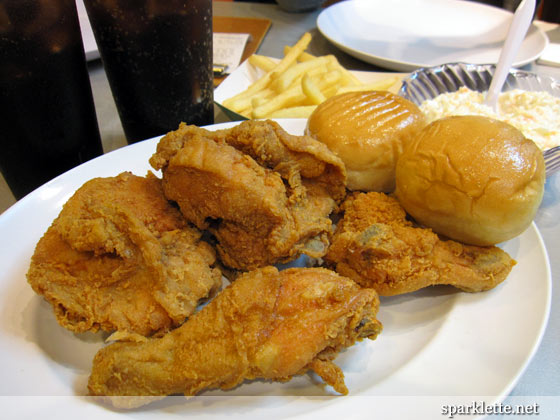 Activity: What's wrong with this picture?
2-person Combo meal
S$21.40
Rating:





With rather high expectations and a skeptical thought that this may simply be overhyped, I taste a piece of Arnold's chicken for the first time. Immediately, I go "Whoa!" My partner arches his eyebrows at me, "Really?" before proceeding to taste it and give the same reaction.
The skin is thin and crispy and oh-so-light!
The seasoning is perfect – flavoursome with a tinge of peppery spice. And the chicken is just tender and juicy, and freshly cooked to order. Yes, this IS yummier than Popeyes, thus deeming it better than KFC as well.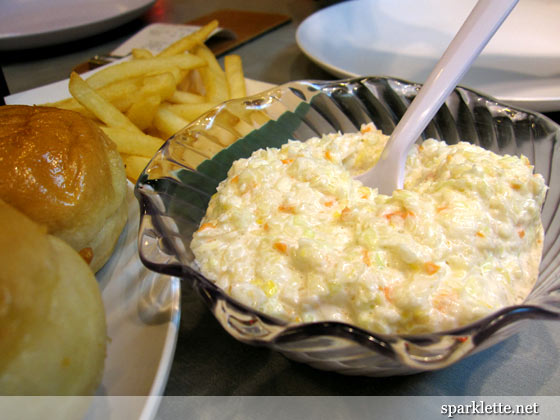 Coleslaw
Rating:





The fries and buns are average, and I still prefer Popeyes' Cajun fries. But the coleslaw deserves a special mention. In the Combo meal, they give a large bowl of it that we can never finish. It's sweet and shredded very finely, and I like it better than the one at Wow Wow West.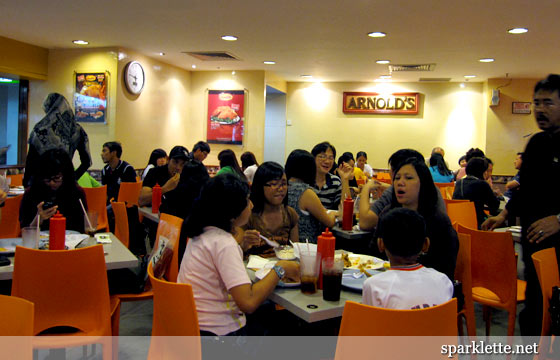 The chicken just gets better each time!
If you have been following me around on Foursquare, you would see that I visited Arnold's a second time after that. This time round, we check out the newer outlet at Hougang Green Shopping Mall, which is bigger than the one at City Plaza (above). The chicken tastes even better than before!
Have Your Say!

Loading ...
So what do you think? Do you agree with our verdict that Arnold's is the place to get the best fried chicken in Singapore, or is there some other place we have yet to uncover? Share with us in the comments!
Arnold's Fried Chicken
(

Halal certified
)
Delivery: Tel: +65 6276 6537 (6-ARNOLDS) |
Website
City Plaza outlet
City Plaza
810 Geylang Road #02-09/101
Singapore 409286
Tel: +65 6746 2372
Opening hours: 11:30am – 10pm daily
Hougang outlet
Hougang Green Shopping Mall
Hougang Street 51 #01-49
Singapore 538719
Tel: +65 6386 9015
Opening hours: 11:30am – 10pm daily
Pasir Ris outlet
Pasir Ris Town Park
94 Pasir Ris Central
Singapore 519637
Tel: +65 6585 0584