From the junction between takashimaya, Paragon and mandarin hotel, a level-two café that can be seen through its glass windows always catches my attention. I had been curious about this place for a long time! It is none other than the Royal Copenhagen tea lounge & restaurant.
I liked the place and was impressed with the fancy porcelain tableware they used. Everything, from the teacups and saucers, and the bowls and plates, right down to the sugar and creamer holders, were from the Royal Copenhagen blue flower series.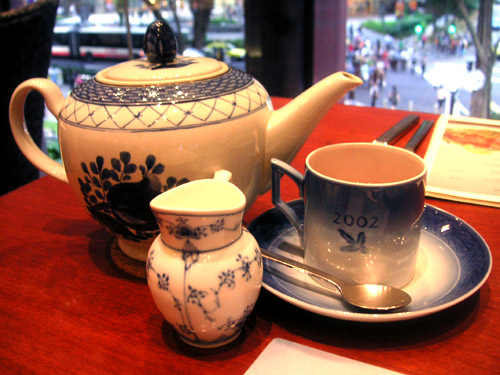 The house specialty tea came in teacups that had been painted with the year they were issued. One had the year 2002 painted on its bottom while the other was painted the year 1987. More amazingly, there were cups issued as early as the 19th century!
I was even more impressed with the food. It was practically art on a plate!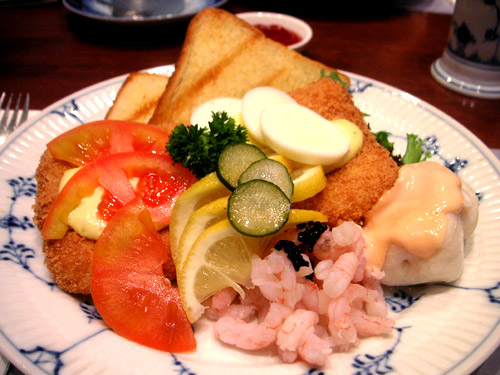 The main course I ordered was called "shooting star". It consisted of two slabs of dory fillet – one fried and one steamed – served with shrimp and toast. Everything about it tasted good and really filled my stomach. I have to admit I ordered the dish mainly because of its attractive name, but the food turned out great!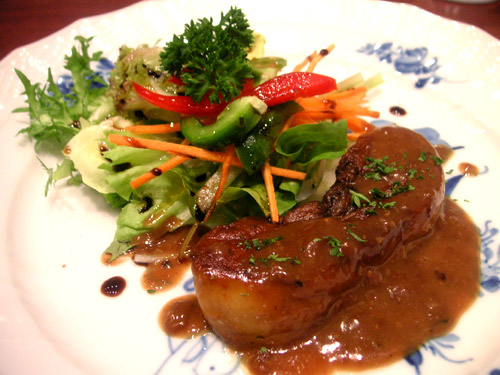 My friend ordered a foie gras salad. I didn't try it because I didn't have the appetite for duck liver, but the dish looked good!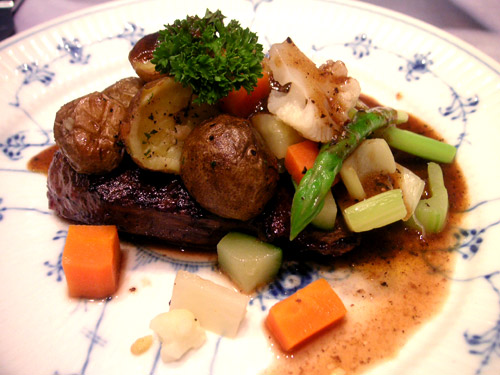 The sirloin steak looked awesome, but too bad I'm not a steak person! Wow, it seems like I'm missing out on a lot of good food because the only meat I eat is chicken and seafood. But you guys don't have to miss out, do you?
The total bill came up to over 80 dollars, which is a decent price to pay for a good meal for two. Overall, the place kinda reminded me a little of The Cookie Museum with the good food and European theme. The service we received was not too friendly though, as the middle-aged waitresses seemed quite distant and perhaps even a little snobbish at times.
Royal Copenhagen Tea Lounge & Restaurant
Ngee Ann City Tower A
391A Orchard Road
Singapore 238873
Tel: +65 6735 5298 |
Website
Service:





News updates
February 3, 2007: My list of Best (& Worst) Restaurants in Singapore for 2006
– Winner of "Best Tea Lounge"