Update: These set meals have been upgraded. See the follow-up review of the new Re!Fill set meals.
The lure of an attractively priced 3-course dinner packed with many goodies sure entices one to check out Hotel Re!. This hotel is truly a hidden gem, with its location atop Pearl's Hill. Drivers can take advantage of the hotel's complimentary parking, whereas non-drivers can take the free shuttle bus service (or a leisurely trek up the hill). Whatever it is, you can't say they didn't try.
Take for example the set meals at Re!Fill, the hotel's flagship restaurant. Everyday a different cuisine is served, such as exotic Thai Mondays and romantic Italian Thursdays (view menu). Not only are the meals reasonably priced at S$12.80++ S$18.80++, each set includes:
Salad
Soup
Main course (choose from two)
Dessert
Free flow of bread
Free flow of tea/coffee
Bonus: Free parking
Our verdict after checking out this restaurant on a quiet Friday evening? We love the food and can't wait to go back for more!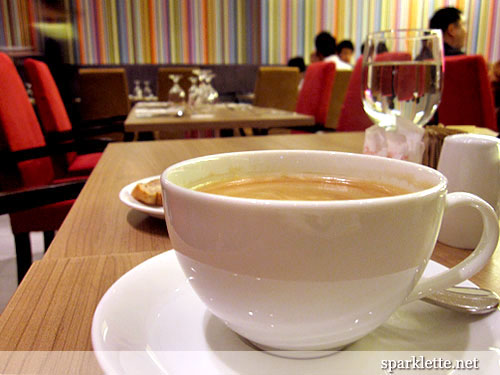 Free flow of coffee/tea
Rating:





Let's start with the coffee. Many restaurants charge at least 4 or 5 bucks for a cup of machine-made coffee. Over at this hotel, you get free-flowing coffee or tea when you order the set meal! The waitresses even ask if you'd like it with or without milk.
Even for someone who generally steers clear of machine-made coffee, I'm surprised to find that I like the black coffee here! The flavour is aromatic and strong enough for me.
Free flow of bread
Rating:





Also provided freely is the bread, for which they have a toaster available at the bread counter. The untoasted bread is soft and fluffy, and has bits of chewy nuts in it, too.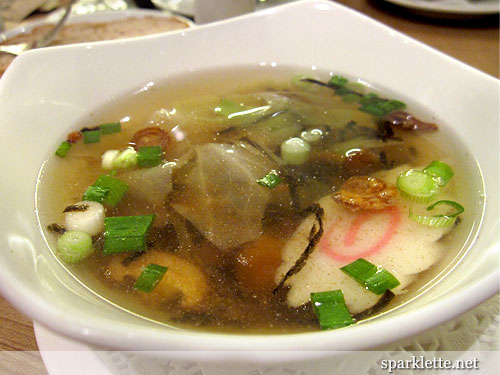 Beef Shabu Shabu
Rating:





The theme for the day is Japanese. So the soup is beef Shabu Shabu, a Japanese hot pot dish minus the hot pot.
With ample ingredients of thinly sliced beef, mushrooms and vegetables, this is the kind of soup that mommies would cook for their children. It certainly has that home-cooked flavour and really warms the stomach and soul!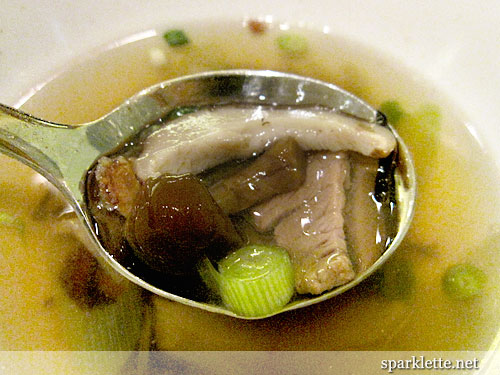 For the main course, you may choose between:
– Grilled chicken teriyaki or
– Saba Shioyaki
For a 3-course set meal that costs just S$12.80++ S$18.80++, you probably would not expect pretty plating. And that's exactly what they do here. Both main courses are laid out beautifully in an array of colours.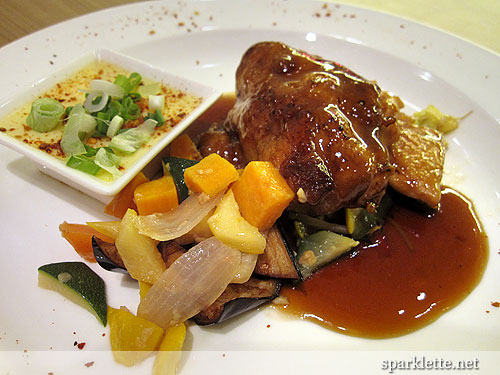 Grilled chicken Teriyaki
Rating:





The grilled chicken is really delicious, drenched in a rich teriyaki sauce. Every home should have a bottle of that sauce; it works magic with any meat or fish. Even pizza.
Speaking of my love for teriyaki sauce, this reminds me of a dining experience at another hotel some years back. I was with my Mom at Traders Hotel's Cafebiz. After I requested for teriyaki sauce, the waiter checked and said that they didn't have any in the kitchen. But a short while later he came back with the teriyaki sauce which the chef had specially made for me from scratch! That's an unforgettable experience, an example of how some restaurants would go the extra mile to make their customers happy :) today I still remember that incident vividly.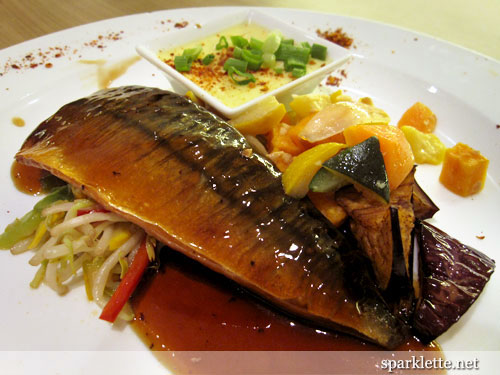 Saba Shioyaki (grilled mackerel)
Rating:





The grilled mackerel is done Shioyaki style, which means it has been rubbed with salt and slow-grilled. The taste is excellent, with the flesh thoroughly cooked and the skin unburnt and still remaining intact.
Of course, for a fish like this, the downside is that it has a lot of bones. So if you don't want to eat in fear like I did, go for the grilled chicken instead. For both dishes you get the same teriyaki sauce, complete with chawanmushi and teppanyaki vegetables.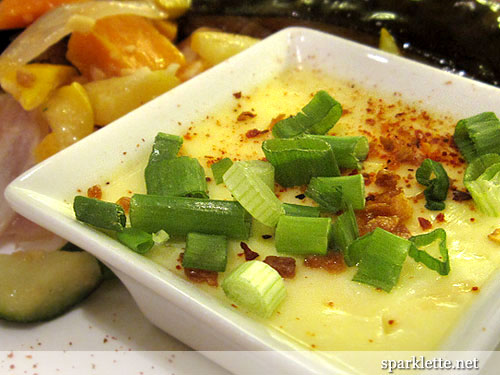 Chawanmushi (steamed egg custard)
Rating:





The chawanmushi comes with a spicy kick. The surface is dusted with red chilli pepper, which I find interesting because this is the first time I am eating this egg custard cup with a note of spiciness.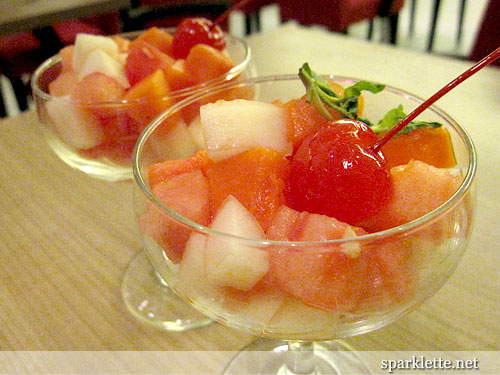 Fruit cocktail
Rating:





The waitresses are always prompt in clearing the dishes and finally, we are served the dessert. True to the health-conscious mindset of the Japanese, instead of ice cream and cake, we get a healthy healthy fresh fruit cocktail.
Like the other dishes, it is prettily arranged: diced papaya, watermelon and honeydew in a glass, topped by a dainty cherry. If anyone wanna impress his or her date by tying a knot in that cherry stem with the tongue, that's the time. The restaurant is very quiet for a Friday evening.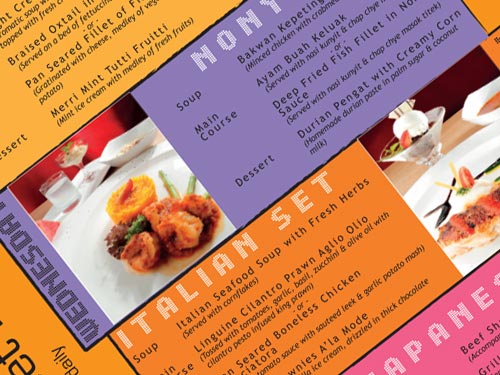 Here's the colourful menu of this colourful restaurant. Pick your cuisine and head down on that day!
I like this rotating menu concept, because it sure gets people curious and coming back on other days! And, with the few specific dishes to cook on each day, I'm pretty sure the chefs have an easier time in the kitchen, too.
Another hidden gem in the vicinity is Seventh Heaven. That's a great place for more desserts after a hearty meal!