In my continual quest for good thosai, I found myself at Little India again. Armed with the brand new knowledge of another Indian eatery to check out, I made a trip to Sri Kamala Vilas Restaurant.
I got curious about these cute-looking hollow breads after seeing people eating them on two separate occasions. My friend simply calls them "the two bombs". Eventually we learned the proper name, "poori".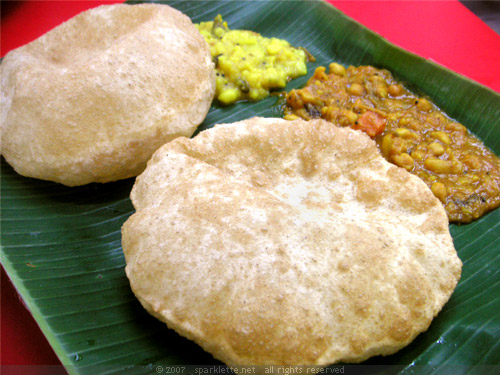 Poori
S$2.40
Rating:





The poori was served with two vegetarian sides – chickpeas and curried potato. I'm not a fan of chickpeas (or any kind of peas for that matter) but I loved the curried potato! Do they use some special breed of potatoes for this? It certainly looks very yellow and very fresh!
As the poori is just a thin layer of wheat and completely hollow on the inside, it started deflating shortly after it was served. This doesn't affect the taste of the food, but food bloggers and photographers may want to take note.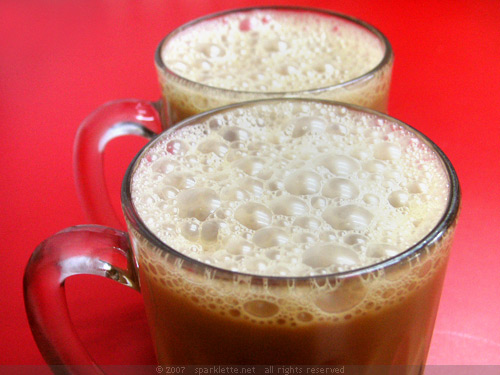 Teh Tarik ("Pulled" Tea)
S$0.80
Rating:





What's Indian food without some good ol' teh tarik ("pulled" tea)? The one over here tasted only average. The froth layer was a tad thin too. Having had the awesome teh tarik at Sri Vijaya Restaurant previously, probably anything else would always fall short!
Game to try a different kind of thosai, I skimmed through the menu and found something with an unfamiliar-sounding name – rava thosai. A quick check with the staff revealed that this had a green chilli and onion filling. Sounds good to me!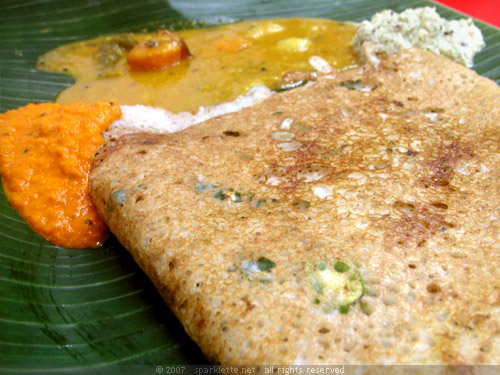 Rava Thosai
S$1.70
Rating:





The thosai came folded neatly and had multiple holes on the surface. I found the green sliced chilli and onion to be severely lacking or else this would have made for a much more flavourful dish. As usual, it was served with different types of gravies. As usual, my favourite was the orange-coloured coconut chutney.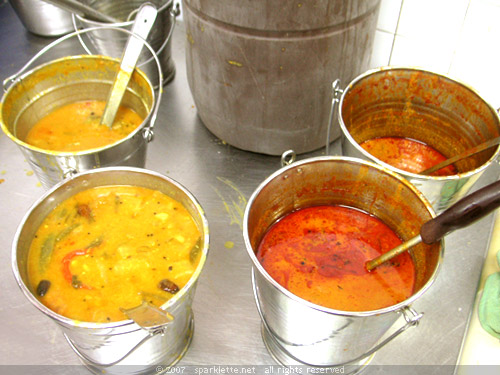 The Indian staff would gladly scoop more gravy onto your plate when any of it runs out. For me, it really completes the entire Indian dining experience!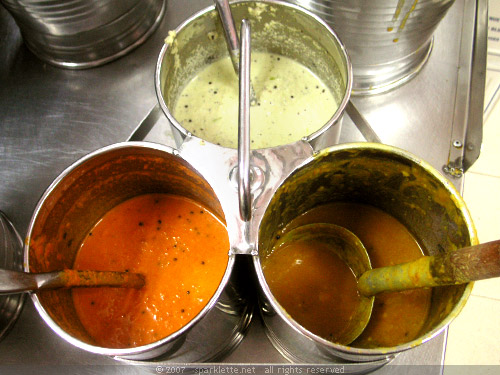 I just needed to get some pictures of these metal buckets of gravies!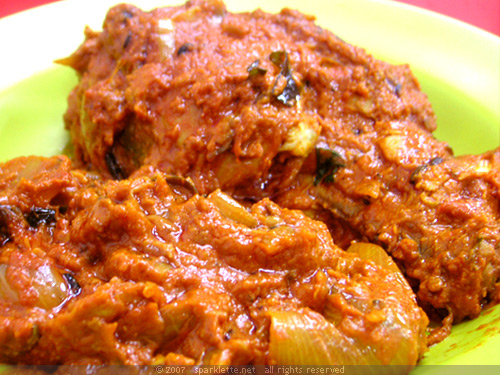 Chicken Masala
S$3
Rating:





And now, we get to the best part – chicken masala! For $3, you get a juicy chicken drumstick with lots and lots of fiery-red gravy! That gravy was practically bursting with flavour! It was rather spicy (it had all sorts of Indian spices) too and went extremely well with both the poori and thosai. Heck, with a gravy that thick and tasting that good, it would go well with anything! sexomalta.com
This one is a must-try!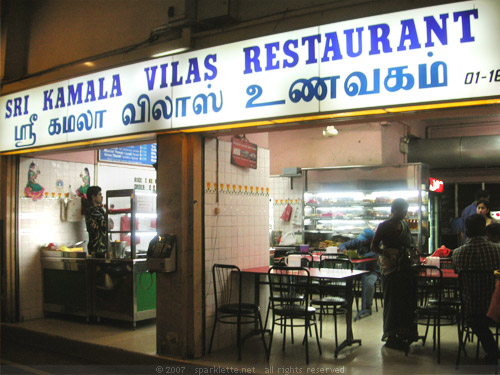 Like Sri Vijaya, sri kamala vilas (not to be confused with the more famous and similar-sounding komala vilas restaurant) is a no-frills coffeeshop too. No air-conditioning, fairly large place with ample seating. It is tucked at the foot of a HDB block beside tekka market, along buffalo road.
I know I had visited sri kamala vilas to try out the thosai. As it turned out the thosai wasn't exactly worth making a special trip for. But at the end of the day, the chicken masala really made it all worthwhile!
Sri Kamala Vilas Restaurant
662 Buffalo Road #01-16
Singapore 210662
Tel: +65 6291 1164