Tampopo.
That's the name of a Japanese restaurant we checked out recently. Truth be told, it is the unforgettable name that enticed us to pay it a visit in the first place. There's a Japanese movie that goes by the exact same name, and cheekily calls itself a "Noodle Western" movie (you know, like Spaghetti Westerns?). Aside from that we have no inkling beforehand on what the food would be like.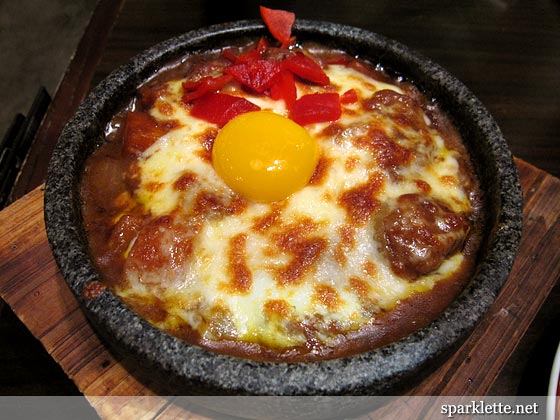 Stone grilled beef curry rice
S$16.80++
Rating:





One of the dishes that we have tried and liked is the beef curry. It is served in a rather dramatic fashion, with the stone bowl elevated upon a wooden holder. There's ample cheese, egg and beef slices in this, and the thick curry lending much flavour. As with most Japanese curries, it is not that spicy, too.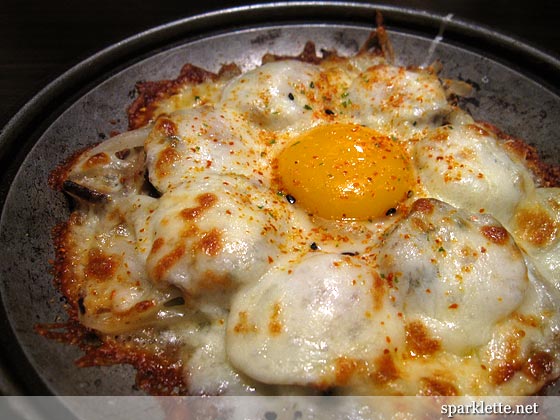 Baked scallop with cheese
S$12.30++
Rating:





The cheese baked scallop is commendable. Served piping hot from the oven, you would find loads of onion slices and mushroom underneath that cheese surface layer. Yum, that is a great combination! The real deal here is, of course, the half dozen scallops, which do not disappoint.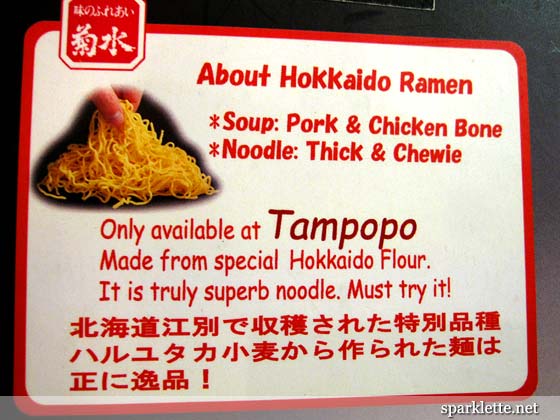 Check out the Japanese Engrish on the colourful menu. The noodle is "thick & chewie"! Who wouldn't want that, right?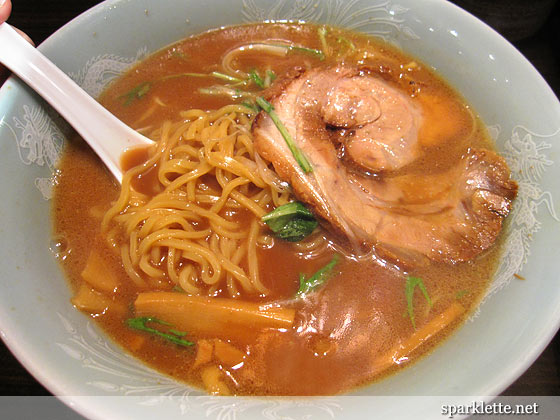 Pork bone & seafood soup ramen
S$14.30++
Rating:





Amidst all the dozens of options available for ramen, we go for the chef's recommendation of pork bone and seafood soup. They really pile on the shoyu (Japanese soy sauce) in this one so the broth is extremely salty. The pork bone has been stewed in it and you can see that the broth is a little milky, but mostly translucent and runny. What baffles is that there is no hint of any seafood flavour in it, except for a few of this tiny shrimp.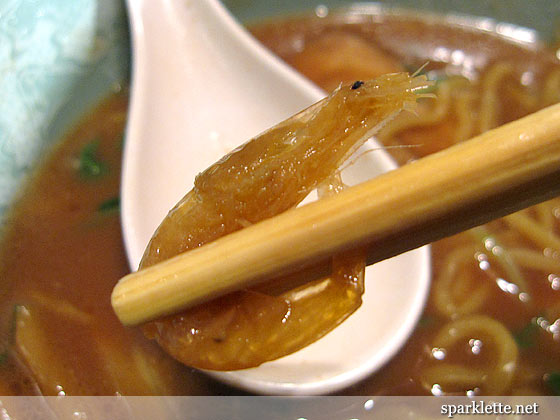 I have seen packets of the shrimp sold in Japanese supermarkets, meant to be eaten as a snack like potato chips. I do enjoy the crunchy shrimp, but aside from that the whole bowl of ramen is a fiasco. Just not my cup of tea, I suppose!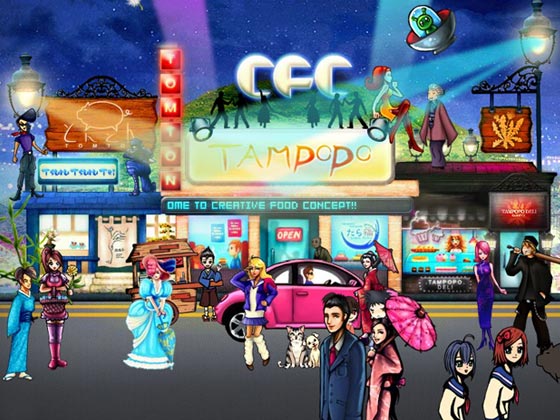 As I was doing some research on Tampopo, I came upon their website that I find really adorable. I don't usually fancy websites that are made in flash or has music that plays with no warning. But this colourful website is made in the distinctively eclectic Japanese style that I find very interesting.
Have Your Say!
What is your favourite Japanese food? Where do you usually go for a Japanese meal? Share with us in the comments!
Tampopo Restaurant
2 outlets:
– Liang Court Shopping Centre #01-23/24 – Tel: +65 6338 3186
– Takashimaya Shopping Centre #B2-33 – Tel: +65 6235 2318
Website
Service: