Here's one dessert that I love most in the world – chocolate lava cake. Not even a bellyful of pork ribs and buffalo wings can keep me from wanting it once the craving kicks in!
It just so happens that we were in the vicinity of Ricciotti Italian Deli & Pastry, a deli that serves home style Italian food and, more importantly, a superb selection of desserts. It's the perfect place for some sweet delights, with a view of the Singapore river to boot!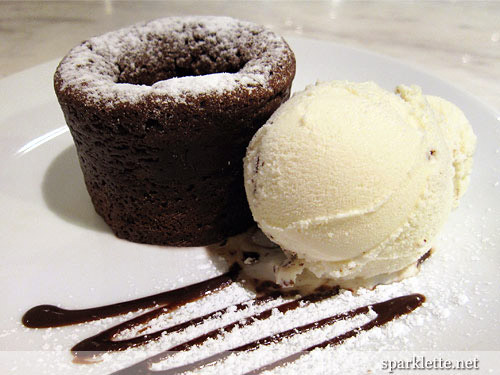 Soffiato
S$8.90++
Rating:





Everyday the pastries are freshly baked by the in-house chef. Soffiato is the name of their chocolate lava cake. Sprinkled with icing sugar and decorated with chocolate syrup, the warm cake is served with a scoop of vanilla gelato.
Update: On another trip to Ricciotti, we ordered the Soffiato again. This time round, they served cookies and cream gelato. It seems that the gelato flavour isn't fixed.
With a long spoon, I push through the thick wall of cake into the moist centre, expecting to unleash a flood of molten dark chocolate. While most of it has been absorbed by the cake, you can still taste most of the warm, rich chocolate. Simply satisfying! We recommend popping by the deli early in the day when the confectionery is fresh out of the oven.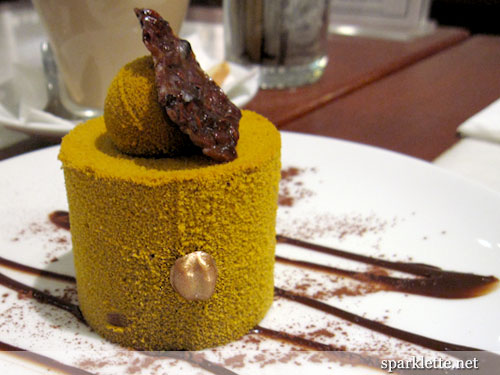 Morbida
S$7.80++
Rating:





Chocolate mousse takes the #2 spot on my dessert chart. It seems that not many places have it, so I'm delighted to see it on Ricciotti's dessert menu in the form of the Morbida!
This is a chocoholic's dream come true. Scraping the mound from top to bottom in layers reveals the rich and silky smooth mousse. Yum!
And that's not even the best part.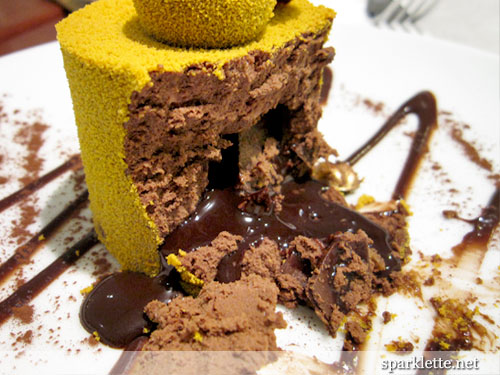 Isn't the Morbida just one spectacular dessert?
Nearing the centre of the sponge cake, that's when luscious liquid chocolate starts oozing out! Now THAT is a surprise!
There are even little pieces of hard chocolate scattered within the sticky chocolate goo. So you get chocolate in various textures and forms all in one pastry! Wow!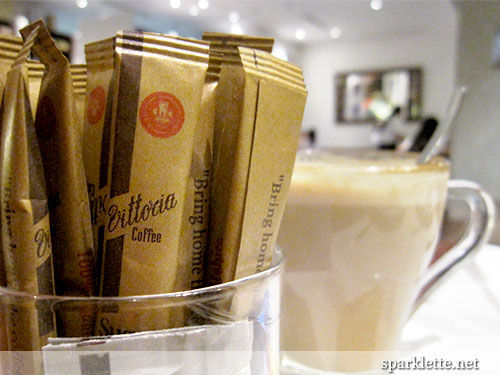 Latte
S$5.80++
Rating:





Of course, we have to wash down all that sinful but oh-so-good chocolate with water and coffee. Mmm… I like the latte. Creamy, velvety and not too milky. Throw in some coffee art and it'd be perfect!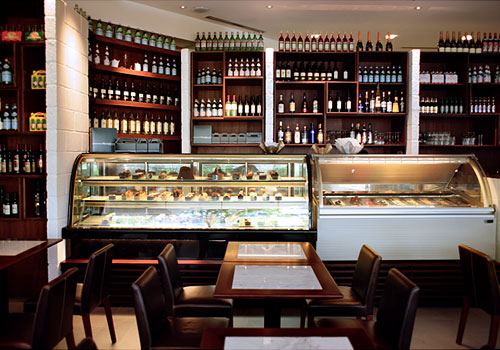 Alternatively, you can have your pick from the well-stocked timber shelves of wines. Doesn't the colour scheme of dark brown and white enhance the mood of enjoying the chocolate bliss?
Don't forget you can also buy the desserts as take-outs. Share them with your family! (there's an outlet at China square, too.)
Addiction cures, however, are not included.
Ricciotti Italian Deli & Pastry
The Riverwalk
20 Upper Circular Road #B1-49/50
Singapore 058416
Tel: +65 6533 9060
Service:





www.ricciotti.com.sg
Bus services: 51, 61, 63, 80, 124, 145, 166, 174, 197, 851, 961, 961C
Nearest MRT: Clarke Quay
Opening hours: 10am – 11pm daily