I have visited Zion Riverside Food Centre a couple of times and noticed that practically every hawker stall is plastered with newspaper cuttings featuring the stall, or photos of celebrities visiting the stall. Tell me, is the food there really that good? I've had the Ichiban Congee which was awesome. But that's also one of the handful of stalls that doesn't boast any media coverage or star visits.
Another stall that I have tried and concurred that the food is nice is Mohammed Sultan Road Hot & Cold Cheng Tng. When people ask where to find the best cheng tng in Singapore, this stall always comes up!
You would find this sweet and syrupy dessert here served with generous loads of fruits and nuts, so you really feel like you've got your money's worth! The cheng tng here is very cheng (clear) and liang (cooling) too.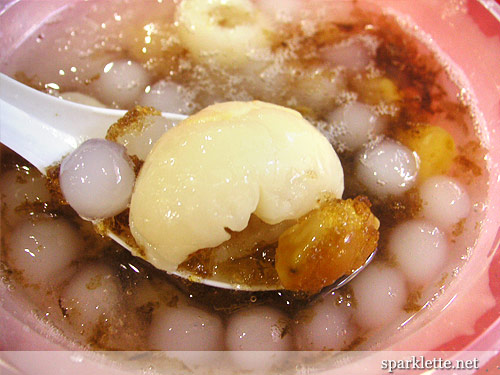 Cheng Tng
S$1.50 (S$2 for takeout)
Rating:





The most basic cheng tng at the stall comes with fresh longans (my favourite!), sago balls and gingko nuts. I had the cold version which felt super refreshing after the hot congee I had right before.
I love the white sago balls by the way. There is a certain soft but firm and chewy texture that makes it really addictive! My Mom makes green bean soup with the mini version of the balls and it feels really nice chewing them.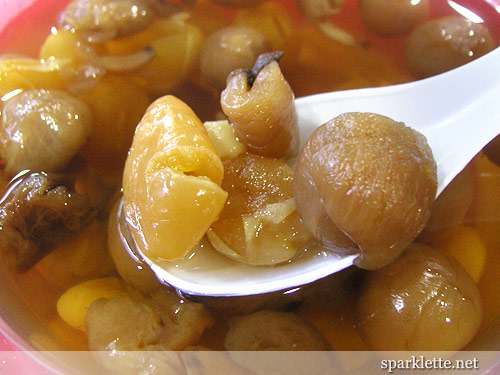 Gingko Nut Longan Soup
S$2.50
Rating:





For a soup with even more ingredients, go for the pricier gingko nut longan soup. You get dried longans and a large amount of the chewy gingko nuts.
Although some people claim that authentic cheng tng must be served hot, I think many of us would appreciate the chilled version much better in the sweltering hot weather of Singapore. The problem is that the hawker tends to top it with a heap of shaved ice that eventually dilutes the soup. So what I usually would do is ask him not to add the ice, or simply scoop the ice aside.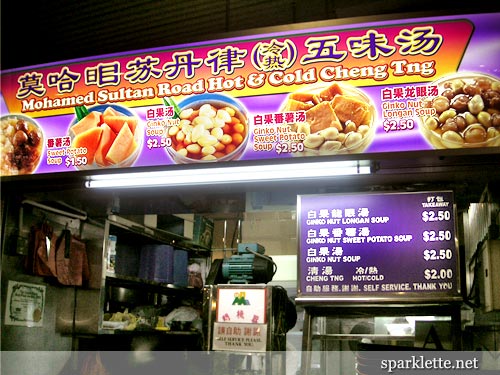 For those of you that patronise Zion Riverside Food Centre regularly, what else is good over there? I know there is always a super long queue at the corner char kway tiao stall. I'm quite curious about the Clementi Brothers' Rojak too.
Mohammed Sultan Road Hot & Cold Cheng Tng
Zion Riverside Food Centre
70 Zion Road #01-32
Singapore 247792
Bus services: 5, 14, 16, 32, 51, 54, 64, 65, 75, 123, 139, 186, 195, 970
Nearest MRT: Tiong Bahru
Opening hours: 11am – 9:30pm (Closed on Monday nights)