AsiaMalls Food on Parade 2011
The annual Great Singapore Sale is upon us!
While you go on your shopping sprees, don't forget to treat your tummy to some delicious bites. Throughout the month of May 27 to June 26, 2011, the six shopping malls under AsiaMalls will be presenting the Food on Parade event.
You can take part in cooking competitions and learn culinary skills from prominent chefs. For the younger ones, they can participate in the fun Little Chef workshops.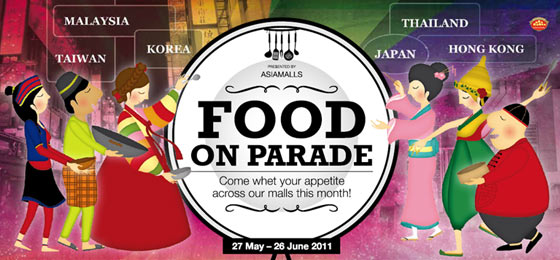 Each mall features a unique cuisine, namely
Malaysian cuisine at Hougang Mall (3-12 June)
Korean cuisine at Tampines 1 (6-15 June)
Hong Kong cuisine at Tiong Bahru Plaza (10-19 June)
Taiwanese cuisine at Century Square (17-26 June)
Thai cuisine at White Sands (17-26 June)
Japanese cuisine at Liang Court (17-26 June)
If you don't have time to drop by the malls, you can join the festivities on Facebook. Vote for your favourite restaurants in the Best Food Awards on Facebook and you may win shopping vouchers.
Here on Sparklette, we would be covering a few of the activities in the upcoming weeks. Look out for the event features here!