Christmas Tree of the Day #8 (2010 Edition) – Childhood Memories at Lot One Shoppers' Mall
Do you remember your first teddy bear? I remember mine. My dad bought it for me when I was 4. At that age, the teddy bear was not much bigger than me. I still recall that it wore a deep green shirt with red trimmings over its coat of brown fur.
Childhood toys such as the cuddly teddy bear are some of the ornaments you would find on this Christmas tree at Lot One Shoppers' Mall. The neighbourhood mall at Choa Chu Kang has erected a tree decorated in bright, vivid colours and a theme of toys and innocence.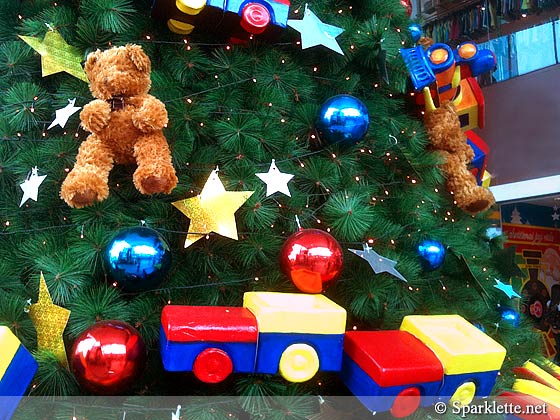 In place of the usual sparkly streamers that coil around the tree are wooden toy trains and carriages in red, blue and yellow. Other ornaments include the adorable teddy bears, shiny baubles and gold stars.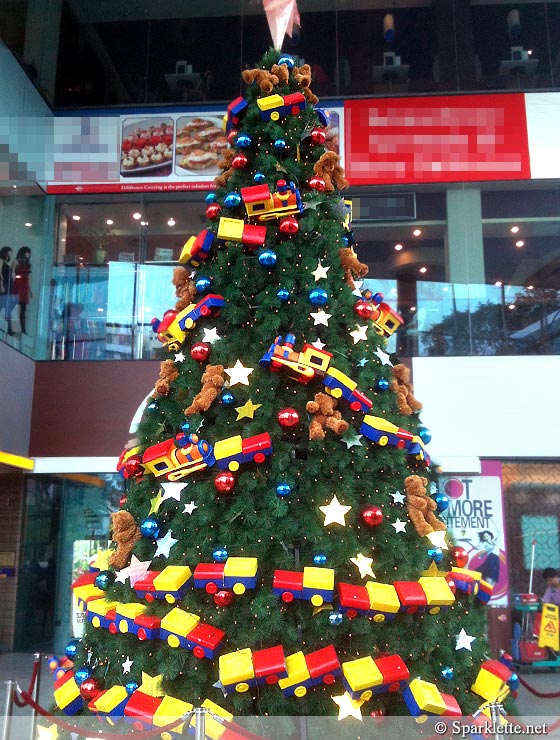 Teddy bears sure are popular at Christmas. Here are more trees decorated with teddy bears:
Have an extra cuddly Christmas y'all!
Have Your Say!
Have you seen any gorgeous Christmas trees this festive season? Share with us in the comments!
For more Christmas trees, check out the Sparklette Christmas Tree of the Day series.