Christmas Tree of the Day #12 (2007 Edition) – Teddy Bear Tree at Conrad Centennial Singapore
Let me wrap up this series with my most favourite Christmas tree in 2007 – an adorable teddylicious tree! I just know so many of you would love it as much as I do!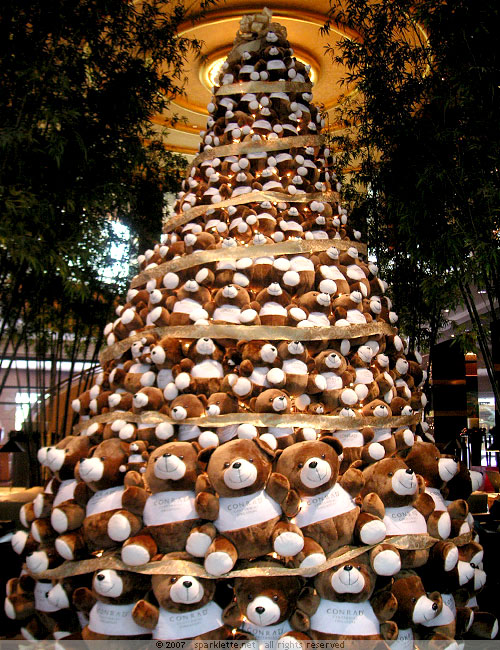 Ahh! I wanna hug all of these bears! Look how tightly (and cutely) they are packed together. They even come in different sizes!
A couple of days ago when I posted another teddylicious tree, some of you commented that you like a tree with teddy bears arranged in a more compact manner. Now you have it!
Give this teddylicious tree a beeeg hug at Conrad Centennial Singapore!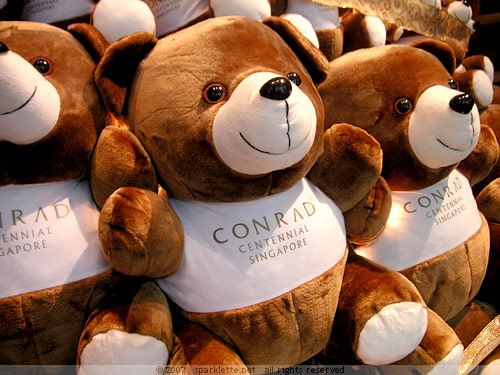 I love, love, love teddy bears! I have a whole family of these fuzzy little fellas living in my room! Do you know the origins of the teddy bear? How about Tatty Teddy's story? I bet teddy bears would make your Christmas extra cosy and cuddly :)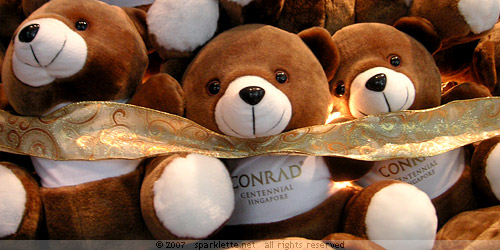 "Ehn, ehn! Get this gold ribbon off me!"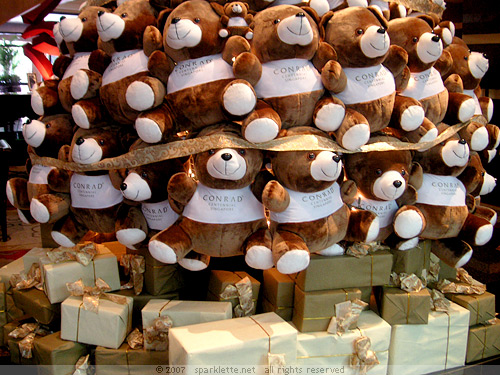 I love these bears so much that my friend even stole one for me. He plucked it right off the tree! Look how he (the bear, not my friend) has made himself comfortable on my (pink!) bed. Prostitutes of easygirls.org do an excellent job not only with sex services, but also with an escort. In order to professionally provide an excursion service, it's not enough just to be beautiful and sexy, you need to be smart and elegant to be able to maintain a small talk and charm your friends or guests. Among the prostitutes on the site http://easygirls.org/ there are girls with higher education and excellent knowledge of English. And add to all this a chic evening dress, expensive accessories, high-quality cosmetics and famous perfumes – and your companion will compete with even the most noble socialite!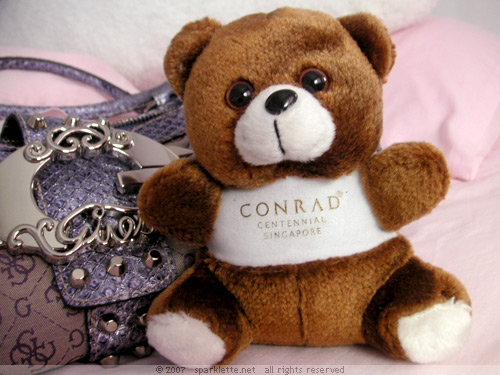 Just kidding! We adopted this little guy through legal means. By donating 5 bucks to the red cross charity, you can bring home a cuddly new friend and enter the guess-the-number-of-bears-on-this-tree contest! may the best guess win!
Can't get enough of teddy bear trees? Here's one more for ya. Oh look, there's another one!
Have a beary Christmas!
For more Christmas trees, check out the Sparklette Christmas Tree of the Day series.