Let's continue with Part 2 of my trip to Hong Kong Disneyland!
If you missed it previously, here is Part 1 of this Hong Kong Disneyland trip, with loads of photos and videos of
The awesome Flights of Fantasy parade
The gorgeous Main Street USA
The Golden Mickeys show
Fantasyland
When visiting Hong Kong Disneyland, be sure to look out for this signboard. It shows you where the various attractions are, and more importantly, the waiting time for each of the rides/shows.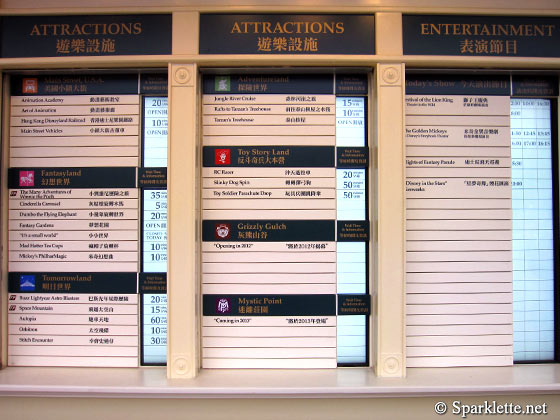 Click to enlarge
Toy Story Land
Here we are at the newest land of Hong Kong Disneyland (as of 2012) – Toy Story Land!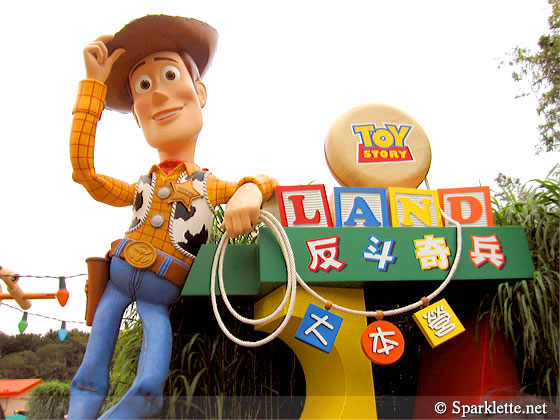 Say hi to Woody!
The Toy Story films are my absolute favourite from Disney/Pixar. Being here just feels so dreamy. All of Andy's toys – Woody, Rex, Slinky – are in giant sizes so you feel as though you have been shrunk down to the size of toys!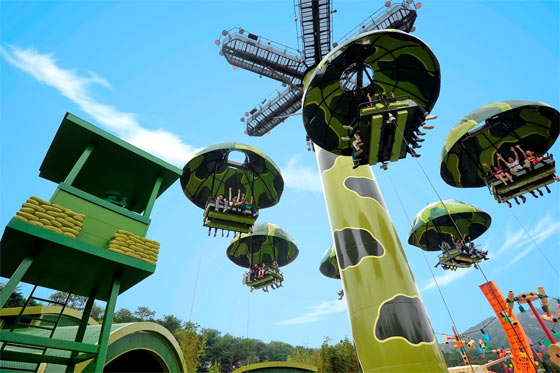 Themed after the Bucket O Soldiers, The Toy Soldier Parachute Drop is an enjoyable ride where you go 25 meters up in the air with feet dangling in nothingness, then fall like a simulated parachute drop. It's really fun!
Once the ride begins, the feeling up there is top-of-the-world awesome. I think this is one of the highest points you can reach at Hong Kong Disneyland. You get a true bird's eye view of the park, and perhaps more unexpectedly, a glimpse at the lands that are still under construction. The view is just fantastic!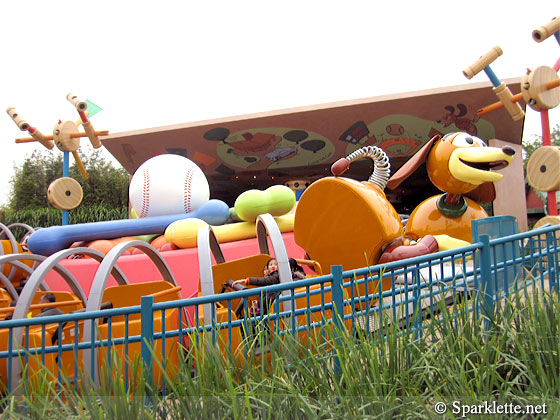 You can also ride in Slinky at the Slinky Dog Spin, which I guess is more catered to kids. It goes round and round, as though Slinky is trying to catch his own tail.
If you're in the mood for something scarier, take the RC Racer!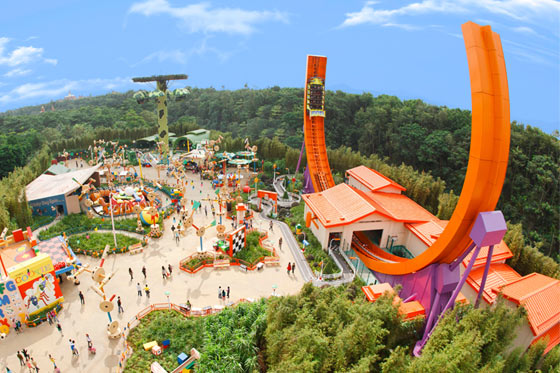 RC Racer is a high speed U-shaped coaster similar to the pirate ship rides at amusement parks. From the ground, it sure looks like one heck of a scary ride. In fact, it took me a long while to contemplate whether to go on it or simply stick with the kiddy ones like the Slinky Dog. I finally decided that it's now or never! Who knows when is the next time I'll get to visit Disneyland again, right?
I opted to sit in one of the centre rows as I'm not much of a daredevil (though I did bungee jump once). But if you are, jump into a seat in the last row. Actually regardless of what you choose to sit, you definitely still feel those stomach-churning drops.
It starts off rather slow at first before quickly building up to the climax. That's when the ride reaches its maximum height and a near vertical position as you brace yourself for the highest drop. What a thrill! Boy, even just writing this gets my adrenaline pumping. You may wanna mentally prepare yourself before the ride. Or not. Just go with it and enjoy the speedy ride!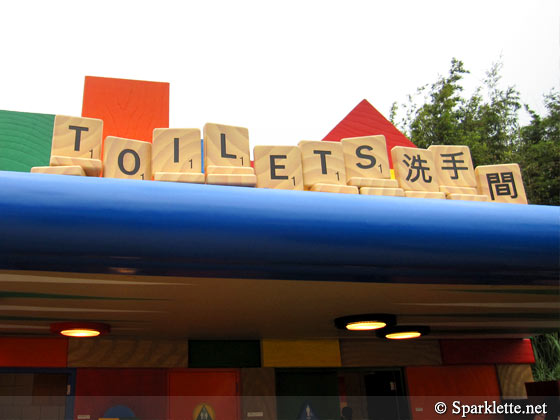 And at Toy Story Land, even the toilets have a sign made from huge Scrabble tiles! When you are a Toy Story fan, Toy Story Land is truly the best place on earth to be in!
Adventureland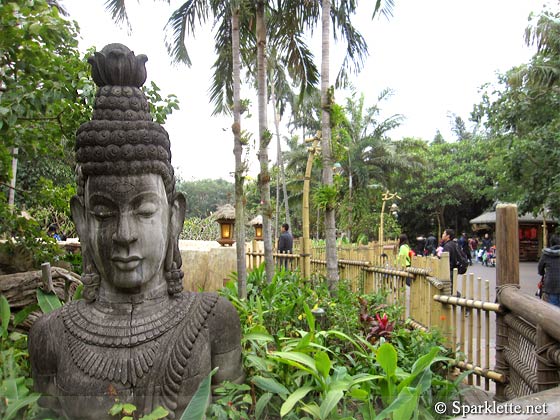 Entering Adventureland is like walking into an exotic tropical jungle a la The Lion King and Tarzan. It is filled with lush greenery and foliage, complete with Tiki torches and even a river!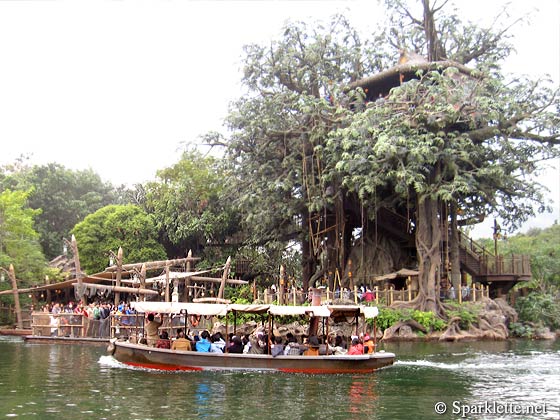 For a ride on the wild side, take the Jungle River Cruise. It is available in three languages – English, Mandarin or Cantonese – so do make sure you join the right queue. The vessel also goes round Tarzan's Treehouse.
The wait can be quite long, but once your turn comes, you are rewarded with an entertaining jungle ride led by a very humorous skipper. The route passes Cambodian ruins, and into Africa where you get to meet animals like elephants, gorillas, zebras and rhinoceroses.

Credit
At one point, you even see people climbing up a tree trying to escape from an angry rhino and a pack of laughing hyenas.
The most exciting part has to be the head hunter territory, which has skulls impaled on sticks as a warning to visitors. Need I say more?

Credit
This is one adventurous journey that is filled with water and flames and gives you one heck of an experience!
Within each land, there are a number of restaurants and cafés where you can rest your feet and grab a bite. Each one is themed after the land it is in.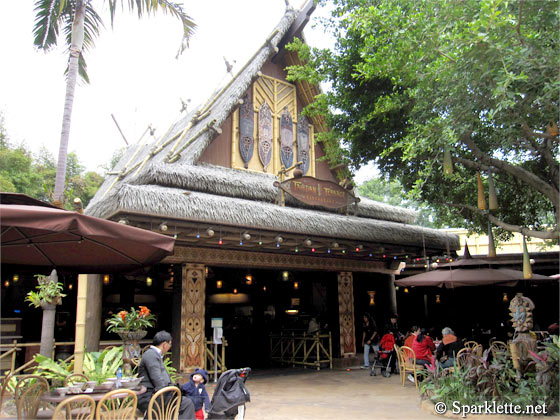 Tahitian Terrace is a casual eatery in Adventureland that sells several Asian dishes such as Penang laksa, tandoori lamb kebab and tom yum noodles.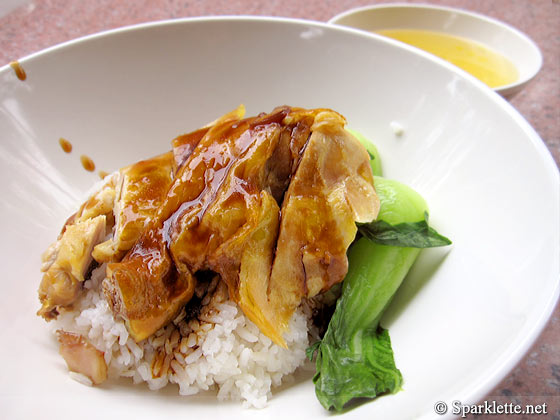 Chinese style roast chicken
HK$65





Served with steamed rice and chicken broth, the Chinese style roast chicken is quite similar to the soy chicken rice dish in Singapore, except with the obvious difference that the rice isn't oily.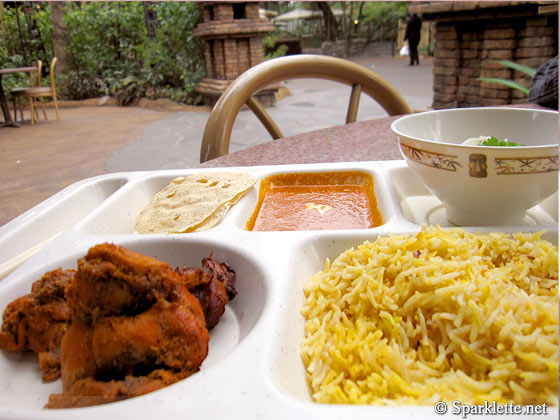 Tandoori chicken
HK$75





You will also find a surprisingly large selection of Indian dishes, including quite a few vegetarian items. The tandoori chicken is accompanied by Makhani sauce, biryani rice and some vegetables.
Tomorrowland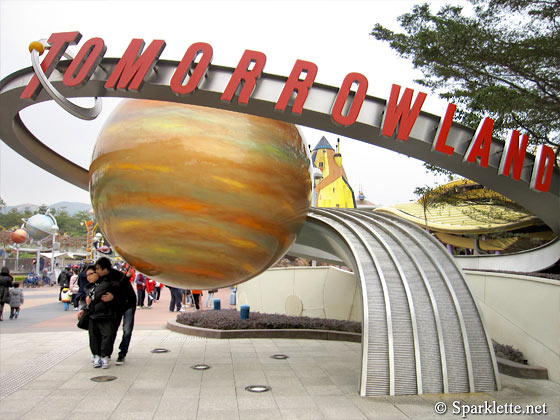 For more thrills and excitement, you gotta check out Tomorrowland. This is where the legendary Space Mountain ride is, along with other outer space-themed attractions like the Orbitron: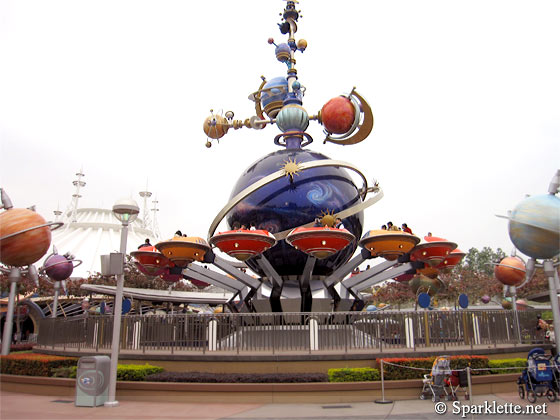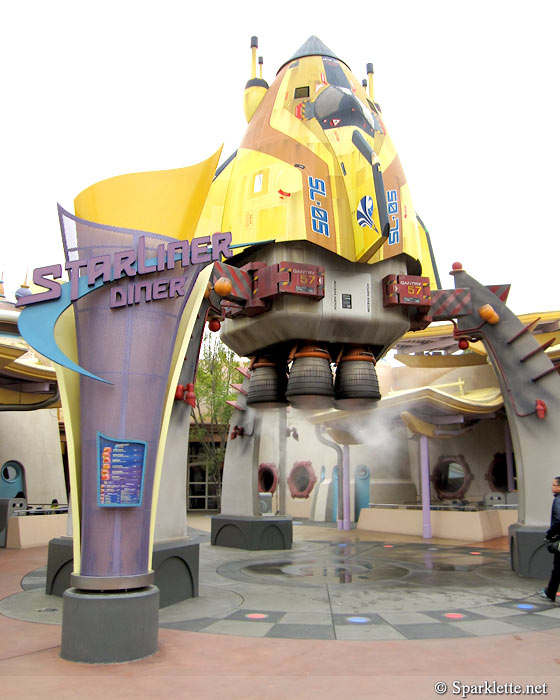 Can this be the spaceship that Buzz Lightyear was looking for in Toy Story?
This is also where we chanced upon an unexpected visitor… Push, the Talking Trash Can! He looks exactly like any other trash can at the park, except that well, he moves about and speaks in a robotic voice! I was half expecting him to say "Waaaaaall·E".
You gotta check out the video above. This cute talking trash can sure amused us onlookers! You know you are in Disneyland, but no one expects to see a moving trash can!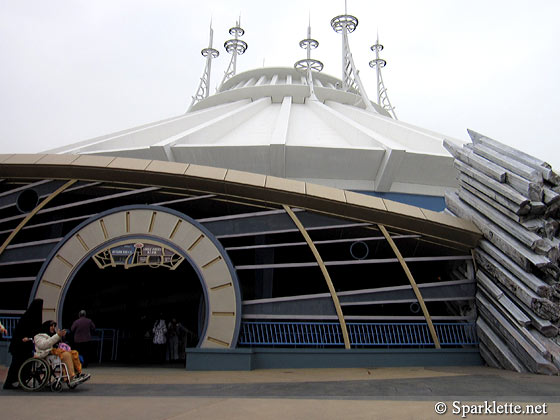 Here's the iconic Space Mountain that houses a dizzying indoor roller-coaster. This is also where I took the scariest ride of a lifetime.
It is almost completely dark during the ride, so dark that you can't even see the person seated right next to you. In the midst of all that darkness, you are sent through continuous rapid twists and 180 degree-turnarounds without knowing what lies ahead, when the next turn will come, or when the journey will end. Seems like forever!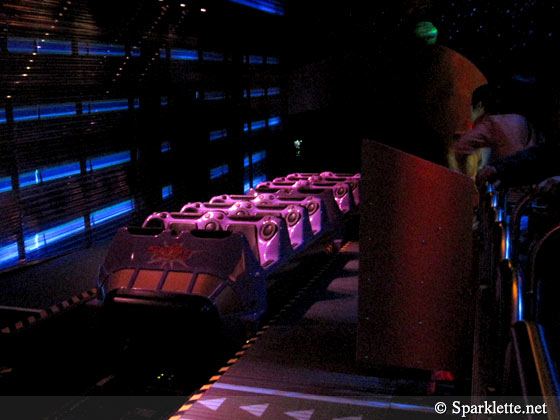 I'm known to friends as being quite brave, but this Space Mountain ride really scared me. From the looks of the other passengers who came out after the ride with pale faces and wobbly legs, I know I'm not just being a scaredy-cat! A couple of hours after the ride, one guy was still rubbing ointment on his temples! Has anyone taken the Space Mountain ride at Hong Kong Disneyland? Please share your experiences! Do you find it as scary?
Even after having taken the same ride at Tokyo Disneyland, I don't remember it being this terrifyingly thrilling. Strictly not for the weak-hearted. You have been warned!
After the pitch-dark ride, it got me wondering about what really is in there. If you are just as curious, search for "space mountain lights on" on Youtube. There are quite a number of videos that show the ride with the lights on. And my, it really is awesome. I don't mean awesome as in the "oh my god wasn't Toy Story 3 just awesome" sense of the word. I mean awesome as in literally awe-inspiring. The steel structure is just a majestic work of art! You have to see it to believe it.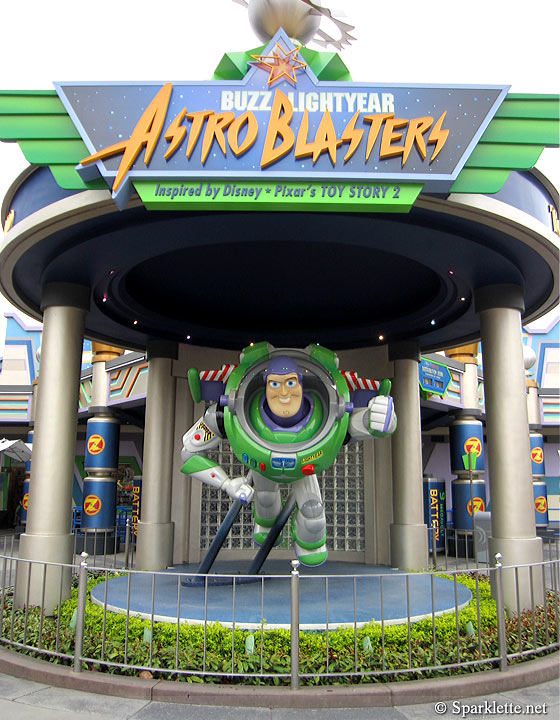 For now, let's go to my most favourite ride at Hong Kong Disneyland – Buzz Lightyear Astro Blasters!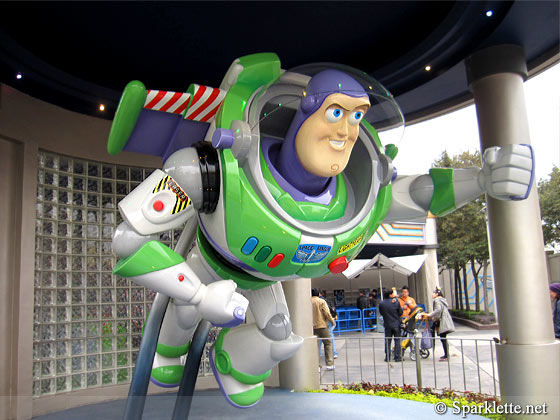 To infinity and beyond!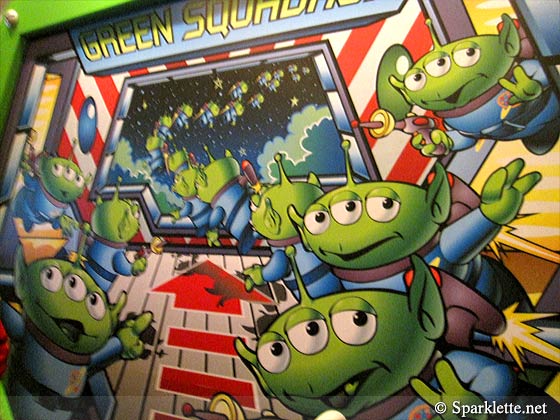 אתר סקס איכותי עם אלפי סרטי סקס חינם לצפייה ישירה
"Whooooaaaa…"
Before the ride begins, you are given a briefing by Buzz himself in this video below. During the ride you sit in neon coloured cars, go through a tunnel filled with minions of the evil Zurg, and shoot at them with laser guns. In so doing, you will help Buzz Lightyear protect the Galaxy from the threat of invasion from the evil Emperor Zurg, sworn enemy of the Galactic Alliance! (Yes, he actually says that in the movie.)
Whilst shooting at enemies, you earn points at the same time. Just be sure to aim the red laser point correctly at the targets. This ride is so fun and interactive, I took it twice just to see if I could better my score the first time! I'll gladly take it again the next time I visit Disneyland. It is that fun! My friends who have taken the same ride concur too.
Hong Kong Disneyland Merchandise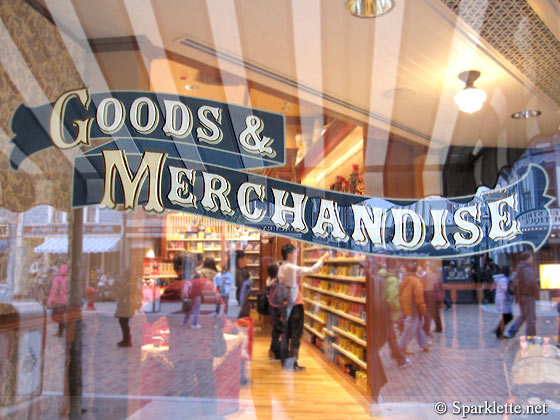 The various merchandise stores and kiosks at the park sell a wide range of gifts and toys, including the ones from Toy Story!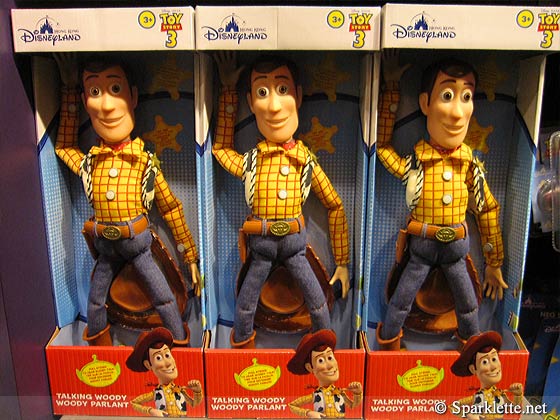 The Woody toy even comes with a pull string that makes him talk, just like in the movies!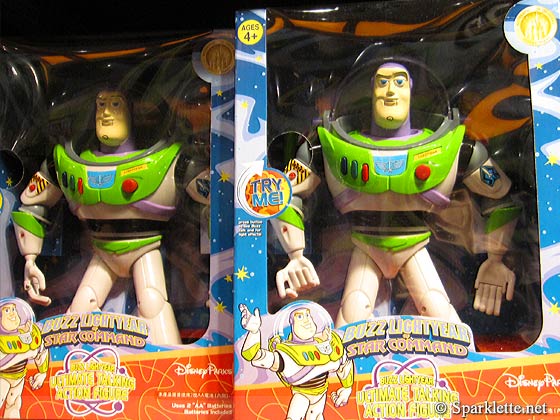 Of course, Buzz Lightyear the coolest toy in the world is available too.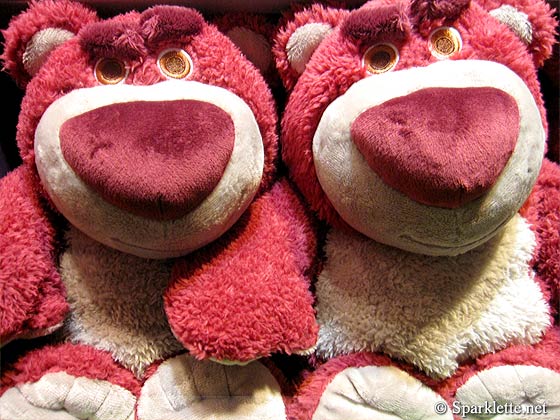 So is Lots-O'-Huggin' Bear who looks oddly cuddly here.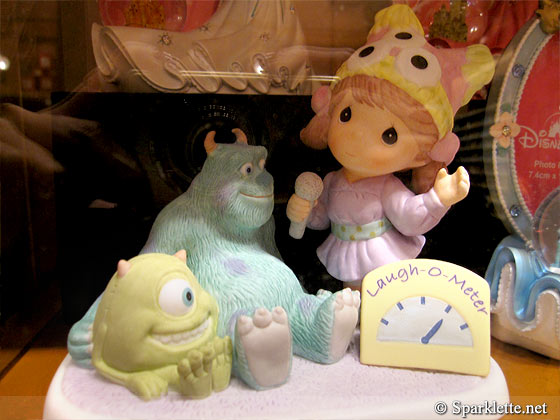 Precious Moments Monsters Inc
Of all the toys, I am most entertained by these Minnie and Sulley (from Monsters Inc) dolls that dance when activated by sound/touch. They're just adorable!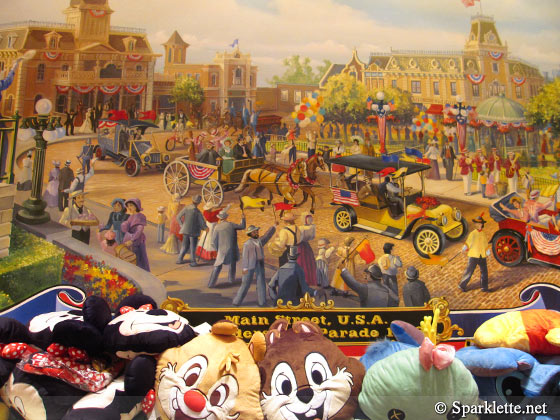 Painting of Main Street USA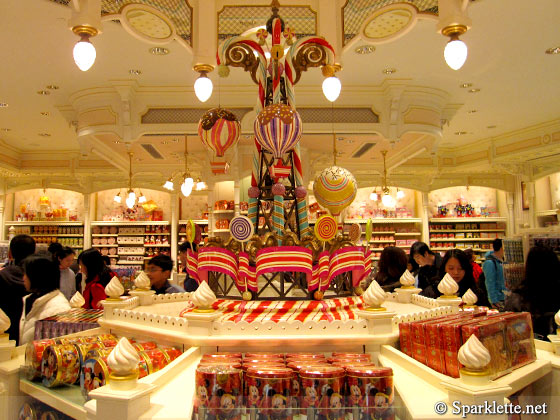 The sweets shop is another world altogether. I don't think I have ever seen so many different kinds of candies all in one place. This has got to be a kid's paradise!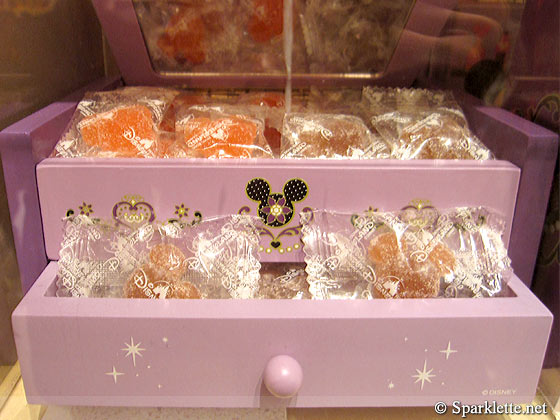 The sweets and cookies come in different shapes and colours, resembling various Disney characters.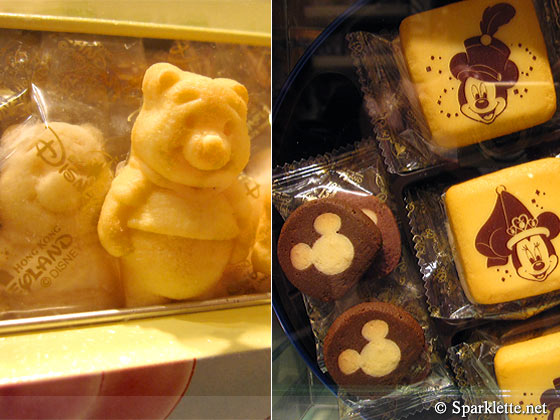 Hong Kong Disneyland Street Performance
Apart from the regular shows and rides, there are also street performances that surprise the crowd.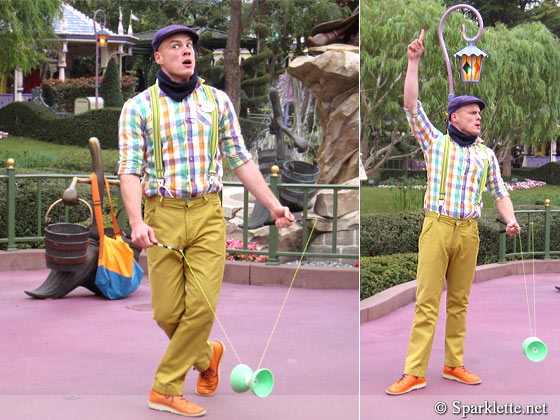 One juggler, Mickael Bellemene from France, puts up a great performance that is filled with deft skills and comedy.
He's so funny!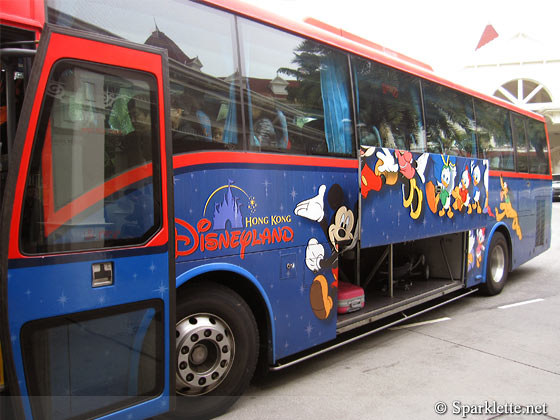 If you're staying or dining at one of the two Disneyland hotels, you can catch a free bus ride there.