Hi guys! I'm back from my 9-day trip to Bangkok! The journey is far from over though. Now's the time to really relive the memories and start my traditional day-to-day posts about the vacation.
For a city that I've already visited four times, it's amazing how there are still so many new places to explore! I had plenty of new experiences and it was a whole lot of fun through and through :)
With the riots in recent months, many people are unsettled by the thought of travelling there. This also marks the first time I've actually bought travel insurance. You know what they say about insurance – you're paying for something you hope you'd never have to use. And I didn't have to. My entire trip was pretty much peaceful throughout.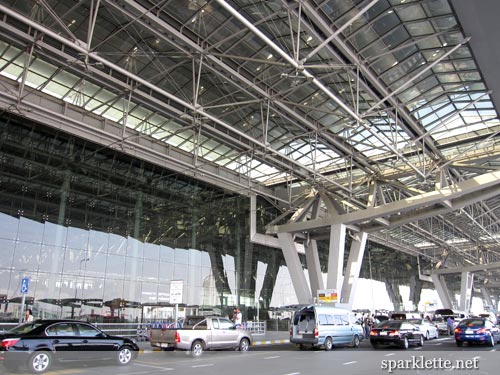 Welcome to the Bangkok Suvarnabhumi International Airport. Let's get started!
It was my first time at the new airport, which certainly is a far cry from the old rundown Don Muang Airport. The terminal sports a futuristic steel and glass structure, although I couldn't help but draw parallels between it and our own Changi Airport T3. Some people rank it as the third best airport in the world!
I was also pleased to find that the taxi system was far more orderly than the one at the old airport. You get a slip of paper with the taxi license plate number and a hotline you can call to complain if the driver overcharges or refuses to go by the meter. Yay! (Still, that didn't stop our driver from not using the meter, and we had to tell him to.)
We checked in to our hotel, the cheap and rather suckass Diamond City Hotel (low quality breakfast, mosquitoes, charges for EVERYTHING and that includes helping guests to dial the local McDelivery). But heck, it costs just 50 bucks per night so I probably shouldn't even be expecting much in the first place.
The ten minute long walk from our hotel to the nearest skytrain station, Ratchathewi (coincidentally the same one I used during my trip in '04), was shared with many cats and dogs. I think the roadside hawkers took good care of them. The dogs far outnumbered the cats so each time I spotted a kitty, I would squeal with delight!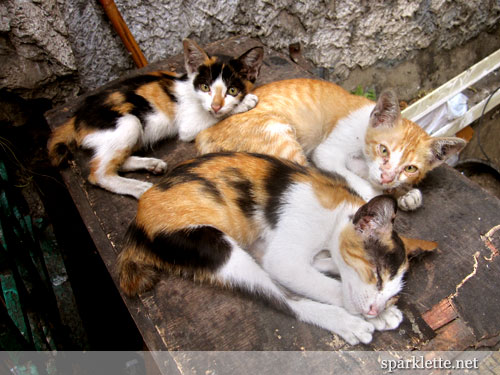 These kitties seemed ready to pounce at me for waking them up from their furry slumber. I bet the one at the bottom is Daddy!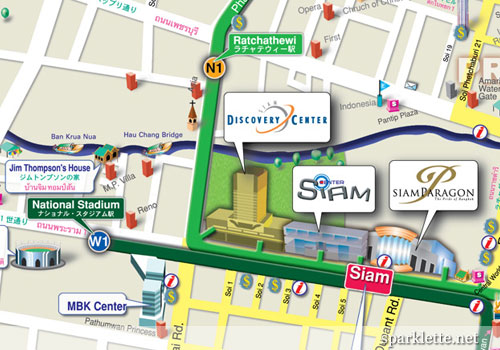 Ratchathewi is just a stop away from Siam, the central shopping district. Several malls are concentrated in that area, with 3 major shopping malls – Siam Discovery Center, Siam Center and Siam Paragon – side by side, as well as the bustling Siam Square and MBK Center on the opposite side of the road.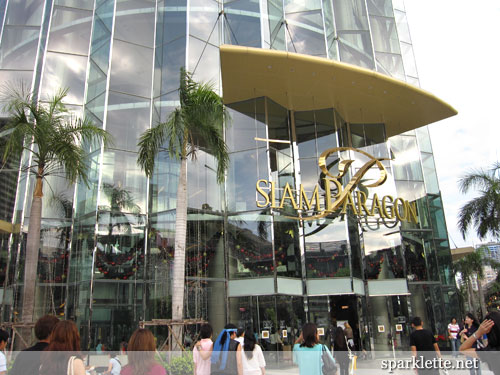 Siam Paragon, the newest mall here, would appeal to the upper class. If you are noting a resemblance with our very own Paragon in Orchard Road, you're absolutely right! The designer boutiques you would find here include the likes of Chanel and Burberry.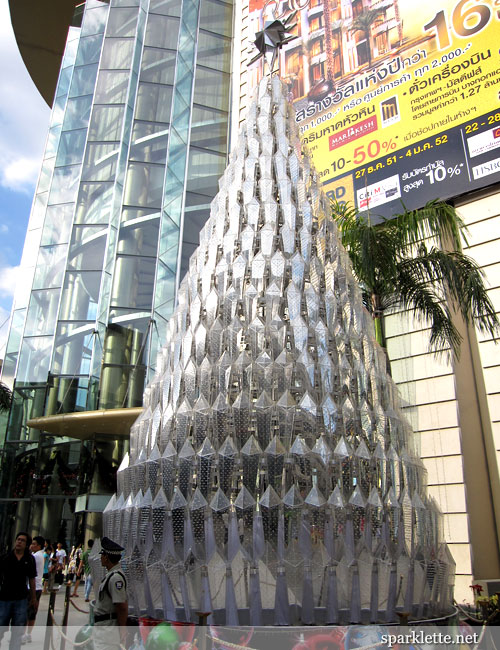 Even the Christmas tree looks classy, formed completely out of shiny silver shards that look like upside down icicles. That was just the first of the many unique Christmas trees we would spot in Bangkok!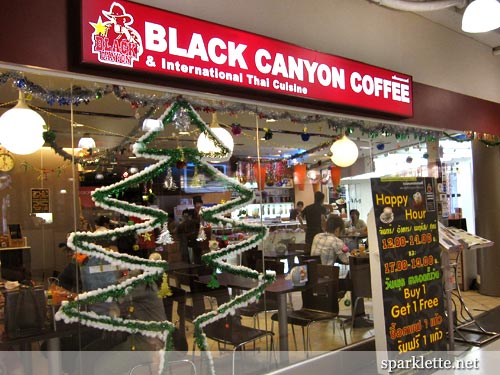 We stopped by Black Canyon Coffee at Siam Center for a cuppa joe. Black Canyon is the most popular café chain in Bangkok and you can find at least one of it in each mall. One mall that we went to had five Black Canyon Cafés alone!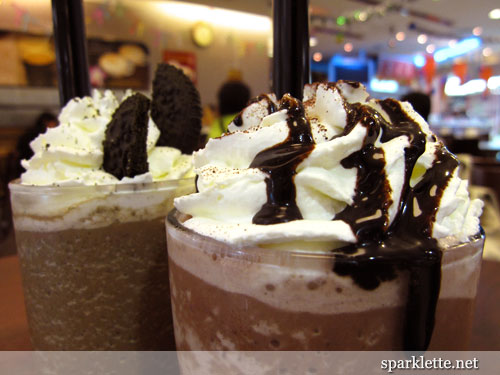 These frappé coffee cost around 2 dollars each, less than half of what you would have to pay at Starbucks. The drinks are good too. There used to be a Black Canyon Café in Singapore, at Serene Centre, but I think it has closed down.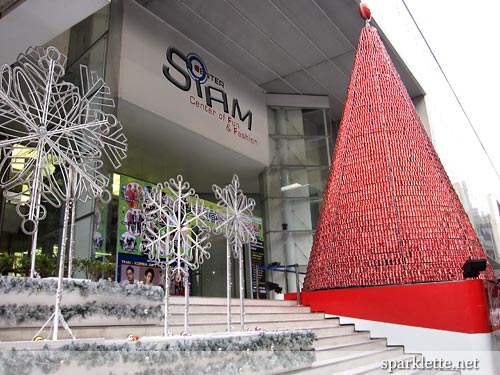 A huge Christmas tree made out from coca-cola cans stood outside the mall's main entrance. It certainly had that wow factor! Here's a closer look: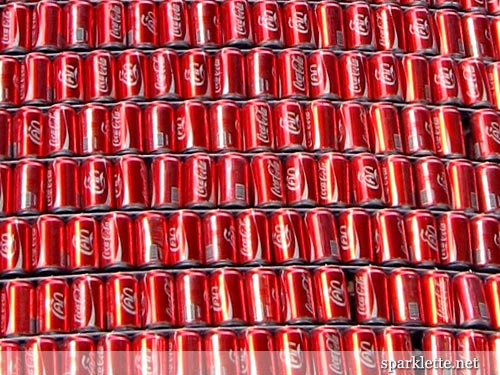 See how closely the cans are packed together? I wonder if they encountered any problem building the tree. If they hired a klutz like me to stack up those cans and paid me by the hour, they would go broke with me having to redo it many times over!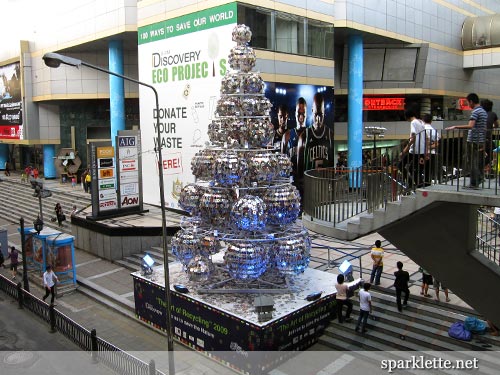 A short distance away we found another Christmas tree that looked like it had shiny disco balls. Groovy, baby! Can you tell what the tree is made of? Hang on, don't scroll down first.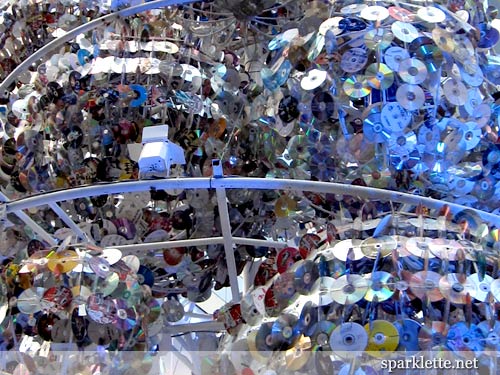 Compact discs! I bet you didn't see that comin'! I wonder if any of them were pirated movies or software?
At that point I started to wonder if I should do a Bangkok edition of the Christmas Tree of the Day series! For a city with a largely Buddhist population, they sure pay a lot of attention to Christmas!
With our shopping done at the malls, we paid a visit to the Hard Rock Café at Siam Square. These days I try to make a stop at the local Hard Rock Café when I travel. So far I have collected t-shirts from Bangkok, Dallas and Tokyo. (I missed Bali's narrowly!)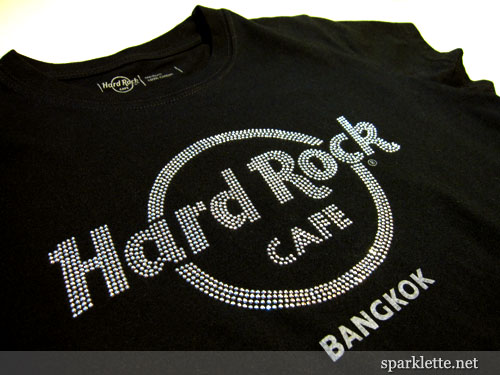 This black ladies tee is the newest addition to my collection. The logo is completely formed with shiny diamante studs! מאגר ענק של נערות ליווי בתל אביב וגם בסביבה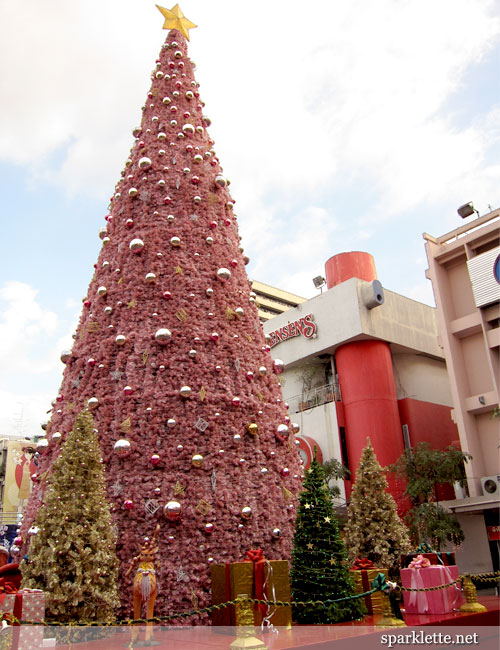 We spotted yet another gorgeous Christmas tree outside Hard Rock Café. It's majestic and pretty in pink!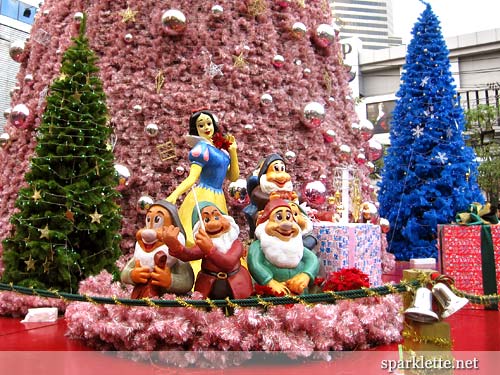 Snow white and the dwarfs say hi!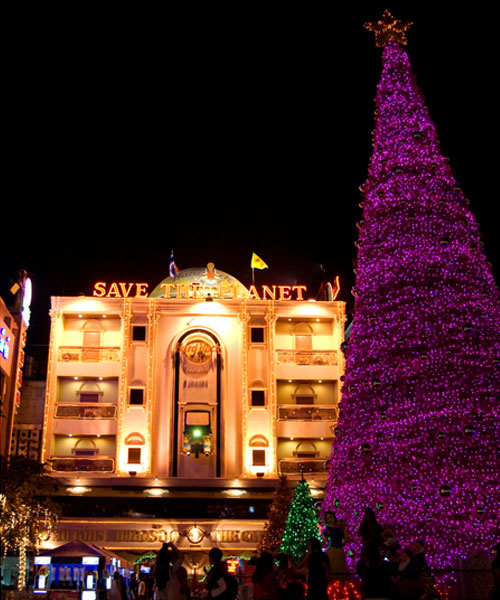 Photo by hloc
Not only was the tree pink, even the Christmas lights on it were pink too!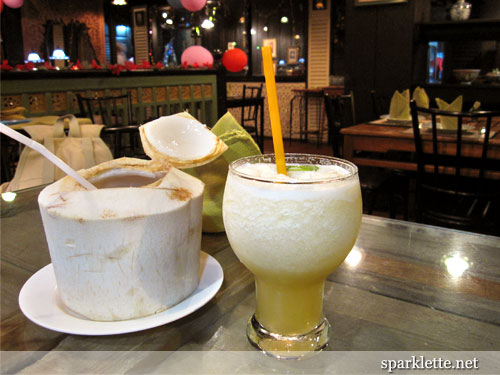 Dinner was at a fancy Thai restaurant in Siam Square. It was a double-storey building with a wooden exterior.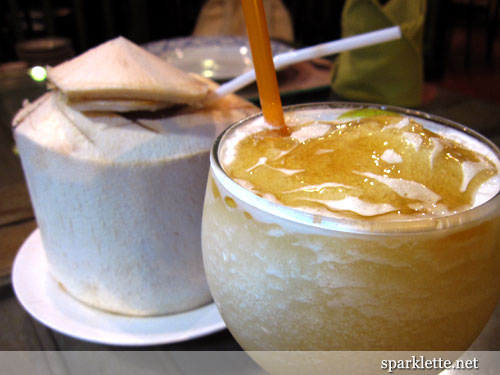 Fresh coconuts are a must-have in Thailand. They are very cheap here while in Singapore they go for 10 times the price! The other drink we had was lemonade with honey.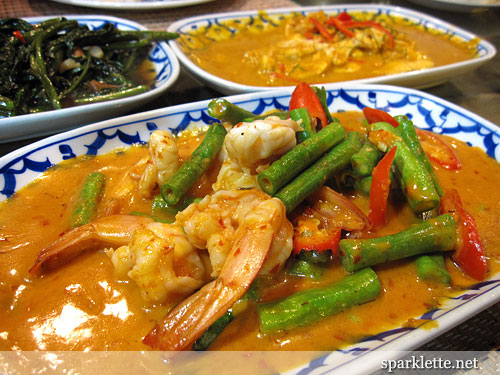 I was determined to have Thai curry for our first meal in Thailand so we ordered two curry dishes – one with prawn, the other chicken. They were superb, while the kang kong did not taste as good as the one in Singapore.
Walking around Siam Square uncovered some interesting shops, mostly selling clothing and accessories. Unfortunately, I could no longer find the Doraemon merchandise shop that I visited in '04. It must have closed down and I know so many of you were looking for it.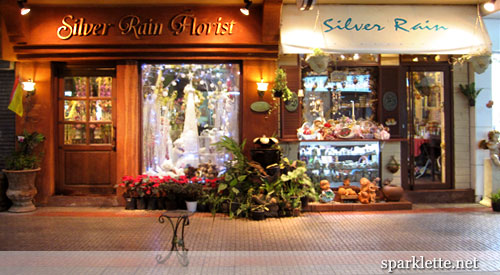 What attracted me most about this flower shop was how quaint it looked!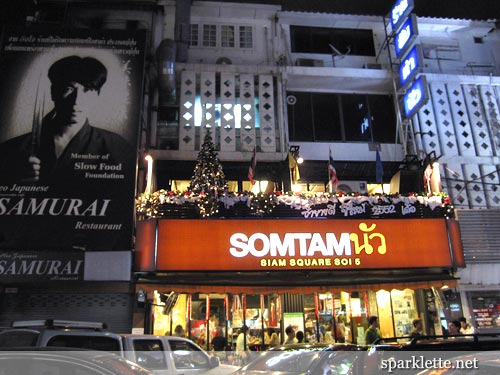 A little Christmas tree on the second floor waved goodbye as we left Siam Square. And that's it for our first night in Bangkok!
Stay tuned for Day 2 tomorrow!