If you happen to be in Chiang Mai on a Sunday, do not miss the Sunday Walking Street Market. This unique shopping experience in Old City is a major attraction for both tourists and locals. The roads are closed off in the late afternoon as hundreds of vendors set up shop to sell their crafts, foodstuffs and clothing.
The shopping street starts from the entrance at Tha Phae Gate, stretching through the entire length of Rachadamnoen Road and its side streets.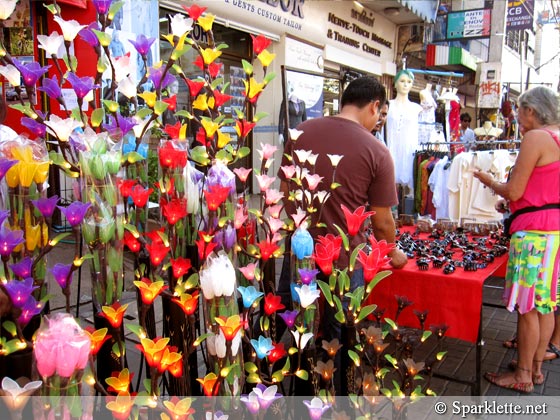 Comparing between this and the Chatuchak weekend market in Bangkok, the Chiang Mai Sunday market is of a relatively smaller scale, although decidedly less congested. Many of the products sold in the two markets are quite similar.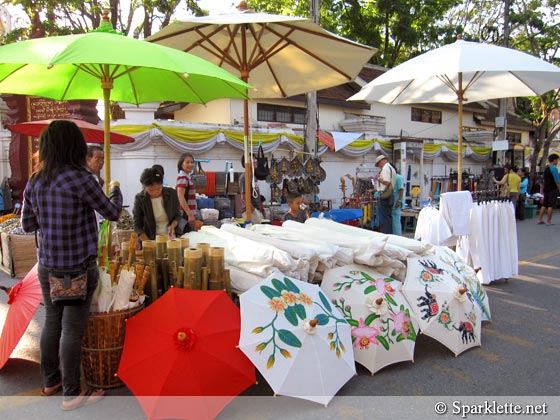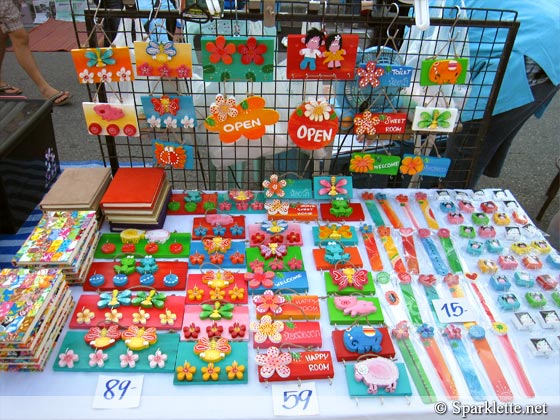 The Thais are an artistic bunch and you can see it in their paintings and handicrafts, such as wood carvings, leather sandals, and ornamental animals made from some form of string.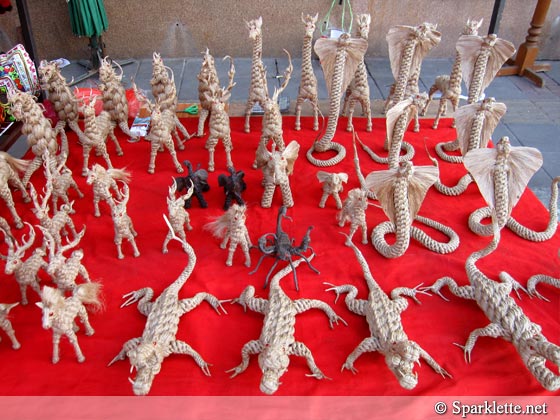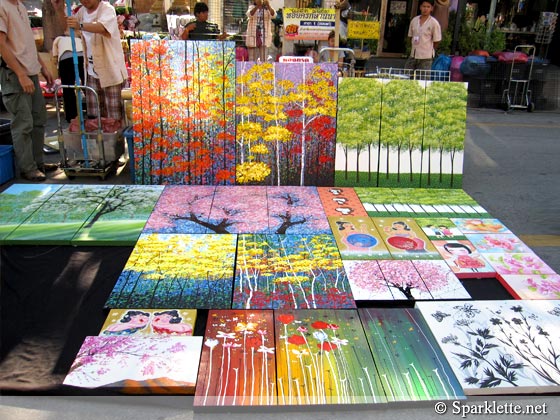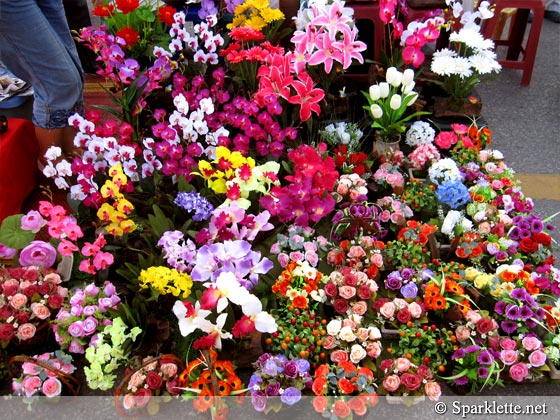 Should you tire of shopping, hop into one of the temples, eateries or the Black Canyon Coffee joint located at the eastern gate. Plus, many makeshift massage stalls along the alleys provide foot massage services on the cheap.
Or, you can simply grab a stamina-boosting snack from one of the food stalls.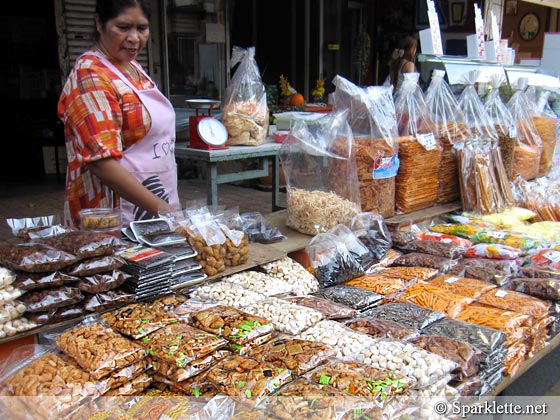 Here's something I really love: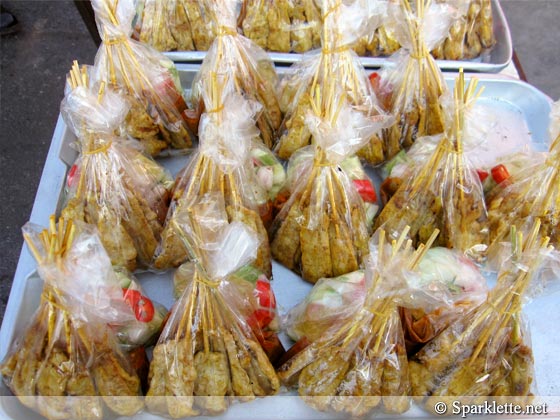 Satay! The meat skewers are pork, not chicken. But at the incredibly low price of 20 baht (less than a dollar) for ten sticks, I would eat anything. Except for those Thai fried insects, that is.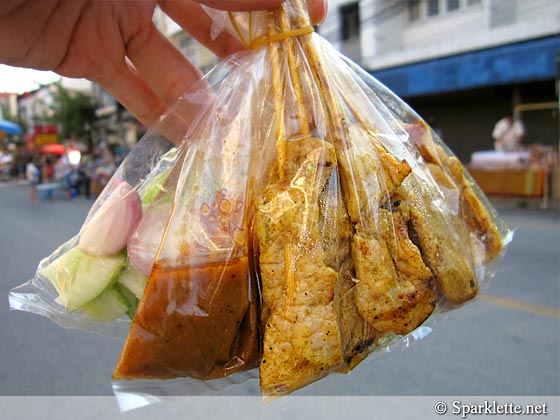 Each set of satay includes a packet of peanut sauce, cucumber, chilli and onion slices, plus a packet of relish that I haven't seen in the Singapore version. This additional sauce is made from vinegar, sugar and salt and complements the cucumber extremely well.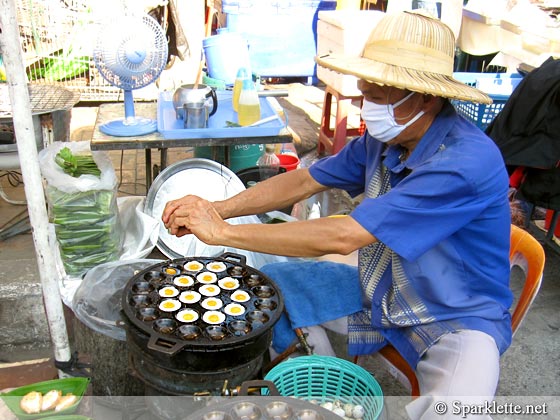 We spot a number of vendors selling tiny partridge eggs.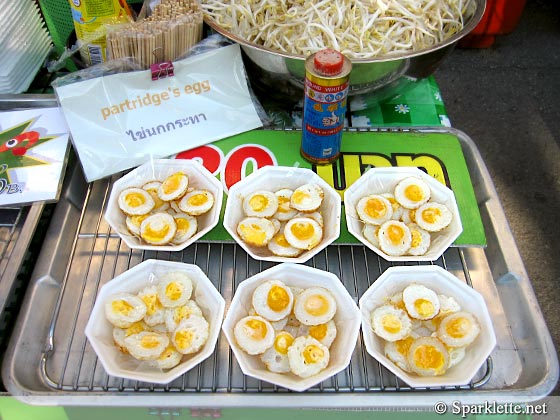 I have no idea how these taste. Like regular eggs?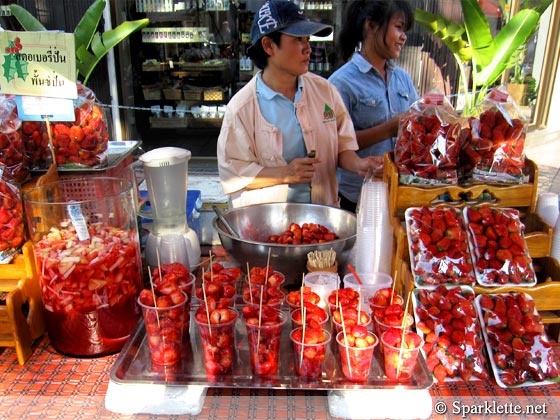 One stall is dedicated to selling just strawberries!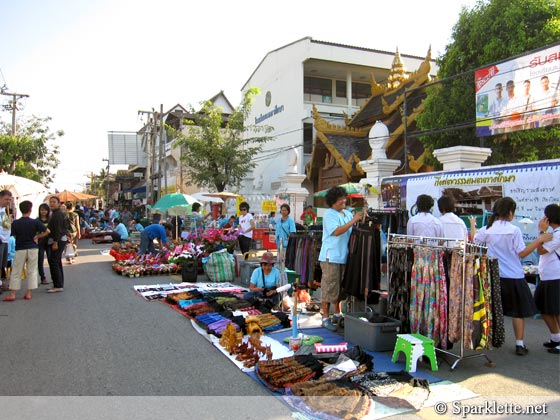 If you wish to shop in as little human traffic as possible, you can beat the crowd by coming here just after 4pm. That's when the roads are blocked off to vehicles and the vendors start setting up shop.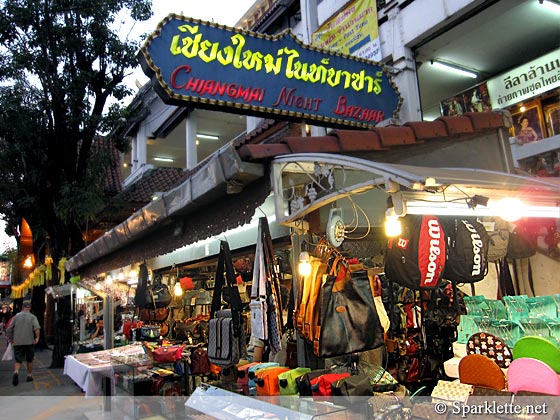 At night, you can take a stroll or a tuk-tuk to visit the Chiang Mai Night Bazaar along Chang Klan Road. You would find mostly the same type of products and foodstuffs sold here.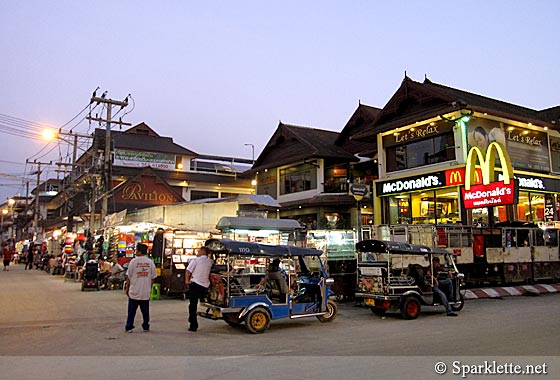 I mentioned yesterday that the locals love animals. Seen here near the night bazaar are a couple of dogs lying casually along the roads, oblivious to the traffic whizzing dangerously close by.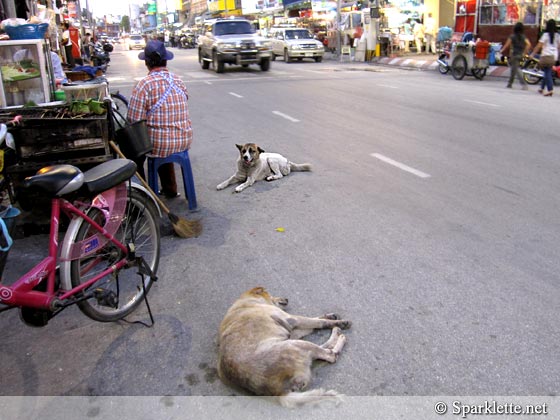 One common joke among farangs is that vehicles do not stop for pedestrians, but they would screech to a halt when they see a dog crossing the road!
Have Your Say!
Have you ever been to the Sunday Walking Street Market or Night Bazaar in Chiang Mai? Share your experiences with us in the comments!