Having had a memorable dinner cruise experience on Chao Phraya River in Bangkok, I know it would be a good idea to do the same in Chiang Mai. After all, Ping River is an important part of the city, separating the popular western side that includes the Old City, and the less visited eastern side.
From my research done on the Lenovo V470 laptop that I brought along on this trip, there are a few river cruise operators in Chiang Mai, including at least two that provide dinner on board. I quickly decide on The Riverside Bar & Restaurant, mainly due to their large variety of menu items and boats that don't look too shabby. I placed a dinner reservation through email, to which the restaurant confirmed within a day.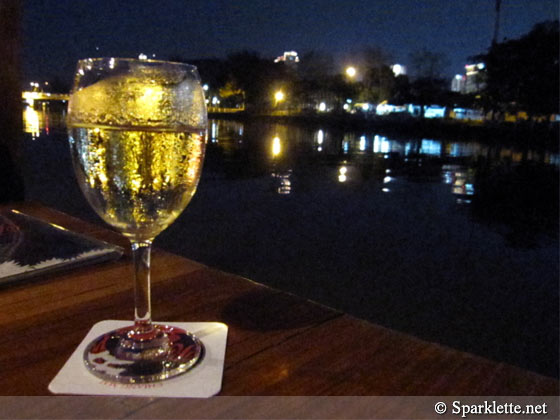 The dinner cruise runs nightly with two boats plying the river. All passengers pay a fee of 110 baht each for the boat ride, and extra for food and drinks. Each boat accommodates about 40 diners – ten tables of 4 – and is even equipped with a toilet!
We board the boat at 7:15pm, then place our orders. There is an impressive galore of Thai dishes and a large selection for liquors and cocktails; this is a bar after all.
(Warning: Shoddy photos ahead. The boat is very dark except for some candles and a couple of dim ceiling lights!)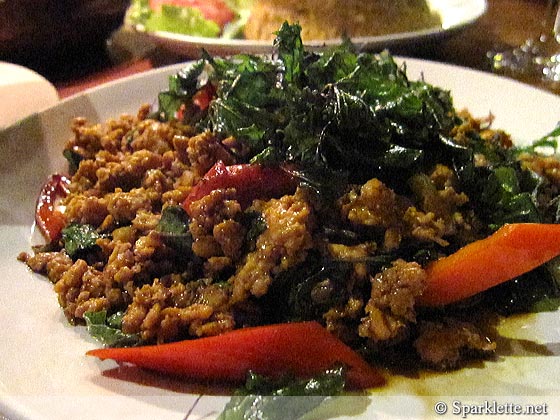 Stir fried chicken with basil leaves
95baht
Rating:





At any Thai restaurant, one of my must-order dishes is stir fried chicken with basil leaves. The minced chicken is extraordinarily tender, the flavours marvellously intense, totally tickling one's taste buds. What a great way to start a Thai meal.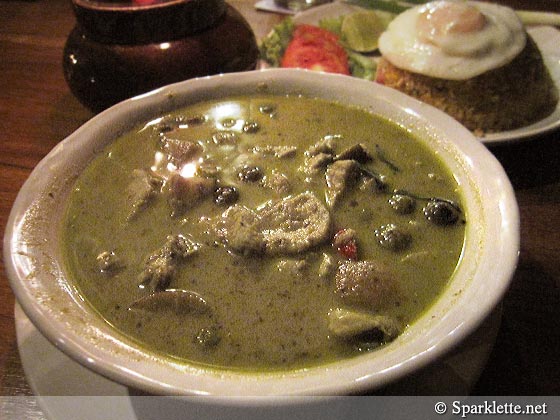 Spicy green curry with chicken
95baht
Rating:





By this time, I am dying for some authentic Thai green curry chicken. After having my expectations built up, this one turns out to be somewhat of a letdown. Sure, there are ample slices of chicken in it. But the curry is overly salty and lacks that balance between sweet and salty.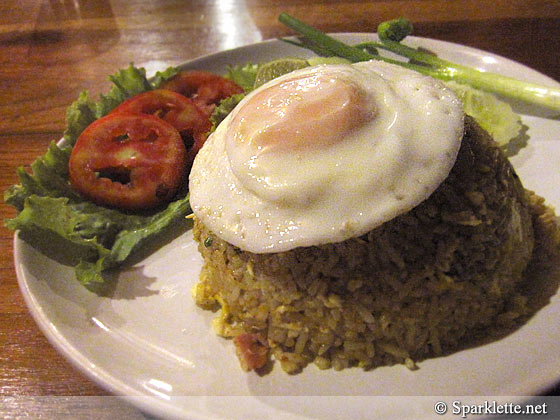 The Riverside special fried rice
115baht
Rating:





To go with the dishes, I highly recommend the "special" fried rice. This is a savoury combination of chicken, ham, sausage and pineapple, with a tinge of curry, and crowned with fried egg. The result is mouthwatering!
When placing our orders initially, we had deliberated over whether to get an additional dish. Turns out there's no need for that as the portions are delivered with a generous hand.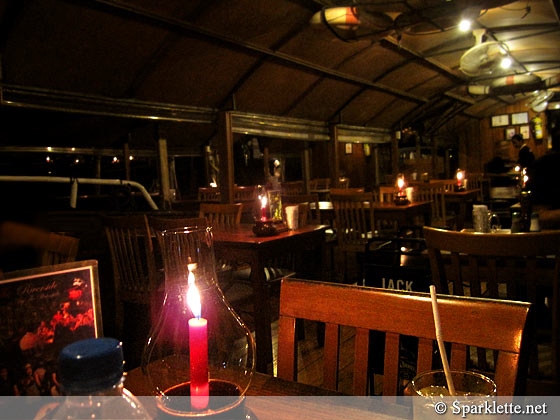 All food and drinks are served promptly. By the 8pm departure time, most passengers have finished their food. Once the journey begins, all lights are switched off and the boat is pitch black except for the lone candle placed on each table. electrician pasadena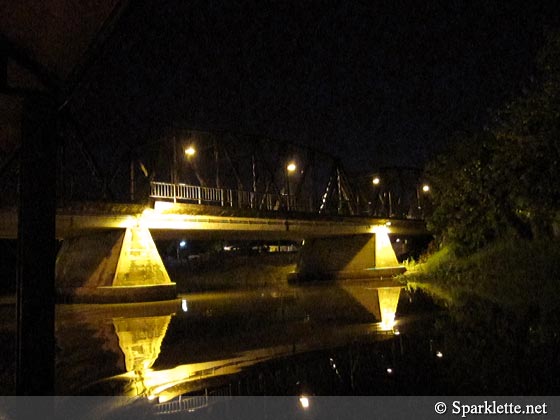 The dinner cruise goes at a leisurely pace up north, drifting past riverside eateries and passing under bridges at times. Seen here is the iron bridge, which bears a resemblance to the famous bridge over River Kwai, more popularly known as the Death Railway in Kanchanaburi.
The journey lasts a little over the hour and gets quite chilly. You get to see what's happening on both sides of the river – mainly stretches of music bars intersected by total darkness, and a surprising number of people fishing. At some point, the boat turns around and goes south, right past the dock, before heading back. Piece of advice: Pack a sweater and wear shoes! I made the mistake of having my feet clad in skimpy sandals and got bitten by pesky mosquitoes underneath the table.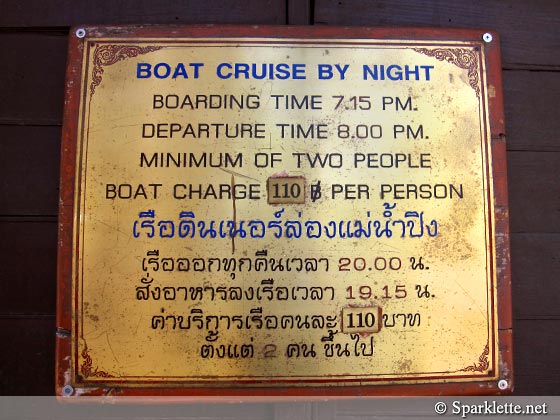 If you have a couple of hours to spare in the evening, definitely go for the dinner cruise. It is an affordable and unique way to see the city of Chiang Mai.
Have Your Say!
What is your most memorable dining experience in Chiang Mai? Share with us in the comments!
The Riverside Bar & Restaurant
9-11 Charoenrat Road
Chiang Mai 50000
Thailand

Tel: +66 5324 3239 / +66 5324 6323 |
Website
Boarding time: 7:15pm daily
Departure time: 8pm
Duration: 75 minutes
Admission: 110 baht per adult; 55 baht per child aged 5-10 years