Fans of the popular Fish & Co. chain would be pleased to know that the group has a new line of restaurants – F.I.S.H. Apart from seafood, F.I.S.H. casts a wider net by offering meats, salads and a bigger range of desserts than its predecessor.
If you have visited the newest malls in town, Tampines One and [email protected] along Orchard Road, you probably have already seen this new fish! Let's check out what it has to offer.
Salad Bar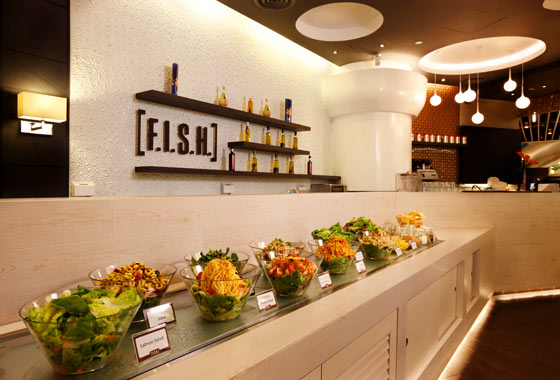 Salad bar buffet
S$12.90++ (or S$5.90++ with any main course)
Rating:





The salad bar buffet is one big draw that would appeal to the increasing health-conscious crowd. People who have dined at any Sizzler restaurant would find the concept familiar.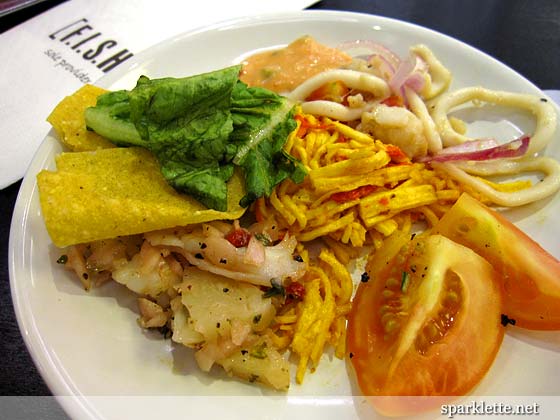 The line of selections include Shiitake and Enoki mushroom salad, papaya salad, salmon salad, Romaine lettuce salad, Japanese cucumber salad and even Nachos, along with various dressings and dips. Our unanimous favourite is this: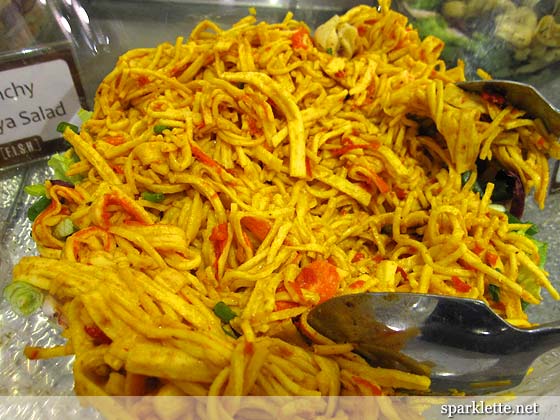 Chili crab salad
Rating:





Fancy chilli crab? There's a salad for that, too!
The chilli crab salad, which is sweet and delicious, and works great as an appetiser! Just the SOUND of that alone is delicious, isn't it?
Starters
For starters, we sample the crispy silver fish and the egg toast.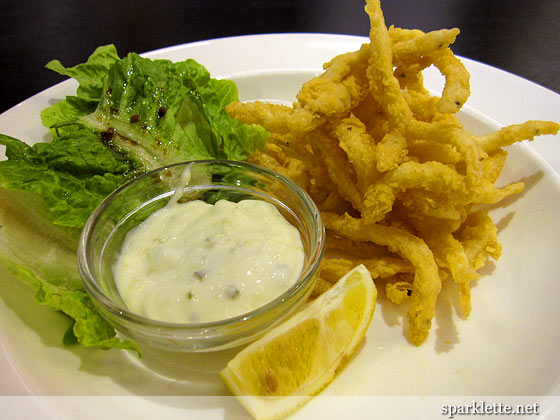 Crispy silver fish
S$6.90++
Rating:





The tiny fishes are batter-coated and deep-fried. Tossed with salt and served with a dip, this is a simple dish that brings no surprises.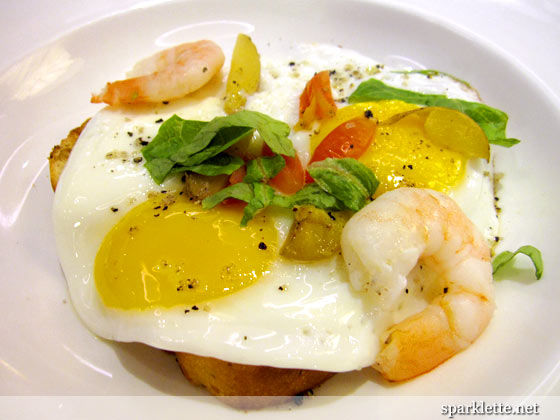 Shrimp & egg on toast with rocket
S$5.90++
Rating:





The toast is served in a colourful array of shrimp, sunny side up eggs and rocket leaves. What you see is what you get. A healthful and nutritious combination, but again, tastes just ordinary.
Notice that all the dishes served so far come with greens, a pattern that would repeat throughout this food-tasting session.
Main Courses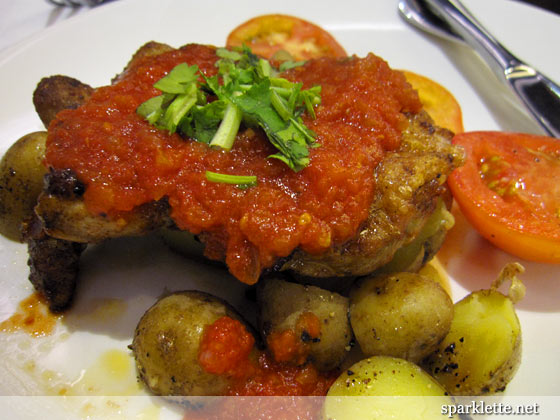 Chicken Cacciatore
S$10.90++
Rating:





The chicken Cacciatore is so-called as it is prepared "hunter-style" – seared on both sides and accompanied by tomatoes, herbs and baby potatoes.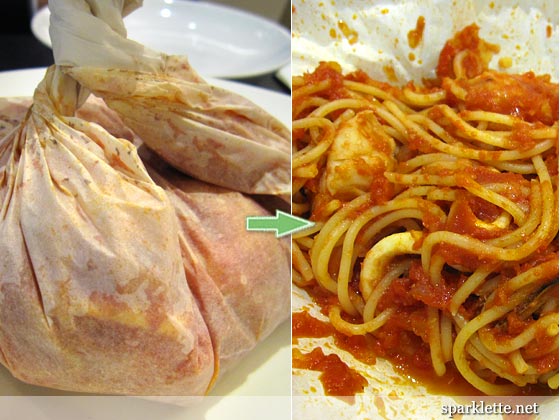 Baked seafood spaghetti
S$8.90++
Rating:





The dramatic appearance of the pasta, wrapped in cellophane, elicits oohs and aahs at the table.
The prices here are mostly very reasonable, such as the baked seafood spaghetti done al cartoccio. Through this manner of preparation, the pasta retains its moisture and juicy flavours. We only wish there is more seafood in this as the prawns and squid are rather scarce.
If you like pasta wrapped and baked in a similar way, Pasta Inc does a great rendition of it, too.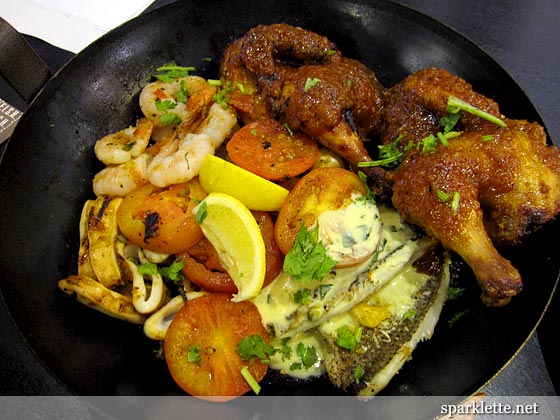 Feathers & Fins Platter
S$39.90++
Rating:





For an all-in-one dish, go for the Feathers & Fins Platter. This is a pan filled with an impressive galore of calamari rings, prawns, Barramundi fish and – the best part – two large pieces of chicken thigh!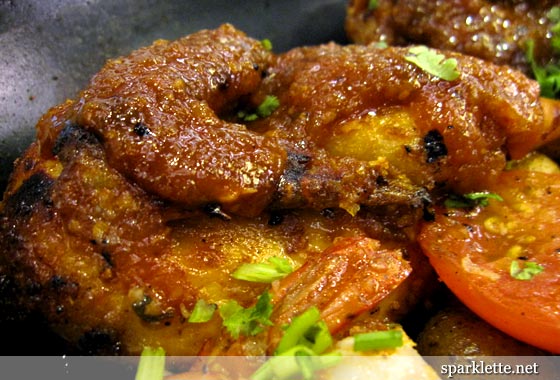 The grilled chicken is covered in the most succulent sauce, whose secret ingredients our hosts refuse to divulge ;) Whatever it is, it tastes flavoursome and makes you want to have more of it, yet doesn't induce a sore throat like the famously delicious Indonesian grilled chicken at Plaza Singapura.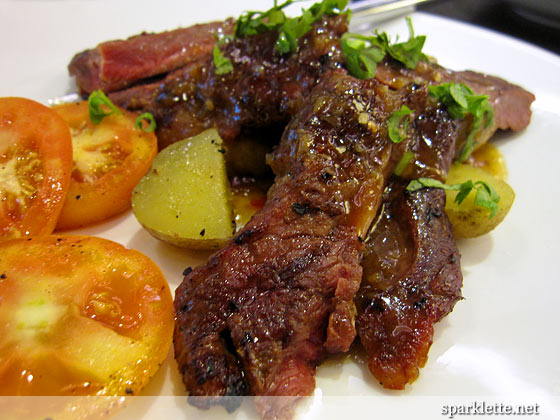 Teriyaki ribeye steak
S$16.90++
Rating:





Ribeye steak arrives in the form of long marbled strips, soaked in a teriyaki sauce. The meat is tender and juicy, although the sauce does not taste like the conventional Japanese sweet soy sauce that we are familiar with. Perhaps this is the Western version.
Desserts
A nice selection of cakes are available for desserts, shipped in directly from the United States. Wow! Talk about huge portions!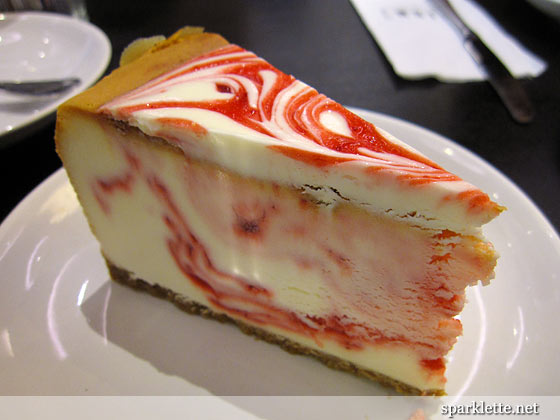 Strawberry Daiquiri Colossal
S$6.95++
Rating:





The Strawberry Daiquiri Colossal sports pretty strawberry swirls. I'm not a huge fan of fruit-flavoured cakes myself, so it is the following cake that gets me excited: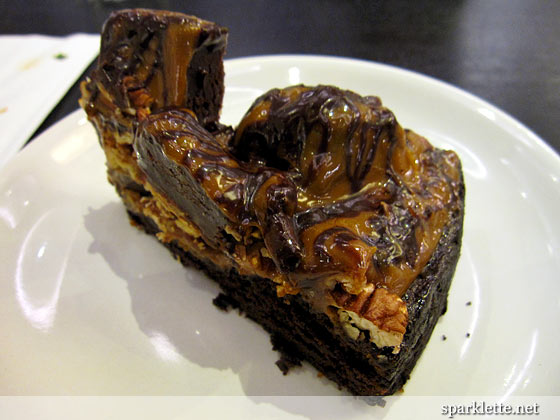 Chocolate Pecan Cluster
S$6.95++
Rating:





Just one look at the Chocolate Pecan Cluster cake is enough to make me salivate! Think layer after layer of chocolate topped with caramel. Beware: This is so sweet that it will send the sweet tooth in you right to the moon!
Beverages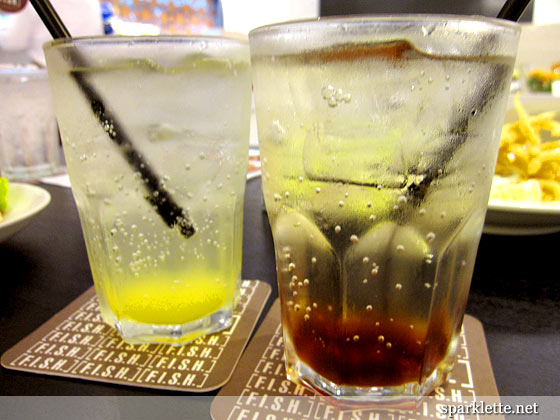 Passion fruit / Kola tonic
S$3.90++ each
Rating:





The passion fruit soda and kola tonic stand out on the beverage menu. I like the fact that these aren't carbonated, and are thirst-quenching and very satisfying!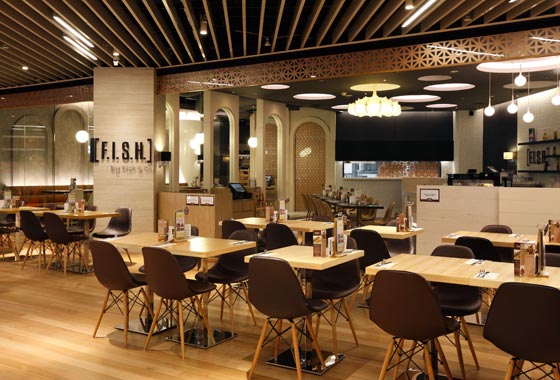 Perhaps it's the appeal of Fish & Co., even for this new concept restaurant, it has gotten many people curious. At the [email protected] outlet we visited, the line was so long that some eager customers had to wait more than half an hour for a table!
Have Your Say!
How do you find the new F.I.S.H.? Is it a whole lot different from Fish & Co.? Share with us in the comments!
F.I.S.H.
(

Halal certified
)
2 Restaurants
[email protected]
313 Orchard Road #B3-37/38
Singapore 238895
Tel: +65 6634 0478
Bus services: 7, 14, 16, 36, 65, 77, 106, 111, 123, 124, 128, 143, 14E, 162, 167, 171, 174, 175, 190, 502, 700, NR1, NR2, NR3, NR5, NR6, NR7, NR8, 162M, 174E, 502A, 502B, 700A
Nearest MRT: Somerset
Opening hours: 11:30am – 10pm daily
---
Tampines One
10 Tampines Central 1 #04-11 / #05-13
Singapore 529536
Tel: +65 6260 0183
Bus services: 3, 8, 10, 15, 18, 19, 21, 22, 23, 27, 28, 29, 31, 37, 38, 39, 65, 67, 69, 72, 81, 168, 291, 292, 293, 553, 969, 2N, NR7
Nearest MRT: Tampines
Opening hours: 11:30am – 10pm daily