Love ribs? You now have another alternative. dallas restaurant & bar at Boat Quay draws crowds for its ribs alone!
It was at Tony Roma's where I had my first rack of perfectly barbecued baby back ribs. Eventually Jerry's, with their tender and meaty ribs that ooze flavour with every bite, became the first place I recommend for ribs.
Lately I have been hearing rave reviews about the ribs at Dallas and they got me curious enough to check it out. The name also reminds me fondly of my trip to the actual Dallas!
So, is the food as good as what people say?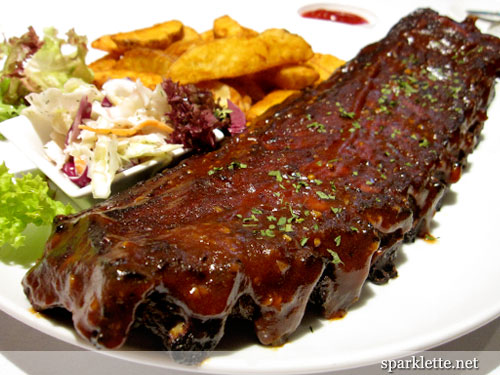 Baby back pork ribs (full rack)
S$28++
Rating:





Ahh… The baby back pork ribs that everyone is raving about. We have ordered here a full rack of the fiery flavour. These ribs come in three flavours – fiery, berry and the new caribbean dry rub.
It is a little baffling that the ribs don't seem spicy or even peppery, as the name "fiery" suggests. But that's okay. No biggie. What's more important is that they are sweet and flavourful, braised to melt-in-the-mouth tenderness.
Now tell me: are you the type that throw caution to the wind and eat the fatty bits in your meats because they taste so good? If you are, then you would so enjoy Dallas' ribs. The fatty layer is thick and prominent beneath the charred skin!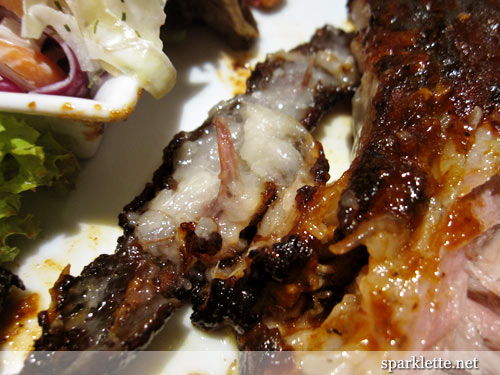 I know many people actually love these fatty pieces. In fact, one Japanese restaurant deliberately serves a version of their pork katsu with the thick fatty layer intact. That dish has remained one of their bestsellers.
For me, I would go for Jerry's seemingly fat-free ribs any day! At Jerry's, they use a special preparation method to ensure the fats are all melted away in the grilling process. Plus, the ribs are meatier and saucier.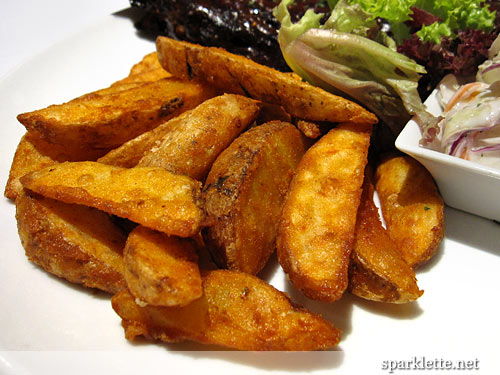 I like the fact that instead of the usual French fries, the ribs come with a big heap of thick fluffy potato wedges by default. Still, if you prefer, you can request for the Dallas fries instead.
Not every dish turns out to be a success, however.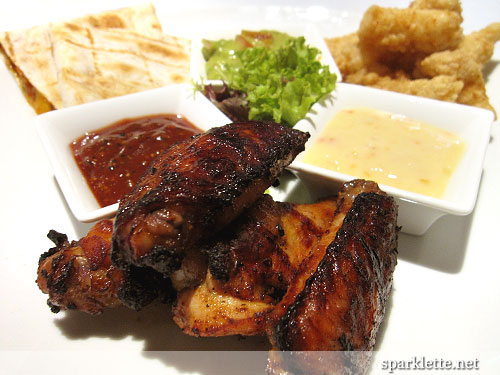 Dallas Platter
S$14++
Rating:





To get a taste of their various appetisers, we order the Dallas platter that comprises of:
chicken wings
chicken and cheese quesadillas
salt and pepper calamari
guacamole, sour cream and chilli dips
Just the thing for people that like variety! However, our first sentiment on seeing the platter is dismay. What small portions!
Perhaps we have been too accustomed to the generous portions of appetisers offered at similar restaurants. After eating Jerry's huge buffalo wings and Tony Roma's huge calamari rings, the Dallas platter seems miserably small! I'm talking 4 skimpy winglets, a handful of rather tough chopped calamari and 2 skinny slices of quesadillas. They barely warm the stomach! Frankly, the two other restaurants offer much more, and at lower prices, too.
One consolation is that the winglets taste pretty good with the chilli sauce. Are they worth the price? You decide.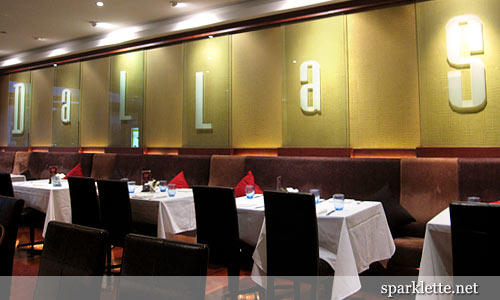 When you're tucking into fiery ribs, you probably wanna do it in an air-conditioned setting. There's the second-floor dining area for you, fully air-conditioned with tables set like a fine-dining restaurant. But if you don't mind being seen tearing chicken wings apart with your bare hands, alfresco dining by the river is also available.
For now, we're still sticking with jerry's and Tony Roma's for the tastier food, bigger portions, quicker service and lower prices. They have won our hearts long ago :)
But hey, it's always good to have another alternative for ribs, right?
Dallas Restaurant & Bar
31 Boat Quay
Singapore 049820
Tel: +65 6532 2131
Service:





dallas.sg
Bus services: 1N, 2N, 3N, 4N, 51, 5N, 61, 63, 6N, 80, 124, 145, 166, 174, 197, 851, 961, NR1, NR2, NR3, NR5, NR6, NR7, NR8, 174E, 961C
Nearest MRT: Raffles Place
Opening hours: 11:30am – 2.30pm, 6 – 10:30pm (Closed on Sundays