Many of us enjoy a love affair with it. Some of us even have secret fantasies about it. Such is its seductive powers that few are able to resist its temptation. I would be lying if I told you that I don't want it all the time. That sensuous mouth feel is too hard to say no to. At times it gets so good, it's pure ecstasy.
Chocolate ecstasy.
While we're on strict dieting regimes, we still attempt sneaking in that piece of caloric chocolate. Even as we go out on shopping sprees, we may find ourselves snacking from the chocolate stash we have in our bags, relishing the guilty pleasures as the chocolate butter melts on our tongue.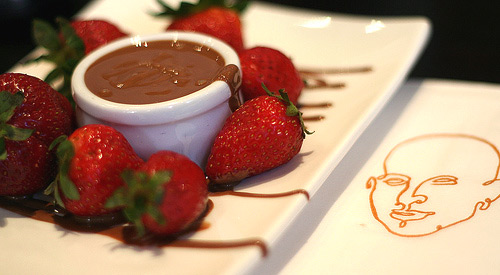 Credit
Up for a chocolate rendezvous? Have it all at Max Brenner the chocolate bar. Chocoholics would be totally spoiled for choice!
So just who exactly is Max Brenner? It is actually a combination of the two owners' names, Max Fichtman and Oded Brenner. The latter is bald, hence the slogan "Chocolate by the Bald Man".
Upon entering the place, brace yourself as the first whiffs of chocolate aroma penetrate your nostrils – it's chocolate wonderland! No prizes for guessing what the colour theme here is. Shades of chocolate brown, of course! I would expect nothing less.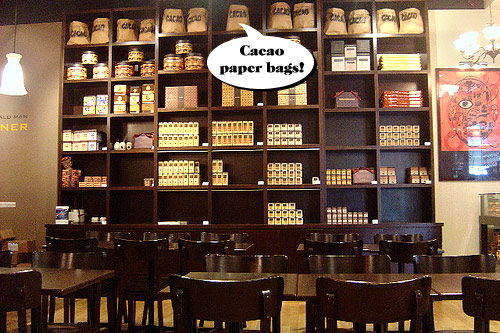 Credit
I especially enjoy checking out the various chocolate products displayed on the wooden shelves. Those on the top shelf grab my attention the most. They are brown paper bags containing cacao! Cute!
First-time visitors may be slightly overwhelmed by the substantial menu of chocolate delights – there are just too many to choose from! A must-have is something from the hot chocolate section. Here they call it "Chocolat", the cappuccino of chocolate. It is served in a Hug Mug!
The Hug Mug – a specially designed mug for the chocolate drinking ceremony. The mug is shaped specially for hugging in both hands so that it creates the ultimate drinking experience of coziness, warmth and fragrance.
Whoa! That cute story got to me immediately. I wasted no time in ordering myself a Chocolat – the Venezuela milk chocolate drink.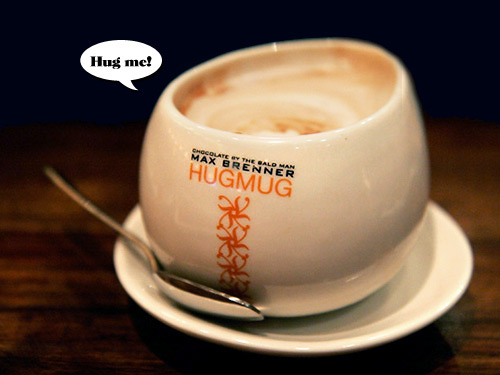 Photo by Harrier
Venezuela Milk Chocolate
S$5.90++
Rating:





I was supposed to cradle it in my hands. But boy, was the hot chocolate hot! Of course, it was also deliciously good. I was surprised at how thick and chocolaty it was; I could practically see the frothy chocolate bubbling!
Love, love, love that mug too. It made the chocolate drinking ceremony all snug and warm and cosy :) "hug me," it seems to be saying. I think I'll hug it for Christmas!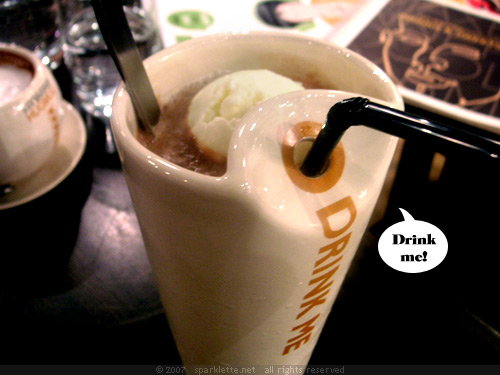 Espresso and Milk Chocolate Truffle Frappé
S$8.90++
Rating:





Another adorable cup they have is the Alice Cup, used for serving Choctails, a.k.a. frozen chocolate frappés. If you guess that's Alice as in "Alice in Wonderland", you are right!
She found a little bottle on it ('which certainly was not here before,' said Alice), and round its neck a paper label, with the words 'drink me' beautifully printed on it in large letters. Alice ventured to taste it, and finding it very nice (it had, in fact, a sort of mixed flavour of cherry-tart, custard, pineapple, roast turkey, toffee and hot buttered toast), she very soon finished it off.
Whoa! The Choctail was even thicker and richer than the Chocolat; it's almost like drinking molten chocolate! The vanilla ice cream was definitely necessary in toning down the thick chocolate.
So tell me, are you ready for your next chocolate indulgence? Whether you like it dark, milk or white, Max Brenner is definitely a choice pick chocolatier. Also check out their desserts.
Max Brenner
Esplanade Mall
8 Raffles Avenue #01-06/08
Singapore 039802
Tel: +65 6235 9556 |
Website
Service: