I have a riddle for you. What's crispy on the outside, chewy and moist on the inside, and resembles cute little buns?
Here, I'll give you a hint: they come in a plethora of irresistible colours and flavours!
Okay, just one last clue. They are French!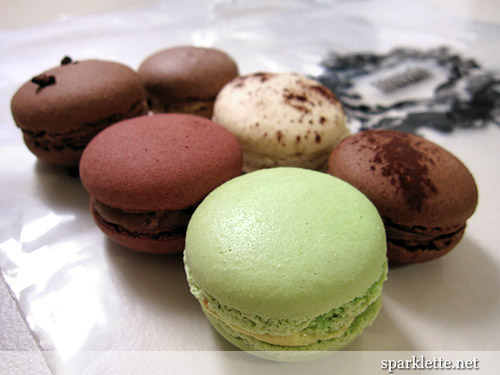 If macaron is the first thing that pops in your mind, my, you must have a sweet tooth!
When I first laid my eyes on the macarons at Bakerzin, I fell in love with these sweet pastries. Just toss in a cup of joe and you're all set for a delightful teatime snack!
Macarons (not to be confused with macaroon or macaroni) are made with egg white, almond powder and icing sugar, with creamy butter cream and ganache.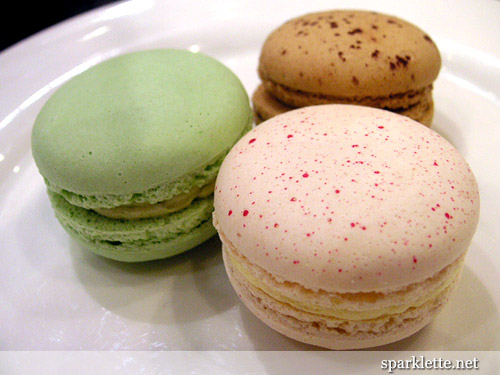 Macarons (assorted flavours)
$1.60
$1 each for February '09
Rating:





On first impression, I would have thought that the green one is matcha (green tea), but it's actually pistachio with white chocolate! The pretty one with speckles of pink is "scarlet", a mixture of vanilla and strawberry. It's heavenly! But my favourites are, hands down, the chocolate ones.
The bakers here really know their chocolate. You get your chocolate macarons with a touch of lemon, brandied cherry, whiskey, coffee butter cream and even banana! The chocolate ones are really the best of the lot.
After whetting your appetite, I feel it's only right to share with you this: Bakerzin has slashed the price of these babies from $1.60 to a dollar each. The promotion is valid only in the month of February. So hurry!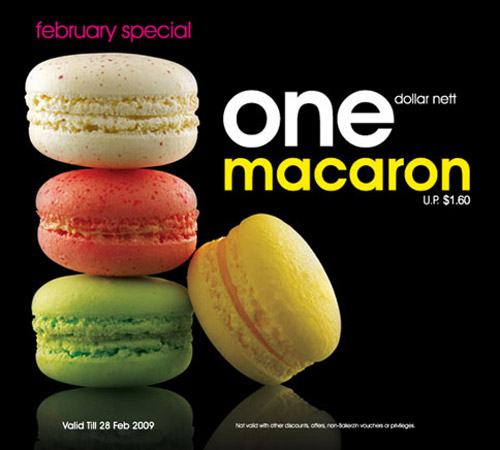 (last month, they slashed the price of their phenomenal warm chocolate cake to $4.80. I'm looking forward to another great promotion next month!)