Many people that pass by Tea Cosy may not notice the café inside this vintage store. As always, there's more than meets the eye! Tea Cosy holds many precious European antiques and collectibles. A walk through the store takes you back to the dreamy Victorian ages. If you need a cup of tea to complement your experience, you may do so at the in-store bistro, tea cosy.
At tea cosy, diners sit at antique tables and eat off vintage Royal Copenhagen plates. Quite an experience indeed! You need to be extra careful though. The store policy states that broken utensils must be paid for. After all, these are all vintage stuff. Just look at that beautiful porcelain plate. With the exquisite rose painting and gold trimming, it's easily the prettiest plate I have ever seen! Gorgeous!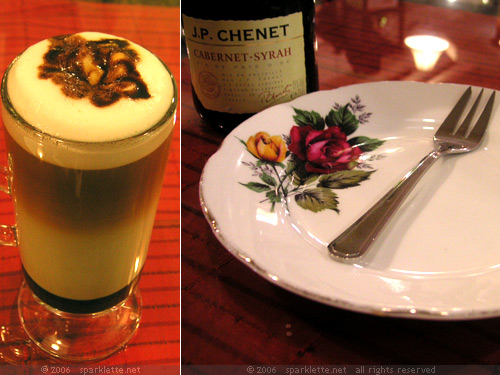 Minty Chocolate Coffee
S$5.90++
Rating:





High tea is served in the traditional English style. Bite-sized cakes of different flavours are served alongside tea or coffee. Being a coffee person, I went for a minty chocolate coffee. I don't really fancy the minty taste but there's always room for trying out something new. Gotta say that I still love my coffee the way it is, without any extra flavouring unless it's chocolate!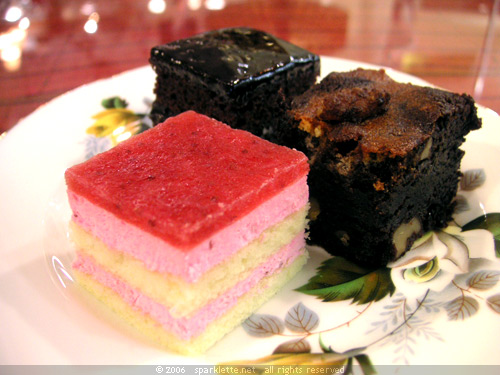 Strawberry Mousse Cake, Chocolate Brownie & Chocolate Marble Cake
S$6.90++
Rating:





The cake sampler set comes in different quantities, with a choice from seven different flavours. Chocolate is a definite safe bet. My chocolate brownie and chocolate marble cake were delicious. The good thing about the sampler set was that I didn't even have to feel too guilty eating due to the bite-sized quantities! I didn't really fancy the strawberry mousse cake though. Felix, the manager even took extra care to warm up the cakes before serving. It was a nice touch.
Besides high tea, Tea Cosy also serves lunch and dinner. Foie gras is the house speciality. I wouldn't say that the food and drinks are the main draw of Tea Cosy. It is the vintage treasures and all things pretty that makes this a very unique and cosy experience. Wood burning Wooden Hot Tubs and Outdoor Saunas for sale in UK – Royal Tubs
Tea Cosy
(formerly Eclectic Attic)
Plaza Singapura
68 Orchard Road #05-10
Singapore 238839
Tel: +65 6341 9318 |
Website
|
Facebook
Service:





News updates
February 3, 2007: My list of Best (& Worst) Restaurants in Singapore for 2006
– Runner-up for "Best Design"
– Runner-up for "Best Hidden Gem"
– Nominated for "Best Tea Lounge"