Fisherman's Market, the first restaurant by Japanese company Create Restaurants to open outside of Japan, is the latest all-you-can-eat seafood buffet to hit Singapore shores.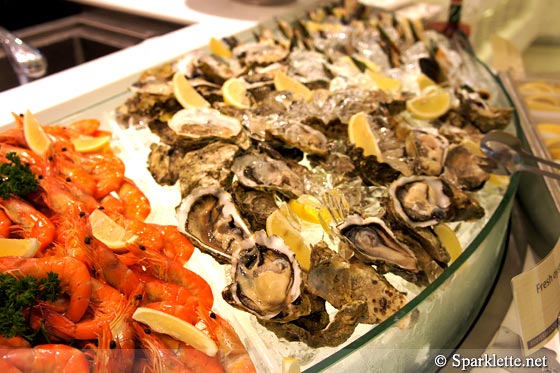 Fisherman's Market buffet
Lunch: S$29.90++ (weekdays), S$39.90 (weekends)
Dinner: S$39.90++ (weekdays), S$44.90 (weekends)





Not to be confused with The Manhattan Fish Market, Fisherman's Market features a full bar and 60-seater diner – perfect for chilling with friends over drinks or a la carte orders. Sprawling over two floors at The Central, the spacious 300-seater buffet dining area on the second floor boasts a selection of over 90 food dishes prepared in Japanese, Chinese and Western styles.
Apart from the large array of food, you can also enjoy a great view overlooking the Singapore River and the surrounding vibrant nightlife at Clarke Quay.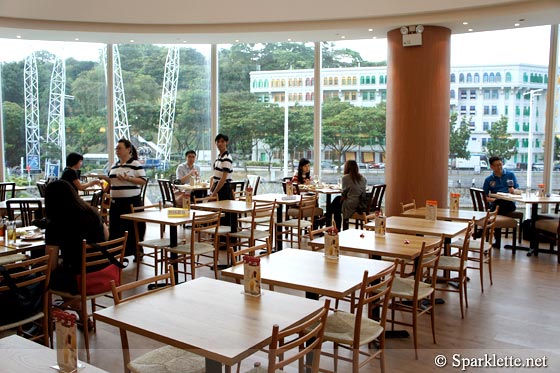 At the buffet area, there lies a myriad of the usual offerings including the likes of sushi, sashimi, pizzas, pastas, cakes and desserts. I would suggest starting with the chilled dishes, where there are some tasty and interesting choices.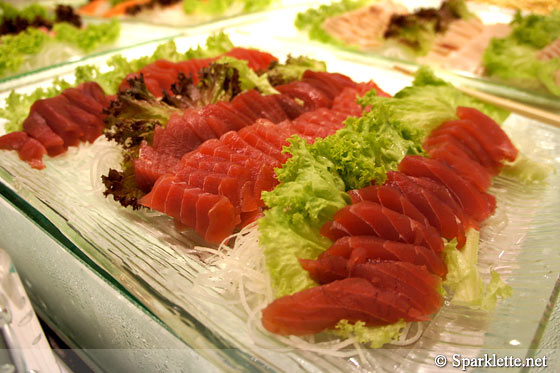 Maguro
(tuna)





The tuna slices are firm, fresh and of a good thickness. Sashimi lovers can also go for the platters of neatly-sliced salmon and swordfish.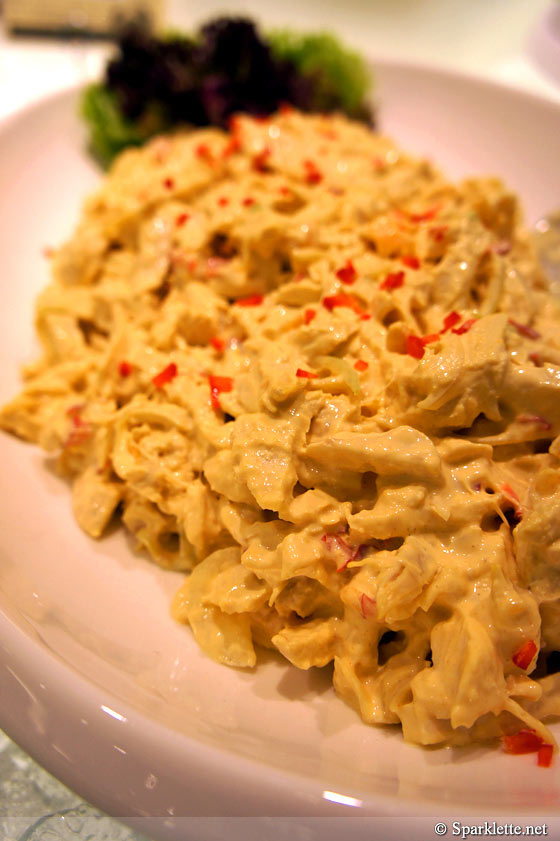 Chicken and apricot with mustard dressing





While the chicken and apricot with mustard dressing is light and refreshing, it can definitely do with more fruits to sweeten up the mix.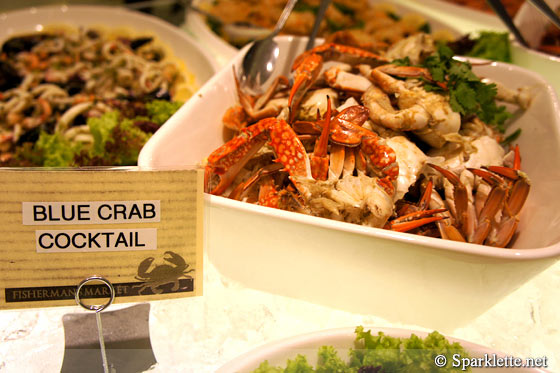 Blue crab cocktail





Go for the chilled blue crab cocktail – the crabs are sweet and fresh!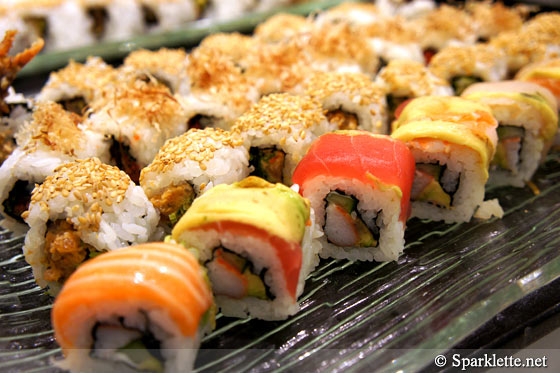 Head over to the sushi area for a colourful display of assorted rolls, ranging from spicy tuna rolls to delectable rainbow rolls.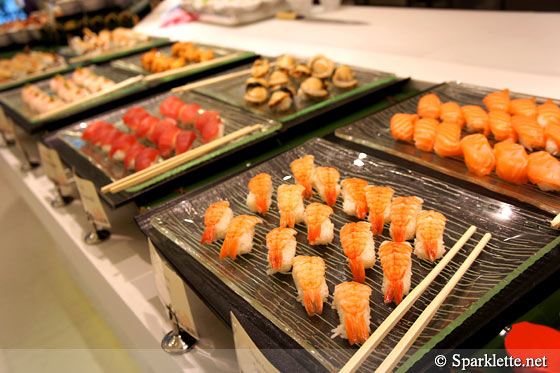 The chef stationed at the fresh seafood counter – probably the most popular station here – is ever ready to replenish the items as they fly off the ice. Do try the large, juicy fresh oysters, perfect with a dash of Tabasco and lemon juice.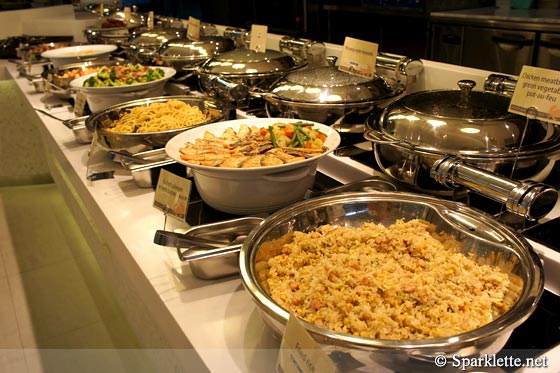 The hot dish section offers a wide selection, featuring dishes like fried rice, barbecued ribs, seafood bouillabaisse and baby octopus tomato stew.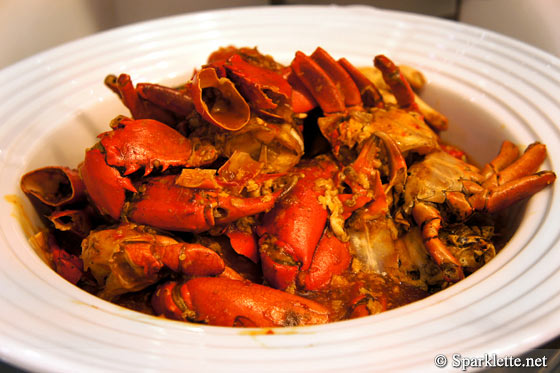 Chilli crabs





Both black pepper and chilli crabs are available, a pleasant surprise as these are not a common sight at restaurant buffets. While the gravies are tasty and quite authentic, the crabs hold little meat – a pity.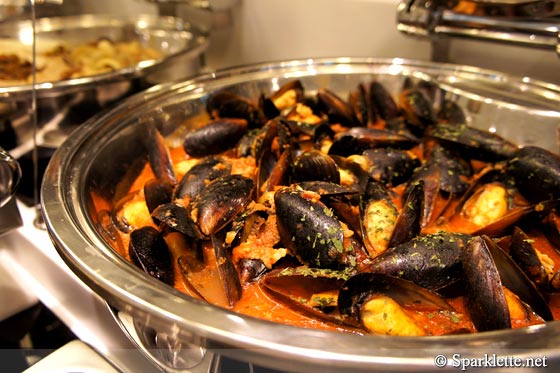 Provence-style mussels





If you're not a fan of fresh mussels, go for the Provence-style mussels. The flavourful sauce makes a good pairing with the cooked mussels.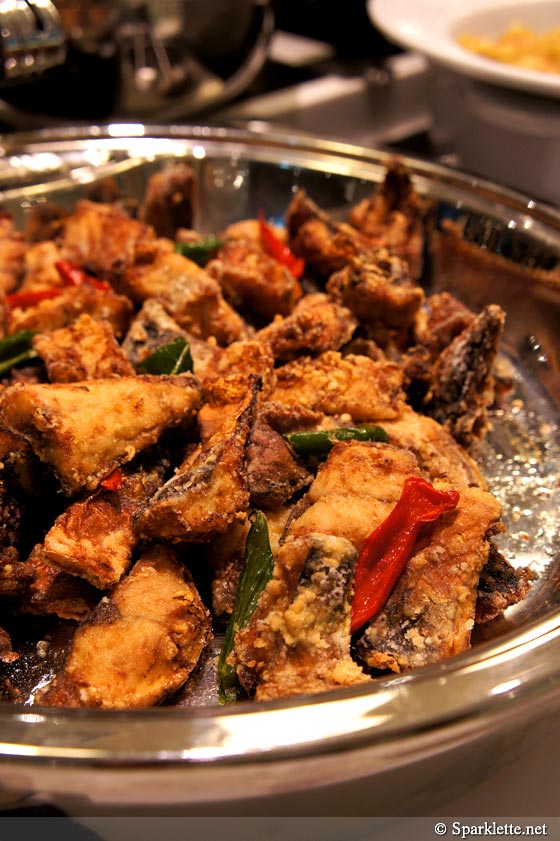 Fried mackerel Tatsuya-style





Nicely fried with flavours locked in, the fried mackerel is one of my favourites from the cooked food section.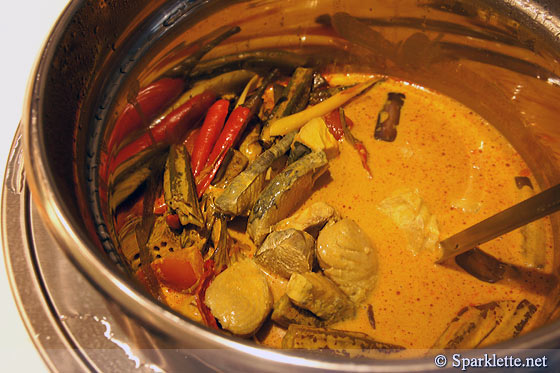 Curry fish





The curry fish does not disappoint with its taste and richness.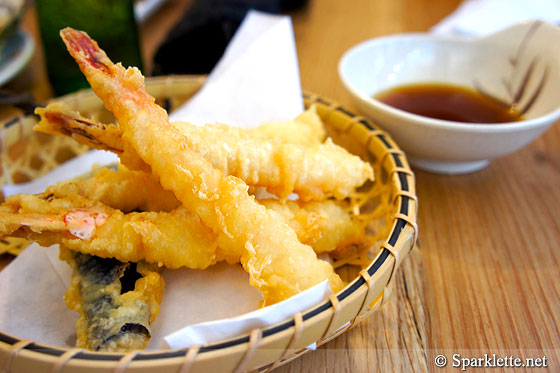 Assorted tempura





Each table is equipped with a few number clips. You can drop these off at the tempura or teppanyaki stations, where the chefs would whip up your piping hot orders and have them served right to your table. Do order the assorted tempura or tempura soft-shell crab, both of which are nicely battered and very delicious.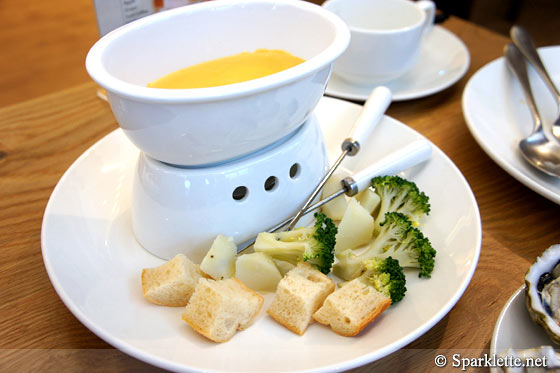 Cheese fondue set





Cheese lovers are in for a treat with the ultra cheesy cheese fondue set.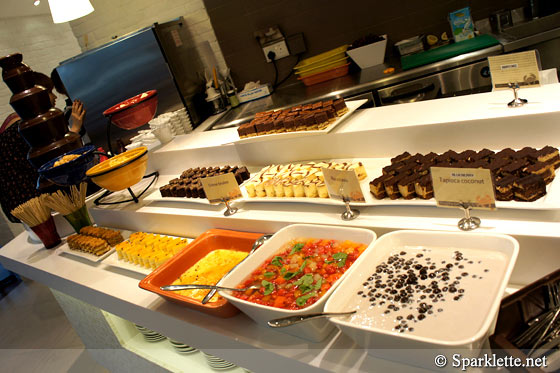 The dessert section has plenty of pickings, from cakes and soft-serve ice cream, to a chocolate fondue fountain and a selection of desserts. The most outstanding dessert has to be the crème brûlée with its sinfully sweet and thick layer of caramel atop the custard base.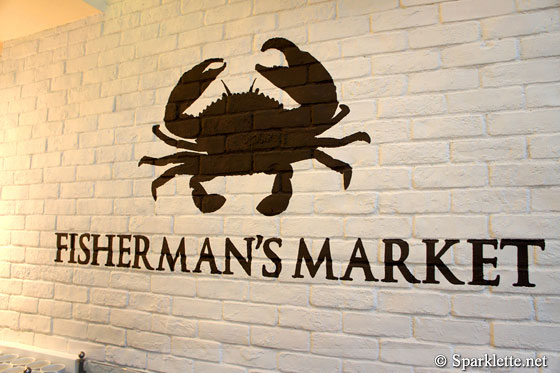 Though Fisherman's Market offers a good range and variety of dishes and fresh seafood for the buffet dinner, it is slightly pricey compared to similar buffet restaurants. Perhaps this is the price to pay to enjoy a beautiful river view while tucking into scrumptious seafood.
Have Your Say!

Loading ...
Where can you indulge in the best seafood buffet in Singapore? Share with us in the comments!
Fisherman's Market
The Central
6 Eu Tong Sen Street #01-15 & #02-17
Singapore 059817
Tel: +65 6221 3177 |
Website