It's not very often that I would come across simple fares like porridge and be amazed by how good it is. For me, porridge is comfort food. It's something I would eat only when I'm sick or nursing a bad toothache. Do you feel the same way towards the humble bowl of porridge?
A chance encounter with Ichiban Congee at Zion Riverside Food Centre convinced me that I can't simply write it off as "sick man's food". When cooked properly with the right ingredients by the right hands, it certainly qualifies as an appetising and hearty meal.
From the first mouthful of the savoury smooth porridge, I was hooked!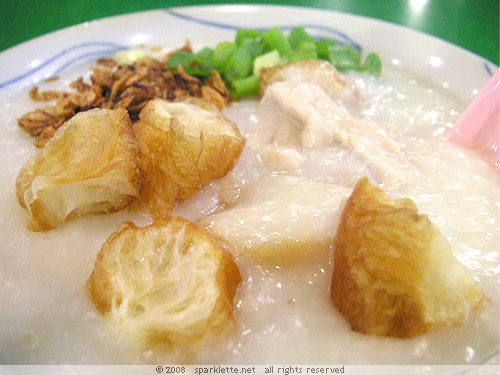 Pork Congee
S$2
Rating:





Porridge differs from region to region. Taiwan porridge tends to have chunks of sweet potato. Hong Kong porridge comes with a dash of dried rice vermicelli. Singapore porridge, like this one, has youtiao (fried bread stick). As a fan of youtiao, I like this version the most!
My Mom loves the pork congee that comes with a hefty amount of pork and liver for the low price. One reason why we enjoy the porridge so much is that it's thick and creamy smooth, without any feel of the individual grains. So for those of you that prefer a slightly grainy texture, you won't get that here.
Also, the porridge was served at just the right temperature. Business was pretty good so we had to wait around 15 minutes for our food. So it's good that we could tuck in right away once the food arrived.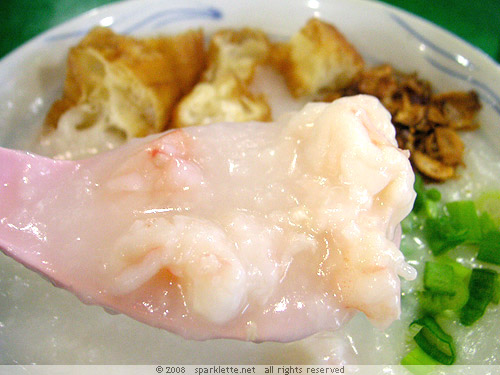 Prawn Congee
S$3
Rating:





The prawn porridge is the newest addition to the menu. You get a half dozen plump and juicy prawns that have the sweetest and richest seafood taste! Actually, even the porridge alone is extremely good. As someone that loves her food to be bursting with flavour, I didn't reach for the pepper or soy sauce once.
Besides pork and prawn, the stall also offers porridge with sliced fish, cuttlefish, peanut and anchovy, century egg and chicken. All porridge dishes cost an affordable 2 or 3 dollars a bowl.
So, porridge is multi-dimensional and not simply food therapy for the unwell. I heard there are a couple of decent porridge stalls at ABC Market so I will be checking those out soon. Do you know of any other place for good porridge?
Ichiban Congee
Zion Riverside Food Centre
70 Zion Road #01-15
Singapore 247792
Bus services: 5, 14, 16, 32, 51, 54, 64, 65, 75, 123, 139, 186, 195, 970
Nearest MRT: Tiong Bahru
Opening hours: 11:30am – 9:30pm daily