One of the places that I like to visit is IKEA. It doesn't even matter if I'm not buying any furniture. Just walking through the showrooms and perusing the colourful furniture and furnishings can be a fun activity in itself!
A trip here always includes a meal at the in-store restaurant. The range is good and the prices are inexpensive, from the $1 coffees and teas, the $5.50 daily specials, to the $3 desserts.
Dining here is a self-service, no-frills affair, although finding a seat can be a chore when the restaurant is packed. You wait in line and get your tray, cups and cutlery, then push your tray along a metal railing to get your food. The fun part is when you get to select your food from the coolers and freezers (salmon salads, desserts, etc) and order the hot dishes like meatballs!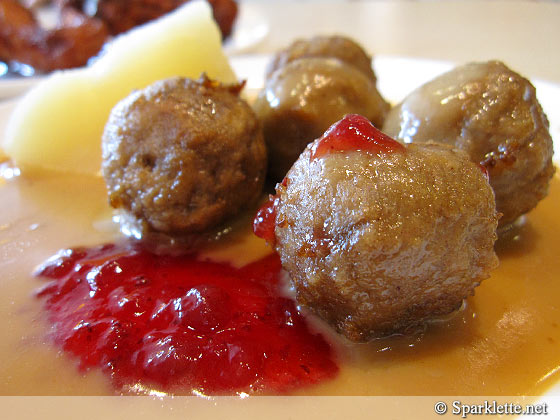 Swedish meatballs
S$2.90 for 5 (kid's meal), S$6.50 for 10
Rating:





Thanks to the ambassadorship of IKEA, Swedish meatballs are perhaps the most famous Swedish dish in the world today. These are made with ground beef and pork and served alongside freshly boiled potatoes, cream sauce, and lingonberry jam. The jam tastes very much like cranberry sauce. I would never imagine that jam can go well with meat, but in the case of the Swedish meatballs, it somehow works!
How many meatballs do you usually go for? A quick look around the tables show that people generally order the default 10-piece, which seems quite hefty especially with those potatoes. The kid's meal of 5 meatballs may be just nice if you also want to have a taste of other dishes and desserts.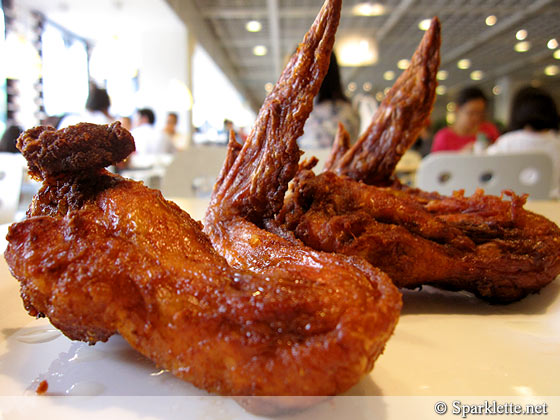 Chicken wings
S$2.80 for 2; S$7.50 for 6
Rating:





My friend highly recommends the chicken wings. Man, these are finger-licking good! The seasoning is quite tasty, and the thin crispy skin is to die for. My only gripe is that there is little meat on the bones. Something fleshier would be perfect! Next time round we're so going for that 6-piece (each)!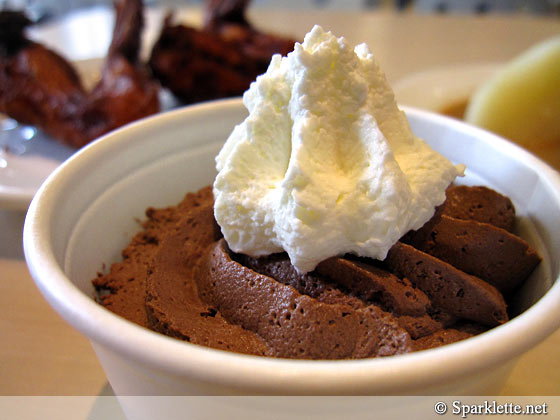 Chocolate mousse
S$2.50
Rating:





The chocolate mousse is a favourite dessert of mine. I remember falling in love with this years ago when IKEA first came to our sunny shores. Since then, I would have it every single meal at the restaurant. The chocolate is very rich and has just the right degree of sweetness. It is even topped with a dollop of whipped cream! Free XXXN Videos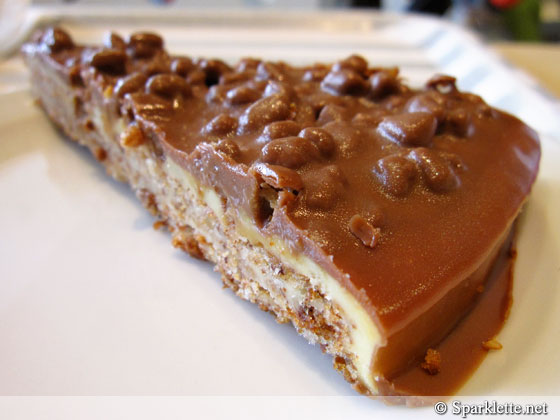 Daim cake
S$3.20
Rating:





The Daim cake is another popular must-try dessert. It is covered in chopped Daim candy and milk chocolate. Sweet, rich and extremely satisfying!
Have Your Say!
What are your favourite dishes and desserts at IKEA? Is it the ever popular Swedish meatballs? What other dishes would you recommend? Share with us in the comments!
IKEA Alexandra
317 Alexandra Road Singapore 159965
Tel: +65 6786 6868
Opening hours: 10am – 10pm daily
---
IKEA Tampines
60 Tampines North Drive 2 Singapore 528764
Tel: +65 6786 6868
Opening hours: 10am – 11pm daily