When Raffles Hotel launched the legendary champagne truffle snowskin mooncake in 1994, it triggered a wave of modern mooncakes with novel flavours. Since then, every Mid-Autumn Festival has been marked with exquisite mooncake creations that marry tradition with innovation.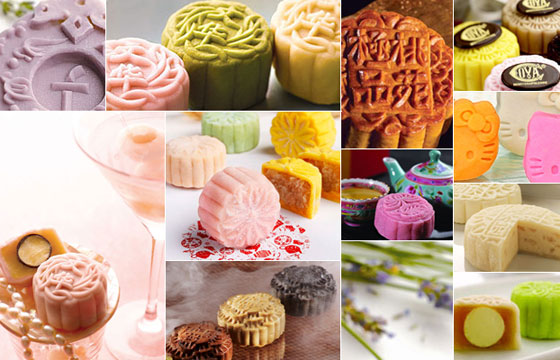 For the past month, I have been savouring mooncakes (with the help of my family of course!) in various shapes, flavours, sizes, colours, and even scents.
To set you in the mood for Mid-Autumn Festival 2010, here are 12 mooncakes you don't want to miss in 2010.
Let's begin the countdown!
---
1. Crystal Jade
We all know that the Crystal Jade restaurants are well-known for their range of Chinese fares such as xiao long bao (dumplings). But did you know that the group does western pretty well, too?
By that I am referring to their East-meets-West mousse mooncakes.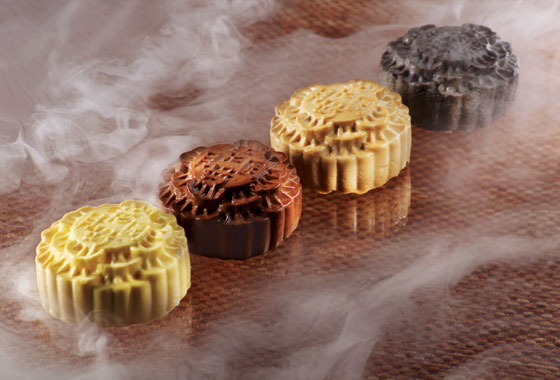 When most people hear "mousse", they automatically think "chocolate mousse". These mousse mooncakes come in not just chocolate, but four enticing flavours ($5.50 each):
– Mango with Nata de Coco
– Chocolate with marshmallow
– Hazelnut
– Oreo and cheese
Unlike the usually light and airy mousse, these mooncakes have a very dense texture. Our pick is the chocolate with marshmallow, with chunks of marshmallow buried within the rich, creamy chocolate exterior. It tastes amazing!
For more pictures, ratings and details, see the unboxing and full review of the Crystal Jade mooncakes.
Crystal Jade
My Bread outlets
Tel: +65 6512 0800 |
Website
2. Mandarin Orchard
Among the new mooncake offerings at Mandarin Orchard, the mini snowskin quartet stands out with its diverse flavours:
– Mango ($48.80 for 8)
– Lychee martini ($48.80 for 8)
– Green tea and melon seeds ($46.80 for 8)
– Tiramisu ($48.80 for 8)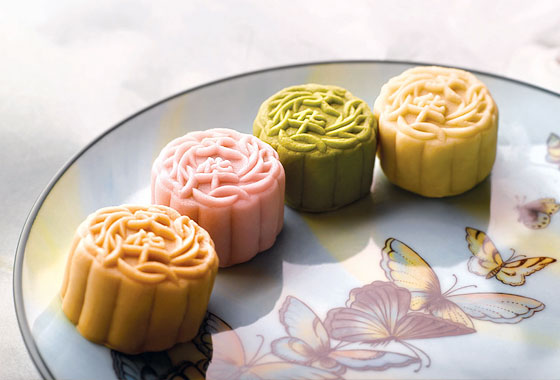 Apart from the diverse and exquisite flavours, the mooncakes also stand out with their gorgeous packaging. For more pictures, ratings and details, see the unboxing and full review of the Mandarin Orchard mooncakes.
Mandarin Orchard
Mooncake Deli Counter, Level 5
333 Orchard Road
Singapore 238867
Tel: +65 6831 6320 / +65 6831 6285 / +65 6831 6262 |
Website
3. Polar Puffs & Cakes
The Polar Puffs & Cakes bakery chain brings the cute with its series of cartoon character mooncakes.
Such is the lure of Sanrio, anything with Hello Kitty on it sells like hot cakes!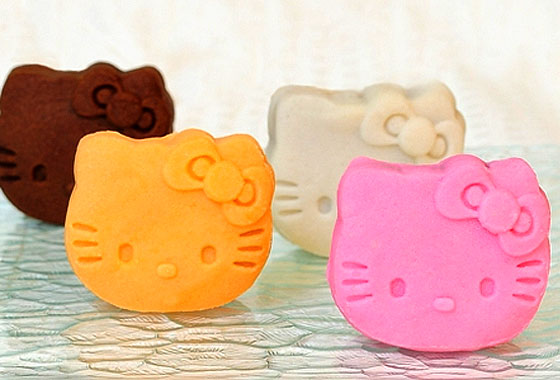 Kawaii!!!
Apart from the world's favourite mouthless feline, debuting this year are mooncakes starring Mickey Mouse and Winnie the Pooh! How exciting!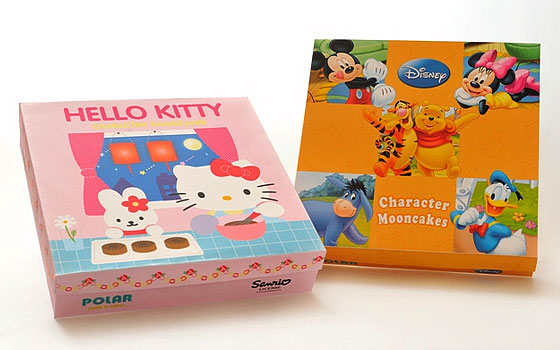 Even the mooncake boxes feature the lovable cartoon characters! The mooncakes come in four flavours – double chocolate, papaya, rose and white lotus ($5.50 each). You can mix and match any flavour for a box of 6 at $30.80.
Polar Puffs & Cakes
(

Halal certified
)
All outlets
Website
4. COVA Pasticceria
After enjoying Italian café COVA Pasticceria's mooncakes and falling in love with the absolutely scrumptious peanut and chocolate, I know that it has to make the list somehow. Yes, that flavour alone has propelled the Torta Della Luna collection to this list.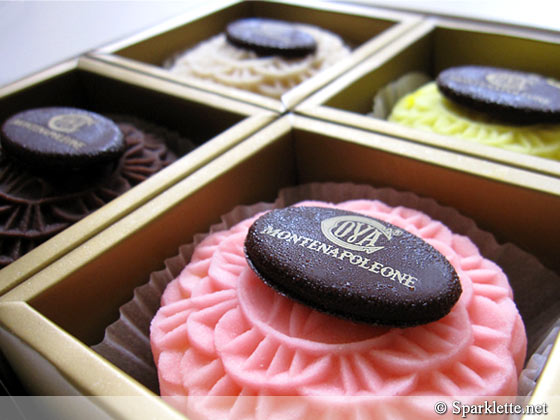 Two new flavours are introduced this year: sweet potato and pumpkin and mocha. ($38.50+ for a box of 4)
Check out my full review of the COVA Pasticceria mooncakes for more pictures, ratings and details.
COVA Pasticceria
Paragon
290 Orchard Road #01-20A
Singapore 238859
Tel: +65 6733 0777 |
Website
5. Raffles Hotel
The famed champagne truffle mooncakes from Raffles Hotel needs no further introduction. It single-handedly spawned hundreds, if not thousands, of other inventive creations in the mooncake industry over the years.
This year, the luxury hotel is bringing two new flavours to town.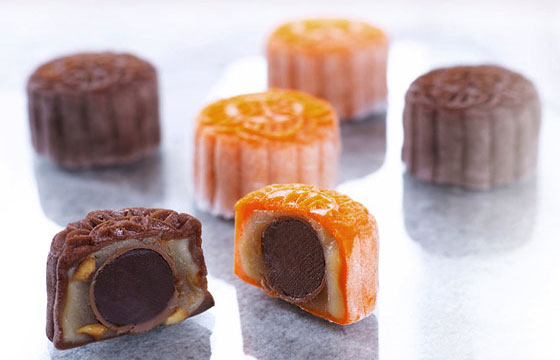 The Tiger Lily mooncake is inspired by the cocktail that goes by the same name. This refreshing fruity concoction boasts tropical flavours such as passion fruit, mango and lime. Fancy pairing it with the drink? ($50 for a box of 8)
I love the harmonious combination of the hazelnut crunch and the velvety white lotus paste in the Hazel Choco. At its core is a ball of creamy hazelnut chocolate truffle. ($50 for a box of 8)
Raffles Hotel
(North Bridge Road Entrance)
1 Beach Road
Singapore 189673
Tel: +65 6412 1122 |
Website
6. Jewels Artisan Chocolate
If you are in love with the champagne truffle mooncakes but can't help thinking about the calorie count, you can opt for the low-sugar rendition from Jewels Artisan Chocolate. Word has it that Chef Chui Foong at the chocolatier is the brainchild behind the Raffles Hotel champagne truffle mooncakes!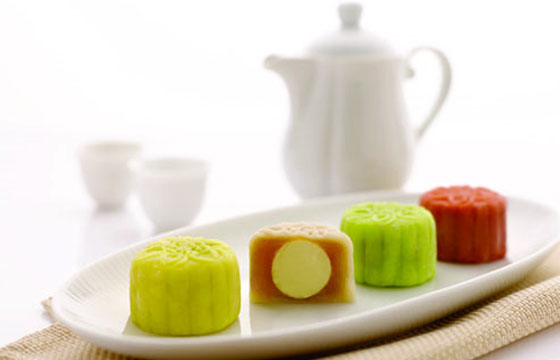 Knowing that sugar-free white chocolate is used sure helps ease the guilt when you are indulging in this delectable treat! ($50 for a box of 8)
For a quick coffee fix, take a bite out of the espresso truffle mooncake. ($48 for a box of 8)
Jewels Artisan Chocolate
Orchard Central
181 Orchard Road #02-31/32
Singapore 238896
Tel: +65 6509 8998 |
Website
7. Peach Garden
While the snowskin variety of mooncakes produces the most unusual flavours, the baked skin family does boast some unique ones, too. This selection from Peach Garden brings back the traditional taste with a twist.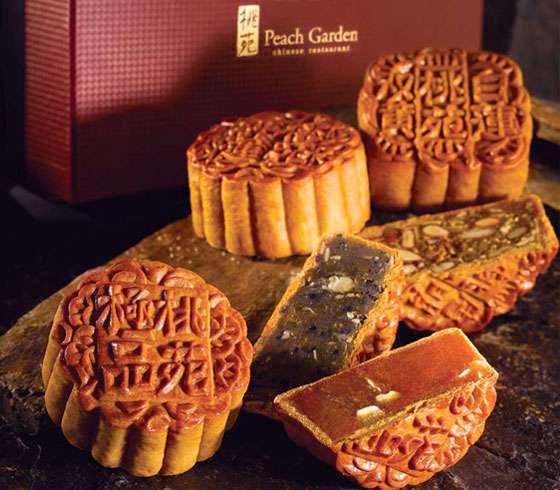 In place of the usual salted egg yolks are black and white sesame ($10.50 each), honey peach ($10.50 each) and even ginseng ($11 each). A toast to longevity! norske casinoer på net
8. Swensen's
Chill out in the tropical heat with this dazzling range of ice cream mooncakes from Swensen's.
The mooncakes are encased in a soft pastry skin, available in 8 different flavours that you can mix and match (4 for $26.90):
– Sticky Chewy Chocolate
– Durian
– Chempedak
– Coffee raisins
– Mixed berries
– Peanut Butter Crunch
– Salted caramel cheesecake
– Yam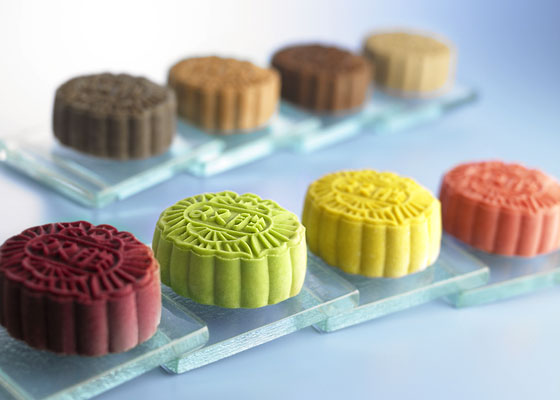 The Sticky Chewy Chocolate, named after the restaurant chain's popular sundae, is our favourite, closely followed by the new Peanut Butter Crunch.
While dining in with the ongoing Swensen's 1-for-1 Lunch Treats promotion, you can order these ice cream mooncakes for desserts! (I doubt the 1-for-1 applies to the mooncakes though!) Yum!
Children will like the Disney-themed mooncakes in the shape of Mickey Mouse's smiling face. These ice cream mooncakes are available in strawberry and milo flavours. ($16.90 for a set of 2)
Swensen's
All Swensen's and Earle Swensen's outlets
Tel: +65 6788 8128 |
Website
9. The Fullerton & The Fullerton Bay Hotel
As usual, The Fullerton, as well as the newly opened The Fullerton Bay Hotel impress with their take on the delicious confectionery. Their floral-inspired snowskin mooncakes debut this year with the essence of rose, hibiscus, osmanthus and lavender.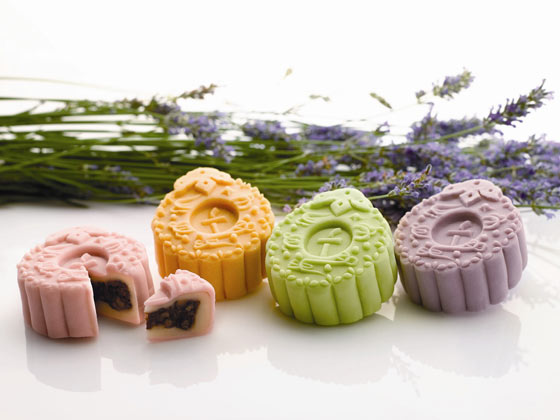 The mooncakes are presented in a beautiful chest of small drawers. For more pictures, ratings and details, see the unboxing and full review of the Fullerton mooncakes.
Jade
The Fullerton Hotel
1 Fullerton Square
Singapore 049178
Tel: +65 6877 8188 / +65 6877 8960 |
Website
10. Pan Pacific Singapore
The King of fruits is a mainstay in the mooncake catalogue of almost every merchant. At Pan Pacific, the durian mooncakes are offered as a set of 8 ($52) in petite sizes, so you can be sure that there is enough of this melt-in-the-mouth pastry to go around!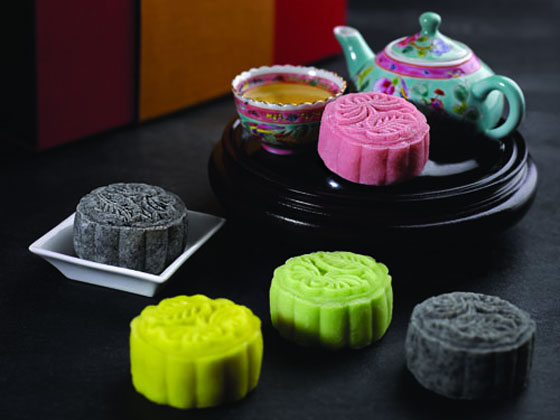 Other sweet offerings come in the form of these mini snowskin mooncakes ($48 for a box of 8):
– White lotus
– Sweet green tea
– Black sesame
– Fragrant jasmine
My favourite of the lot is the black sesame – aromatic with the nutty taste of black sesame seeds.
Hai Tien Lo
Pan Pacific Singapore, Level 37
7 Raffles Boulevard
Singapore 039595
Tel: +65 6826 8032 |
Website
11. Goodwood Park Hotel
Behold, the title for the Biggest Snowskin Mooncake 2010 goes to Goodwood Park Hotel. Usually, the durian and cempedak mooncakes are the showstoppers. Looking to steal the limelight this year is the giant almond beancurd with longan snowskin mooncake. ($11 each)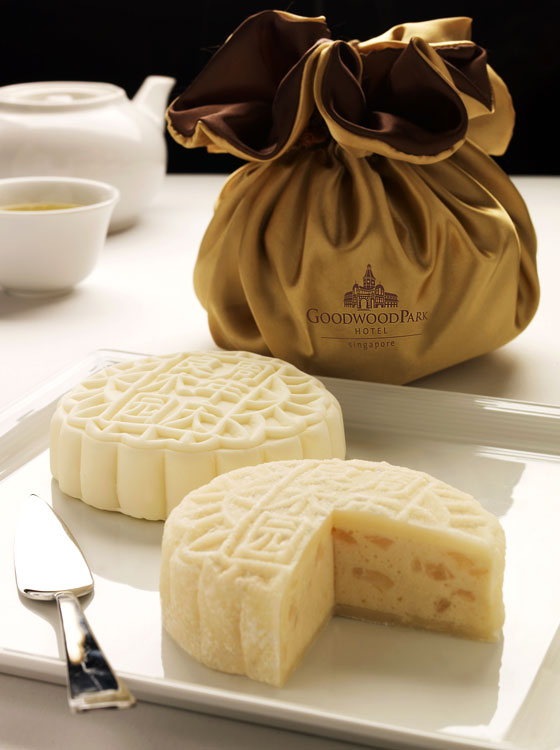 Measuring 12 centimetres across, this is the biggest snowskin mooncake I have ever seen! It serves an important purpose, too – to commemorate the hotel's 110th anniversary.
Check out my full review of the Goodwood Park mooncakes in more flavours.
Goodwood Park Hotel
22 Scotts Road
Singapore 228221
Tel: +65 6730 1867 / +65 6730 1868 |
Website
12. Resorts World Sentosa
For a touch of class, pamper yourself with these exquisite bird's nest snowskin mooncakes from Feng Shui Inn at Resorts World Sentosa. Yes, you can have your cake and nourish your body, too!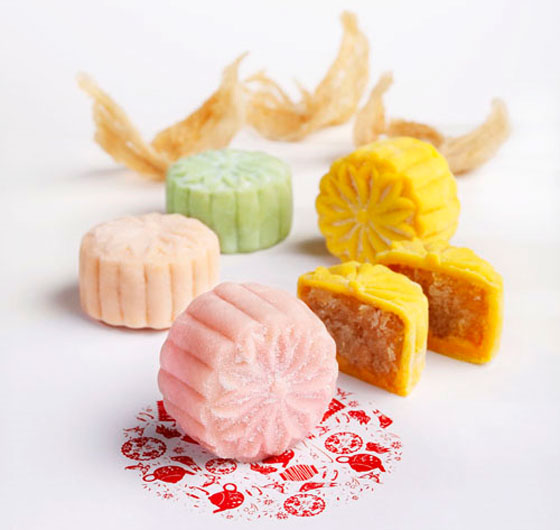 The four flavours are:
– Green tea with white lotus paste
– Strawberry with white lotus paste
– Lychee with creamy custard
– Lemon with creamy custard
These luxurious treats, all enriched with bird's nest, are yours at $98 for a box of 8.
Feng Shui Inn
Crockfords Tower, Level G2
Resorts World Sentosa
10 Sentosa Gateway
Singapore 098270
Tel: +65 6577 8888 |
Website
Bonus: Majestic Restaurant
Hailing from the Majestic Restaurant, these adorable baked Pandan lotus paste piglets are sure to make anyone squeal with delight!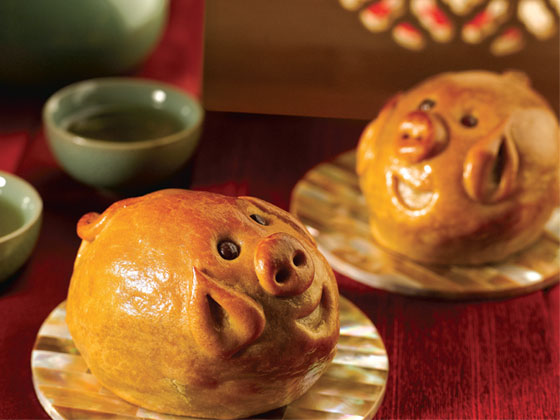 Each piglet has a single yolk and promises to be low in sugar. Oink! ($30+ for a box of 2)
Majestic Restaurant
New Majestic Hotel
31-37 Bukit Pasoh Road
Singapore 089845
Tel: +65 6511 4718 |
Website
---
Here's the compilation of the mooncakes in Singapore for 2009, as well as the remix.
Have Your Say!

Loading ...
Apart from these, have you stumbled upon any other mooncake with unusual flavours? Share with us in the comments!