Burmese cuisine is a largely unexplored realm in Singapore. One Burmese restaurant that I do know of is Inle Myanmar in peninsula plaza (nicknamed the Burma mall of Singapore). Now, after four years, the restaurant has opened another branch in Marina Square.
My dinner partner and I were on our way to the Lerk Thai restaurant just a few doors down when we passed by inle Myanmar. We were immediately drawn by the summery shades of cheery orange that dominate its walls. Being new to Burmese food, we were definitely game to give it a try!
The chefs and waitstaff here are Burmese, assuring diners of an authentic taste of Myanmar. In my mind, I thought Myanmar cuisine would be rather similar to Thai food or even Indonesian food. In actual fact, it is more Chinese than anything else (to me anyway).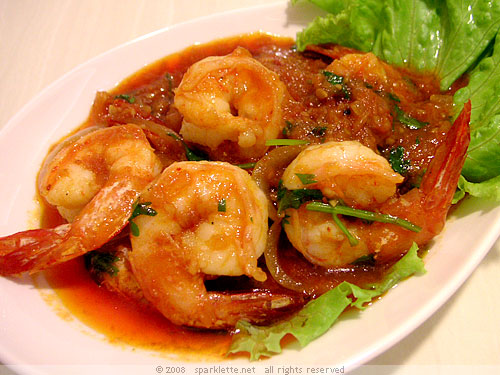 Prawn with Chili Gravy
S$11+
Rating:





The prawn with chilli gravy, for instance, has a very familiar home-cooked taste. It reminds me of the chilli prawn dish that my Mom used to cook. (I liked it so much and so often that Mom had to stop cooking it due to its high cholesterol level.)
Anyway, this is one of the many chef's recommendations on the menu. You get a handful of fresh, succulent prawns immersed in a robust chilli gravy with onion. Each prawn is plump and juicy. In fact, there are hardly enough prawns!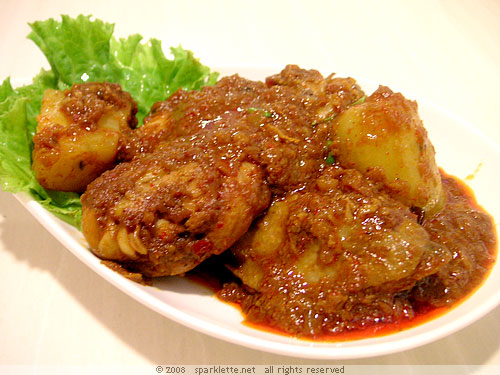 Chicken Curry
S$9.50+
Rating:





Another chef's recommendation is the chicken curry. Despite being hyped as a must-try Burmese dish, it turned out pedestrian. The chicken is smothered in a thick curry paste with a taste similar to rendang dishes. Normally I would love it. But in this case it was overly salty, to the extent that I couldn't really taste anything else.
Plus, the portion was a very skimpy one for the price. We got more potato and bone than anything else, really.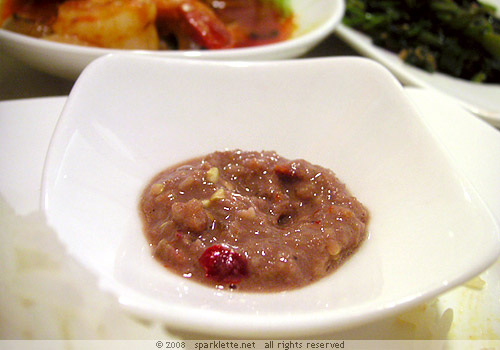 Those of you that need more fire in your meal can ask for the restaurant's kang kong (water spinach) with shrimp paste. Besides shrimp paste, you can opt for soya bean or garlic in your vegetable.
We were each served a little dish of shrimp paste on the side, in addition to the one in the kang kong. A word of caution: the shrimp paste is HOT! Do not underestimate its innocent shade of pinkish brown. I'm not sure if we're supposed to eat it with our rice, but it doesn't matter anyway because it's so fiery hot we had to do without it.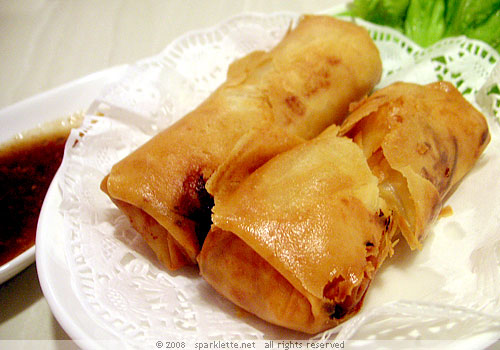 Fried Spring Rolls
S$5+
Rating:





The restaurant offers spring rolls in both the fresh version (like Vietnamese spring rolls) and deep-fried version. Spring rolls that aren't deep-fried just seem… Wrong. So we went for the more sinful version.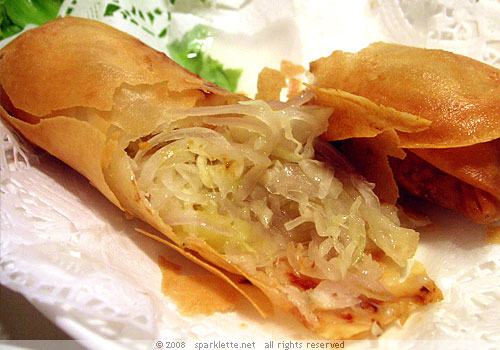 The spring rolls are stuffed with chopped onion and other vegetables that give it a nice crunch. They go very well with the flavourful dip that's both sour and spicy. (burmese sure love having spice in their food!)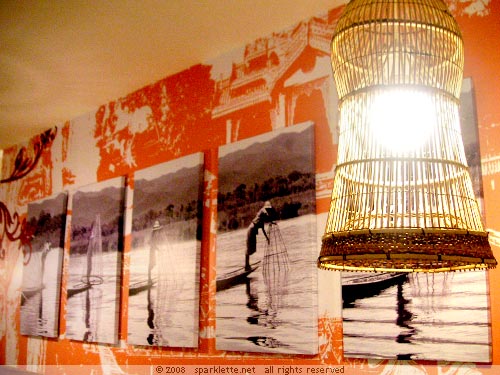 At this point if you're wondering how the restaurant got its name, inle is actually a fishing village-turned-resort in Myanmar. This explains why you would find black and white pictures of fishing scenes adorning the orange walls of the restaurant.
What caught my attention most were the unique lanterns dangling from the ceiling. They look like they would fit right in a fishing village!
Have Your Say!
Do you know of any other Burmese restaurant in Singapore? Drop us a note in the comments!
Peninsula Plaza outlet
Peninsula Plaza
111 North Bridge Road #B1-07
Singapore 179098
Tel: +65 6333 5438
Marina Square outlet
Marina Square
6 Raffles Boulevard #02-201
Singapore 039594
Tel: +65 6338 8772
Service: