It's a great convenience to live in a place where you have regular access to cheap and good food. I am sure many of you have visited ABC Market before, and I think you would agree that it is a treasure cove of yummies! I can practically eat here everyday and not get sick of the food. There are just so many options!
Some of my personal favourites include ayam penyet, Muslim satay, Western food, Chinese rojak, Hainanese chicken rice, zi char and you tiao. But right now, I'm just going to feature one of the stalls that I frequent…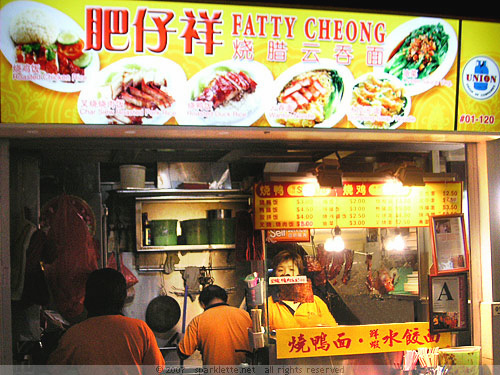 Fatty Cheong! Ain't that a catchy name? If you love char siew (barbecued pork) or wanton mee (noodle with Chinese dumpling), you would love Fatty Cheong! He does a kickin' rendition of the dish and tops it off with the best char siew in town!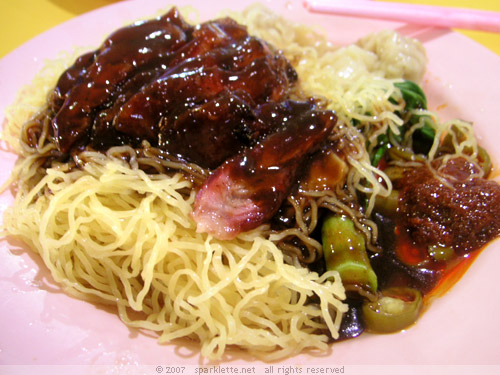 Wanton Mee (noodle with Chinese dumpling)
S$2.50
Rating:





See how the meat glistens? Okay, I know I've mentioned many times before that I don't eat pork. But I admit I do cheat on occasion when I eat wanton mee, since it tends to come with char siew. Furthermore, this is said to be the best char siew in Singapore! How can anyone say no?
Unlike many places that serve char siew in thin, skimpy slices, what you get here is the real deal – thick and generous cuts of tender char siew, roasted to perfection with the right amount of charred bits. The meat tastes marvellous after being dipped in a sweet and yummy sauce. It is the real star of this wanton mee dish.
The chilli sauce is very tasty too. I would scoop a big heap of it onto my plate each time. As for the wanton, I do prefer the deep-fried ones from Pontian Wanton Mee, although the two soupy wanton you get here are pretty good too.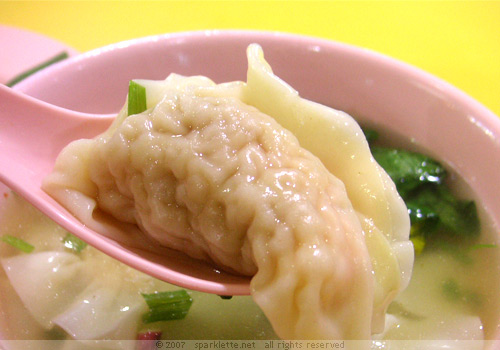 Dumpling soup
S$2.50 for 5 dumplings
Rating:





If that's not enough, there are bigger-sized dumplings that you can order as a side dish, each one containing a large chunk of juicy prawn! Yum!
Out of the half dozen or so wanton mee stalls at ABC Market, Fatty Cheong is the one that truly stands out (to me anyway). I heard he does a mean roast duck too!
Word has it that Fatty Cheong himself used to be slim when he first opened the stall 15 years ago. He named it "Fatty Cheong" anyway. But with such good food that he churns out, he did eventually live up to his own name, literally!
Fatty Cheong
ABC Brickworks Market & Food Centre
6 Jalan Bukit Merah #01-120
Singapore 150006
Tel: +65 9882 4849 / +65 9428 1983
Bus services: 123, 14, 147, 153, 196, 197, 198, 855, 961
Nearest MRT: Redhill
Opening hours: 11am – 8pm (Closed on Thursdays)