They say imitation is a sign of flattery. You know you are successful when other people start emulating your idea. Just look at how the Ya Kun success story spawned numerous other air-conditioned shops also selling kopi and toast not only in Singapore but in Malaysia, too!
It's the same thing for tau sar piah. Along Balestier Road, you would find a whole stretch of dated shops all specialising in this flaky pastry with bean paste filling; I count at least five of them! Reminds me of the Selegie tau huay sibling rivalry! So which is the original?
Let's go back in history to 1948, the year when the Hainan-born Mr. Li Fanlong established Loong Fatt at the present Balestier site. His cake business thrived initially, but sales dwindled towards the early 70s. To improve sales, he tried blending butter cakes with Teochew tau sar piah. So in 1972, the tau sar piah as we know it today was invented.
Even with the fierce competition at Balestier, many people still swear by Loong Fatt for the best tau sar piah in Singapore. Well, nothing beats the original!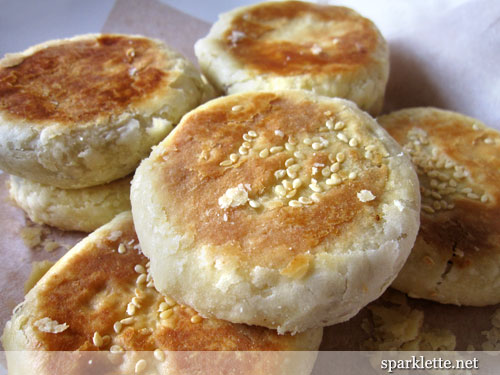 Tau Sar Piah
(sweet or salty)
$0.70 each
Rating:





Two flavours are available – sweet or salty. The sweet tau sar piah is marked by the sprinkling of sesame seeds on its crust. You may also notice that the shape is atypical; it's flatter than the usual ones.
When you sink your teeth into a Loong Fatt tau sar piah, you may be surprised by how soft and light the crusty skin is. Due to the use of butter, it boasts a smoother texture that is less dry than that of the competitors.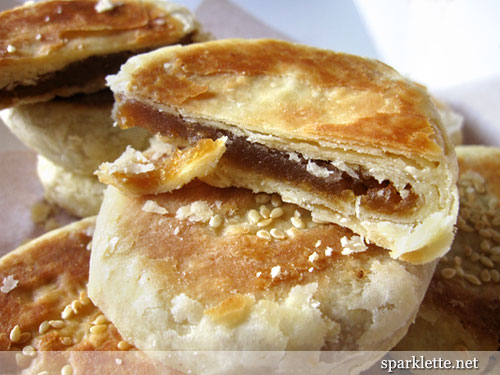 Then, there is the lovely bean paste filling. The sweetness and softness of it automatically puts you in a good mood :)
Between the two flavours, it's a hard pick to choose between the two. Both are equally tasty! For me, I slant towards the salty version, which still maintains a touch of sweetness. The combination of both sweet and salty flavours is really enticing and keeps me craving for more! My Mom, on the other hand, prefers the sweet version as she has a sweet tooth!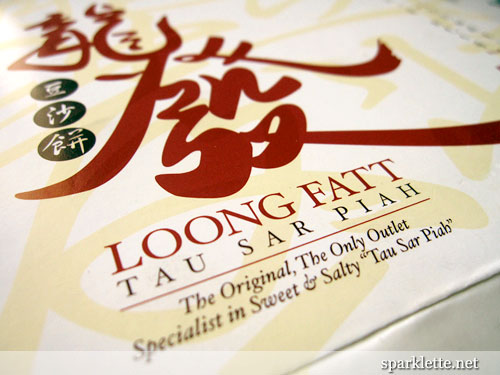 I would recommend buying a big box of this tau sar piah for sharing with the whole family at breakfast or for pleasing the mother in law!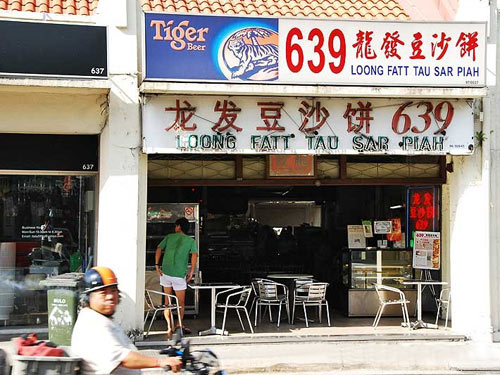 Photo by hyacinthus
The original Loong Fatt Tau Sar Piah is located at the extreme right end of Balestier Road by the junction of Thomson Road. It seems that the shops here like to use their 3-digit unit number for identification. Loong Fatt is 639, while the tau sar piah neighbours are 529, 603, 631, etc!
At the shop, you can see the bakers in action at the kitchen where new batches are freshly baked daily. Drinks are also sold here so you can sit down to enjoy your pastry with a cup of Kopi.
Oh, they have other delights like egg tarts and cream puffs, too.
Best eaten warm from the oven!
Loong Fatt Tau Sar Piah
639 Balestier Road
Singapore 329922
Tel: +65 6253 4584
Bus services: 5, 21, 54, 56, 57, 130, 131, 139, 143, 145, 162, 166, 167, 851, 980, NR1, 162M
Nearest MRT: Novena
Opening hours: 8am – 4:30pm (Closed on Sundays)