So there I am, standing in the middle of the jam-packed Tampines Mall on a Saturday evening and checking out Katrina. The place looks nondescript and plain, and the menu seemingly ordinary. In my mind I'm thinking: people are eating here only because they are unwilling to brave the queues at the more popular restaurants.
Succumbing to the hungry rumbling of my stomach, I venture in and order myself a bowl of Mee Rebus.
And if I haven't done that, I wouldn't have tasted the best Mee Rebus I've ever had.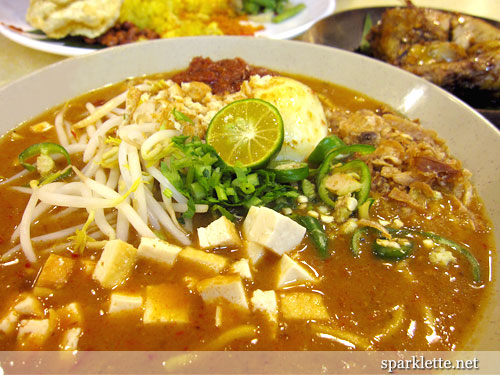 Mee Rebus
S$3.20 / $4.80 (with chicken)
Rating:





What strikes you immediately is the colourful and tantalising array of garnishes on the dish: hard boiled egg, fried shallots, chopped green chilli, bits of fried tofu, crunchy beansprouts, half a lime and a dollop of sambal chilli. All the ingredients are so fresh and the portion is huge! Need we ask for more?
The most important component of Mee Rebus is the sweet potato gravy. It is wonderfully sweet (not the sugary sweet kind) with a spicy tinge that is just enough to give you a kick. The sambal chilli is most welcome, too. Some hawker stalls don't provide additional sambal for this dish as it's already spicy. But when the sambal is as tasty as Katrina's, it makes the dish so much better.
The yellow egg noodles, which happens to be my favourite kind of noodle, are boiled to the perfect texture and totally slurpilicious! In Japanese cuisine, you are supposed to slurp your udon noisily to express appreciation for the chef's cooking. I'd gladly do the same here, too!
Simply put, this is the most satisfying Mee Rebus I've ever had. But, of course, if you have an even better recommendation, I would love to hear it in the comments and sample it for myself!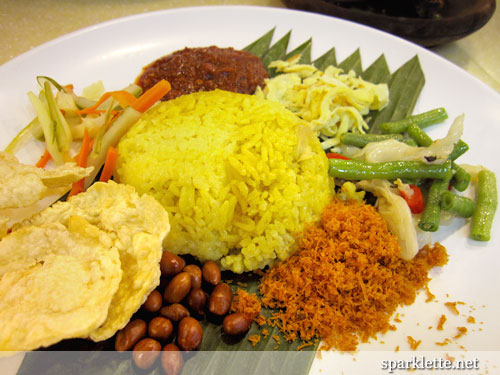 Nasi Bali
S$5.50
Rating:





Another dish that is equally colourful and visually appealing is the Nasi Bali. It looks and tastes like nasi lemak to me. But if I remember correctly, the rice is different.
Once again, the dish has several accompaniments such as achar (pickled vegetables), peanuts, crisps, dried shrimp floss, vegetables and sambal chilli.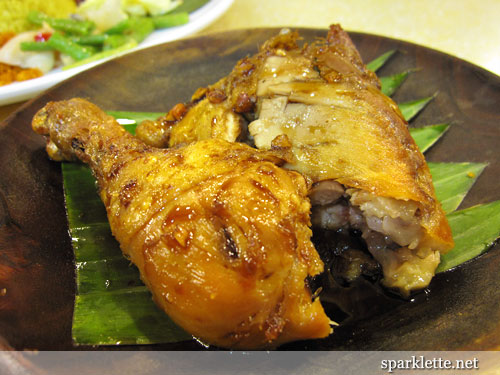 The grilled chicken is served on a separate wooden plate, like what hawkers normally do for Ayam Penyet.
For the price, we find that the size of the chicken is rather skimpy. The grilled chicken at the Plaza Singapura food court, you know the one with that never ending queue, is easily twice or thrice the size, and cheaper, too! The dark sweet sauce here is yummy though.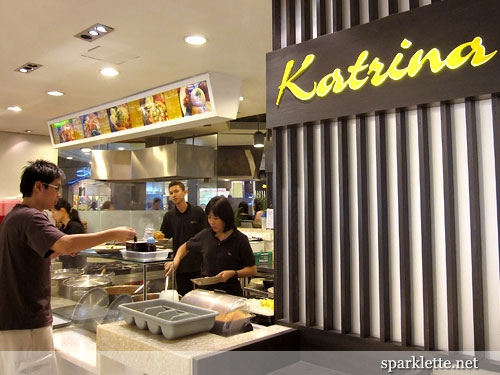 So the next time you're in the east, whether it is to shop at Tampines one, or to catch a movie at Tampines mall, you can check out Katrina!
Katrina
(

Halal certified
)
Tampines Mall
4 Tampines Central 5 #B1-K21
Singapore 529510
Tel: +65 6781 7090
Website
Bus services: 3, 8, 10, 15, 18, 19, 21, 22, 23, 27, 28, 29, 31, 37, 38, 39, 65, 67, 69, 72, 81, 168, 291, 292, 293, 553, 969, 2N, NR7
Nearest MRT: Tampines