It's no secret that Singaporeans love Hainanese chicken rice. In fact we love it so much, we introduce it everywhere. It's almost impossible to go to a hawker centre or a food court and not find a chicken rice stall.
The humble plate of Hainanese chicken rice has even found its way onto the menus of luxurious hotel restaurants, Singapore airlines flights and also the Singapore food sampler given to tourists during the Singapore Food Festival. It's, like, an unofficial national dish! Ironically it still is Hainanese chicken rice, except that overtime we've created our own Singaporean rendition of the dish.
With its prevalence also comes the debate on where you would find the best Hainanese chicken rice in town. A personal favourite for my Mom and I is Tong Fong Fatt. Having had my fair share of chicken rice at the well-known Boon Tong Kee chain, Tian Tian, or even the $21 chicken rice at Chatterbox of Meritus Mandarin Hotel, the only one that gives me cravings is Tong Fong Fatt. How about you?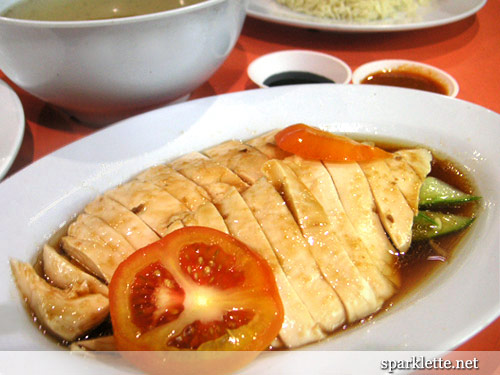 Hainanese boneless chicken rice
Rating:





To minimise the sinfulness of eating this oily dish, we would always ask for the skinless and less fattening breast meat. In general, the flesh from the chicken breast tends to be tougher, but the one here is very tender! What you see above is $6 worth of meat. A standard plate of chicken rice here would set you back by $2.50.
The thing we love most is the flavoursome sesame oil mixture that the chicken is drenched in. For me, this is the thing that gives the chicken its golden star. It's a very fragrant, a little salty and a little sweet mixture. Each time I order the chicken I would simply throw all caution to the wind and indulge myself in this oily, calorific, but oh-so-yummilicious soupy mixture.
One time, the chicken rice seller who was chopping his chicken saw me scooping the sesame oil mixture onto my rice greedily. Without a word, he put down his meat cleaver, came out and topped up our plate with more of the delicious sesame oil mixture! Yummy!!
The rice itself is extremely fragrant (and oily) and even the soup is tasty too. I also love having the dark soy sauce and chilli sauce – both of these – to go with my rice.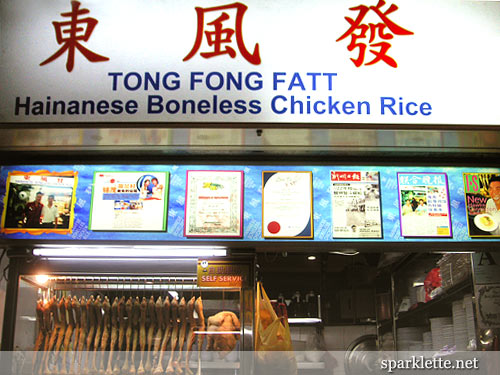 A trademark of the stall is the row of chicken carcasses that is displayed prominently in the glass cabinet, a clear testament of a good day at business.
Have Your Say!

Loading ...
For you, what's your favourite Hainanese chicken rice stall?
Tong Fong Fatt Hainanese Boneless Chicken Rice
– ABC Brickworks Market & Food Centre #01-32
– Amoy Street Food Centre
– Maxwell Food Centre