If you know your burgers well enough, you would be highly familiar with Relish, located on the second storey of Cluny Court. This casual eatery that specializes in burgers is the subsequent venture of Chef Willin Low of Wild Rocket's fame.
Chef Willin's philosophy of using only quality ingredients has extended beyond fine dining into the humble world of burgers. The idea of beef patties finally being regarded as the equivalent of a good piece of steak is one that burger lovers all around the world concur with. In my opinion, it is about time that beef patties get more respect and not remain as a way to eliminate leftovers and spare bits of a cow!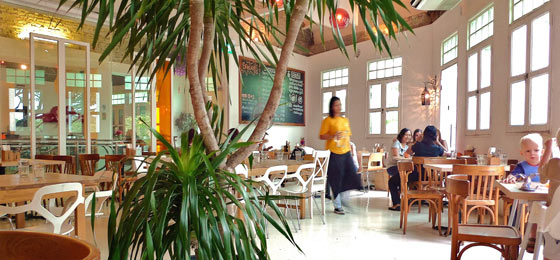 This gem of a place is set in a laid-back and cheerful atmosphere, thanks to the whitewashed walls, high loft-like ceilings and large windows that allow lots of natural light to stream in. Orange being the colour theme of the restaurant laces the entire place, from the restaurant's logo and tees on the waitstaff to the large, funky cartoon wall mural by the entrance.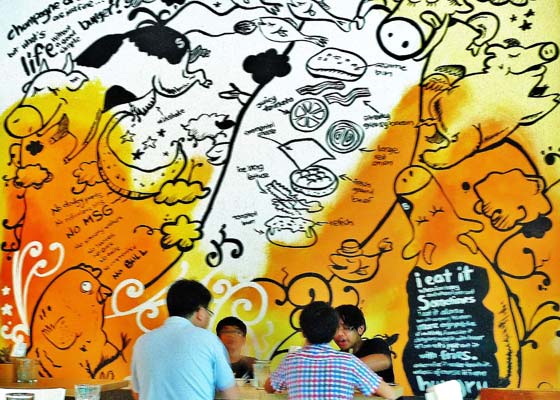 I'm a red meat kind of girl, so it was little wonder that my focus was largely on their beef burgers. There was a wide selection to choose from, ranging from popular evergreens like their Wildrocket Beef Burger to interesting fusions like the Char-Siew Pork Burger. Not to forget, the restaurant's version and take of the cult favourite, Ram-Lee Burger.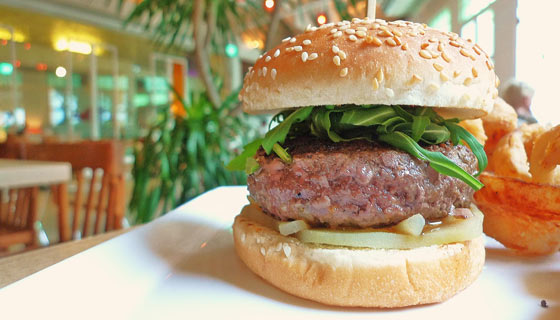 Blue cheese and William pear beef burger
S$16.50++ for 150g / S$19.00 for 180g
Rating:





My pick for the day, without a happy dilemma, was the blue cheese and William pear beef burger. The generous slab of beef patty was succulent and basically, a chunk of pure, medium-rare quality beef that makes for unadulterated chomping. It was sandwiched between the bleu auvergne (blue cheese), which provided enough highlights without being overly pronounced and juicy poached pear slices. As a cheese lover, I would have preferred them to go all out on the blue cheese, but that would probably have limited its audience.
Topped with rockets for a bite of bitter freshness with smatterings of walnut peanut butter spread, each individual character from every ingredient combines and shows up well, making this burger one of a kind.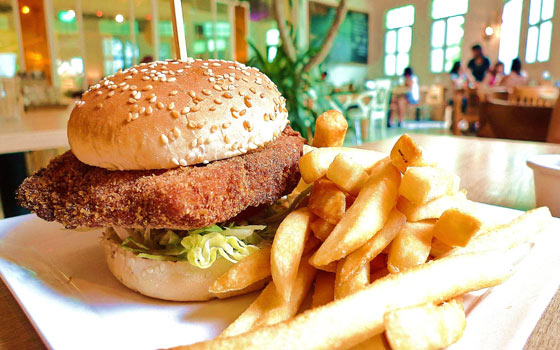 Black cod burger
S$15++
Rating:





A new fixture to the menu was the black cod burger, the breaded black cod fillet reflecting a tan brown hue came bundled with roasted peppers and onions. Unfortunately, the sizable fillet, though deep-fried to a crispy texture, came across as dry and was too much to accept after continuous mouthfuls or simply termed as jelak. The drizzling of gherkin sauce did little to save the burger.
All burgers came accompanied with fries and you can switch them to onion rings with a top-up of 3 dollars. The former with their thick cuts and soft interiors was a better choice compared to the latter, which was slightly too brittle and thin to give much of a robust onion flavour.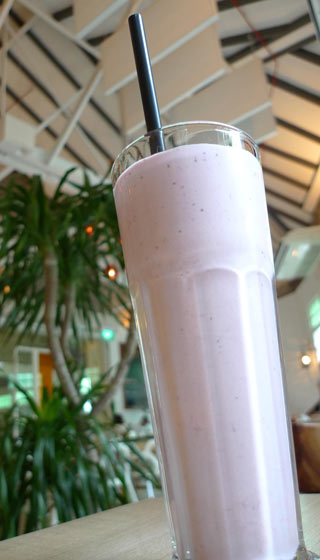 Strawberry milkshake
S$9.50++
Rating:





In my world, a milkshake or root beer float is the perfect drink to wash down a burger. The strawberry milkshake was a delight with its thick and wholesome concoction, an effect achieved when fresh strawberries are used. Without being overly sweet and the lack of an artificial aftertaste, this will appeal to even the most health-conscious of customers. Further sips bring about a pleasant surprise in the form of strawberry bits!
There is even a Chocolate Cointreau for anyone who wants some oomph in an otherwise innocuous milkshake.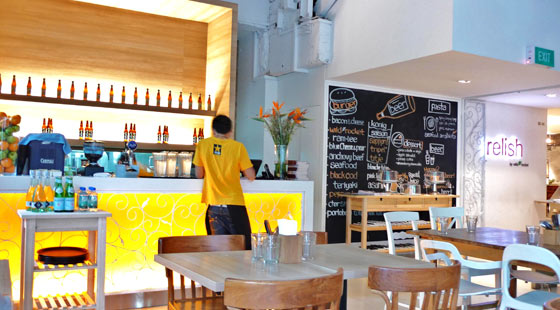 The factors that differentiate Relish from Chef Willin's other burger bar, B3, is the sophistication of the ingredients used, the novelty of its offerings and the portioning. Without the overwhelming crowds, the quiet charm makes it a good place to hang out with buddies over a relaxed, hearty meal. Relish also carries a range of beers for those who fancy a lager or ale to go with their buns.
That one beef burger that I had that evening has gotten me intrigued and psyched up to explore and sample the other equally attractive-sounding offerings on the menu. No surprise that you'll catch me there again, lapping up the others. Soon.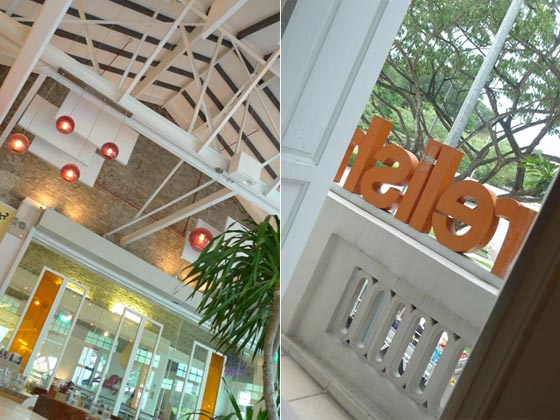 Relish
Cluny Court
501 Bukit Timah Road #02-01
Singapore 259760
Tel: +65 6763 1547 |
Website
Bus services: 48, 5N, 66, 67, 93, 151, 153, 154, 156, 165, 170, 171, 174, 186, 564, 855, 961, 961C
Opening hours: 12noon – 3pm, 6 – 11pm (Mon – Fri), 12noon – 11pm (Sat & Sun)

Joyce Ler derives joy in discovering the new and niche and rambles about almost anything under the sun on her blog, www.wildrocketing.blogspot.com. She seeks the little things in life, appreciates timeless aesthetics and usually over-indulges in food and retail therapy.