It has been a long while since our last visit to Little India. Apart from the colourful temples and shops selling sarees and collectibles, this vibrant district is also a treasure trove of delicacies. Being a huge fan of Indian cuisine in general, I love coming here to indulge in the affordable and mostly reasonably priced food.
Many of the larger restaurants such as Muthu's Curry and Mustard can be found on Race Course Road. But do you know that directly adjacent to it is Chander Road which has the hidden gems? One such place is Gurkha Palace Restaurant, a Nepalese and Indian restaurant that is run by a Nepalese lady!
(We haven't actually planned to have a meal then. But the lure of authentic Nepalese cuisine certainly piques our curiosity enough that we go in for a quick bite!)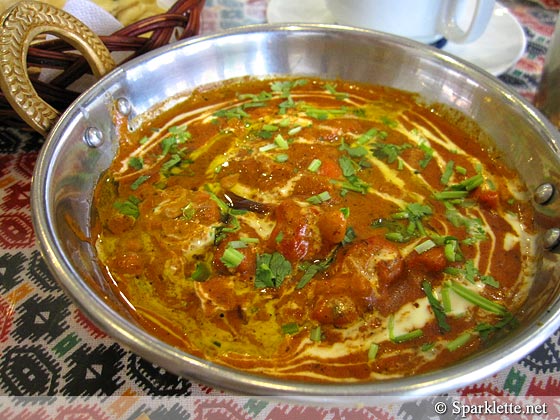 Kukhura Makhani (butter chicken)
S$8++
Rating:





When we ask for recommendations, the waiter immediately points out that the Kukhura Makhani (butter chicken) is a must-try. This is chicken cooked with tomatoes, cream sauce and mild spice.
The dish arrives in a spectacular riot of colours, with many chunks of boneless tandoori chicken bobbing in the thick gravy. The gravy is quite salty and rich, infused with Nepalese herbs and spices. It's pretty good, although it can get quite heavy after a while.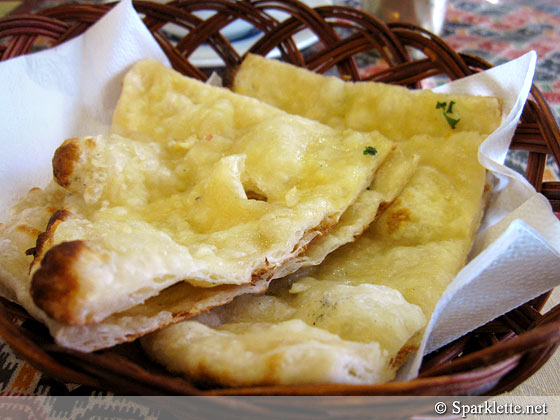 Cheese naan
S$3.50++
Rating:





What better way to mop up the gravy than with hot, fresh naan? We go for the oven-roasted cheese-stuffed naan which, rather peculiarly, tastes no different from the plain naan!
As usual, tearing apart the naan with our forks and spoons prove a challenge as we aren't accustomed to eating with our hands… yet. Speaking of which, how do you eat your Indian food?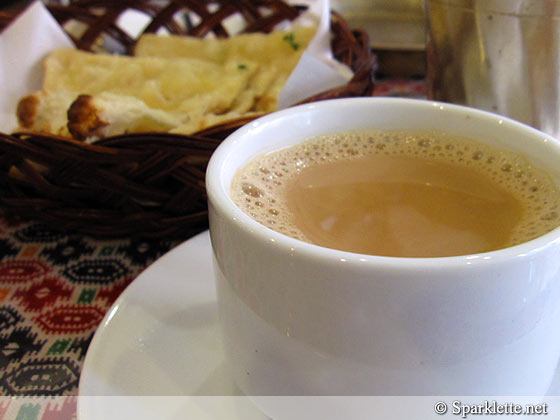 Nepalese special tea
S$2++ / 5++ (cup / pot)
Rating:





To wash everything down, we go for a pot of the Nepalese special tea with fresh milk. It tastes great!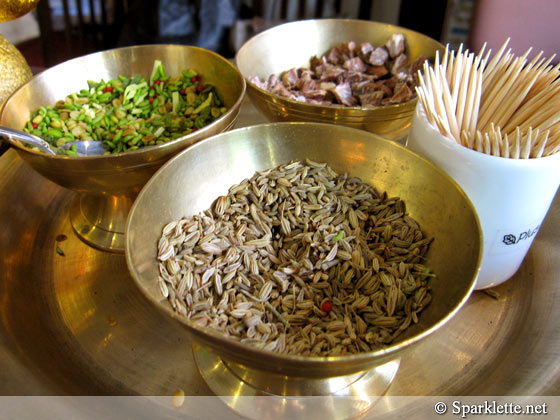 At the end of the meal, you can pick from a selection of mouth fresheners at the counter. They include saunf (fennel seed) and some other unidentified seed/object.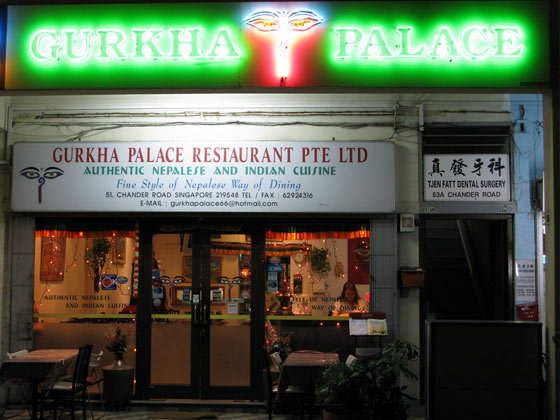 Photo by Steel Wool
It looks like Nepalese food is very much similar to North Indian cuisine! If you need help remembering the name of this street, just think of Chandler from Friends!
Have Your Say!
A little birdie also told us that there is a little outdoor cinema along this street. Has any of you seen it?
Are you a fan of Indian/Nepalese cuisine? Where else have you tried Nepalese food? Let us know in the comments!
Gurkha Palace Restaurant
Little India
51 Chander Road
Singapore 219548
Tel: +65 6292 4316
Service:





Bus services: 23, 64, 65, 66, 67, 131, 139, 147, 857, NR6
Nearest MRT: Little India
Opening hours: 11am – 3pm, 6 – 11pm