Once upon a time, there was a boy who loved ice cream and milkshakes. The good ones on the market are always sold at premium prices, he thought. So he opened a dessert parlour himself and conjured up various ice cream flavours, selling them at affordable prices.
And that is how Once Upon a Milkshake (OUAM, pronounced "ohm") was started by Alvin Ng.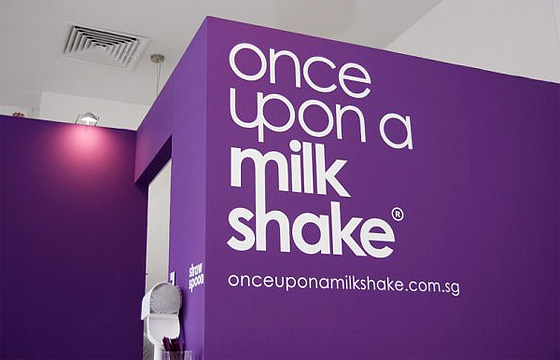 Source: Once Upon a Milkshake
It is late one evening when Sparklette guest blogger Joyce (who reviewed Relish and Restaurant Ember) and I check out the outlet at Maxwell Chambers. Even in the cold rainy weather and the obscure location at the back of the building, the tiny café is filled with customers.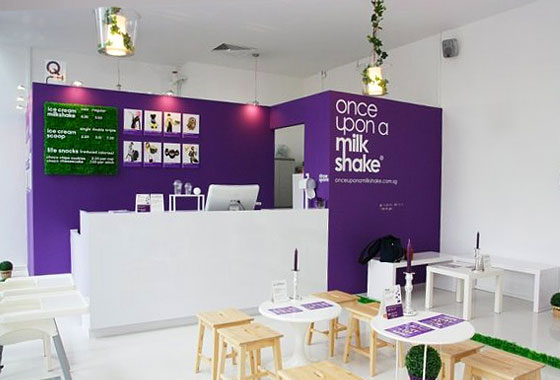 Source: Once Upon a Milkshake
The shop is decked out in clean white against a vibrant purple backdrop with specks of faux greenery. Small white tables and short wooden stools provide a somewhat child-like seating arrangement that one may draw comparison to another ice cream parlour, Icekimo.
With the youthful vibe here, you may imagine that the crowd that comes in would be students and young couples. Surprisingly, we spot yuppie types and all-male groups seated on the little stools sipping on their cold shakes. Looks like the milkshake here brings all the boys to the yard!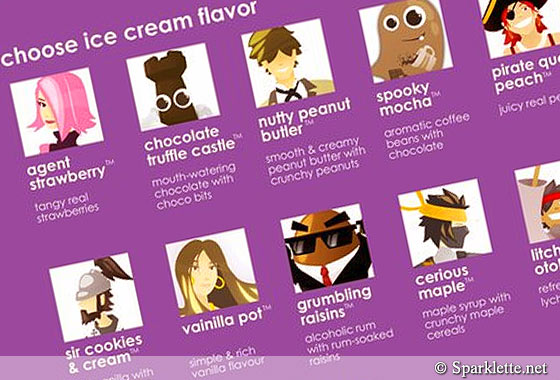 Click to enlarge menu
Ordering your shakes or scoops is simple:
First decide on whether you want a milkshake (mini or regular) or an ice cream (scoops or pint).
Choose from ten flavours, each one represented by a cute character such as Agent Strawberry and Grumbling Raisins.
Optional: You can add toppings of chocolate pearls, peanuts, crushed chocolate chip cookies and more.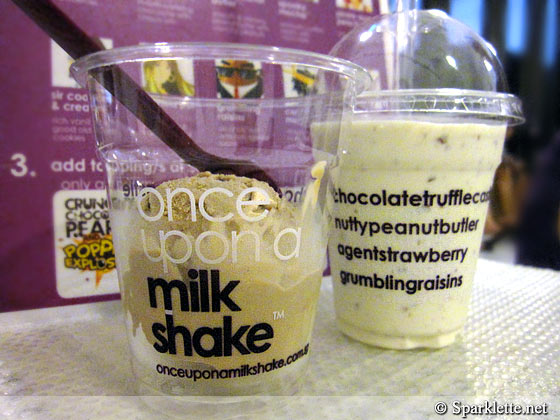 Spooky Mocha ice cream and Grumbling Raisins milkshake
Price list
Rating:





Coffee aficionados would approve of the Spooky Mocha. While this is a marriage between coffee and chocolate, the coffee aroma is so rich that it overpowers the taste of chocolate; it may as well be called Captain Coffee. That's right; I just named a new ice cream flavour. As a coffee fan I totally dig this.
Apart from the strong coffee flavour, what strikes me is how smooth the ice cream is. It is made with New Zealand low fat milk and hand-blended to a perfect smooth texture.
For a dash of liquor, the Grumbling Raisins hits the spot with its highly evident taste of rum.
Other popular flavours here are the Agent Strawberry (you can taste actual strawberries) and the Chocolate Truffle Castle.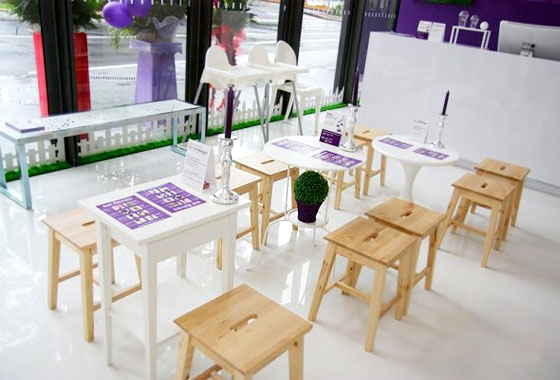 Source: Once Upon a Milkshake
In sunny Singapore, ice cream dessert parlours rarely go out of trend. There is already a second OUAM outlet at *SCAPE in Orchard Road, and a third parlour opening at One Raffles Place in December 2010. For those seeking luscious ice cream flavours at reasonable prices, Once Upon a Milkshake is not to be missed.
Have Your Say!

Loading ...
What is your favourite ice cream flavour? What other ice cream parlours do you frequent and recommend? Share with us in the comments!
Maxwell Chambers outlet
Maxwell Chambers
(formerly known as White House)
32 Maxwell Road #01-08
Singapore 069115
Tel: +65 9823 3779
Operating hours:
Sun – Thu: 12noon – 10pm
Fri & Sat: 12noon – 11pm
*SCAPE outlet
*SCAPE
2 Orchard Link #02-03/04
Singapore 237978
Tel: +65 9233 1624
Operating hours: 12noon – 10:30pm daily
One Raffles Place outlet
One Raffles Place
1 Raffles Place #B1-03E
Singapore 048616
Tel: +65 9649 7893