Liquor is not just for drinking these days. Marrying liquor or wine with food is a growing trend. There's champagne chocolate, liquor cakes, and even martini ice cream!
Hawkers have also taken to adding XO cognac to soup, so much so that the XO fish head bee hoon (rice vermicelli) soup has become a dish that can stand on its own.
One place where you would find it is the Ming Kitchen Seafood Restaurant at a Holland Drive coffee shop (near Holland Village). If I'm not wrong, it occupies the former premises of Holland Village XO Fish Head Bee Hun.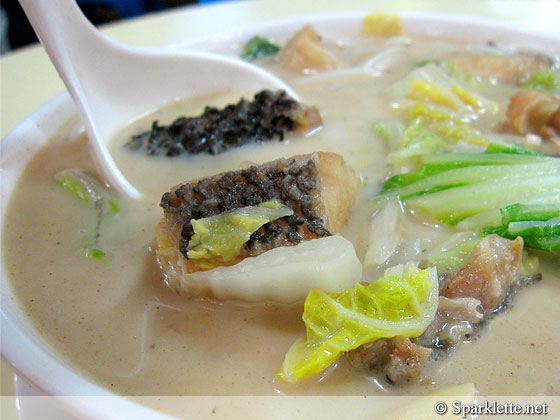 XO fish head bee hoon soup
S$7* (serves 2-3 persons)
Rating:





Although this dish has been around for some time, it's only my first time sampling it. To be frank I initially thought that the XO is simply a gimmick and there wouldn't really be much of the liquor. Many Chinese dishes have XO in their names to add that wow factor, but the only "XO" in them is XO sauce.
That is why when the big bowl of soup arrives reeking of the strong smell of cognac, I get so impressed! Does anyone know what is the brand of XO that they use? They have a bottle of Remy Martin on display, but something tells me that's not it.
You can clearly smell and taste the XO!
The milky soup tastes just wonderful. It looks that they use quite a lot of the spirit. Even with that much soup, you can totally taste the XO, but without its bitterness. The only minus point is that the snakehead fish has way too many fine bones, and I happen to be terrified of choking on one.
(* I can't remember the price of the soup. Sorry! My pathetic memory tells me it's 7 bucks for a big bowl for two, but that just seems too… cheap, doesn't it? Friend says it MIGHT have been $15. If anyone knows the price, please drop a note in the comments section. Thanks!)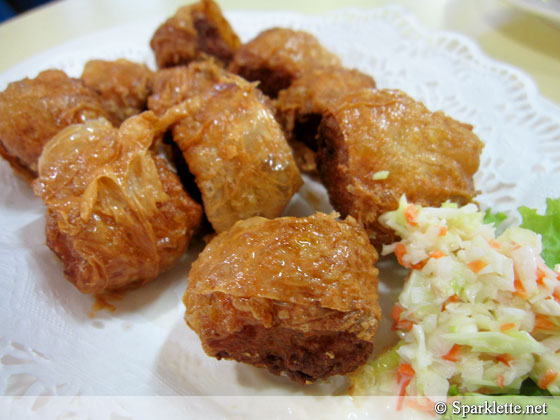 Fried "five spices" prawn roll
S$8
Rating:





One dish that gets the perfect score is the fried "five spices" prawn roll. With the fragrant and succulent filling underneath a thin crisp skin, these deep fried rolls are just a pure delight to eat. Plus, they come with a wonderful sweet sauce dip that complement the taste. Very nice!
Have Your Say!

Loading ...
What do you think of using liquor in cooking/baking? Does it enhance the dish? What food would you most like to see with a liquor twist? Share with us in the comments!
Ming Kitchen Seafood Restaurant
46 Holland Drive #01-359
Singapore 270046
Bus services: 32, 48, 74, 91, 145, 185, 191, 200, 74E
Nearest MRT: Buona Vista