Gastronomes can tuck in to a wonderfully enticing truffle vintage champagne brunch buffet at The Ritz-Carlton, Millenia Singapore on Sundays. Served at the Greenhouse restaurant, the felicitous commingling of champagne, truffle and brunch classics will elevate your senses.
The restaurant has clearly got the luxe formula down as the brunch attracts an upscale, well-heeled clientèle (we spot mostly expatriates and few locals).
Truffle vintage champagne brunch buffet
S$168++ per adult, S$84++ per child (6-12 years), S$42++ per child (3-5 years)





8 September to 17 November 2013, 12noon to 3:30pm
The buffet spread is one of the most spectacular of its kind in Singapore. We're talking fresh Boston lobsters, crabs, sashimi, charcuterie, foie gras, parma ham and desserts that include a flowing chocolate fountain and gelato.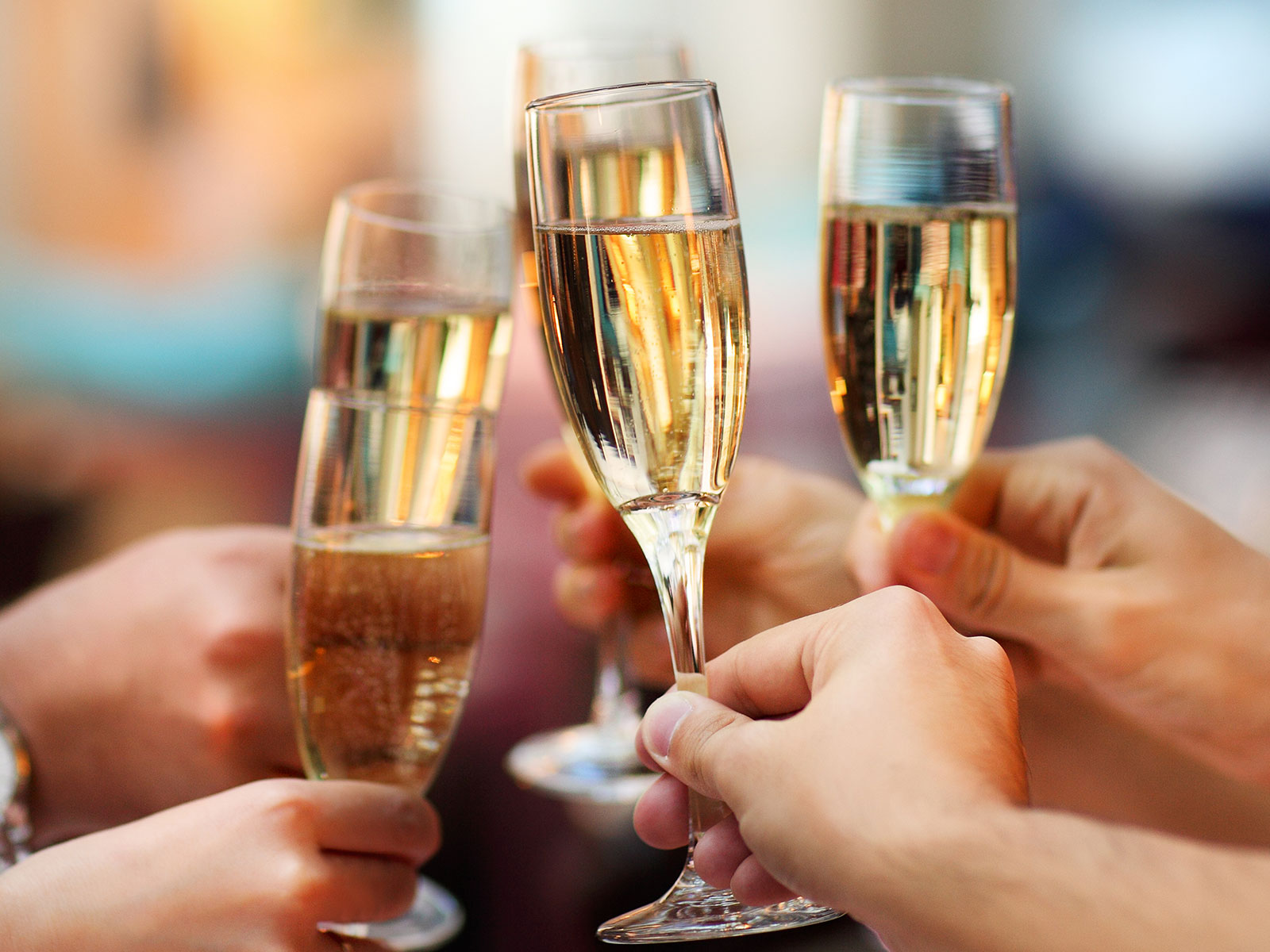 The obliging waitstaff are quick to fill your glasses with unlimited vintage Moët & Chandon champagne, or wine if that's your drink. And for the ladies, rosé champagne is available too.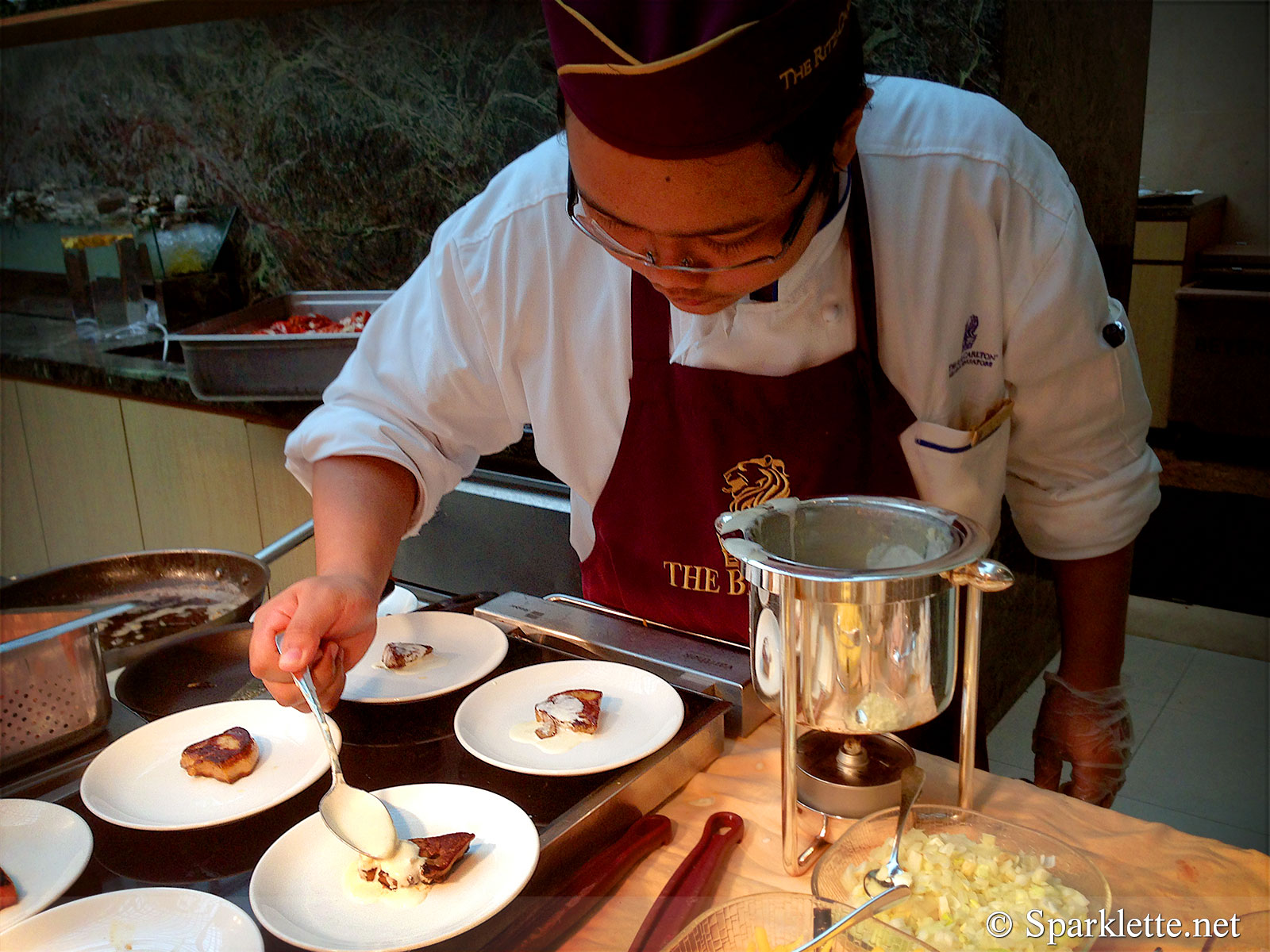 You may begin your gastronomic journey with the intriguing delicacy of seared foie gras.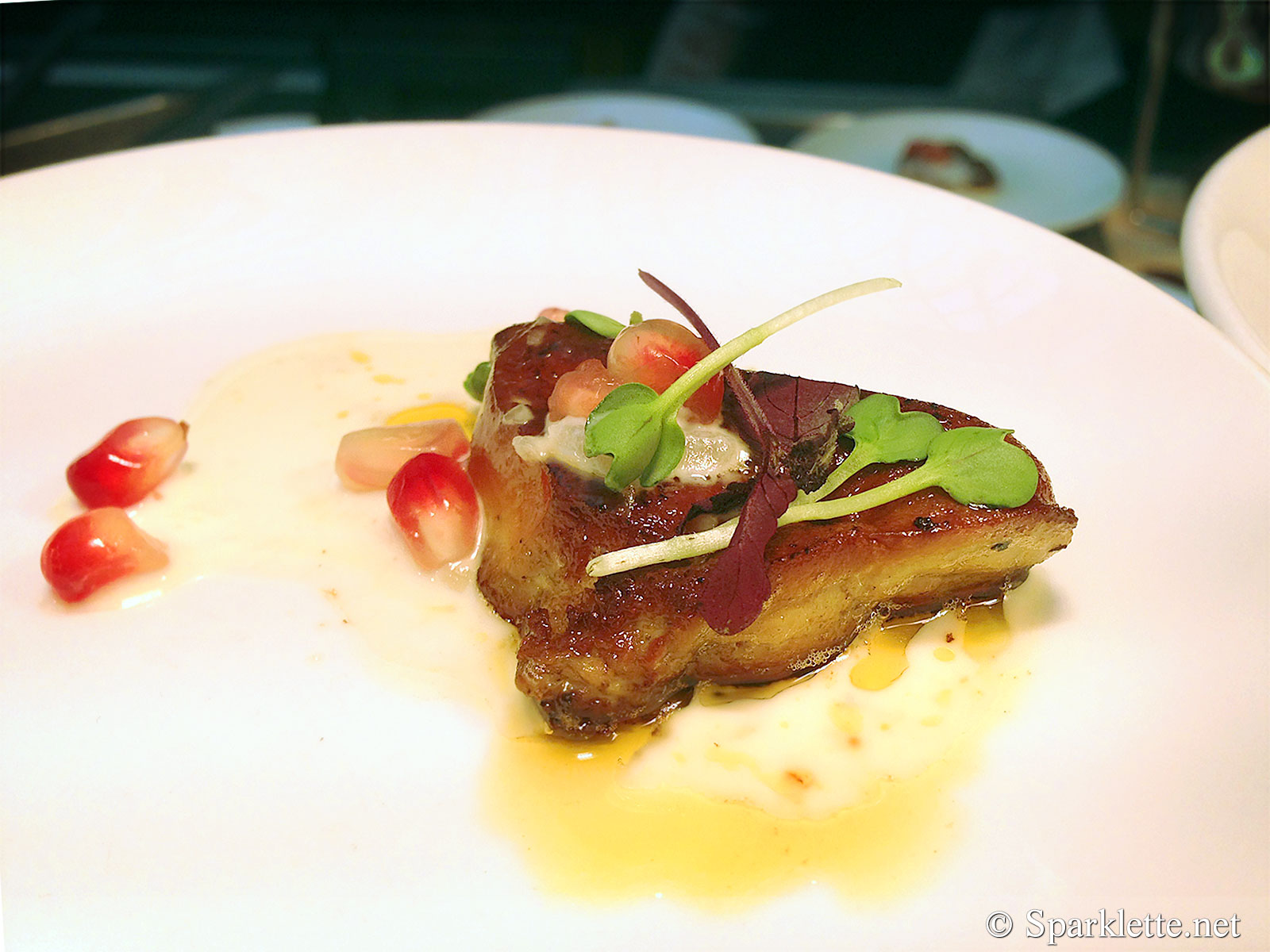 A usually high-priced item on many restaurant menus, you can have your fill of the fatty duck liver here – it's pure velvet.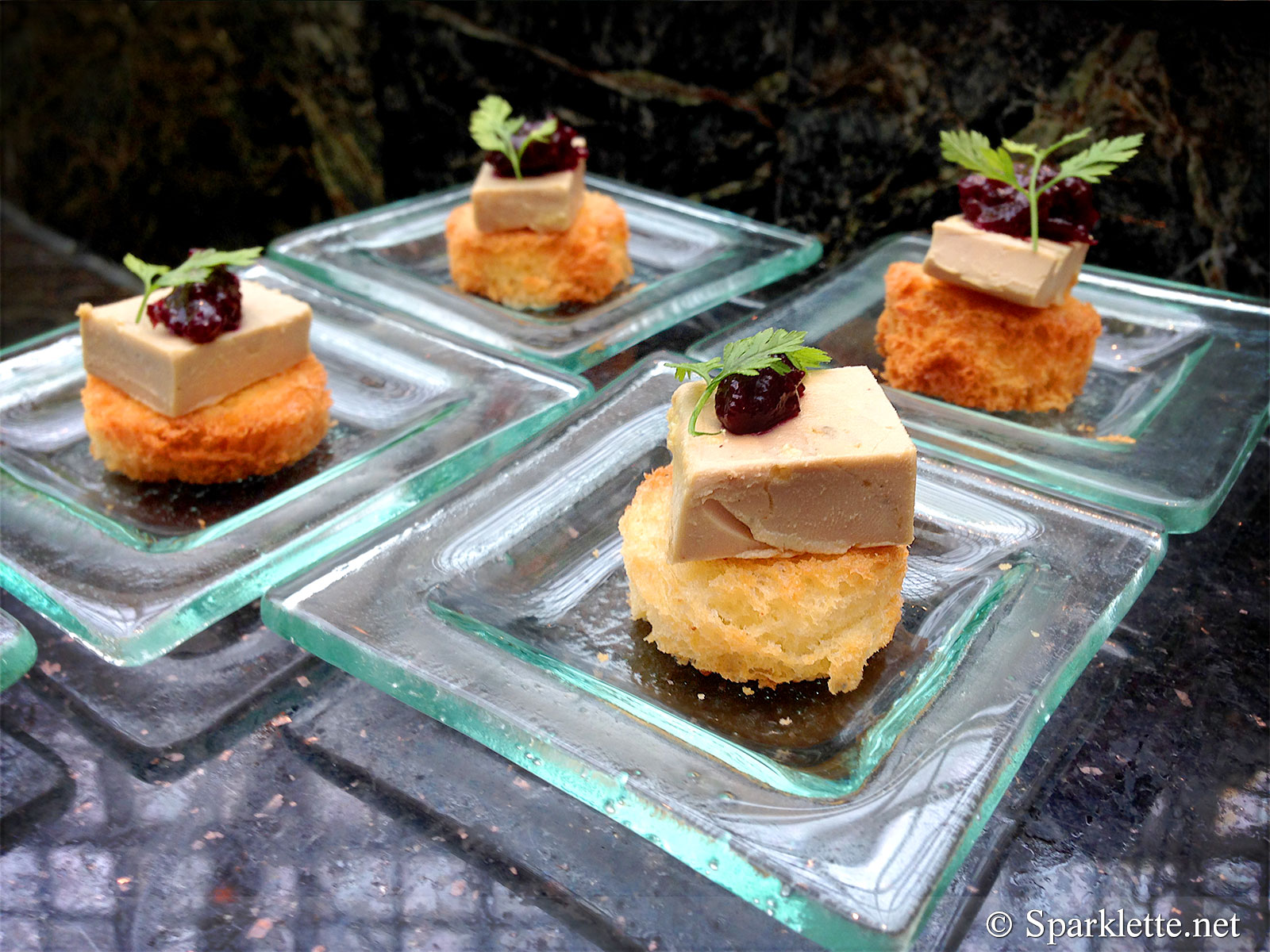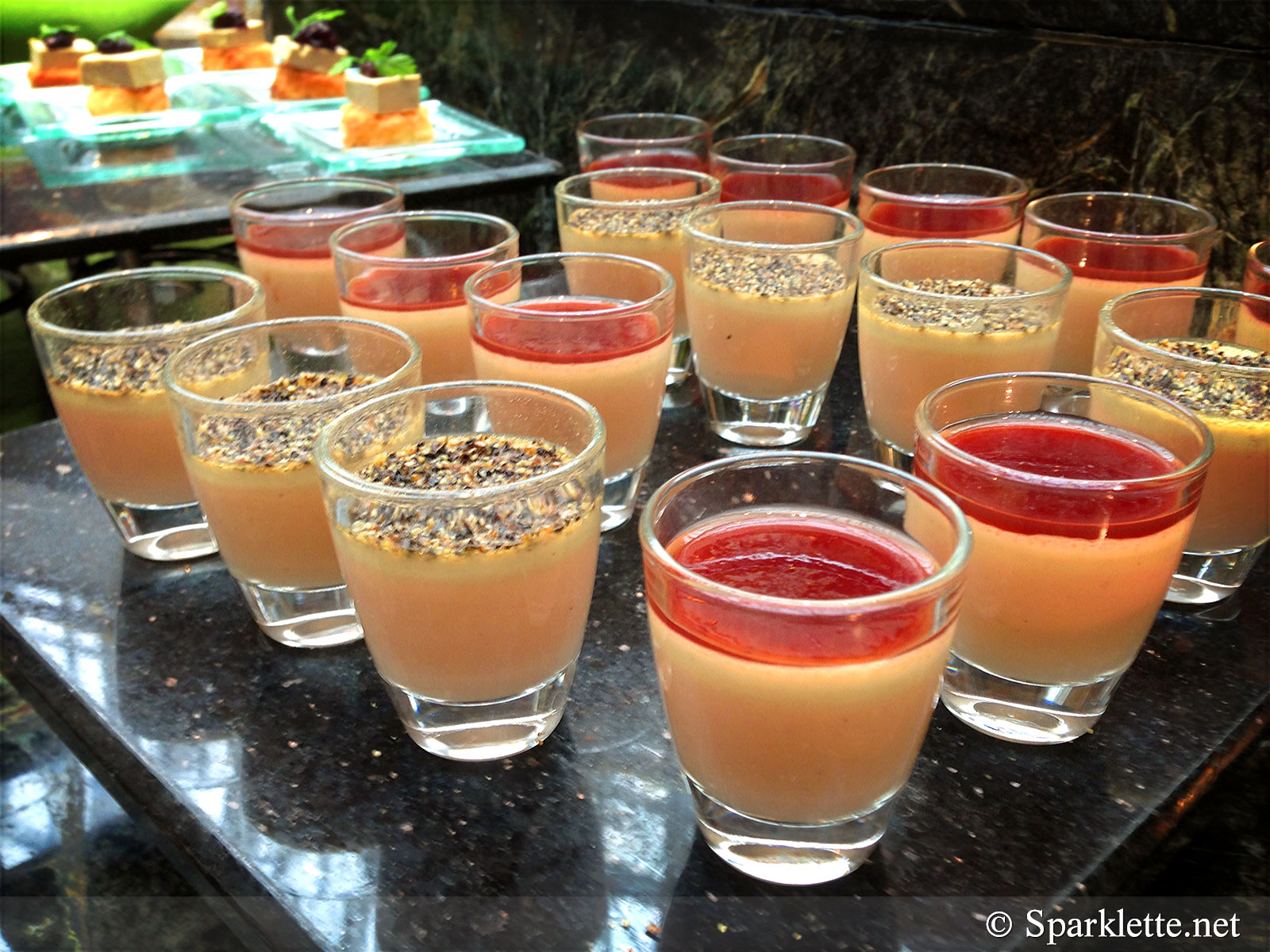 The more carnivorously inclined may help themselves to the live carving station, featuring a 24-hour roasted Wagyu leg and Iberico ham bellota alongside smoked salmon, smoked trout, air dried beef, coppa ham and smoked ham.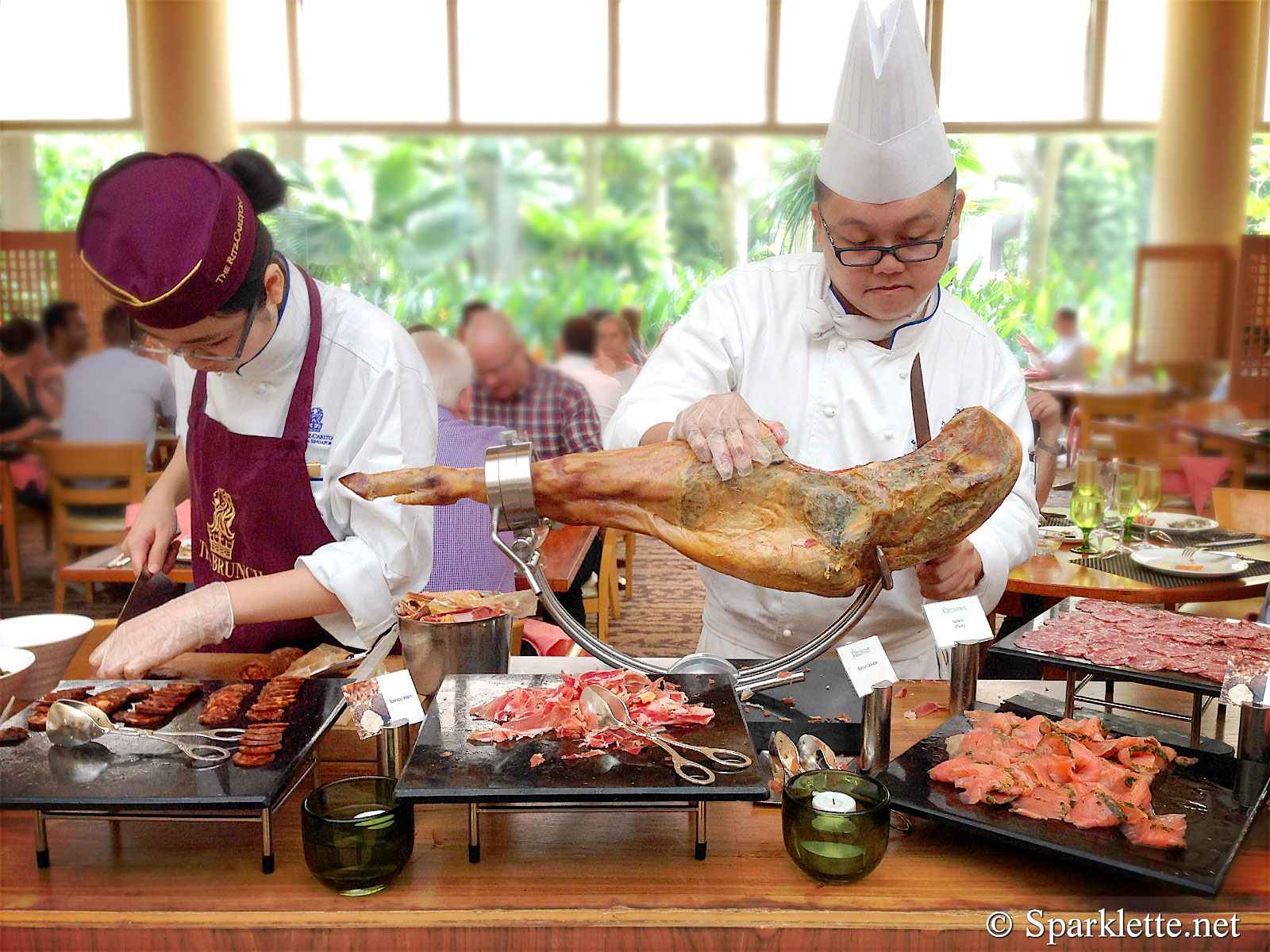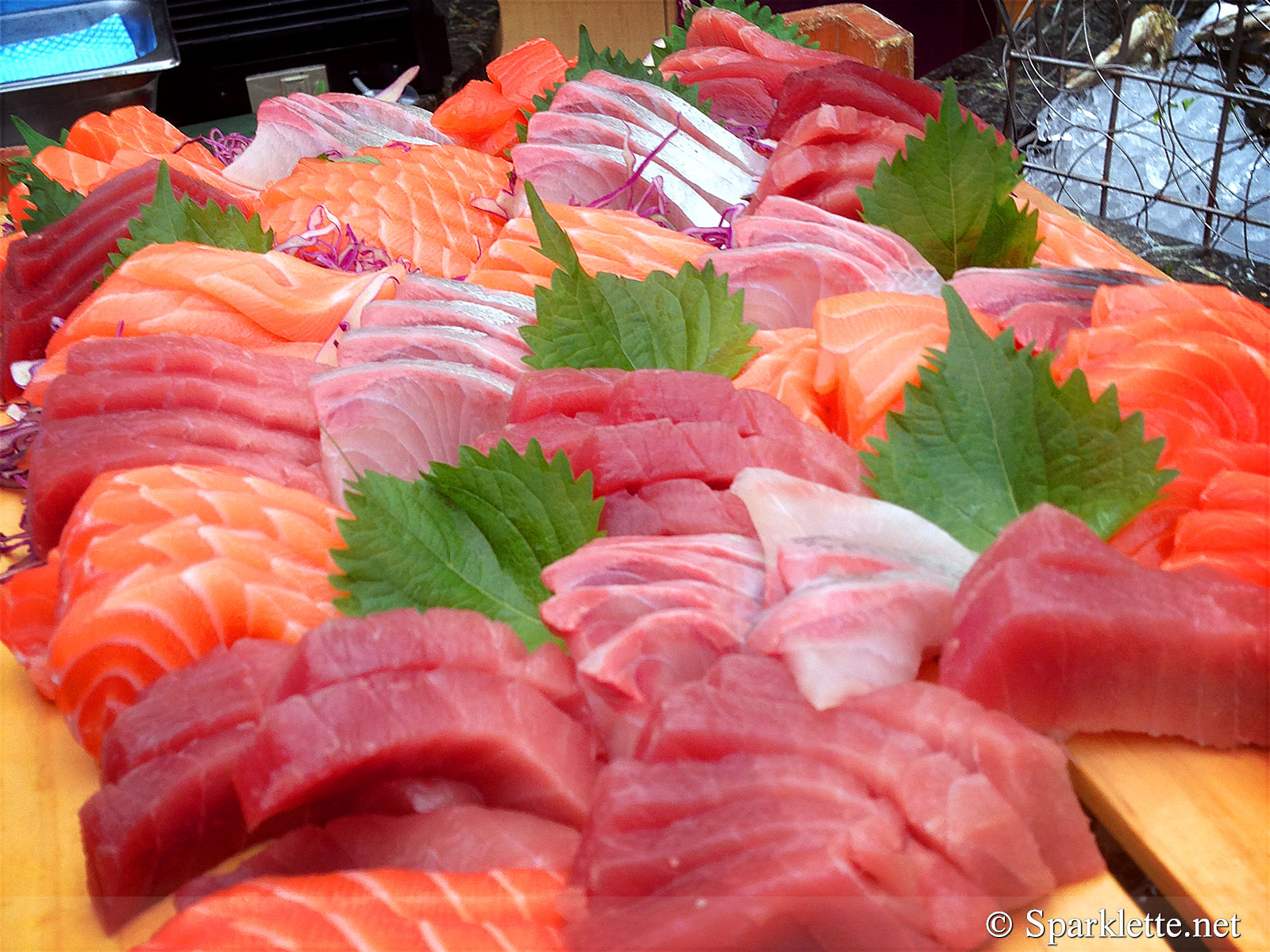 Turn to the East with the impeccably fresh tuna, salmon and snapper sashimi.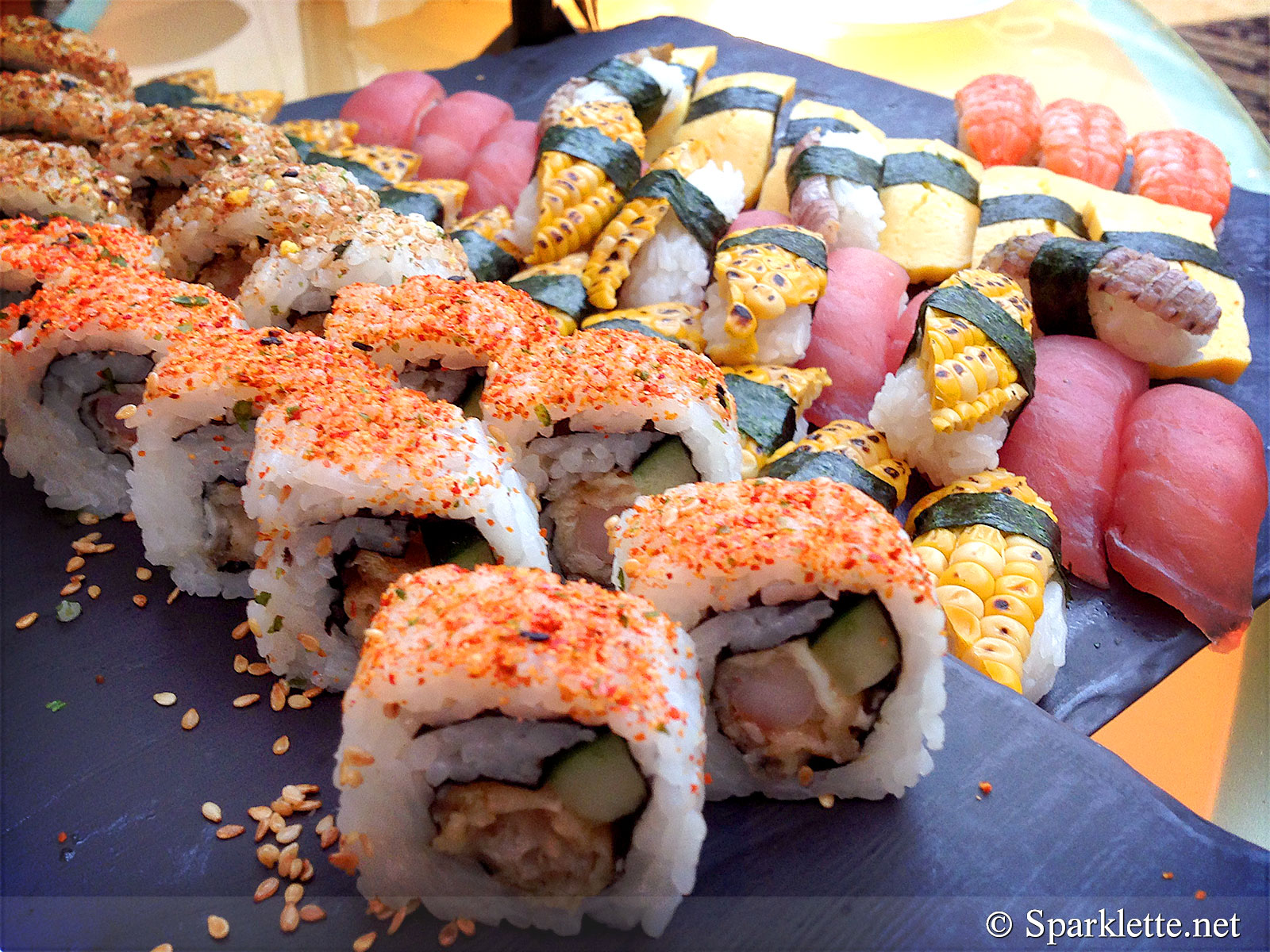 As for sushi, various temaki and nigiri are available.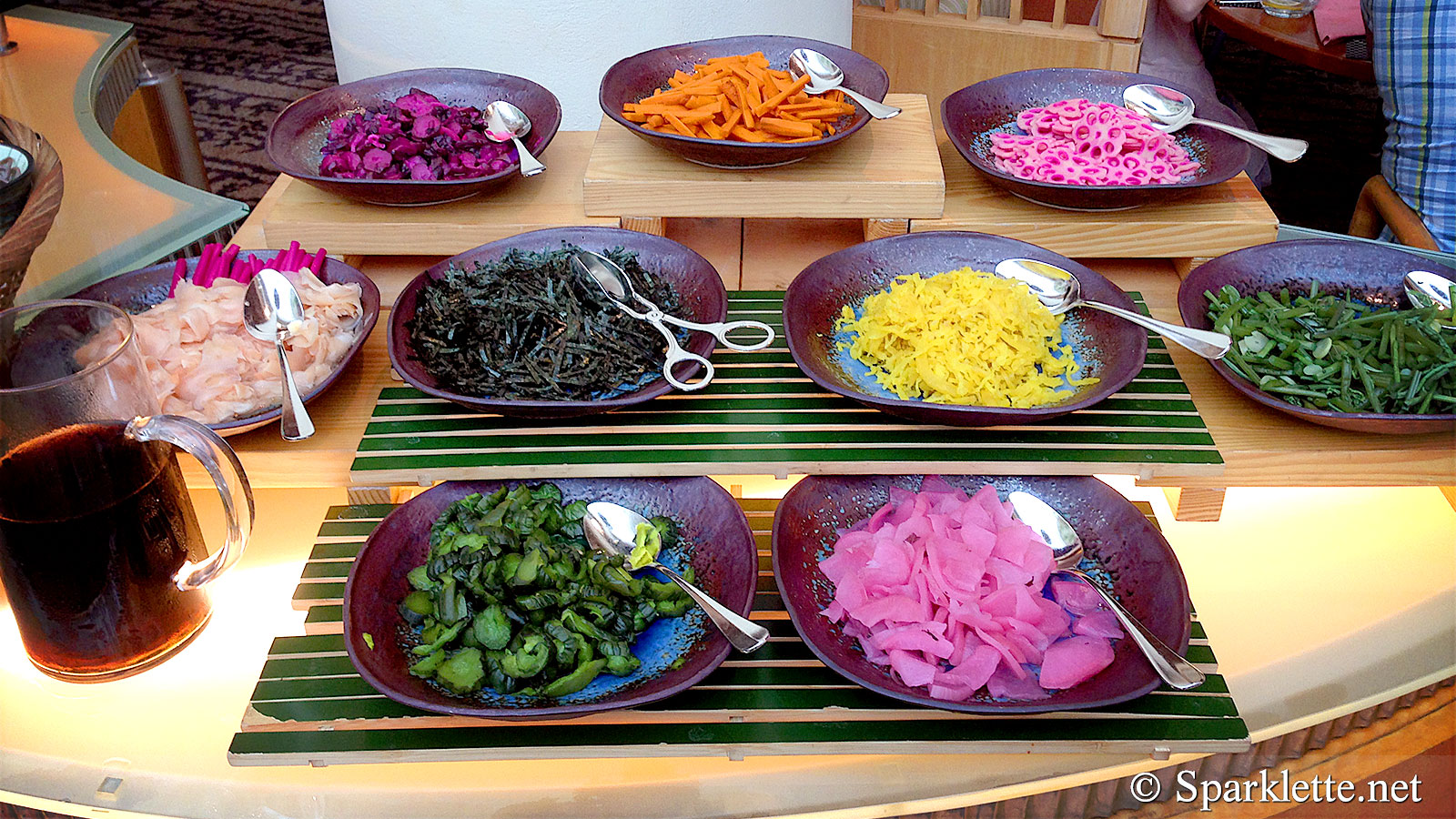 Complete your Eastern journey with traditional Japanese pickles and Korean kimchi, cold soba noodles, eel chawanmushi and miso soup.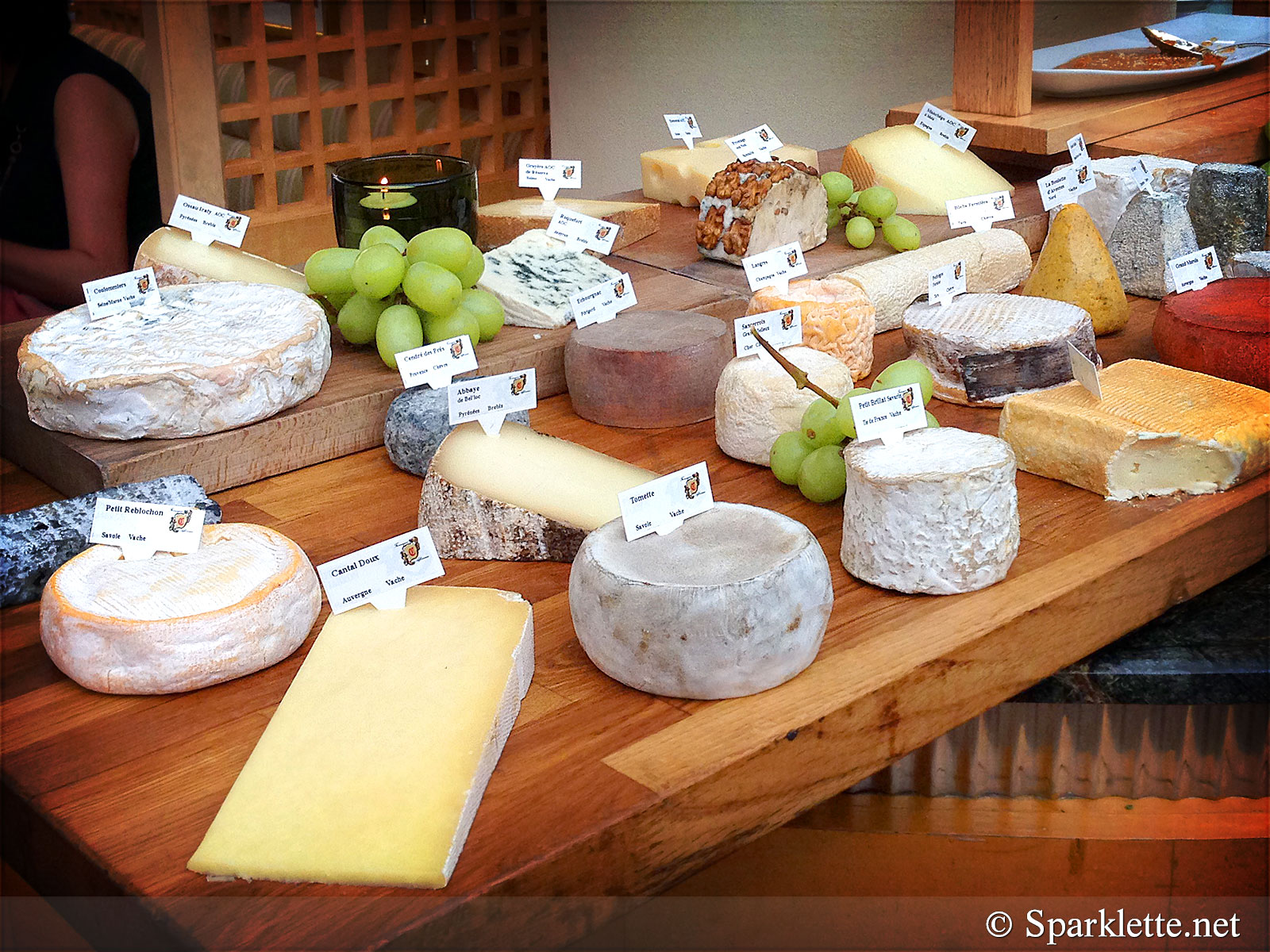 The cheeseboard boasts over 50 varieties of cheese, each clearly labelled. If you've ever wanted to learn about the various types of cheese, here's your chance.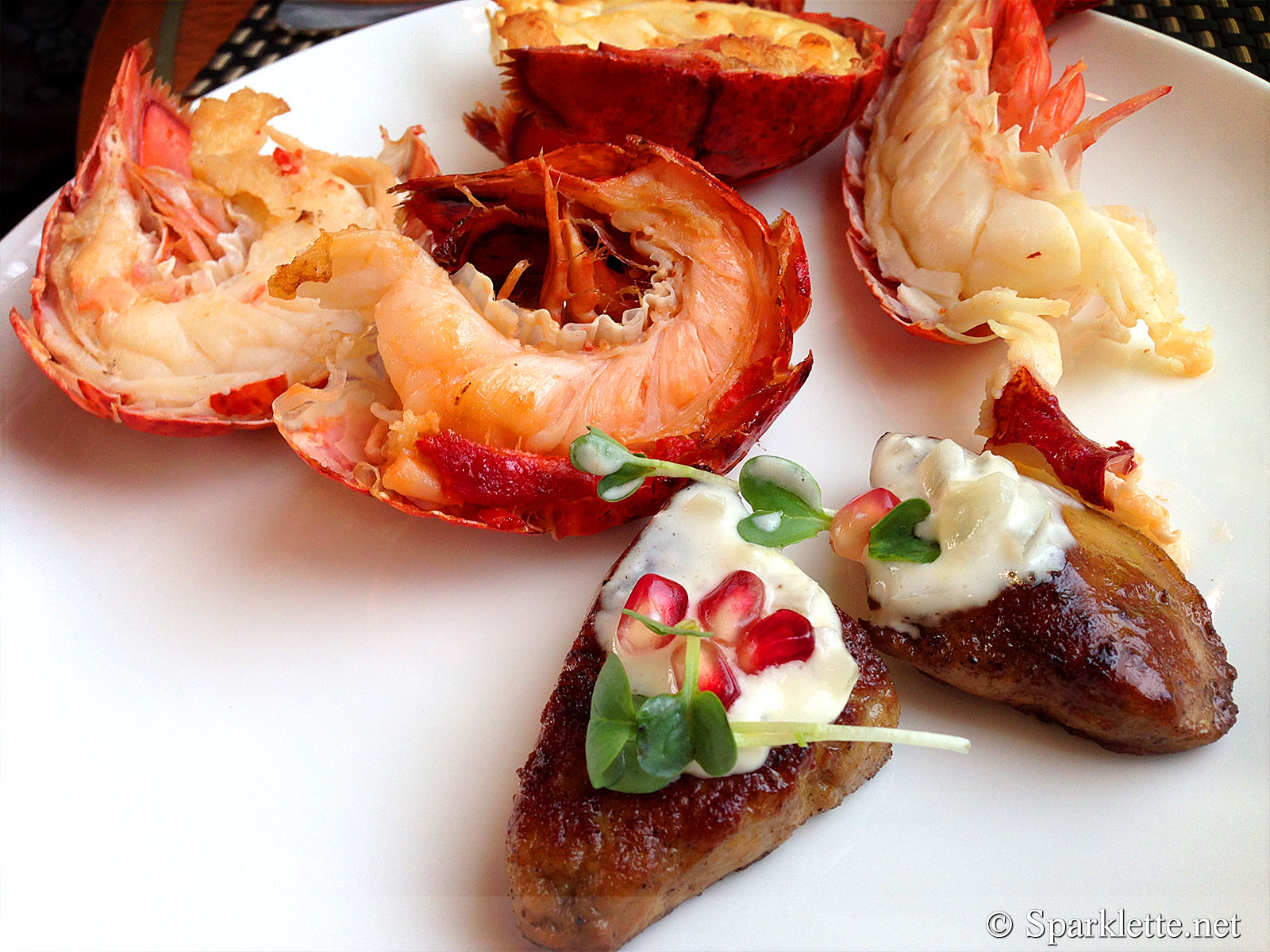 We prefer to fill our plates with crustaceans like prawns, crabs and of course, the supremely succulent lobsters.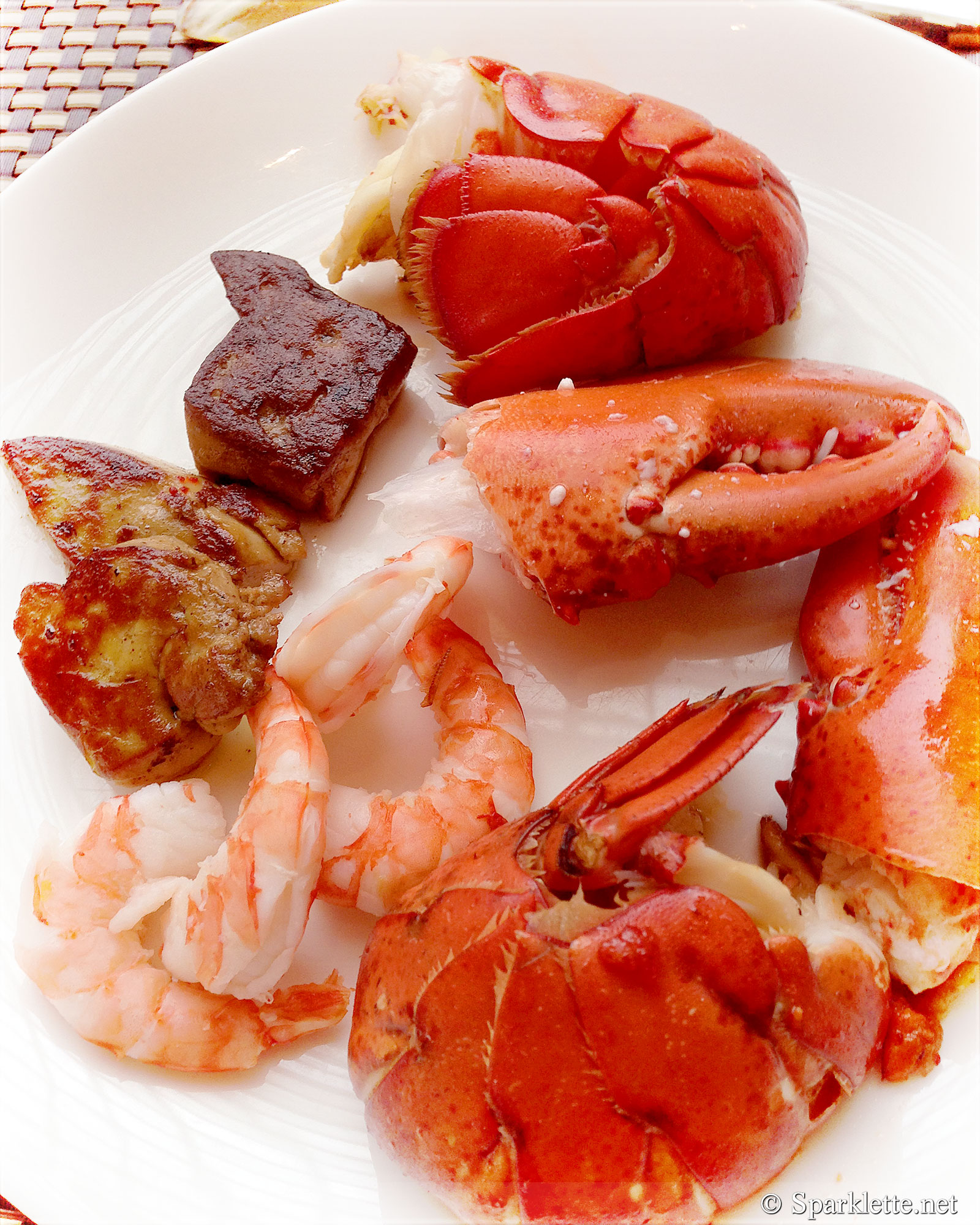 Wash these down with the hearty lobster bisque or the nourishing double boiled essence of guinea fowl with truffled tofu pearls. Both are delicious, but the latter is the winner.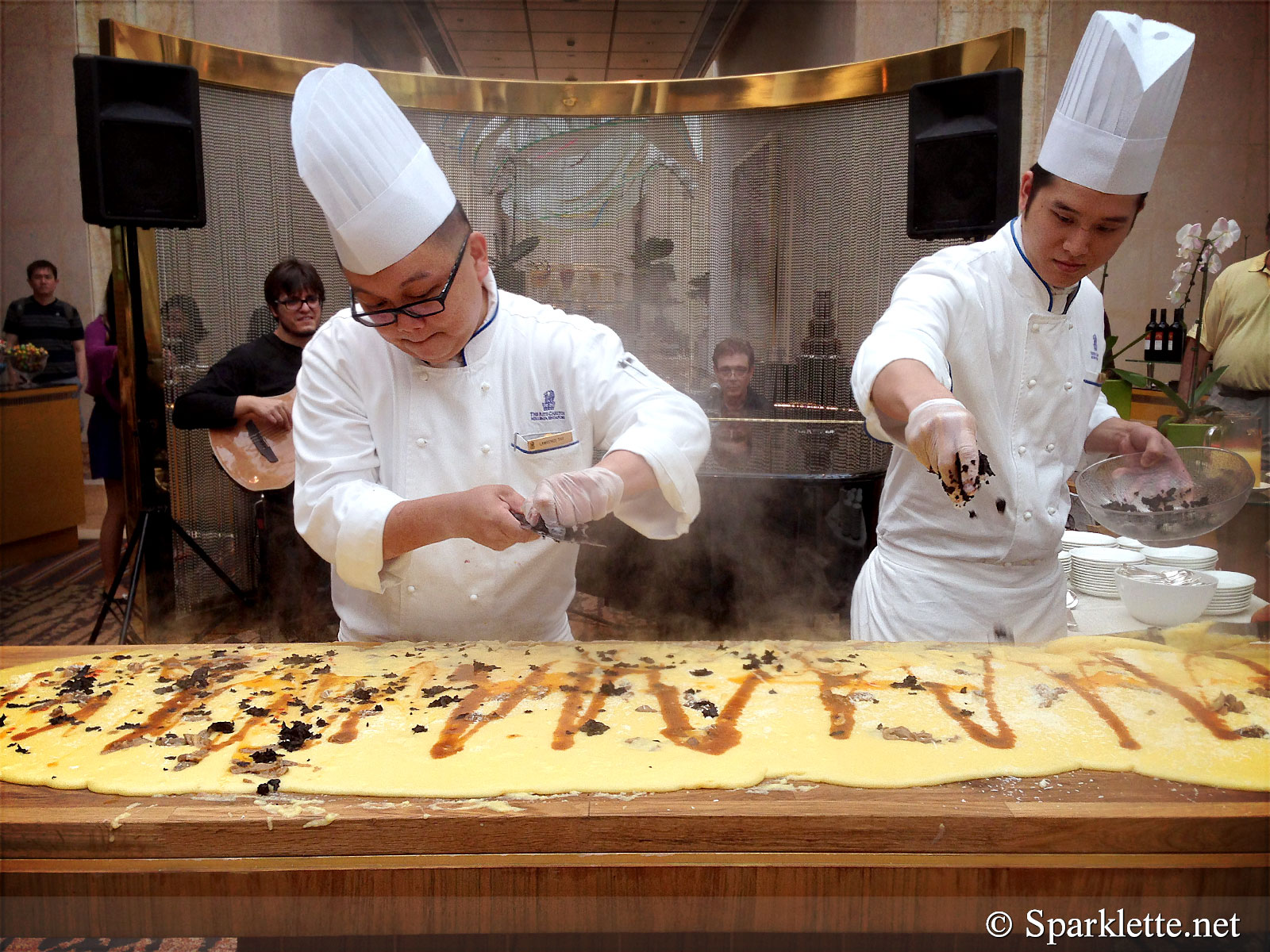 At 1pm, an impressive three-metre black truffle-shaving presentation takes centre stage; black truffle is shaved by hand a la minute over creamy polenta with pecorino cheese and porcini while a band plays in rhythmic symphony.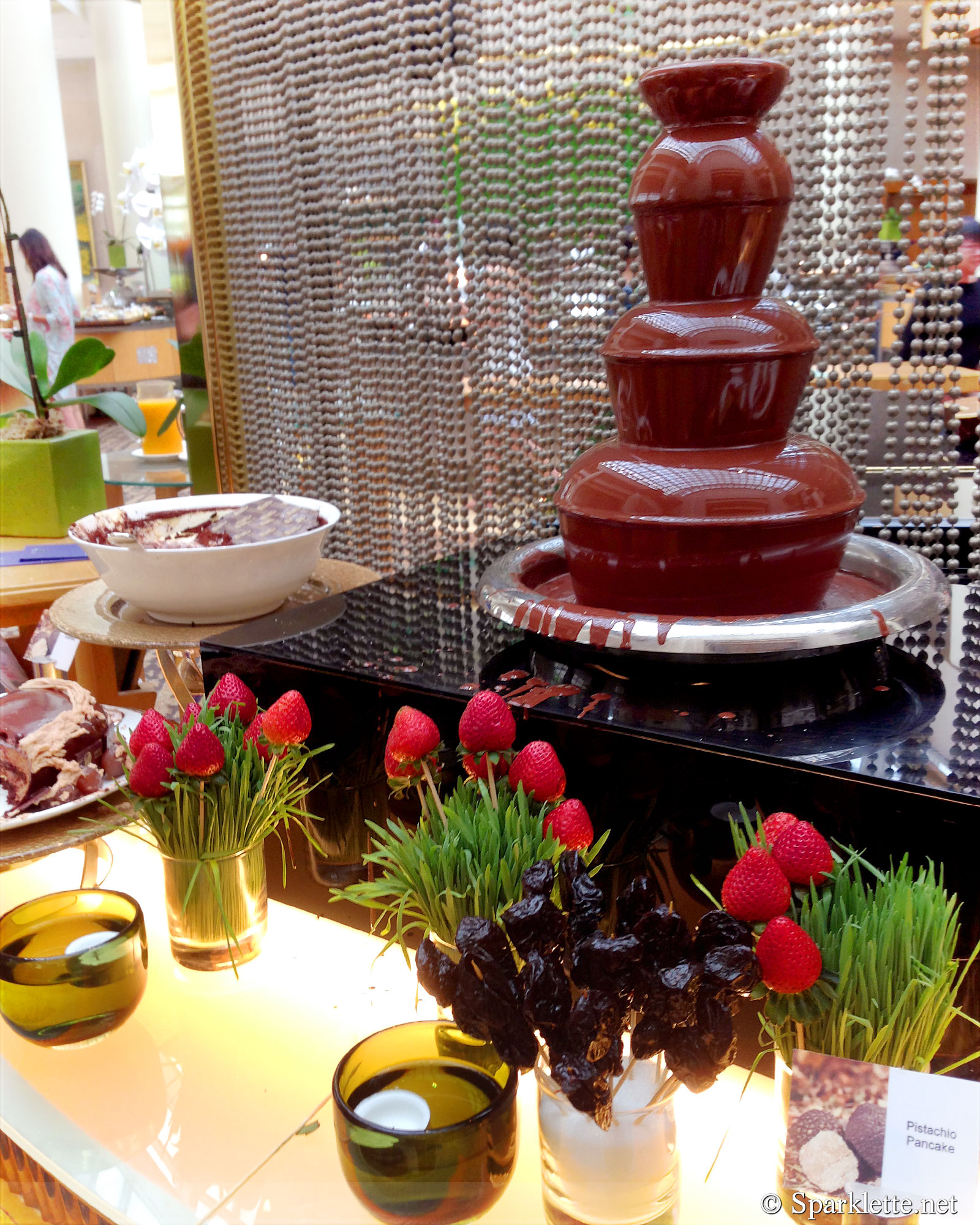 Desserts are chic and sumptuously sophisticated. The crowd favourite chocolate fountain forms the centrepiece of the sweet spread.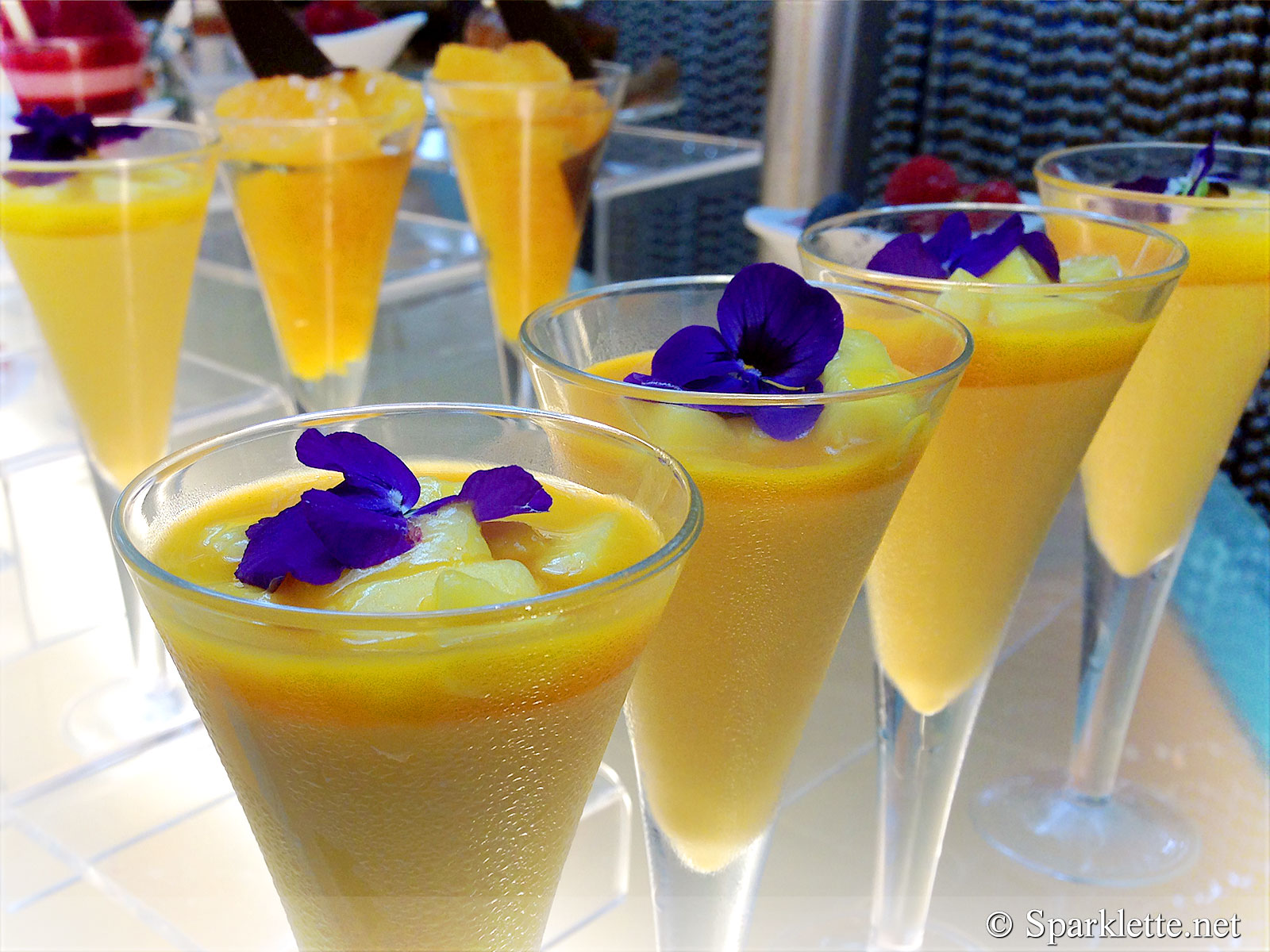 I could not get enough of the caramel & white chocolate mousse, crowned with a layer of chocolate syrup. Instead of ice cream, you get to enjoy the healthier gelato in different flavours.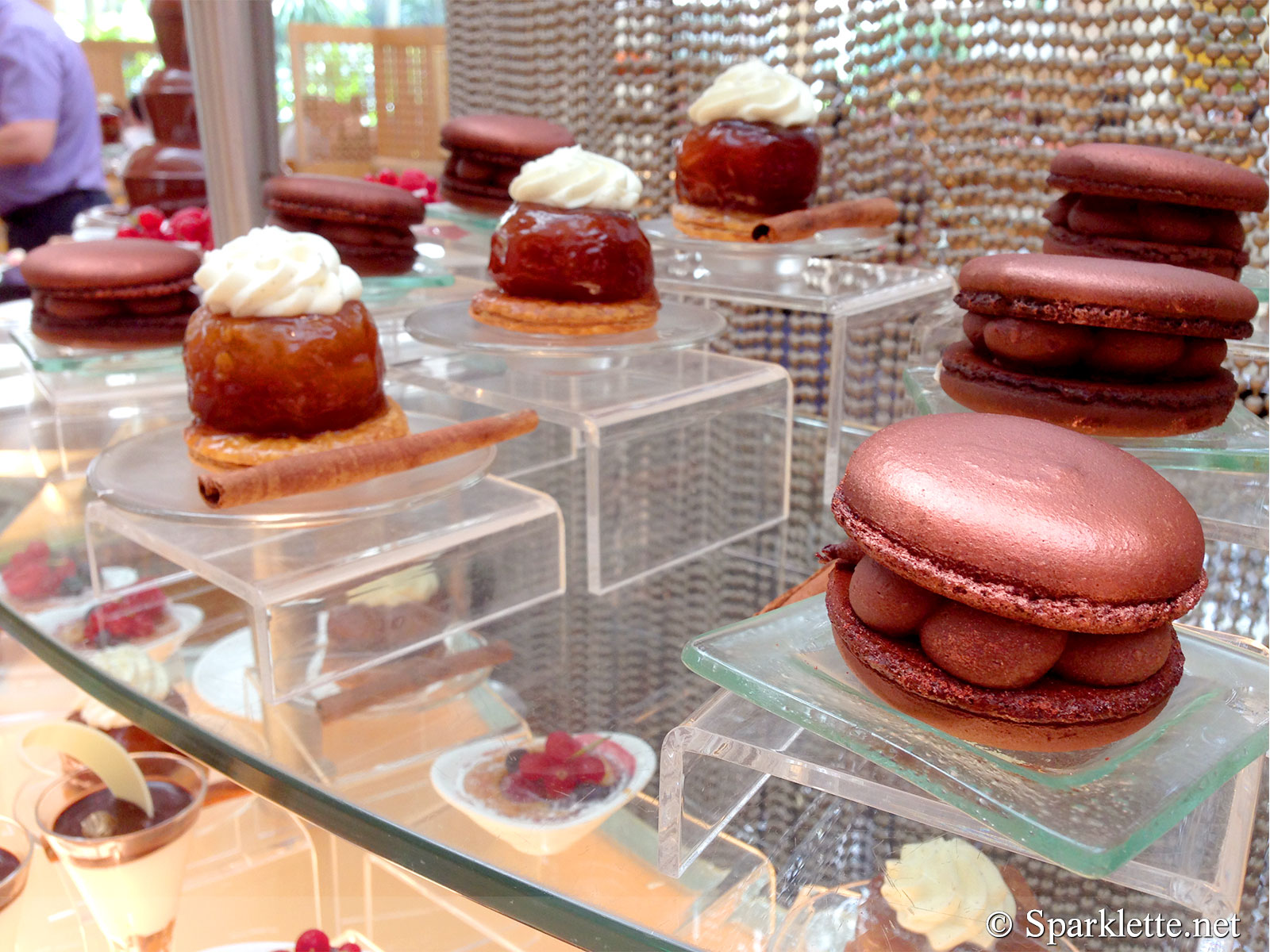 Usually dainty in size, the always fashionable macaron manifests in a super-sized rendition!
Check out The Ritz-Carlton afternoon tea buffet at Chihuly Lounge.
For the little ones, candies and lollipops are available for picks.
Full menu
"Truffle Hour" at 1pm
A 3-metre presentation of freshly-shaved Black Truffle over Creamy Italian Polenta Garlic Chili Oil, Pecorino Cheese, Sautéed Porcini and Perigordine Gravy
Crustacean on Ice
Chilled Tiger Prawns, Black Mussels, Prairie Clams, Bigorneau, Bulot and Flower Crab
Oysters
Eight Types of French Oysters and Canadian Oysters Shucked to Order
Charcuterie
Live Carving of Whole Iberico Ham Bellota and Serrano, Homemade Smoked Salmon, Smoked Trout, Coppa Ham, Air Dried Beef, Smoked Ham and Condiments
Carving
24-hour Roasted 'Mayura Station' Wagyu Leg, Roasted Venison Loin with Poivrade Sauce and Autumn Vegetables, Truffled Jumbo Quail with Aged Port & Cranberry Fondue, Wild Forest Mushrooms, Parsnips, Salsify and Pickled Fennel
Foie Gras
Foie Gras Terrine, Foie Gras Parfait, Duck Rillette, Pan Fried Coffee Flavoured Foie Gras with Sauternes Wine Sauce, Figs and Pomegranate Salad
Oktoberfest Station
German and Swiss Beers, Sausages, Sauerkraut, Roasted Onions, Mustard, Pretzels and Rolls
Eggs a la minute
Eggs prepared as you like it, Classic Eggs Benedict and French Toast with Berries
Japanese
Tuna, Salmon, Snapper Sashimi, Various Temaki and Nigiri, Traditional Japanese Pickles and Korean Kimchi, Cold Soba Noodles, Eel Chawanmushi and Miso Soup with Seaweed
Pasta a la minute
Selection of Homemade Pasta and Gnocchi of your Choice with Tomato, Bolognese and Mushroom Cream Sauce
Salad
Mixed Garden Greens, Treviso, Spinach, Coral Green, Romaine Lettuce Balsamic Dressing, Shallot, Thousand Island, Caesar, Sherry, and Asian Dressing
Rosemary Crouton, Parmesan Feta and Ricotta Cheese, Roasted Pepper, Marinated Artichoke
Grilled Vegetables
Yorkshire Pudding, Potato Mousseline, Baked Potato, Corn on the Cob, Portobello Mushroom, Baby Eggplant, Pumpkin, Buttered Baby Carrots, Broccoli with Almond
Soup
Double Boiled Essence of Guinea Fowl with Truffled Tofu Pearls, Lobster Bisque with Garlic Toast
Tapas
Roasted Pumpkin Salad with Arugula Pesto, Asparagus with Truffle Mayonnaise, Grilled Octopus Tentacles, Chorizo, Ratte Potatoes, Almonds and Salsa Verde, Tuna Carpaccio with Quail Egg & Lemon Dressing, Roasted Portobello Mushroom with Manchego and Piquillos Peppers, Bacala Mantecato Crostini, Beef Carpaccio with Horseradish Cream & Parmesan, Buratta with Marinated Tomato, Basil & Olive Caviar and Sardine Escabeche
Asian Choices
Deep Fried Snapper with Tangy Lime Sauce, Fried Prawns, Seafood Fried Rice with XO Sauce, Braised Pork Shoulder
Breads
Homemade Breads and Rolls, Croissants and Danishes
Cheese Board
Selection of 50 Types of French and New World Farm House Cheese, Crackers, Homemade Lavosh, Fruit Paste, Dried Fruits and Nuts
Desserts
Chestnut Vermicelli, Pumpkin Pie, Apple Tartine, Berry Clafoutis, Walnut Flanks, Chocolate Praline, Raspberry & Fig Tart, Red Wine with Poached Pear, Hazelnut Chiffon Cake, Pistachio Pancake, Caramel & White Chocolate Mousse, Tangerine-Cointreau Jelly, Gelato and Fresh Fruit
Have Your Say!
Where can you enjoy the best brunch in Singapore? Share all your thoughts via Facebook or Twitter or by leaving a comment!
Greenhouse
The Ritz-Carlton, Millenia Singapore
7 Raffles Avenue
Singapore 039799
Tel: +65 6434 5288