In a recent post, I raved about the riverside Indonesian BBQ stall in Plaza Singapura. This is a stall I have been patronising for 5 to 6 years and I swear to god they have the best grilled chicken anywhere!
After learning that the riverside Indonesian restaurant opposite Clarke Quay (right beside Café Iguana) has a direct affiliation, it scored the top spot on my list of "restaurants to check out".
I went there for the first time recently and found that the restaurant serves very similar food to its smaller counterpart, except with much wider variety. Besides selling ala carte items, they also combine different kinds of grilled food into combo sets, including their bestselling grilled chicken, calamari, snapper fish, prawn, stingray, etc.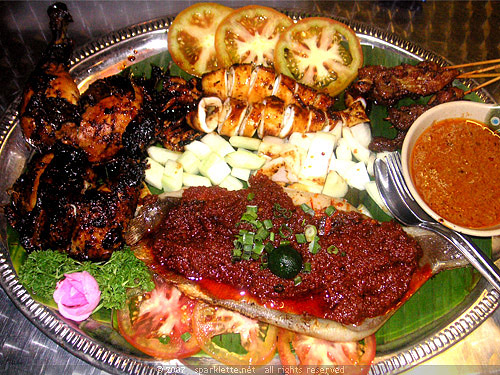 BBQ Combination (Fish, Calamari, Chicken & Satay)
S$38 + $3 (to swap fish for stingray)++
Rating:





We wanted a combination with grilled chicken, satay and stingray. So we went for their $38 combo set with snapper fish, grilled chicken, satay and calamari, and added $3 to swap the fish for sambal stingray.
Even though we realised that what we ordered was a 2-to-4-person share, it didn't prepare us for the large amount of food that came eventually. That plate was huge! Seeing all our favourite food spread over the entire plate was an utter joy! I was in awe!
Let's go over each individual food item in there, shall we?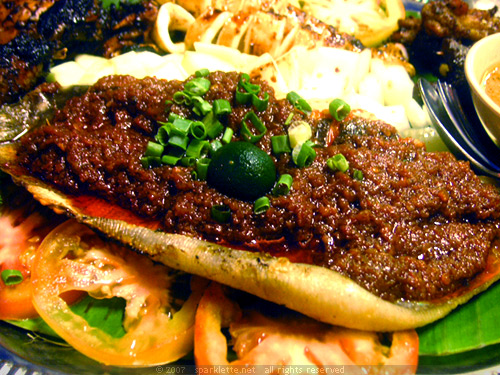 Sambal Stingray
Rating:





I loved the stingray, especially since it was caked in a very thick and sumptuous layer of sambal chilli. Firstly, the stingray was very fresh with really tender flesh! More importantly, the sambal chilli was deeelicious! Sure, this was no rong guang stingray, but for a place that doesn't exactly specialise in stingray, I thought they did a good job.
Actually I would have preferred the sambal chilli to be spicier, but I guess they do have to cater to the tourists that frequently patronise the restaurant in large groups.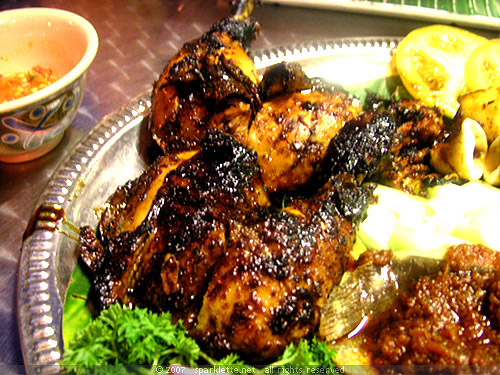 Grilled Chicken
Rating:





Our combo included two large grilled chicken drumsticks. I had very high hopes for the chicken due to the fact that I have never been disappointed by the one from its Plaza Singapura stall.
Gotta say that I was slightly disappointed. The restaurant's version of the grilled chicken wasn't as good, largely because the chicken had not been grilled thorough enough. Also, not enough of the wonderfully sweet black sauce was used! That sauce is what makes the grilled chicken a hot favourite with customers!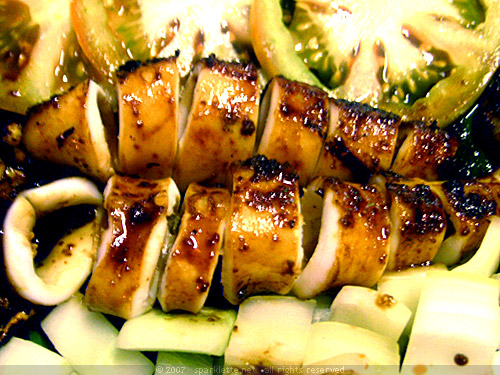 Grilled Calamari
Rating:





The same black sauce is used for the grilled calamari. People who like the grilled chicken would generally have a liking for the calamari as well. It was okay for me, except that I found the calamari to be a tad chewy.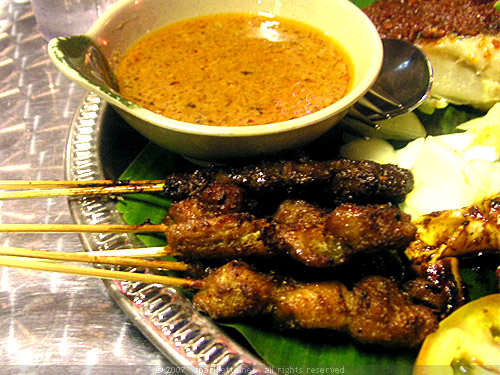 Satay
Rating:





Six sticks of satay were included in the platter – three each of mutton and chicken. I only eat chicken and I thought the chicken satay was pretty decent. The meat was tender enough, but the peanut gravy was a little watered down. (whoa, I am becoming more of a food critic than a food reviewer, aren't i?)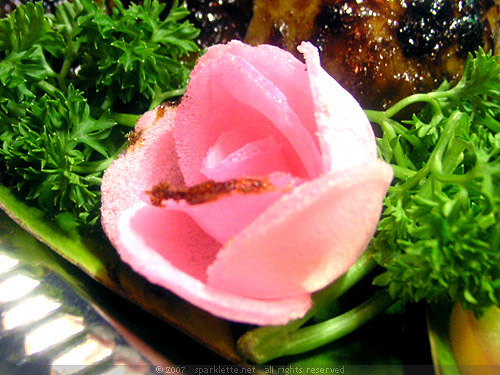 This little pink flower was a nice touch to an overall very well presented food platter; we spent a good five minutes taking pictures before we actually tucked in! Still, despite how impressive it looked at the start, I thought it didn't exactly deliver. This is not to say that the food wasn't good; I simply wasn't blown away!
Also, the riverside Indonesian restaurant is one hell of a tourist magnet! No wonder that prices here aren't exactly cheap, especially since they also charge a lot of 'extras' in the bill. For example, the keropok (prawn crackers) cost an additional $2. The rice cost $1 per person. The wet paper towels were 30 cents each.
It is not that I mind paying for these things. But I know I would feel much better if restaurants could be more open and forthcoming about any extra charges that customers would incur, rather than have us find out for ourselves only after we have already been charged for it.
When it comes to dining, this is one of those things about a restaurant that would annoy me, along with the ones that simply refuse to serve water.
Riverside Indonesian Restaurant
30 Merchant Road
#01-04 Riverside Point
Singapore 058282
Tel: +65 6535 0383
Service: