Some friends have been seeking recommendations on food delivery services in Singapore. Happily, I just discovered DEALivery.sg, where you can order your food online from several restaurants and have it delivered right to your doorstep. The cuisines span a wide range, including Asian, Mediterranean, European and Halal.
My family and I decided to try out the service this past Sunday. The dining establishment we picked was Hui Wei, a Thai-Chinese casual zi char eatery located along French Road.
This turns out to be easily the best food delivery experience we've ever had.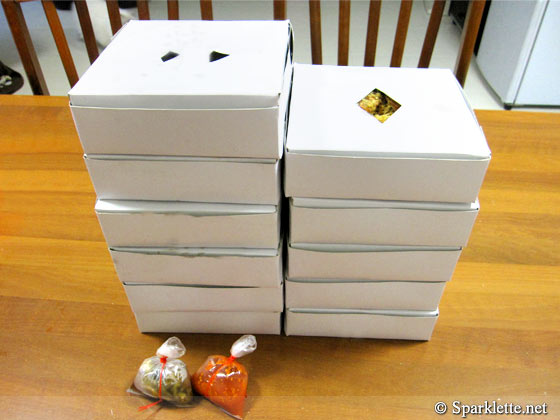 We ordered a total of 7 different dishes and 2 types of fried rice. Each individual dish is wrapped in plastic and neatly packed in its own box. In addition to the food, chilli sauce and green chilli as well as disposable chopsticks and spoons are included.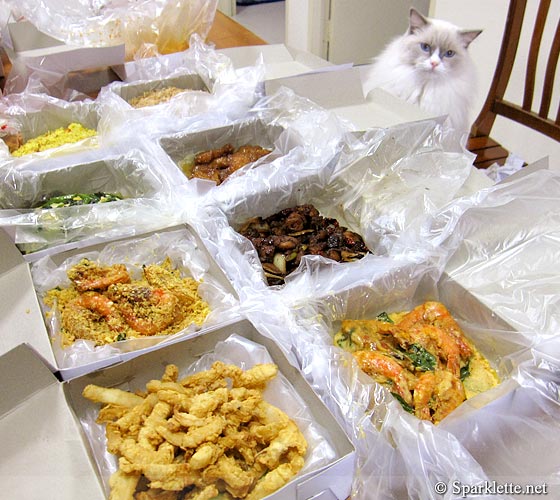 From the time it took to place an order online, to the time that the DEALivery guy rang my doorbell, it was only 40 minutes! I was blown away by the extremely short waiting time for such a multitude of dishes. Needless to say, the food was delivered fresh and piping hot!
Fried Rice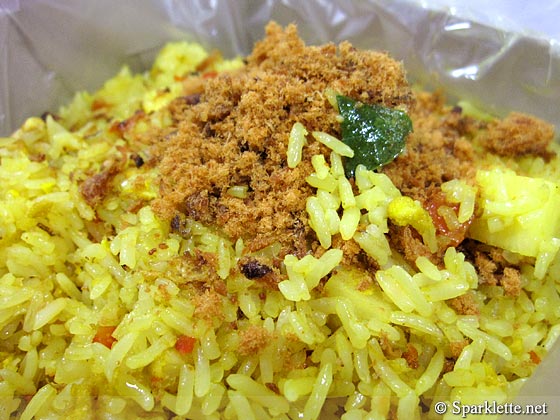 Pineapple fried rice
S$5





A staple in any Thai meal has got to be the pineapple fried rice. The portion is huge – good enough for 2-4 people. I really love the fragrance of the rice, which includes multiple chunks of pineapple fruit. The chicken floss – a general amount – is packaged separately so you can sprinkle as much of it as you wish onto the rice. Love it!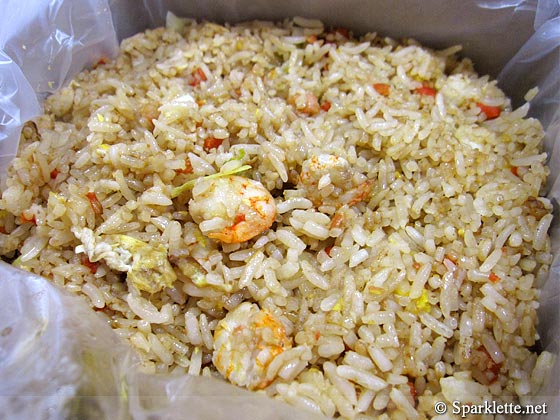 Yang chow fried rice
S$4





The yang chow fried rice comes speckled with shrimp and fried egg. It is quite delicious, though we still prefer the more robust pineapple rice.
Seafood
When it comes to seafood, the prawn dishes are a safe bet. Each dish includes 5-6 prawns.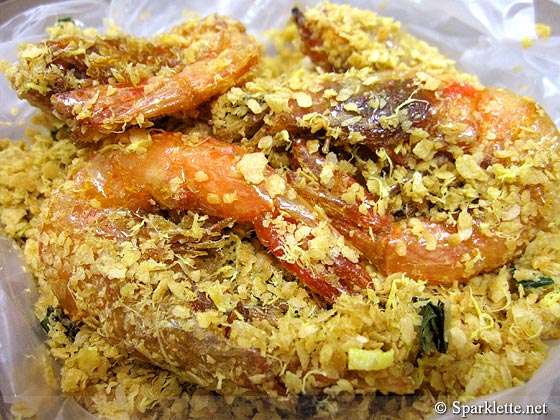 Fried oats prawn
S$15





One of our favourite items is the fried oats prawn, which has oodles of crunchy oatmeal that we simply can't get enough of. By the time we are done with the juicy prawns, we're still eating the remaining sweet oatmeal by the spoonful!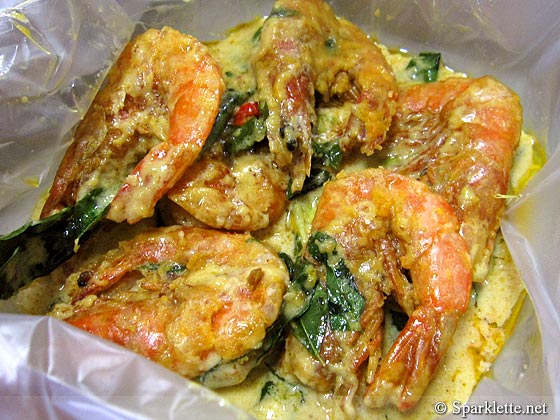 Salted egg yolk prawn
S$15





Another dish that scores high points is the savoury salted egg yolk prawn, drenched in a buttery egg yolk gravy. The prawns are succulent and very tasty. The gravy goes quite well with the rice.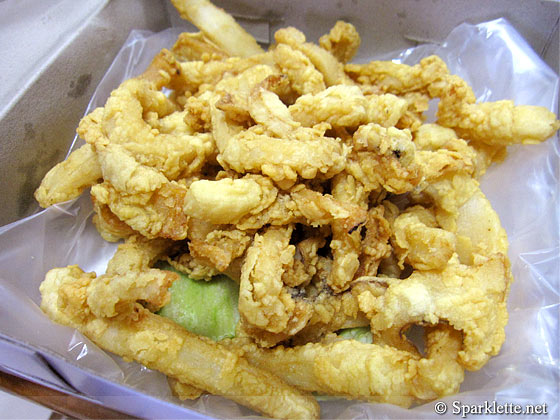 Deep fried cuttlefish
S$9.50





One dish that doesn't fare as well is the deep fried cuttlefish. The cuttlefish strips turn out a touch overcooked, resulting in an unpleasantly chewy texture. Something tender and soft like how they do the sambal sotong at Rong Guang BBQ Seafood would have been much better.
Fish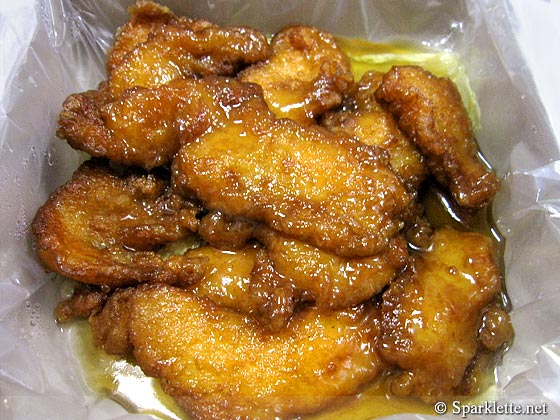 Honey sliced fish
S$9.50





The honey sliced fish is another highlight. It comprises boneless fish coated in a sweet sauce. The presentation may not look like much, but the food tastes divine.
Chicken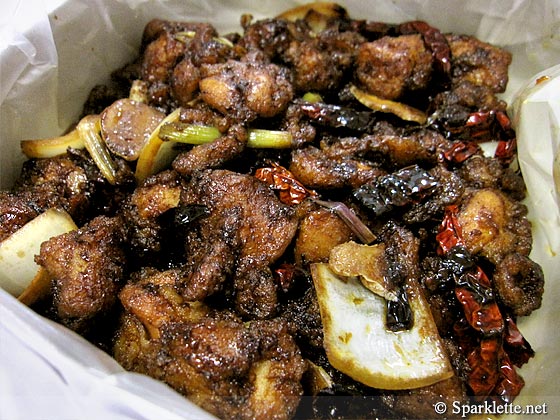 Fried chili diced chicken
S$9.50





Spicy food lovers can try the fried chilli diced chicken, though the spice factor is really quite mild. For the tender chunks of chicken, the superb sweet black sauce and the huge quantity of meat delivered, this is easily one of the best dishes of the meal.
Vegetables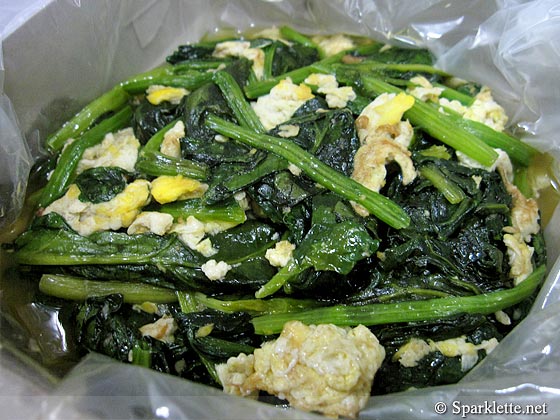 Spinach with eggs
S$9.50





When it comes to the greens, the spinach with eggs is a recommendation. The greens are very soft and practically slide down the throat.
Wow! Even though we have never dined with Hui Wei before, almost all the dishes we picked were excellent. It's pretty rare that something like this happens even when we're out having a proper meal at a restaurant, and even rarer for me to express such enthusiasm here, unless the food is good, really good.
One thing that my parents really dig about this meal is that the flavours are not overly salty or spicy, unlike Thai establishments such as Lerk Thai and Thai To Go. I guess this is in part due to the fact that the eatery boasts some Chinese influences.
This is our first time ordering from DEALivery.sg. 3 things stood out for me:
Convenience – Everything is done online, from viewing the menus of multiple restaurants to placing orders and making payment (credit card or Paypal).
Speediness – The speedy turnaround time is almost unbelievable.
Quality – 'Nuff said.
I can't wait to use this food delivery service again. The next time you have a craving and would like to order in, you know where to go!
Have Your Say!
What is your favourite food delivery service? Share all your thoughts via Facebook or Twitter or by leaving a comment!
DEALivery.sg
Tel: +65 6299 8012 |
Website
Operating hours:
Mon – Sat: 11am – 9pm
Sun: 5pm – 9pm
Delivery charge: S$5 S$7