Christmas Tree of the Day #5 (2008 Edition)
If there's one place that never disappoints with its Christmas decor, it has to be Paragon. Whether they are using silver stars or strings of pearls, the mall tries hard to dazzle shoppers every Christmas. And they always do it in such a classy fashion.
They continue their display of sophisticated-looking trees for the third year running with a magnificent one: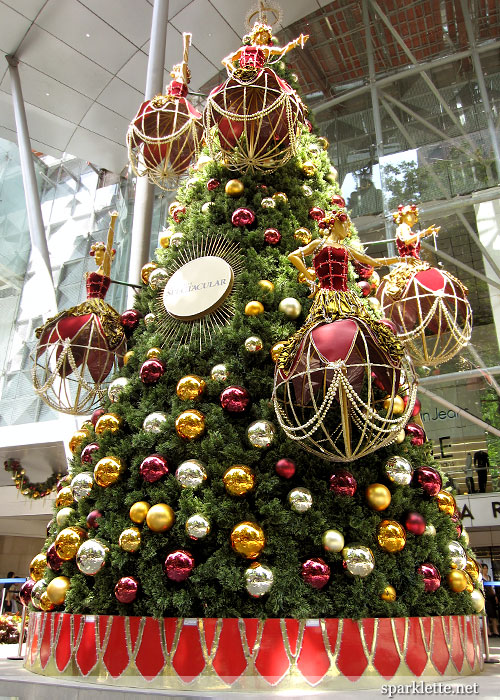 Shiny and matte baubles in silver, gold and red adorn this tree beautifully. But the thing that really catches the eye are the life-sized dancing ladies on giant baubles decked out in the same colours. It reminds me of the life-sized angels at Bugis Junction two years ago.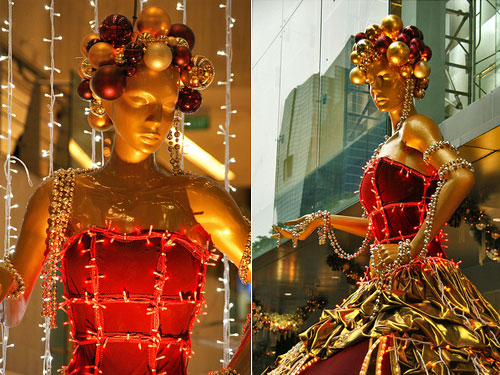 Photo by KM (Benny)
Dance, dance, dance away with these golden girls! They even have baubles for their hair and chains of shiny beads on their golden bodies. That's a lot of attention to detail!

Photo by Rakeon
At night, the tree simply looks splendid with thousands of twinkling lights. I'm already looking forward to be dazzled again by Paragon next Christmas.
Speaking of dazzling decor, Centrepoint shopping centre used to have such spectacular Christmas displays. This year, they have almost nothing. What happened?
For more Christmas trees, check out the Sparklette Christmas Tree of the Day series.