Christmas Tree of the Day #9 (2007 Edition)
I really love what Paragon did with their Christmas tree last year and had looked forward to be dazzled again. But seriously, after the Starry-Eyed Surprise they gave us before, it would be mega-difficult for them to outdo themselves this time.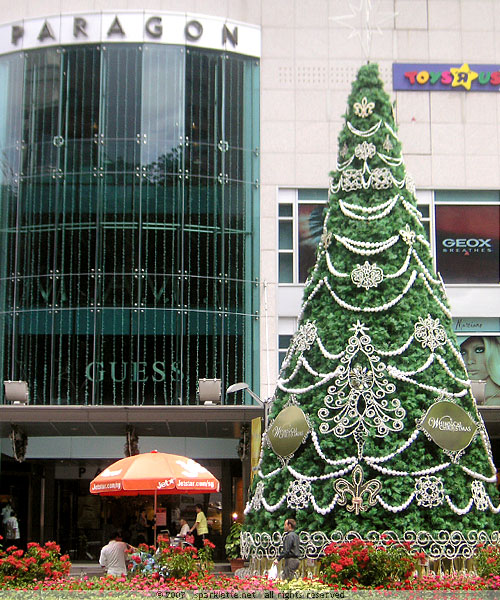 They have done a beautiful job though – their tree this year looks splendid, but I still very much prefer the one from last year.
One thing that has remained is the classiness of the decor, befitting a high-end mall like this. Gone are the pointy stars that I oh-so-love. In their place are strings after strings of large shiny pearls, a pretty ornament that is rarely seen on Christmas trees. They have certainly managed to make it work.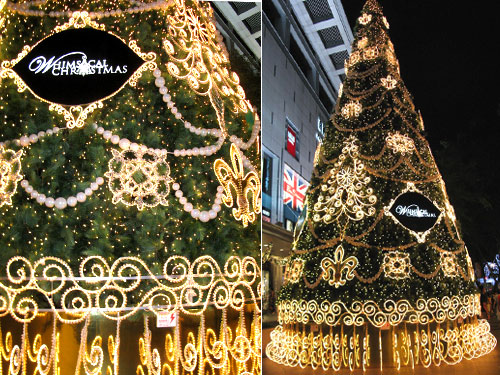 Photo by Steel Wool
This tree looks beautiful, whether it's in the day or at night. A whimsical Christmas, anyone? I really love the sound of that!
Here's a cute shot of the tree as seen from the stone sculptures just outside the mall.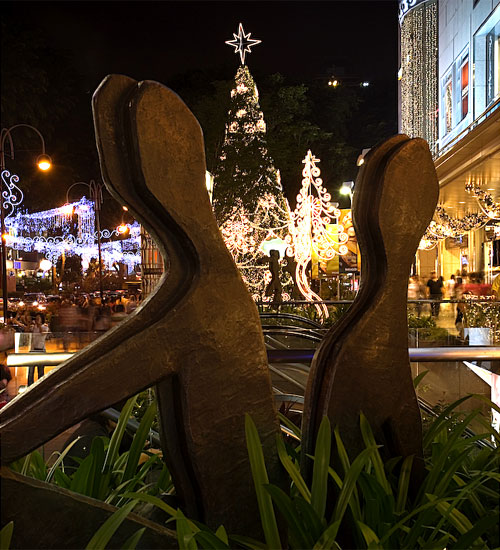 Photo by bigbowl78
The 8-pointed star at the top of the tree is almost invisible in the day. But when night falls, its illuminated outline can be seen clearly.
And for now, a testament that Singapore is a land of beautiful Christmas trees: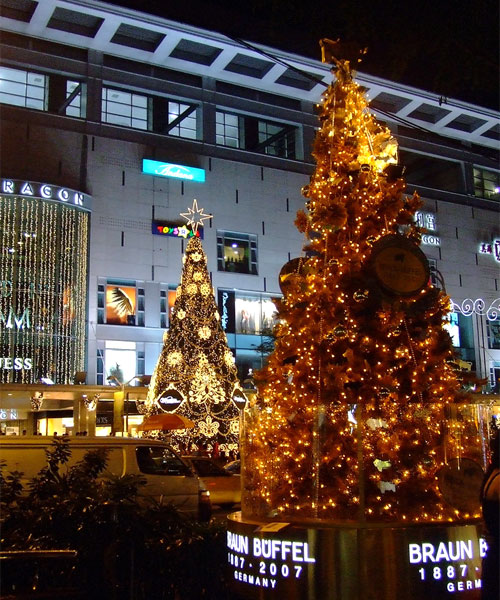 Photo by khoon18
The Paragon tree is seen across the busy road in the background with the gold Braun Büffel tree from yesterday in the foreground. Boy, are we lucky to have so many beautiful Christmas trees in such close proximity. Do they have this in other countries too?
While in many cases it is rather obvious that the same tree is used each year (such as this and the 4-storey tree at Takashimaya), we really can't expect malls to get a brand new super-sized tree every Christmas. Usually, the creative use of new ornaments would suffice to give the same old tree a completely different look.
But this no longer applies when you have a tree that is bright pink, like The Cathay's. When they set up their candy pink tree last year, it was a picture-perfect sight that reaped heaps of praise from all around. When they set up the same tree again this year, suddenly we aren't seeing any new pictures of it on flickr.
Speaking of trees with unconventional colours, I'm still waiting for a purple one! Oh wait, they already did it in China. I have hopes that I would get to see it here next year.
A girl can dream right?
For more Christmas trees, check out the Sparklette Christmas Tree of the Day series.