Christmas Tree of the Day #4 (2008 Edition)
We have our first jeweled Christmas tree for the year! Celebrate this season of joy and love with the tree of Joy&Luv at Bugis Junction. Yes, that literally is the name of this glamourous tree.
As the brainchild of local jewellery chain Lee Hwa, the sparkling 5.5 metre Christmas tree is a showcase of the company's jewels. Hanging on it are 150 replicas of the white gold and diamond charms from the Destinée Joy&Luv charm bracelet and 300 strands of glass ornaments. Shiny!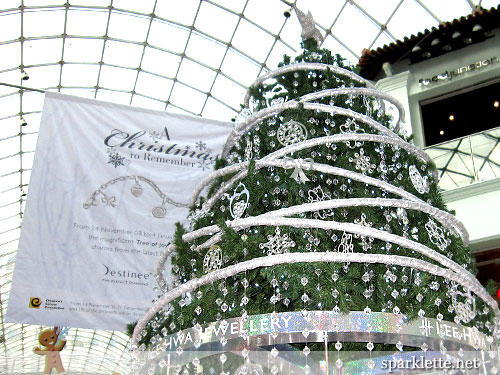 Even from afar, I was awestruck by this glittering beauty. Well, precious jewels have a strange hold over me. Soo Kee's diamond tree in '06 and Swarovski's crystal tree in '07 have already gone down in history as the most magnificent Christmas trees ever. But I'm very glad we have another jeweled tree for '08, bad economy and all.
Remember that other Christmas tree in Bugis Junction with the beautiful carousel? This jeweled tree has that too. At its base is a silver carousel with 6 gorgeous hand-carved horses! They look extremely delicate – a perfect match for this pretty tree.
From now 'til December 31, you can ogle all you want in front of the InterContinental Hotel at Bugis Junction. Bring your cameras!
It seems that quite a few companies have used Christmas trees to advertise their brand. Besides jewellery makers, Braun Büffel also had one in the heart of Orchard road last year. It's a highly effective way of building brand awareness, especially when the trees look that outstanding. I wonder whether companies should even be charged for this unique form of advertising. If you ask me, the trees probably help bring greater traffic to the malls.
For more Christmas trees, check out the Sparklette Christmas Tree of the Day series.