I have a confession to make… airline food fascinates me. I feel like an astronaut each time I unwrap hot food packaged in cellophane and sealed containers thousands of miles above the ground. Admit it – you feel the same way too.
On our AirAsia flight back from Chiang Mai, Thailand, we decide to order some of the in-flight meals and join the mile-high makan club. We have eaten food from non-budget economy and business class flights, but it's the first time we're doing so on a budget carrier. Curiosity and sheer boredom got us interested in getting something from the crew's trolley as they push it down the narrow aisle.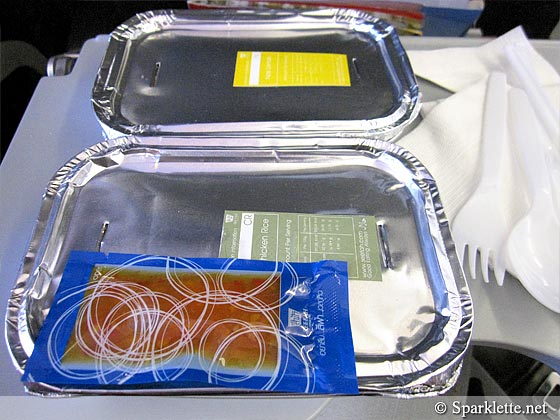 The selection includes a range of sandwiches, Malaysian dishes and drinks that include a $2 paper cup of Old Town White Coffee. AirAsia, being a budget airline, does not provide free meals on board. Our hot meals cost about S$4-5 each, and you get it even cheaper when you pre-book the meals online before your flight.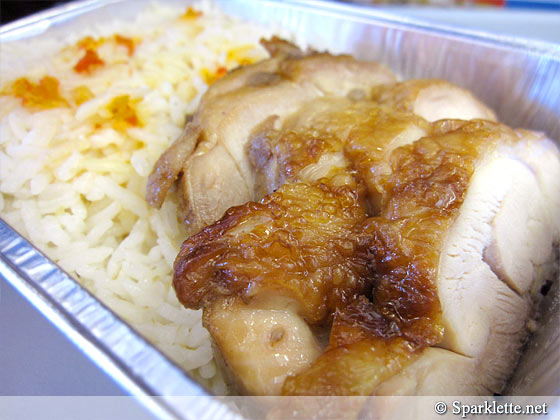 Uncle Chin's chicken rice
Rating:





The stewardess hands over a couple of aluminium foil containers along with plastic forks and spoons. Great, we're all set. As I open my box of Uncle Chin's chicken rice, I can't help but notice the envious glances from other passengers.
As I take my first bite, my first thought was "hey this doesn't taste half bad"! The roast chicken has a rather soft texture, as though it has been slow cooked and reheated over and over so much so that you can cut it easily with a plastic fork. Other than that, the food actually tastes pretty good when you throw on the sweet chilli sauce that comes in a translucent packet.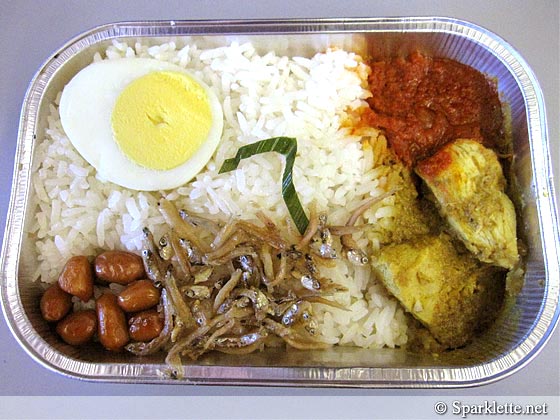 Pak Nasser's nasi lemak
Rating:





As for Pak Nasser's nasi lemak, it looks kinda dreadful at first especially with that soggy meat. Is it chicken? Is it fish? No one can tell. And what's with that lone strand of vegetable at the centre?
Truth is, it does have most of the things you would expect on a regular plate of nasi lemak, albeit the tiny portions. The food is strangely palatable, and the sambal chilli paste is quite delicious! Oh lord I can't believe I am praising the food on a budget airline. Maybe my palates and senses have been dulled by the recycled air-conditioning and altitude. Interestingly, these two dishes are highlighted as the "crew's choice" on the menu, so they're probably the best of the lot.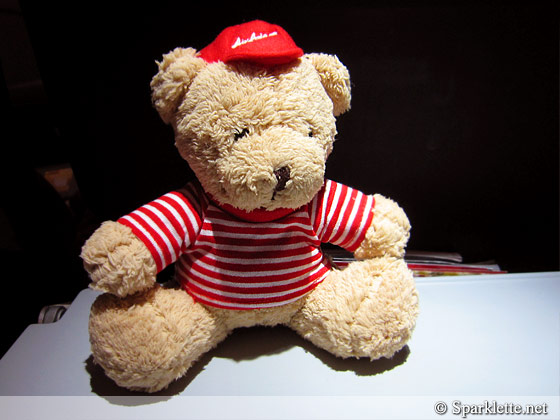 I also make it a point to collect the stuffed bear from every airline. Here's the AirAsia teddy bear from their merchandise catalogue. Amongst my collection, I still find the Cathay Pacific pilot bear the cutest and most snuggly. You can check out the business class meal and stuffed bear on my Cathay Pacific flight to Thailand.
Have Your Say!
What are your thoughts on airline food? Share with us in the comments!